Spain-Holiday.com has been awarded the prestigious "Confianza Online" seal in recognition of its ethical commitment to good Internet practices and e-commerce.
The Spanish holiday rental platform, Spain-Holiday.com, has obtained the prestigious Online Trust Seal for the 13 web portals with which the brand operates and thus adds to the more than 2,700 companies that already have this certificate in Spain.
Created in 2003 by Autocontrol and Adigital, Confianza Online is the best-known and most trusted Trustmark by users in Spain. The acquisition by Spain-Holiday.com demonstrates the ethical commitment to good Internet and e-commerce practices the platform displays.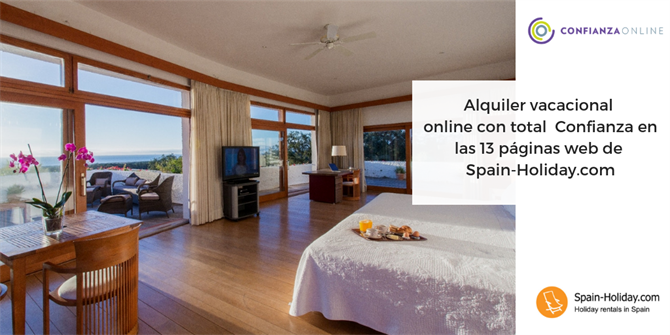 Jannich Petersen, CEO of Spain-Holiday.com commented:
"We are proud to be the first platform of the national sector in obtaining this seal and we trust that both the owners of tourist homes and the travellers who stay in them will benefit from it. The recognition of our transparency, trust and responsibility as an online platform in the holiday rental industry is a great honour."
For his part, José Luis Zimmermann, General Director of Confianza Online highlights the importance of transparency in the new business models:
"With the incorporation of Spain-Holiday.com to web pages that bet on good practices, Confianza Online continues to enhance reliability in pioneering digital environments, based on the digital transformation of traditional consumption models."

Currently, and in line with its commitment to transparency and responsibility, Spain-Holiday.com is the only Spanish platform specialising in holiday rentals in Spain whose holiday homes are advertised with the registration number that corresponds according to the autonomous community in which is it located in.
Furthering their efforts in responsibility the platform recently launched "Holiday Footprint" - an initiative that aims to help implement good sustainable practices in holiday homes by encouraging guests and homeowners to think about the waste they produce and to help them follow the various recycling schemes in Spain.