You'll find the Finca Los Castaños in the Valle de Agaete. Its name is a little confusing at it means Chestnut Estate. However, I didn't see any chestnut trees when I dropped by. Coffee plants were conspicuous by their presence rather than their absence, however.
The road to nowhere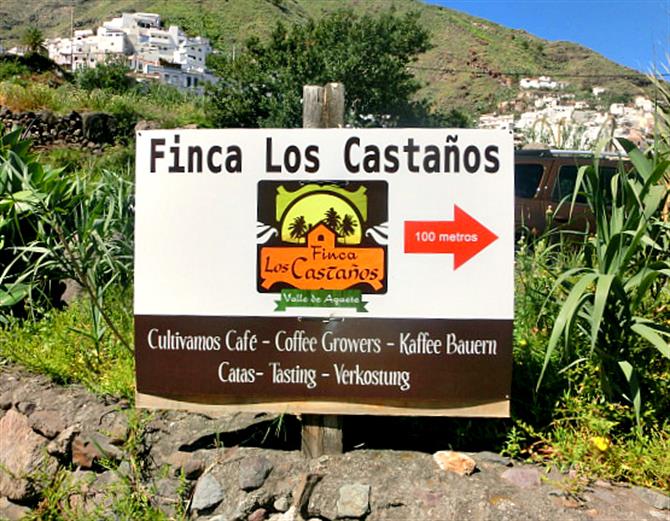 The Valle de Agaete's well signposted from Agaete village centre. Once in the valley, you can only go one of two ways, left, the high road, to Los Berrazales, and right, the low road, to San Pedro. Take the low road and, within five minutes, you'll see the sign to the Finca Los Castaños.
Fertile ground
The Valle de Agaete's Gran Canaria's grow-anything valley, complete with volcanic soil. As well as lemons, oranges, papayas, and vines, there are, increasingly famously, its coffee plants. As the Finca Los Castaño's Antonio Márquez reveals, there are 700+ coffee plants on their estate.
The type of coffee grown by Márquez is exclusively arabica typica. These plants originally hail from Ethiopia and what they lack in yield, they make up for in flavour. Yes, these beans are low in terms of quantity but high when it comes to quality.
Mr bean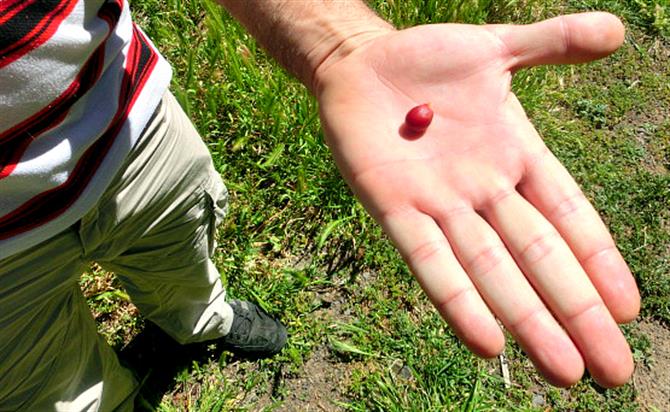 Coffee's a fruit. What Antonio Márquez has in his hand is what's known as a coffee cherry. He suggests I eat it and when I pop it in my mouth, it's definitely got a fruity taste and, what's more a stone, which I'm careful to spit out rather than swallow.
And so the cherry needs to ripen. Pick them too soon when they're still green and the resulting product will be a very bitter coffee. But leave them too long on the plant and they'll be over-ripe, which will mean you end up with something more sour rather than sweet, vinegary rather than chocolatey.
Sun dried cherries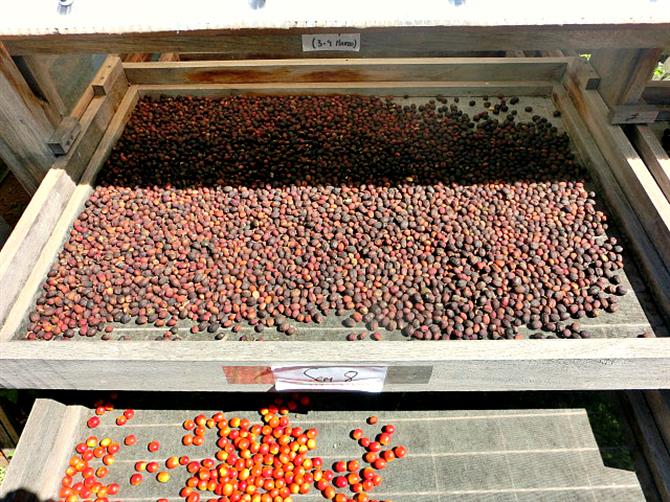 Whilst the humidity of the Valle de Agaete and the shade provided by the overhanging palm trees are key in the cultivation of the cherry, the transformation of berry into bean is more reliant on the sun. So, with the plants featuring some ripe-looking cherries, it's only a matter of time before they're left out to dry. Darkening from their rose-hip red to a more familiar brown in the process.
A damn fine cup of coffee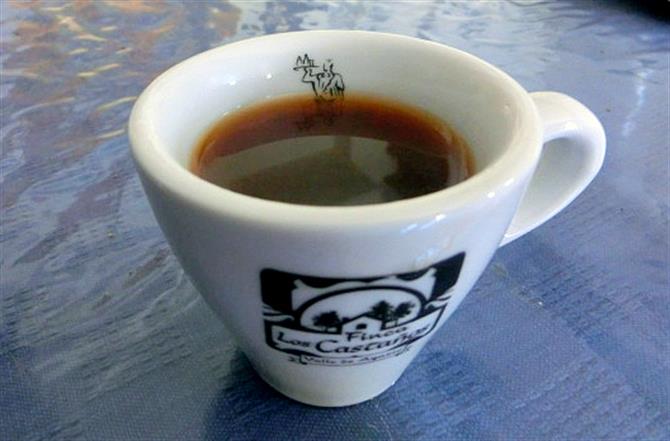 Back in my UK days, my daily coffee would be a latte brought at Loughton tube station, as I battled to keep out the cold on my commute into work. But a Valle de Agaete coffee is an altogether drinking experience. There's that hit of cocoa combined with green apple. It's traditionally taken black and without sugar. After all, who needs extra sweetness when the fruit's already caramelized so delightfully?