Many visitors to Gran Canaria, and indeed locals, bypass El Risco on their way to the wild west of La Aldea de San Nicolás. And if they do stop, it's usually for a quick drink or cheap eat at Bar Perdomo. But there's more to this western outpost than these simple pleasures and you should stay for longer; to make a pilgrimage to the Charco Azul.
Hitting the heights in El Risco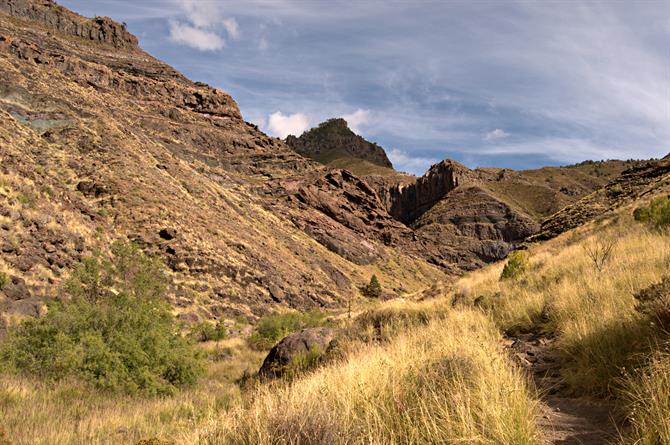 Following first the GC-2 from Las Palmas de Gran Canaria, which ends at Agaete, and then the GC-200, you'll be in El Risco in just under an hour. My journey, however, was longer, as I travelled by Global bus. Whilst the direct 105 from the capital to Gáldar is a pretty smooth ride, the 101 to La Aldea de San Nicolás is a rollercoaster in slow motion, and that's even before you hit the serpentine GC-200. As the bus snakes its way through San Isidro and Piso Firme rather than continuing along the GC-2.
The 101 deposited me in front of Bar Perdomo. From there, it's a 15-minute well-marked uphill walk to the SL02 signpost at the upper limits of El Risco's hamlet. It's similarly a quarter-of-an-hour hike from here to the Charco Azul.
Surefooted as a mountain goat
Whilst you might not see mountain goats on your trek to the Charco Azul and back, you'll hear their bleats from above. As you in all likeliehood haven't got hooves, makes sure to wear footwear with a good grip, preferably hiking boots. Walking poles might be a good idea too, as, despite being a short hike, the path ascends, and then descends, quite dramatically in places. It's also a little overgrown in places which isn't that surprising in such a tropical destination as Gran Canaria.
As with other hiking routes on the island, you should not attempt this at night. Do, however, bring a torch in case the sun goes down quicker than you imagine. And, for safety reasons, bring a mobile phone too. However, this is a fairly popular walk, so you're unlikely to be out of shouting distance from the rest of the human race.
Taking the plunge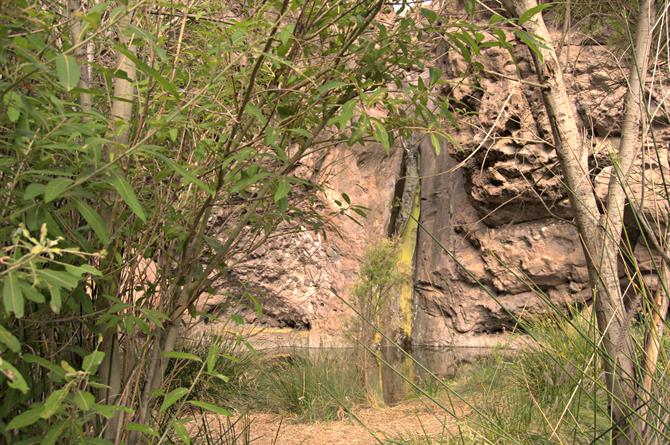 What better way to cool off than diving into the Charco Azul itself? As you discover a natural pool formed by a waterfall. Taking my cue from the handful of locals bathing, I found the temperature bracing rather than the heartstoppingly freezing conditions I've experienced on UK wild swims.
The Blue Pond will change in colour and size depending on the time of day and, indeed, year. In winter months, it's fuller; in summer, emptier. The algae can make the water appear green but, in truth, it's usually less blue than transparent.
Many happy returns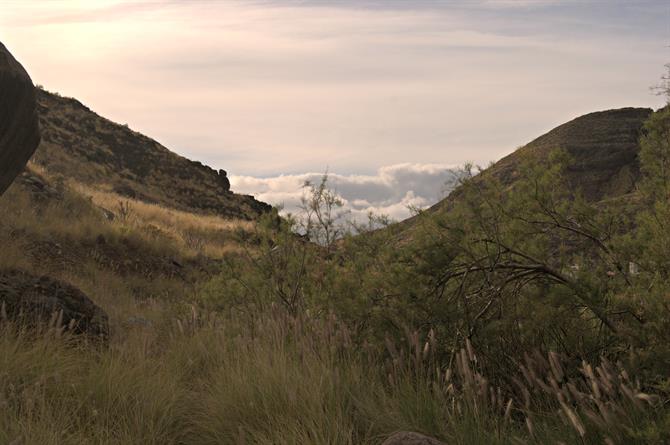 The Charco Azul's a great place for a picnic. It's also ideal for having a dip, then coming out and drying yourself in the sun before you submerge yourself once again. But whilst it'll require a certain amount of willpower to summon the necessary determination to make the return journey, your eyes will be rewarded with the stunning views over the Atlantic below.