On the edges of Agaete town as you enter the Valle de Agaete, you'll find Gran Canaria's newest archaeological centre. The Necrópolis de Maipés is one of the major sites where the island's pre-Spanish inhabitants, the canarii, buried their dead. Given its stunning setting, you can understand why the canarii thought it a fitting resting ground for their deceased.
Getting from A(gaete) to B(adlands)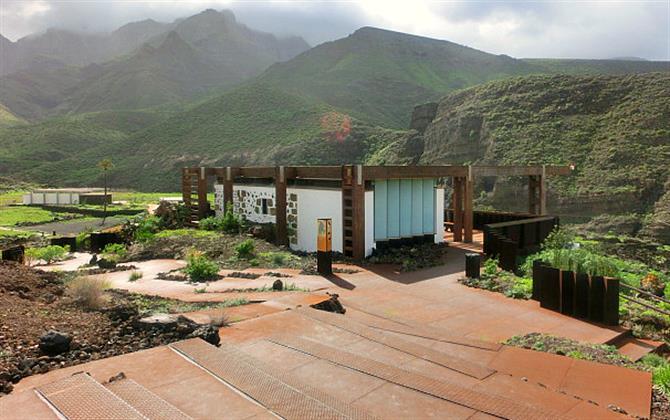 It's pretty straightforward to get to the Necrópolis de Maipés Parque Arqueológico. If travelling by car, follow the signs to El Valle and this archaelogical park. If travelling on foot, again follow the signs, allowing five to 10 minutes from your starting point in the town centre, to reach your final destination.
You'll find the Necrópolis de Maipés next to the Club Deportivo Villa Marinera de Agaete football ground. Its winter timetable (October-March) is Tuesday to Sunday from 10:00am-5:00pm and it's open in summer (April to September) from 10:00am-6:00pm Tuesdays to Sundays. There's a car park for visitors.
Going with the flow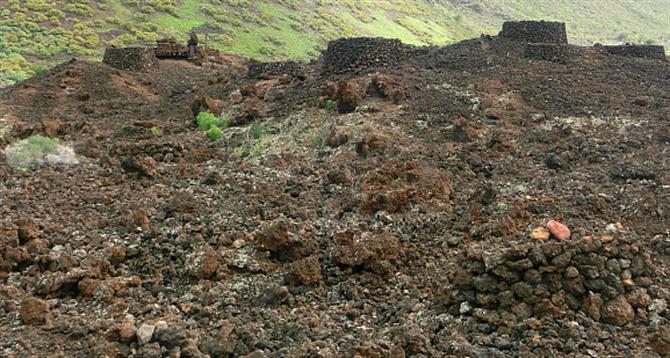 Nowadays, Agaete, and especially its valley, is a pretty chilled-out area. Things were a little bit fiery, volcanic even, 3,000 years ago. When the Hondo de Fagagesto volcano blew, spewing a 11-km-wide trail of lava which flowed down the valley and into the sea.
This maipés (badlands) is where the canarii chose to bury their dead, with 700+ tombs discovered here. They would have had to wear rudimentary footwear fashioned out of goat or pig skin to walk here if they wanted to avoid their feet getting burnt. Later, following the Spanish invasion, soil was placed over this area to convert it to fields suitable for farming purposes.
Do the onion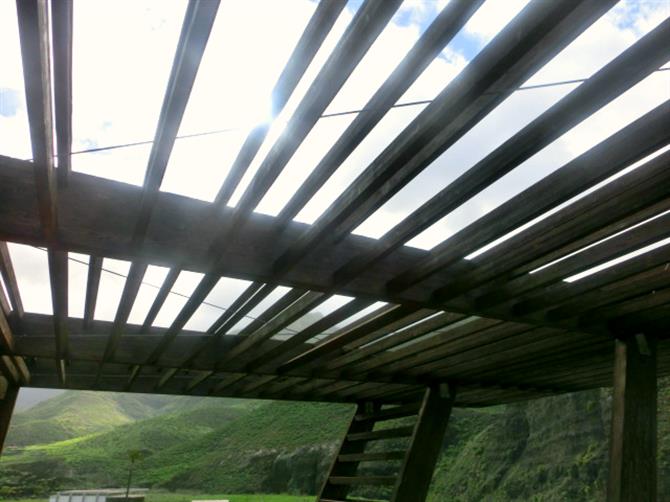 Gran Canaria's an island of microclimates, where you can travel from sunshine into rain in a matter of minutes. Also the climate of Agaete's variable, as you can probably tell from the picture. It's gloriously green for a reason and that reason's the occasional shower.
So to be fully prepared for your visit to this open-air museum, dress like you're going hiking on the island. Wear thin layers of clothes including ones offering rain protection. When the sun comes out; remove layers. If the wind kicks in; add them. That's right, you need to do the onion.
Take shelter at the Necrópolis de Maipés interpretation centre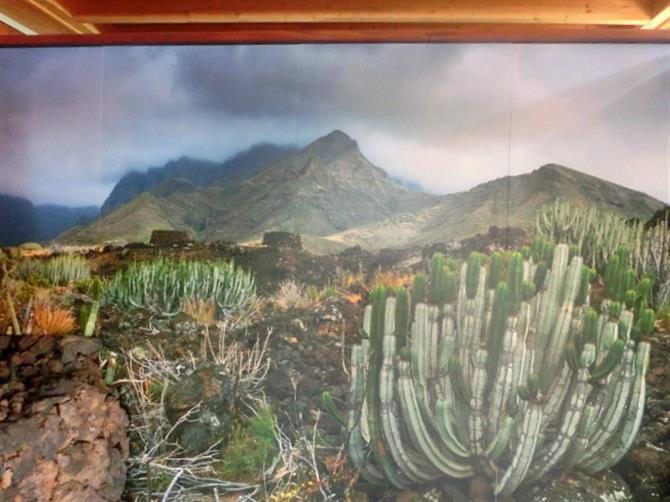 The Necrópolis de Maipés is located in the north west of Gran Canaria. When I visited, it felt like being back in the north west of England. For the heavens truly did open and the raindrops started to smudge my increasingly-frantic scribbles in my notebook.
If this happens to you too, do as I did and head to the refuge of the interpretation centre. Where, as well as sheltering, you'll find out more about the types of tomb, from the most common featuring a ring of volcanic stones to the more elaborate turret-topped ones which were used to bury nobility.
Returning outside, you can see where the cemetery wall extended to. Pity the remains of the eight bodies found outside this boundary. Historians believe to be these rain-damaged/lizard-disturbed cadavers to be either canarii deemed unworthy of proper burial or foreigners who landed on GC's shores before the 15th-century Spanish invasion.