If you want your holiday to start asap after leaving the airport, Agüimes is the ideal stop-off. It will also provide you with the perfect introduction to the island. Particularly if you sample the cochinillo dulce, the sweet suckling pig so beloved of the area.
Stationary Agüimes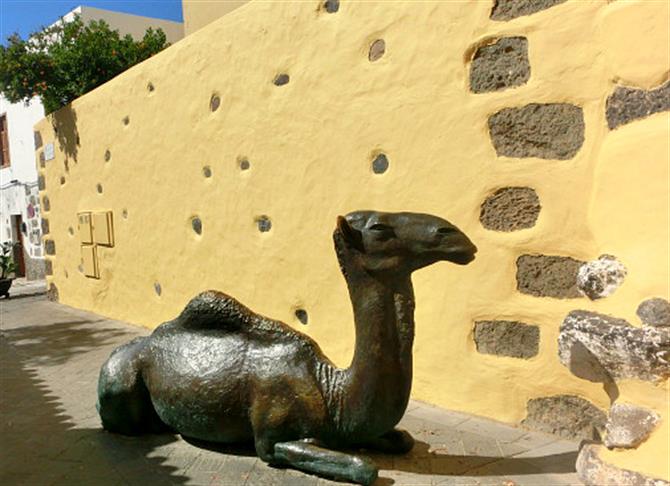 The first thing to do upon arriving to Agüimes is to park your car, for its casco historico (old town) demands to be explored by foot. The alternative is to arrive by bus, with the station a rather more recent addition than the 1486 centre. You'll see Joaquin Artiles' poem A Pulso Lento (A Slow Pulse) which the locals seem to have adopted as a manifesto.
In truth, the pace of life's almost as slow as the town's famous Sculpture Promenade. One of the most eye-catching sculptures is W Herrera Garcia's Camel. It's located just around the corner from some former camel stables which have been converted into Agüimes' finest hotel and restaurant.
Agüimes' Twin Towers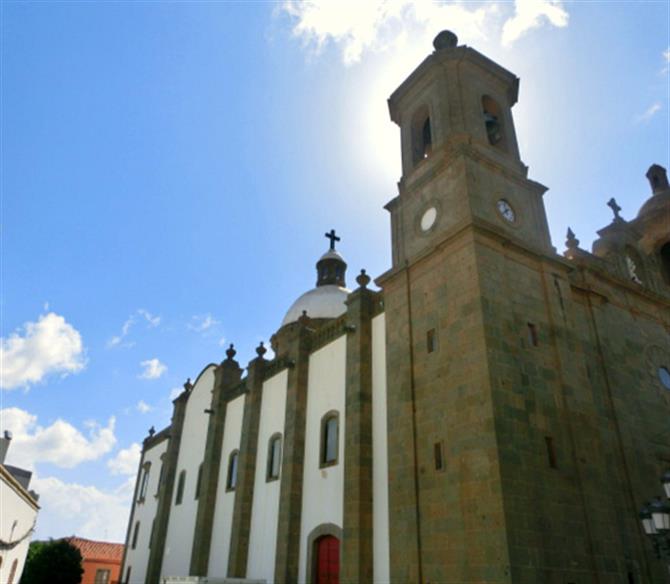 Much like its northern equivalent Arucas, Agüimes boasts a parish church masquerading as a cathedral. The Parroquia de San Sebastián dates back to 1602. It's the focal point of the Fiestas de Nuestra Señora del Rosario, the celebrations held in tribute of the town's patron saint during September and October.
But these parties are as much secular as spiritual. The last Saturday of September sees the Traída del Agua y Gofio come to town by way of the mill. Locals dress up in Canarian costume to fetch gofio from the mill 2km away before opening sacks in the main plaza. A free-for-all food, as in flour, fight commences with water being thrown over the revellers from the overlooking balconies.
Agüimes' history lesson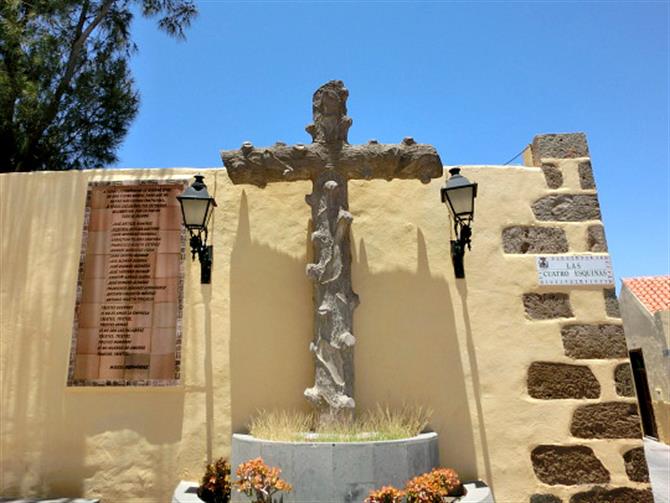 Time travel is pretty easy in Agüimes. Achieve a step back in time with a paseo around the casco historico. Where traditional low-level Canarian architecture rewards your eyes.
For a more formal historical overview, visit the Museo de Historia de Agüimes (Calle Juan Alvaro y Saz 42; 928 78 54 53). Open from Tuesday to Sunday, from 9:00am-5:00pm, it teaches you about the region's aboriginal past, the Spanish conquest, and traditional crafts. Situated in a grand 17th-century mansion, you can read about the exhibits in English, German, or Spanish.