Alicante beach city is a haven for shoppers who can wander around the seafront and the historic streets to enjoy little curiosity shops as well as well-known brands and the famous Spanish department store El Corte Ingles.
The Alicante region is famous for its quality shoes and other leather goods especially bags. It is also a great place to stock up on the fine foods and wine produced in Alicante such as chocolates, olive oils, nougat (known as turron), and wines such as Moscatell.
Little curiosity shops in historic Alicante
The best places to go shopping in Alicante are in the streets leading off the iconic Explanada, which runs alongside the sea and marina. This street lined with palm trees has just been restored and is built using thousands of coloured tiles which look like waves.
Off here is the main street Avenida Federico Soto which leads up to the lovely Plaza de los Luceros where you'll find plenty of cafes and restaurants for a snack to build up the energy for yet more shopping.
Here you will find two El Corte Ingles stores, one In Avda Federico Soto and the other around the corner in Avenida Maisonnave. El Corte Ingles is a massive department store selling clothes, designer labels, bags, electrical goods, household goods and more.
The store also has a wonderful food store which products from around the world, including Jamie Oliver sauces and spices. This is a great place to stock up on olive oil or Alicante wine, for example. The store also has a café if you need a breather before a mega shopping spree.
Sweet delights in a traditional Alicante square
Cross over to the other side of Avda Federico Soto about half-way along and you will come to the pretty, traditional Spanish square, Plaza Calvo Sotelo.
There's a high-end jewellers called Amaya selling top-of-the-range jewels and watches from designers including Chanel, Gucci, and Patek Philippe.
On the corner of the square, you will find an interesting little sweet shop called Tienda Fini selling brightly-coloured sweets which you can pick and mix.
Children will love being able to choose from so many different types of sweets and gum.
Follow the yellow brick road in Alicante
They will also enjoy a walk around the corner along Calle San Francisco, which is like walking down the yellow brick road.
The street has been transformed into a children's dream with coloured tarmac, giant mushrooms with snails and little playgrounds.
Adults will be delighted too by the range of quality shops and bars lining the street, including Canada Coffee with a delicious range of cupcakes, muffins and sandwiches.
Shoe lovers will need to make a quick trip to Calle Girona, which is also off the Plaza Calvo Sotelo and running parallel to Calle San Francisco.
Look out for Botticelli which has a fabulous range of shoes and boots with more than 50 brands for men, women and children including Clarks, Calvin Klein, Geox and Diesel.
There is also another branch at Avenida Maisonnave.
From here, you can head up Calle Castanos to visit Habemus Birra filled with beers and stouts from around the world. Look out for craft ales made in Spain including Tyris from Turia.
Stocking up in Alicante's central market
A few minutes' stroll from here is Alicante's grand central market in Avenida Alfonso el Sabio.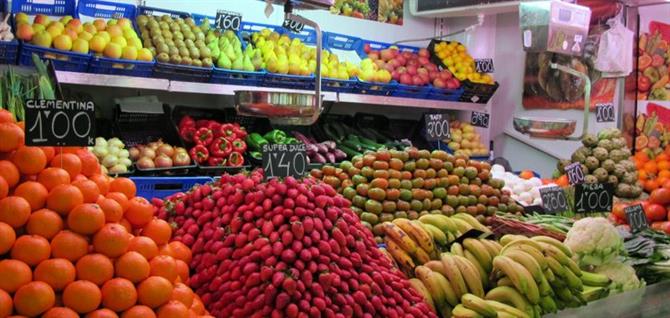 This is a fabulous shopping experience with colourful stalls selling fruit, vegetables, meats and fish. You can pick up some great home-made sausages or delicatessen items for a picnic as well as be enthralled by the amazing range of fish and shellfish on the stalls.
The area around Alicante and Santa Pola a little further south is well-known for the quality of the fish such as prawns, crabs, crayfish, tuna, mackerel and dorado.
Outside the market is a stall, Turrones Candela Espi, where you can pick up luxurious turron made in the nearby town of Xixona. Turron is a type of nougat and you can buy soft or hard varieties in different flavours.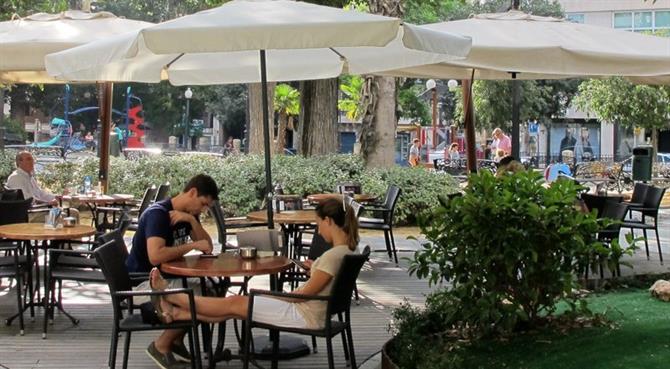 Unusual bargains in Alicante
Off the Calle Alfonso is the pretty Rambla Mendez Nunez which takes us back to the beach and is lined with super shops. One of our favourites is Ale-Hop, which is great for bargains and unusual presents.
You can pick up soft scarves, notebooks, pens, pictures, mugs, toys, cushions and hats in a wide range of colours. It's definitely worth popping in to see what oddities they have in stock such as little battery-operated massage balls with feet to sooth aching muscles.
Look for the large cow with a bell in the street and you'll know you've arrived at Ale-Hop.
To stock up on wines and spirits, there's a grand selection – about 5,000 - from Spain and the rest of the world in Bodega Bernardino.
Wines from the Alicante region include Marina Alta blanco which is a refreshing white wine, Puerto Alicante made from Shiraz grapes and Santa Barbara produced from Monastrell and Cabernet Sauvignon grapes.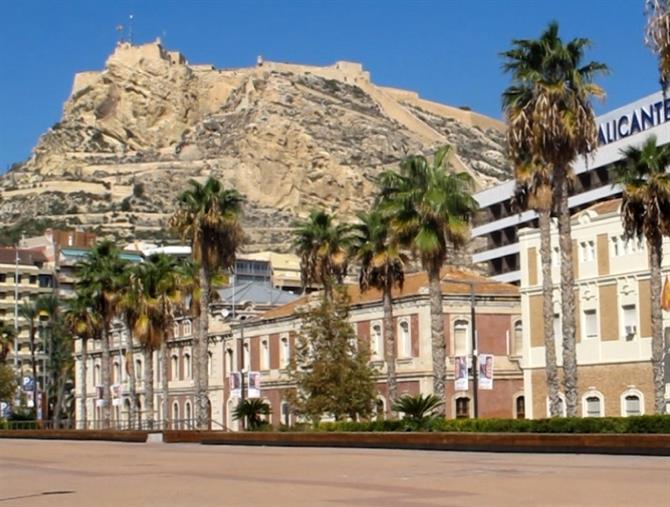 Bargains and brand names in Alicante
As well as individual shops and brand names in the old town in streets such as Avenida Federico Soto, Avenida Dr Gadea, Avenida Alfonso el Sabio and Rambla Mendez Nunez, Alicante also has several shopping centres.
The shopping centres tend to attract more household names so are good places to visit if you want to buy familiar brands or for when it rains.
Panoramis is down by the port so it's lovely to combine a shopping trip with a wander around the boats and a bit to eat in one of the seafront restaurants.
It's more of an entertainment centre than a shopping mall with cinemas, children's play areas, and activities such as fashion shows, live music and exhibitions. But it also has a range of clothes shops and accessories.
The best indoor mall in Alicante is Plaza Mar 2 on Avenida Denia, where you will find a cinema, children's activities and 120 shops including Adidas, Ale-Hop, Benetton, C&A, H&M, Mango and Zara.
There are also fast food restaurants and a lovely tapas bar with a good range of snacks to try.
If you're looking for bargain fashion clothes, there's a branch of Primark in the Gran Via commercial centre so you can buy cheap jeans, shoes, and other clothes. It's always busy so it is best to go when the store opens at 10am or about 2pm when the Spanish are having lunch.
The shopping centre has a fair range of other shops including Carrefour supermarket, Druni beauty products, H&M, Lefties and The Phone House.
Many shops in Spain still close in the afternoons. In Alicante, the small, individually-owned shops are likely to close. The shopping centres, department stores and El Corte Ingles will remain open.