Alicante is a shoppers' heaven with the grand El Corte Ingles department store, shopping malls with high-street brands such as Mango, Zara and Bershka. It is also home to a thriving shoe-making industry with craftspeople creating everything from desert boots to high-heeled, colourful party shoes.
Carrie Bradshaw of Sex and the City is famous for her love of shoes. She would be in seventh heaven if she took a trip to the Alicante region of Spain with its high heels and kitten heels in a rainbow of colours with matching handbags or clutches too.
Fellow shoe aficionados need not go as far as New York to satisfy their cravings. The city of Elche, about 18 kilometres from Alicante international airport, has more than 1,000 shoe factories, making it one of the most important footwear producers in Europe.

About 50% of Spain's shoe-makers are based in and around Elche including brands like Panama Jack, Pura Lopez, Ana Roman, Garvalin and Salvador Artesano. They produce everything from children's shoes to ladies footwear and therapeutic or orthopaedic shoes.
The nearby inland town of Elda, about 34kms north of Elche, also has an impressive shoe-making industry and now boasts a fabulous shoe museum with more than 15,000 items celebrating the history,tradition and culture of the industry.
From farming to fashion
The industry in Elda and Elche dates back to the late 19th century when crafts people started to find different uses for natural vegetable fibres such as jute and hemp. Some started to make shoes like those woven shoes, similar to espadrilles, seen in traditional Alicante costumes. This was another great way to diversify from the traditional farming industry, which was having problems at that time, while still using local products.
Elda started to transform from a farming community to an industrial village as more families began to embrace crafts using the local reeds and grasses. Apprentices started to move in from outside the village and by the end of the 19th century, factories sprung up to cope with the demand for these quality shoes.
Neighbouring towns such as Elche and Villena also cottoned on to the thriving craft and local families set up workshops and factories of their own.By the 1960s the shoe industry developed strongly to become a dynamic industry, not just within Spain but also exporting to other European countries, USA and Russia. Quality leather and canvas shoes for men, women and children can be bought at knockdown prices from the factory shops.

Elda is now a major competitor in the fashion world with many models and members of the Spanish Royal family wearing shoes made in this famous shoe-making corner of Spain. The town also initiated the Footwear Fair in Spain to showcase the country's shoes.Elda is now renowned for its contribution to the idea of shoes as an art form, not just an everyday necessity. In the city, visitors can enjoy the great variety of shoes in the museum and to see fabulous designs in women's footwear in particular. People can discover the town's creative influence in the world of fashion, which began with local families but now attracts shoemakers from around the country.
Royal fans
The Princess of Fashion, Princess Letizia,wife of the heir to the Spanish throne, is often seen wearing Pura Lopez shoes and chose the designer for her very special wedding shoes. Elche-born Pura Lopez is the daughter of shoe manufacturer Antonio Lopez Moreno. She grew up surrounded by shoes and studied interior design and fashion design before joining the family business. In 1987 she started to develop her own style of women's shoes. Her high heels and platforms won acclaim throughout the fashion world and she has worked with many designers and fashion houses such as La Perla, and Devota & Lomba. If the price tag is a tad high, you can take a look at her shoes in Spanish films such as those worn by Penelope Cruz in Manolete. Celebrities such as Kylie Minogue and Kim Kardashian are also believed to be fans.
Other manufacturers cater for the leisure side of the business. One of the best-known Spanish shoe brands is Panama Jack,which was founded by Antonio Vicente in a small workshop in Elche in 1989. He aimed to make high-quality shoes, boots and sandals, which are still handmade today. The trademark shoes are now sold around the world while the company has remained true to its roots. Each year,Panama Jack sponsors the Ruta Quetzal project when more than 300 young people from different countries travel to remote areas of Hispanic America and Spain –wearing Panama Jack boots, of course.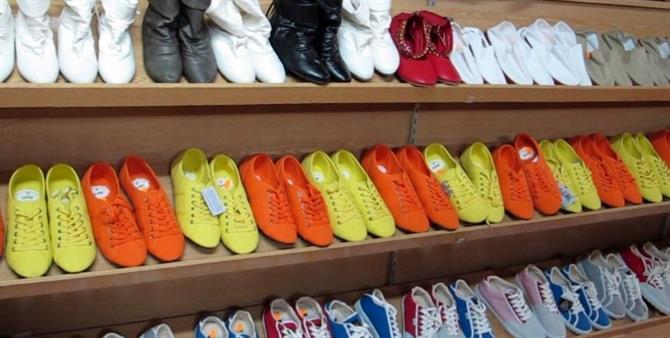 Many shoe-makers are family run businesses where the traditional skills were passed on through the generations. A good example is DC Calzados was set up by Pedro Cutillas 50 years ago in a small factory near Elche to provide quality shoes. Now, the company produces about 600,000 pairs a year with around 50 workers. It specialises in trendy footwear for leisure, skateboarding and snow boots for men, women and children.
A good number of English children in the 1960s and 1970s will have grown up in Clarks shoes. The equivalent in Spain is Elche-based Garvalin, which is known throughout the world, and is a symbol for Spanish children's footwear.
Discount shoe shops
Many top brands can be seen – and bought –in the Elche Business Park, which is a modern industrial estate bringing together the major shoe companies. Some firms set up factory outlet shops and the concept has grown so the business park is now the largest shoe outlet village in Europe where customers can buy top-quality shoes at knockdown prices. Within the village is the Pikolinos museum taking shoe lovers back to the 19th century history of Spanish shoes, including the emblematic espadrilles, right through to 21st century fashions.
Another fabulous place to see thousands of shoes under one roof is the Salvador Artesano factory shop in Elche. About 80,000 visitors a year enjoy a guided tour starting with a glass of the local muscatel wine and to see a dozen or so workers crafting shoes. They can then walk around the massive store to try and buy shoes, bags and belts. This is a chance to pick up a bargain as Salvador Artesano sells its own brands like Wisconsin, Salvador Artesano, Esther Mendez, Dimo and Domenico Pedona as well as a selection of the best-known brands like Levi's, Mustang and Geox.