Easter celebrations would not be complete without chocolate eggs, symbolising new life and fertility, the welcome arrival of Spring.
One of the finest chocolate makers can be found in the Alicante province. For more than 130 years, Valor has been producing quality chocolates from the pretty seaside town of Villajoyosa. Many towns also have a Valor café and shop with tempting offers such as thick hot chocolate with churros (doughnuts), ice-cream and boxes of chocolates.
A special day out for Easter could be a trip to the Valor museum in Villajoyosa to find out about the history of this delicious treat, take a tour through the chocolate factory and stop off at the shop to try before you buy some delicious varieties. It's very rich chocolate with delicious fillings such as nuts, fruit, wine from the nearby Enrique Mendoza vineyard or liqueurs. There are even sugar-free varieties.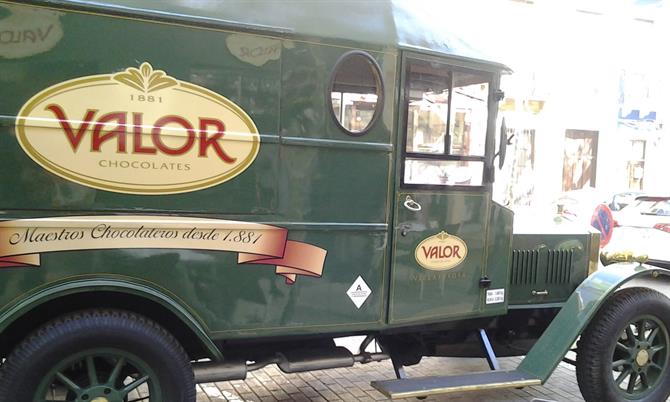 In the beginning
Valeriano Lopez Lloret founded the artisanal chocolate production to run alongside the family farm,which was then taken over by his son Vicente Lopez Soler in 1881. Over the next 40 years, production is extended to nearby towns and provinces.
Chocolates Valor also buys its first motor vehicle which replaces the traditional horse and cart.The big change came when electricity arrived in the village. The chocolate factory rapidly expanded and started to employ workers, not just members of the family. Business was booming. So much so, that the family bought a factory in Villajoyosa in 1964 to meet demand and also increase the range and quality of chocolates.This was a major move and an important development.
Soon after, Valor launched Chocolate Puro (pure chocolate) which has become an emblem of the brand. The company continues to modernise and increases production to more than 10,000 kilos during the eight-hour working day. Although Valor could have made more chocolate, it was important to keep the top quality for which it had gained such a fine reputation.
In the 1970s, Valor chocolate continued to expand and to distribute its products throughout Spain.Today, it can also be bought in 45 countries throughout the world including many in Europe, USA, Argentina, Venezuela and Japan, among other countries, as well as online of course.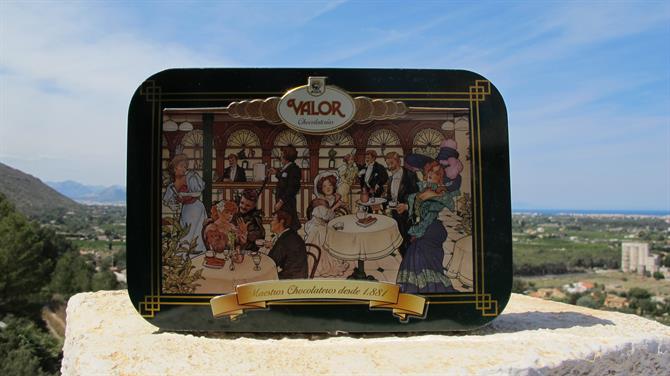 To celebrate the 125 anniversary of Valor chocolate in 2006, the factory was honoured to be visited by the Prince of Asturias. It also inaugurated its art gallery and increased its line of artisanal chocolates.
In 2011, the company received the prestigious European Candy Kettle Award, which honours the contribution of companies in the confectionery industry.Now, as well as being found in top stores and supermarkets, Valor has a range of chocolate shops throughout Spain, which are noticeable for their striking green livery (very similar to the colour of the exclusive Harrods store in London).
In the Alicante region, Valor shops and cafes can be found in Alicante-Elche airport, Alicante city, Benidorm, Denia, El Campello, Torrevieja, and Villajoyosa. The cafes have a range of products including thick hot chocolate with churros, milkshakes,mousse, cakes, crepes, ice-cream, juices, coffee, tea and toasts.
What's the secret of their success?
Valor's value can be summed up in one word: Quality. Valor uses the finest cocoa beans from around the world to produce the best chocolate. Some beans are chosen for their flavour, others for their texture and more for their scent. Put together, they provide a winning formula for producing artisanal chocolates.
The cocoa beans are mixed and cleaned. The seeds are roasted and ground into small pieces. These are further refined to make a very fine powder before being milled to produce a fine paste or liquid which is added to cocoa butter and sugar. Other ingredients may be added for flavouring, such as nuts or fruit, before it is put into a mold to set. Finally it is cooled and packaged so it is ready to hit the shops.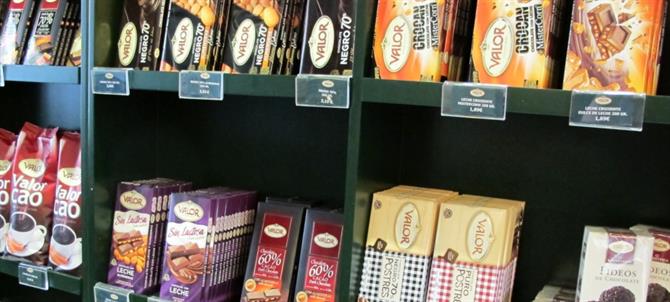 Take a trip to the museum
A morning spent at the Valor museum is fun for all the family. You can learn some surprising facts about cocoa and chocolate production, see some of the earlier methods of making chocolate, take a tour of the factory and lastly – perhaps most importantly –visit the Valor chocolate shop to taste some samples and buy some tasty treats to take home.
The tour begins with a short film where you will find out more about the family who founded Valor and their love of chocolate since 1881.
You will also learn about how cocoa is cultivated, the different varieties available, why the mix of beans is all-important and how Valor decides which beans to use and why.The tour then extends to the factory where the guide will explain how the best chocolate is made.
To take part in a tour, simply turn up at the Valor chocolate shortly before the guide begins at 10am, 11am, 12pm, 1pm, 4pm, 5pm, 6pm and 7pm on Mondays to Fridays. On Saturdays the guides take part on the hour at 10am, 11am, 12pm and 1pm. Groups tours for 12 or more people need to be prebooked.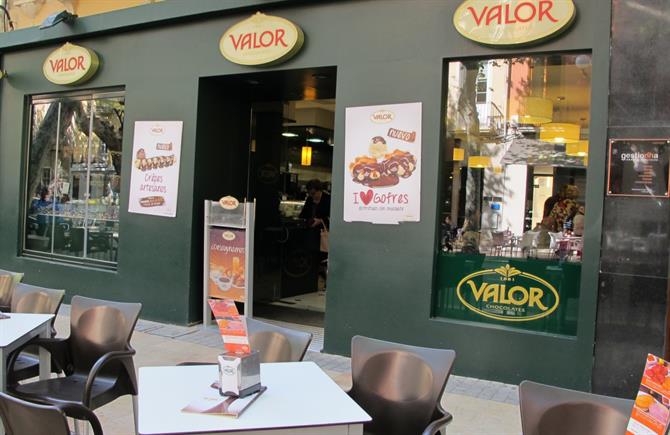 Health benefits of chocolate
Chocolate has several benefits to your health – in moderation of course! Chocolate, such as Valor,has a very high cocoa content, which is important. Other household confectionary names have a lower cocoa content.
In the UK, chocolate must contain at least 20% cocoa solids while in the US it is as low as 10%. Valor chocolates, on the other hand, have 35% or more, which makes for a far richer,more luxurious flavour.
The cocoa content is the important factor as these beans are packed with healthy flavonoids(antioxidants) which are good for the heart. There are more flavonoids in dark chocolate rather than milk or white.
A report in The Journal Of Nutrition said that regular consumption of chocolate which has plant sterols and cocoa flavanols can lower cholesterol and help blood pressure.
A study by Harvard Medical School scientists showed that drinking two cups of hot chocolate a day may help to keep the brain healthy and prevent memory decline.
Another study by the British Medical Journal suggested the chocolate can reduce the risk of heart disease. Canadian scientists showed that people who eat chocolate were up to 22%less likely to have a stroke.
Chocolate, wine and berries may also protect against Type 2 diabetes – so buying those Valor chocolates filled with wine from the Enrique Mendoza vineyard could be good for your health.