For many months of the year, Alicante's balconies and gardens are a blaze of colours as flowers come into bloom. Blood-red geraniums, pink fuchsias, fragrant clematis and lavender, as well as vivid green varieties of cacti are commonplace while trees such as palms and pines provide shade with pretty jacaranda treesbringinga beautiful lilac hues to gardens and many city streets.
A walk through the garden is a lovely way to spend an afternoon – finding new flowers to try in your own home and marvelling at the glorious golds, yellows, reds and blue shades which bring the Mediterranean garden to life. In Alicante, as well as the public parks, there are several private gardens that you can visit to find out more about the Mediterranean plants while enjoying a typically English cup of tea or cake with coffee.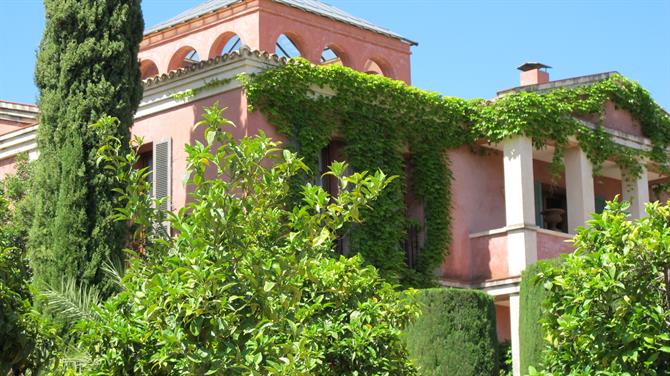 A formidable garden with impressive pink villa and swimming pool is open to the public in Pedreguer, near the popular La Sella golf course. L'Albarda Mediterranean garden was created in 1990 with marvellous examples of the great variety of flora and fauna in this part of Europe.The garden is about 50,000 square metres of 700 native plants including some formal landscaped gardens and impressive topiary.
Moors influence on Mediterranean gardens
The garden recreates the essence of the formal Renaissance gardens in the Alicante region, which were influenced by the Arabs, who ruled this part of Spain for 700 years until the 15th century. As well as bringing many new plants, foods and spices to Spain, the Moors also introduced great irrigation systems to cultivate the new-found flora and fauna. They created beautiful gardens and courtyards filled with flowers – a legacy which continues today.
The award-winning L'Albarda garden is a living testament to this Arab influence. It is run by the Fundem foundation whose aim is to conserve the fauna and flora of the Mediterranean. It provides a model of sustainable gardening, from which we can all benefit, with ideas on low-water consumption and the use of indigenous plants. It also aims to encourage people to create and restore gardens to preserve the landscape.
Uncoupling the alien plants
Another lofty aim is to rid Alicante of invasive 'alien' species such as pampas grass, Mexican cactus, and African oriental grasses. The foundation claims that invasive species are the second largest cause of the loss of biodiversity, or abundance of different species, in the world. As well as being an educational experience, L'Albarda is also a great place to wander around to enjoy different plants as well as pick up a few ideas about which plants to grow at home.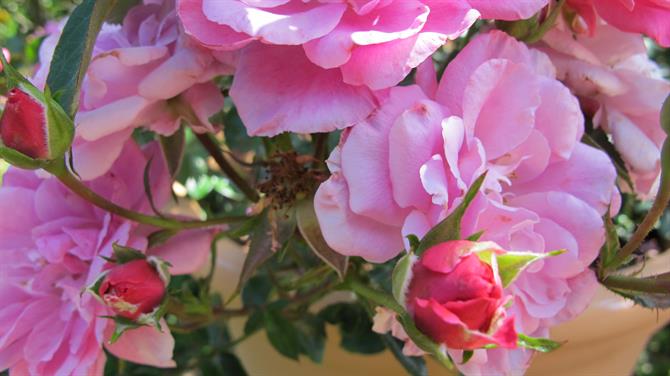 The garden has been divided into different sections with a formal garden, Valencian rose garden, small forest, orange orchard, rockeries and ponds. There are beautiful statues, terraces and a long tiled wall with benches to sit and admire the different flowers and shrubs. The grand pink villa has a large terrace overlooking the pool and gardens where you can enjoy a snack (coffee and home-made cake). L'Albarda is also the exotic setting of concerts throughout the year so you can enjoy live music in the garden to help raise funds to maintain the grounds. L'Albarda Mediterranean Garden is open all year, except August, from 10am to 2pm for a €5 entry fee.
Loving the Lavender Gardens
A few kilometres inland, in the beautiful setting of the Jalon Valley, are the privately-owned Lavender Gardens and Iris Gardens. Surrounded by mountains, the Lavender Gardens between Jalon and Benissa are a gorgeous way to relax for a few hours. There are thousands of purple lavender plants with their unforgettable fragrance as well as beautiful roses, irises, shrubs and trees. Each section has been lovingly created to provide an enchanting area. Scattered around are tables and benches, so you can sit, relax and enjoy a chat with friends.
While strolling along, keep an eye out for unusual little characters living in tree trunks or in the ponds, or interesting art-works along the way as well as enchanting terracotta pots and wind chimes. There are paths to guide you around the different areas, so it is accessible for people with wheelchairs. The beautiful pink, green and lilac colours would also make the perfect backdrop for a venue to celebrate a special occasion, such as a birthday or anniversary. The Lavender Gardens can be hired out for private functions together with delicious home-cooked food. The garden is open on Sundays from 10am. In April and May, it is open from Wednesday to Sunday, 10am to 6pm, so you can visit the Iris Garden in nearby Marnes and the Lavender Gardens in one visit.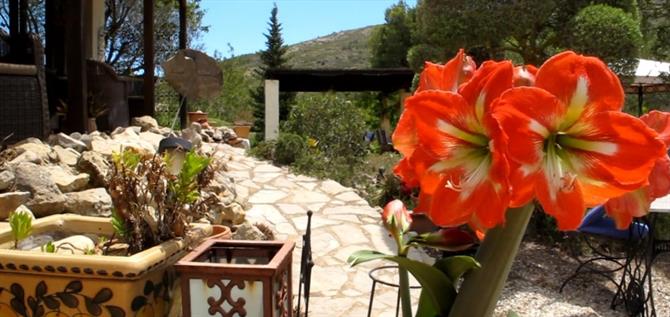 It's a beautiful, romantic setting where you can enjoy time to chill-out in a charming Mediterranean ambience. You can also buy lavender oil, which calms skin irritations, swellings, bites or burns. It also helps you to sleep and can fight infections.
Music with Iris
Further up the lane is the Iris Garden, which is open from mid-March until the end of May for a fee of €5. As well as enjoying the many different varieties of iris, often there is live music or poetry readings. The garden was set up in 2006 and now boasts about 500 types of irises including old-fashioned varieties, bearded irises and Pacific Coast irises. There is also a fine collection of roses including ramblers, climbers and shrubs with about 300 varieties adding up to 1,000 roses in all. As with the Lavender Garden, you can enjoy panoramic views of the Sierra Bernia mountains while being blown away by the amazing colours on your walk through the Iris Garden.
The gardens are a vivid rainbow of colours in March when they are filled with narcissus, tulips and other bulbs to celebrate the arrival of Spring. May is the best time for rose lovers as they come into full bloom now. The aim is to be environmentally-friendly with horse manure being used in abundance and carob beans used as a natural mulch. A labyrinth has also being created with dark and light gravel as well as 1,000 irises of different colours to create a pretty pattern as you find your way through the labyrinth, which is a single path thought to enhance activity in the right-side of the brain.