Spain is famous for its brightly-coloured pots and glazed terracotta dishes. Many people like to take them home as souvenirs. Jugs for serving sangria, little earthenware dishes suitable for tapas, or large pots which are perfect for serving earthy meat or fish stews.
Pottery in Agost, Alicante
Agost is a typical Spanish village bursting with local character where you can watch potters at work and find out more about this craft. It is just a few kilometres from Jijona, which is famous forits production of the sweet turron (similar to nougat) so you can easily combine a visit to both towns. From Jijona, you can drive over the mountains to Agost to enjoy fabulous countryside and breathtaking views of the mountains and valleys down to the Mediterranean sea.
Agost is the only pottery centre in the Valencia region where you can see the traditional methods in action. During your trip to Agost you can also visit some of the craftsmen who remain. These include La Nava workshop which has its roots in the 17th century.The pottery still makes its own white clay with salt in the traditional Agost method. The workshop of Emili Boix, who is the sixth generation of potters, has some creative handmade pieces which also pay tribute to traditional methods.Some potters allow guided visits where you can see them at work and learn more about their culture.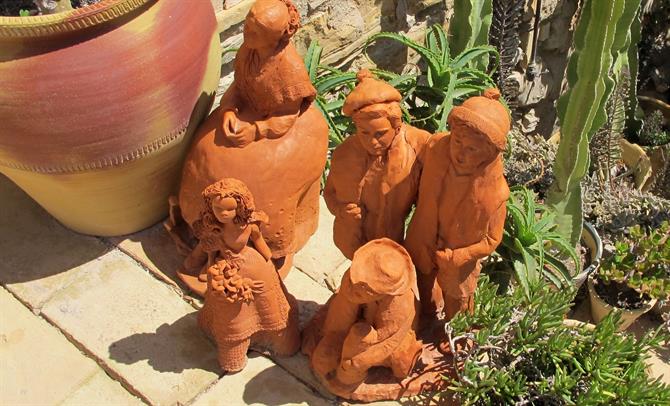 Museo de Alfareria - Alfareria Museum
Agost's economy was traditionally based on pottery and farming from about the 18th century until the 1960s.Now, there are about a dozen potteries left in the town as well as a museum which pays homage to the local trade.At the moment the pottery museum, Museo de Alfareria, is being revamped in an old pottery to house the exhibits. A temporary collection, along with a video explaining the history of the trade in Agost, can be seen in a 19th century potters' house set around a charming courtyard filled with cacti, pots and ceramic ornaments. The group of houses still retain their rustic charm but now have all mod-cons.
Potters still work there and it is possible to join courses to learn how to use a potter's wheel for yourself.In this cluster of houses, you can see the old water tank and the mill which was used to produce clay powder. Another house has been converted from the old furnace where hundreds of pots were gently laid on top of one another being fired.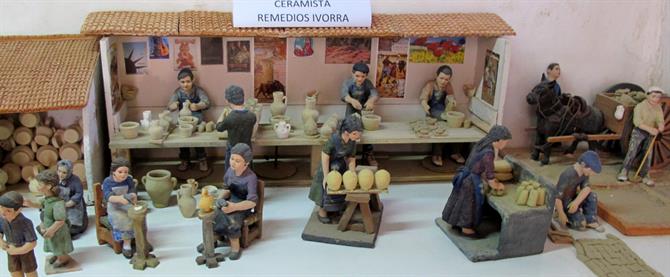 Agost's Water Jugs
Agost's boom in the world of pottery was at the end of the 19th century and beginning of the 20th when its distinctive decorative ceramics were exported to various countries including north Africa and the south of France. Its best known and most characteristic piece is the white water jugs, which kept the water fresh and tasting good.
Apparently,few pieces of pottery have the quality to conserve water as well as those from Agost, so they were highly sought-after by other Mediterranean countries.As well as white ceramic jugs for keeping water, Agost potters also made pieces for conserving and preparing food. Others were used as fountains, rabbit hutches, plant pots and pipes. These pieces can be seen in the museum dating from the 19th century to today.
The tradition began to die out after the Spanish Civil War with the introduction of new materials such as plastic as well as mass-produced pots and ceramics which could be made more quickly and cheaply. Also, many homes had running water and so no longer needed the distinctive white Agost water jugs.
The boom in tourism from the 1960s brought renewed interest in the traditional Spanish ceramics and pots. Holidaymakers liked to buy brightly-coloured jugs, plates, pots and ceramic pictures as souvenirs. They also liked the terracotta pots for serving, cooking or storing food as it made a change from the mass-produced dishes found in their home countries.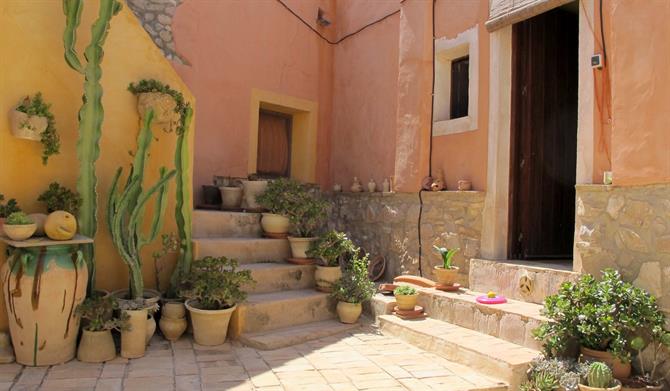 As well as visiting the museum and various crafts people, you can also take a walk around the pottery route to get to know Agost better. The route is signposted with information about each point of interest. It begins in Placa d'Espanya, a square in the centre of Agost. This is also where the local fiestas are held.The first stop is at the Fuente de l'abeurador, which is a fountain built in 1699 to bring in water from the aqueduct built by the Moors. This provided water for the various potteries. The next stop is Calle Ventos, which was home to many potteries in the late 19th century. The Ermita Santa Justa I Rufina sometimes holds exhibitions about pottery and ceramics and is named after two patron saints of that trade.
After that, the walk takes you to the pottery museum before moving on to the ponds which were used to make clay. The final place to visit is the Terres del Pobres, which is an old clay quarry used by potters who did not have their own plot of land with which to made clay.There are great views including sea views from here. You can also join a guided walk of the pottery route which includes a visit to the museum for €5.
While in Agost, you may also want to stop for a meal or explore the nearby Sierra del Castell mountain, which stands 376 metres above sea level.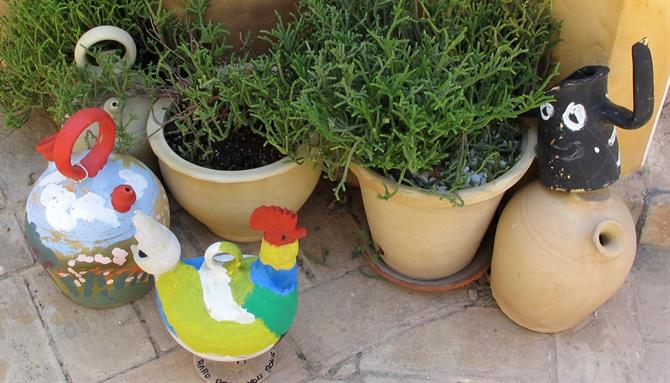 Agost is a small town with just 5,000 residents about 18 kilometres from Alicante city and airport. It has several restaurants where you can enjoy traditional Alicante cuisine such as paellas.Agost's typical paella is made with rabbit and snails rather than shellfish,gazpacho manchego (which is a meat stew, not to be confused with the cold soup called gazpacho) and the speciality of the town, coca a la pala, which are mini pizzas, which are topped with typical home-made sausages, jamon, cheese or vegetables.
Good times to visit are in October for the artisanal and gastronomy fair, during April for a tapas fair or at the end of June for the Moors and Christians fiestas when the local residents re-enact the battles when the Moors took over Agost and the Christians reconquest of the town.