Paella is often seen as Spain's signature dish but the glory really belongs to the Valencia region, where the best Bomba rice is grown to make this delicious meal. This eastern part of Spain has an impressive reputation for fine cuisine.The pretty beach resort of Denia is famous for its delicious red prawn, plus hundreds of restaurants including Quique Dacosta, which has three Michelin stars and has been hailed as 26th in the 50 best restaurants in the world.
The region is a food-lovers' paradise with its abundance of fresh fish and shellfish dishes, tasty fruit and vegetables and delicious sweets such as Valor chocolate from Villajoyosa and the tasty turron, which is similar to nougat, from Jijona.Spain-Holiday has picked its favourite 10 dishes and sweets from the Alicante region for you to try. If you can, pair them with a local wine; the Aqua de Valencia cocktail of orange juice, orange liqueur and cava; or the refreshing horchata made from chufa or tiger nut.
Picking the right paella
Paella comes in 101 varieties using what is available locally. By the coast it will generally include fish and shellfish such as mussels and prawns. Inland it is more likely to have rabbit, snails or chicken in the mix. Vegetarian varieties are also available. The most important thing is that it is made with Bomba rice from the Valencia region and one of the best comes from the Pego wetlands, just north of Denia. Traditionally, paella is eaten at lunchtime and not in the evening. Paella Valenciana includes chicken, rabbit, Lima beans, green beans and snails. Paella mixta is a good variety to try as it has a mix of fish,shellfish, meat and vegetables with the saffron turning the rice into a glistening golden colour.
Rice stocked with fish
Many local people will choose arroz a banda (rice cooked in fish stock) rather than paella. This is another tasty rice dish with a variety of fish, such as monkfish and cuttlefish, potatoes, onions, rice, garlic and saffron. The Bomba rice absorbs more liquid than the traditional long-grain variety, which makes this a very tasty dish which is often accompanied by the delicious allioli (garlic mayonnaise). It is interesting to see who prefers the arroz a banda to the stickier paella.
Simply red prawns
Denia prawns are a delicacy and come with quite a hefty price tag, especially at Christmas-time when they can be as much as €200 a kilo. One of the most cost-effective ways to try them is for tapas which keeps the cost down. Because they have such a delicate, sweet flavour, they are best cooked simply. For example, they can either be quickly boiled in sea water or quickly grilled with a little rock salt. Each year, top chefs are invited to Denia for a competition to find the best, new recipe for this lovely red prawn.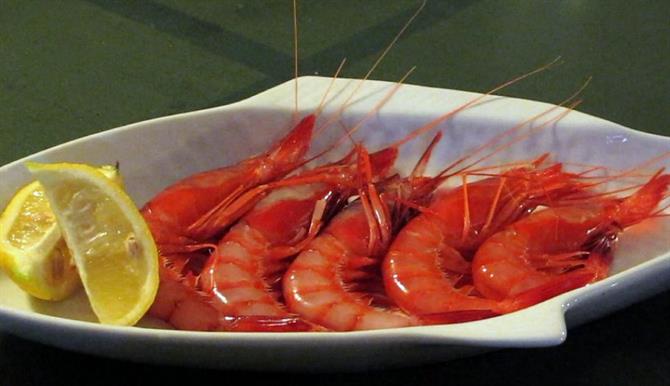 Tucking in to Turron
Almond trees are in abundance in the Alicante region of Spain with the colourful blossom enticing photographers and artists to the region in the early part of the year. The town of Jijona is a major user of the almond nuts which take pride of place in the sweet called turron, which is similar to nougat, and includes sugar, honey and egg in the ingredients. Turron is a traditional sweet at Christmas but can be enjoyed throughout the year. It can be made in a variety of flavours including nuts, dried fruits or chocolate. Turron ice-cream is a favourite dessert.
Heart-y desserts
Elche is home to about 200,000 palm trees and also many pomegranate trees. Pomegranates are traditionally a symbol of fertility but nowadays they are also known to protect the heart from high cholesterol. One of the best varieties is the Mollar of Elche. It is great simply juiced but many restaurants in and around Elche will also serve refreshing pomegranate ice-cream as a dessert.
Piece of cod
Fish plays a central part in many dishes along the Costa Blanca coast. In more traditional restaurants you will find esgarrat on the menu which is a very colourful and healthy fish dish. It is made with grilled cod served with cooked red peppers,olives, garlic and a large dollop of olive oil. The sweetness of the peppers contrasts brilliantly with the cod. This is an easy dish to try at home as it takes just 30 minutes to prepare and cook. The vibrant green, red and white colours will certainly impress dinner guests.
The real eel
All i pebre is a flavoursome dish of eels with garlic, chilli, paprika, and parsley. It is not for the faint-hearted, as this is an acquired and strong taste. The eels are cleaned, cut into small pieces and cooked slowly with water, garlic, chilli, sweet paprika, olive oil and salt. They are served with a sauce, called picada, which is made of fried bread, parsley, garlic and pine nuts along with a spoonful of stock from the eels.
Sausage and beans
Many traditional towns and villages, particularly those inland or in the mountains,will have butchers who make their own sausages. In the Alicante region, a mix of black and white sausages is served with broad beans to make blanco y negro con faves (white and black with beans). The black sausage, called morcilla, is very similar to black pudding. The two types of sausages are fried while the little broad beans are slowly cooked in a separate pan. The dish is served with crusty bread and a generous dash of olive oil. If you look in a traditional butchers or in the central markets, you will find a huge variety of sausages which are packed with flavour.
Ram in the lamb
Alicante cuisine often contains rice and fish but the locals like their meat too. Lamb is popular although it is usually a little pricier than beef or pork.Tombet Valencia is a tasty dish of lamb, using meat from the leg and shoulder, garlic,herbs and nuts. The lamb is cooked slowly with olive oil, a head of garlic, bay leaf and water. It is served with a tasty sauce of hazelnuts, garlic, parsley,cinnamon, saffron and seasoning.
Crispy doughnuts
Doughnuts are a delicious mid-morning or afternoon snack, particularly during fiestas when revellers and onlookers need an energy boost to keep them going all day and throughout the night. Bunuelos falleros are round doughnuts with a hole.They can be made simply with flour, yeast and sugar, although often cooked squash or pumpkin will be added to the bunuelos to make a pudding typical of the Alicante region. Another favourite is a doughnut, called churros, traditionally served with thick hot chocolate at breakfast.