Alicante is famous for its beautiful sandy beaches but there is so much more to explore. This incredible region of eastern Spain has impressive mountains, lakes, marshes, caves and natural parks. As well as the amazing beaches and nightlife, the Alicante region is a top tourist spot for hikers, climbers, cyclists, artists and photographers who have fallen in love with the natural beauty by the coast and inland.
Spain-Holiday has picked its top 10 natural beauty spots in the Alicante region.
Ifach rock, Calpe
The Penon de Ifach rock in Calpe is an iconic symbol of the Alicante region. This imposing 332-metre high rock juts out for about a kilometre out to sea and is visible from many north Costa Blanca coastal towns. It is one of the most beautiful and unusual rock formations along the Mediterranean coast,providing a landmark for sailors, a haven for wildlife and a challenge for climbers and hikers. It is worth the trek for the magnificent views over neighbouring villages and countryside. On a clear day, you can see the island of Ibiza. The nature park is home to about 300 types of flora including juniper, lavender and pine, which provide a lovely fragrance. Many birds have also settled on the Ifach including falcons, gulls and cormorants.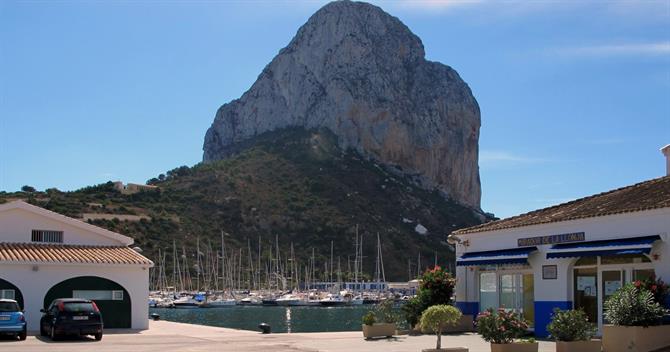 Algar waterfalls
Breathtakingly beautiful waterfalls which also provide a cool alternative to the beach on those hot summer days. The waterfalls are just 15km from Benidorm on the road up to Guadalest – a pretty mountain town with a striking castle and far-reaching views. During your day out at Algar, you can walk through the bed of the Algar river, see the spectacular waterfalls and springs and natural pools, before swimming in the cooling, crystal-clear waters. There is also an exhibition displaying the local aromatic plants and nispero fruit trees.
Torrevieja Salinas
Photos of Torrevieja's salt lakes have made worldwide news because of their amazing colours - one lake is a pretty pink while the other is a cool shade of blue. This natural phenomenon is caused by the minerals in the water. These salinas (or salt lakes) are home to many wild birds such as flamingos with more than 2,000 visiting the area in autumn. Many types of ducks have also settled here. It is a peaceful place for a gentle stroll or picnic, as well as being a popular spot for photographers hoping to capture the colours and the wildlife, particularly at sunset and sunrise. Torrevieja still has a thriving salt industry producing more than 700,000 tons which is exported around the world.

Montgo mountain
The Montgo natural park stands at 753 metres high to create an impressive backdrop for the coastal resorts of Denia and Javea. It's popular with walkers and cyclists with several routes ranging from easy to gruelling. A good way to enjoy a day out on the Montgo is to cycle from Javea to Denia and then catch the boat from the port back to Javea. More than 650 species of plants and vegetation are found here, including aromatic lavender, heather, gorse, wild roses, samphire and rock thistles. At higher levels, you may see birds of prey such as falcons and eagles as well as owls and seagulls. Other wildlife living on the Montgo such as several species of snakes, lizards, hedgehogs and rabbits.From the Javea side of the mountain, the Montgo looks like the head and trunk of an elephant.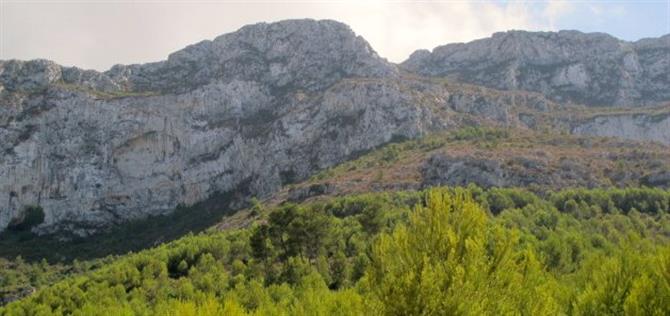 Benidoleig Caves
Take a daytrip back in time at the Calaveras caves in Benidoleig, which are believed to be around 100,000 years old. This is another 'cool' excursion to escape from the scorching sun. Both Bronze Age and Neolithic remains have been found in the cave as well as spectacular stalactites and stalagmites. The caves were rediscovered in the 18th century who found the skeletons of 12 people inside, hence its name of calaveras, meaning skulls. During the Spanish Civil War, the caves were used as a depot for ammunition. Many people have commented on the weird and wonderful shapes in the rocks which resemble,Sophia Loren's bust, a polar bear, the late President Kennedy and a map of Spain.
Elche Palm Grove
A peaceful green oasis with more than 200,000 palm trees is one thing which makes Elche unique. The palm grove,believed to date back to 5th century BC, is the largest in Europe and one of the biggest in the world. Some of the palms are up to 300 years old.The most famous is the iconic Imperial Palm with seven arms which make it look like a candelabra. Amid the trees are several types of cacti, Mediterranean plants, plus orange, lemon and pomegranate trees. The palms are distributed throughout the world for Palm Sunday parades while, in Elche, they are crafted into intricate religious symbols for the processions.
Tabarca Island
A little haven for snorkelling or just chilling, Tabarca is a pretty island, just off Alicante, nearly two kilometres long and about half-a-kilometre wide. It's perfect for a day trip with the boat taking just an hour from Alicante, Santa Pola or Benidorm. It's a dream island for sunbathing and swimming through the clear waters while looking out for little fish and other marine life. The picturesque fishing port is a great place for lunch with the fresh fish, shellfish and traditional caldero(delicious fish and shellfish casserole) being popular choices. It is also now possible to stay overnight at the hostal or chic boutique hotel.
Pego-Oliva marshes
Beautifully serene area close to Pego and Oliva towns, this is prime rice-growing country. The Bomba rice from Pego is perfect for paellas and other traditional rice dishes from the Alicante region.This is one of the most important wetlands in Spain for its natural beauty between the mountains and the sea, and its rare flora and fauna. Many species of fish can be found in the rivers including the rare samarugo, which is a type of carp. It's a popular breeding ground for birds including grebes, herons, teals and terns.
El Fondo
Beautiful natural oasis surrounded by the mountain ranges of Crevillente, Callosa and Orihuela, El Fondo natural park has two reservoirs, ponds and salt marshes. It is important because of the presence of several endangered species as well as unique species, many of which are endemic. During your visit, you will see a great variety of birds such as ducks, herons, teals and flamingos but the marshland also has a number of lizards, freshwater shrimps. Rare species include the purple heron and the squacco heron. Winter is a particularly good time to visit as a great number of different species of birds can be found there.
Carrascal de la Font Roja natural park
Pretty as a picture, the Font Roja is an excellent example of a Mediterranean forest. Between the towns of Alcoy and Ibi, it covers 2,298 hectares with trees such as oak, maple , ash and yew as well as animals such as wild boar, bats, badgers, snakes, lizards, eagles and owls. Scattered through the area are snowfields, farmhouses and bunkers. There are several routes through the Font Roja park and it is advisable to start at the Font Roja Natura centre which has a lot of information about the park and its staff can suggest the best walk for you or offer the services of a guide.