Going shopping?
A trip to a provisions market is always a good idea in Spain. Especially so when it's as good as the one in the city of Almería. Bring your basket! Your biggest basket - as you'll be completely wowed by the amount of fresh produce on offer, and be tempted by delicious things you recognise - and intrigued by the ones that you don't!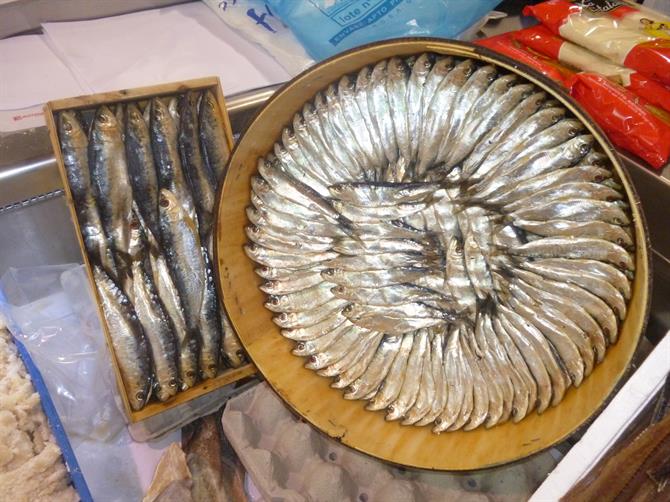 A day out
This southern Spanish city is always a great idea for a day out. We left our rainy mountain and wound down the narrow roads yesterday to escape the cold and stock up our larder at the same time. Three degrees of mountainous weather was soon swapped for a balmy 18 degrees of sunshine and the need to peel off a few layers.
Almeria
I love Almeria city. Why? The eclectic grandeur of colonial city, a distinct Arabic twist - the name comes from the Arabic, meaning Mirror of the Sea - and the mix of grandiose architecture and modern buildings is fabulous. There are decidedly dodgy barrios, and upmarket and well heeled quarters, sometimes jumbled up together. The first view of the castle, the port splayed below it, is an awesome one.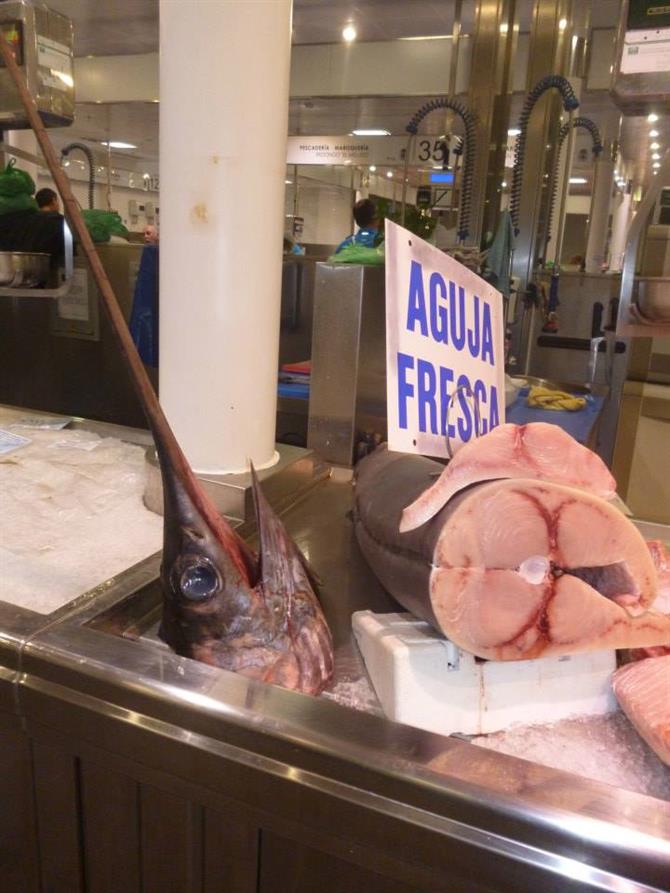 Where's the market?
You find the market at the top of Paseo de Almería, and there are many entrances. You can park nearby in the underground car park, on Avenida Federico Garcia Lorca, there are lots of spaces even on a busy Saturday and which is also fairly reasonable. Yesterday we had three hours for €2.30. The main entrance to the market is opposite the College of Art and Music - distinctive because it looks like a giant piano! But, the real art is inside the market doors.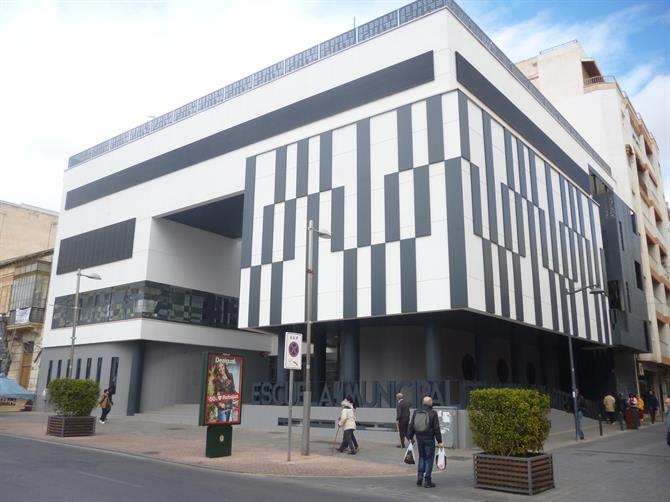 What's inside?
Ground level brings you straight into the meat, fruit, vegetables and delicatessen hall. It is huge, and as the market was renovated in 2012, spotlessly clean and also wheelchair friendly, there are stairs, escalators and lifts.
Wandering from stall to stall, you'll see what I mean by art. The produced is at optimum freshness, piled high in a maze of colour and stacked with the devotion of a famous sculptor unveiling their latest piece.
Below stairs
Just fish. Of every type you can name, and a few you'll struggle to recognise! From shrimp to swordfish - complete with lethal swords - tiny morsels of seafood to monsters of the deep - it's amazing. No need to hold your nose either, you'll only smell the sea - the produce is just so fresh.
Look and learn
There are masters at work - Jamon is sliced as thin as tissue, meat filleted with precision, fruit juggled and twisted into bags with a flourish. The fish is filleted and bones are easily withdrawn, the art of crafts mastered passed from father to son (and daughter) - all done with pride, and not a little showmanship!
What did we buy?
We bought roasted jamón, carved from a leg, pate with figs and oranges deeply embedded in to the glossy tub, mature cheese, the crystals just begging for a glass of red wine to accompany it. Spicy brined black olives and sharp capers went into the basket. Breaking my 'Food Only in Season' rule, a kilo of fresh strawberries had my name on them.
Refreshment
Leave through the fish hall, onto the street marked Reyes Catolicas - and stop for a beer and a tapa. For a bar stuffed with tradition, bullfighting posters and atmosphere, the best place to go is just a stone's throw - El Quinto Toro.
It's usually standing room only too - the place is tiny - but is worth the squash for the atmosphere, the wall art, the tapas, and of course a glass of wine or a cold beer.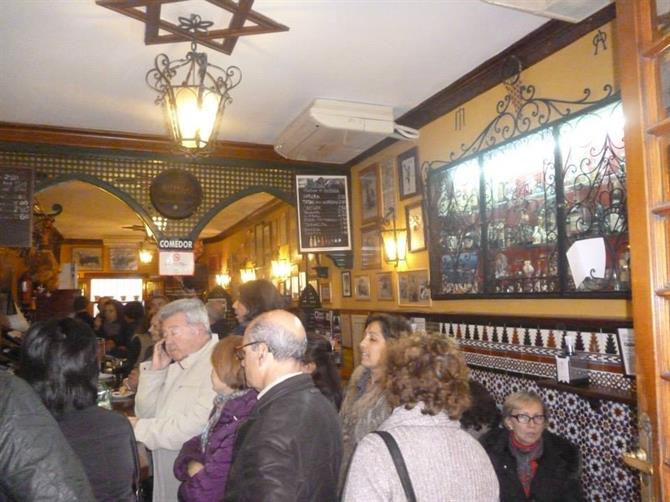 We stopped on the way home at a supermarket for the fresh bread we had forgotten - it just wasn't the same...!