Everyone loves the sound of a Spanish guitar. Come and explore the romantic sound of the Guitar Museum in Almería, strum this way...
City sights
A city break in Spain provides you with more than shopping and eating opportunities, although, they are very nice too! A few hours in Almería will leave you with a slight problem, what to see next? Almería - there's just so much to see and do - and that's before you get to the dinnertime dilemma of where and what to eat!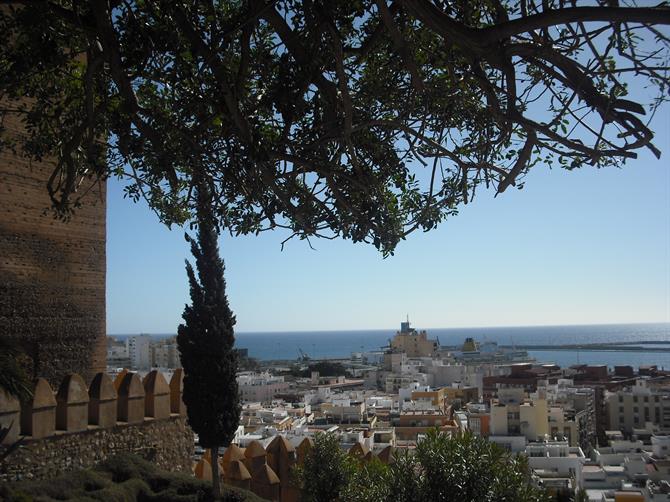 See and do
There's always an exhibition, a showing, a museum to explore. Every time we pay a visit to this sunny city with the Arabic feel, we find somewhere or something new to see and do.
Last week, on one of our marathon trips down the mountain, we stopped off en route to our destination of the shopping centre and dropped in on the Guitar Museum - Museo de la Guitarra to see what it was all about.
Where is it?
Museo de la Guitarra
Ronda del Beato Diego Ventaja
04002
Almeria
Mondays: Closed
Tuesday to Sunday 10:00 - 13:00
Tlf 950274358
FREE ENTRY
Full wheelchair access to every floor by lift.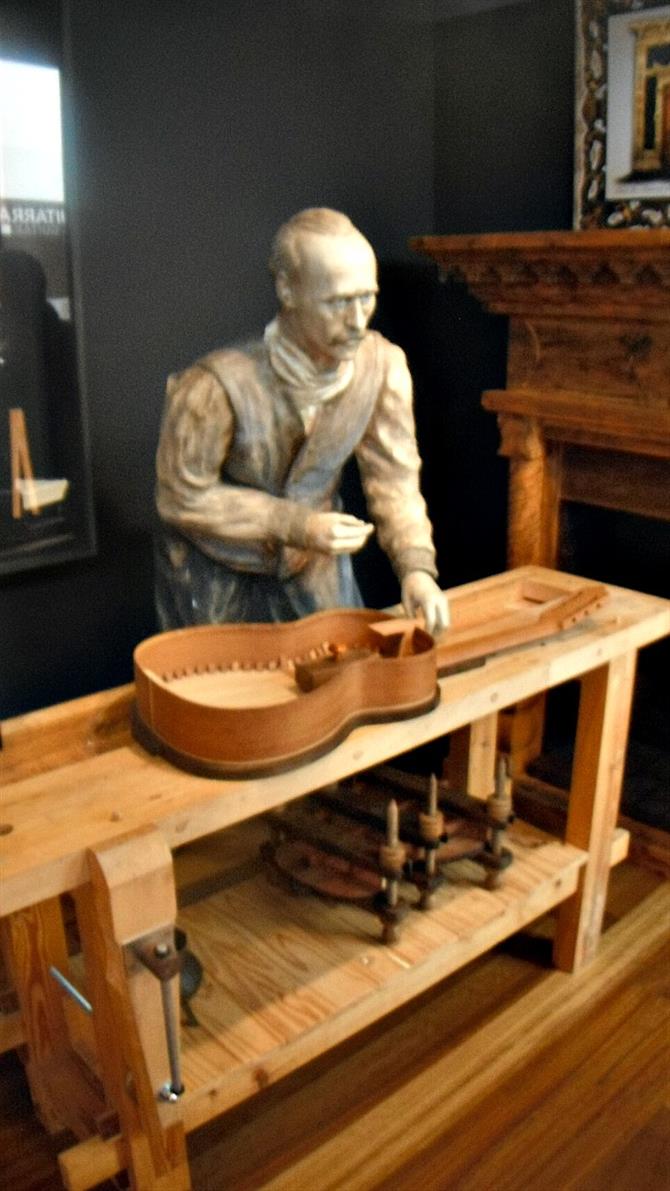 What's it all about?
The museum is dedicated to Antonio de Torres Jurado, (1817-1892 ) who was a famous Spanish guitarist. A highly regarded son of Almería, he was also a respected Luthier, that's guitar maker to you and me. Got an acoustic guitar? Then it will originate from a design by the same Antonio de Torres Jurado. Today some of his original guitars are still being put to use and played, most notably by the classical Spanish quartet, The Romeros.
What's to see?
Wandering in, past the friendly lady at the desk, there are plenty of leaflets on the museum and other local attractions, so take what you need. On into a display room with various original models including Lutes and all types of guitar. There are models of making the instruments as depicted in the photo above.
A giant guitar stands on the ground floor, the fret reaching to the floor above.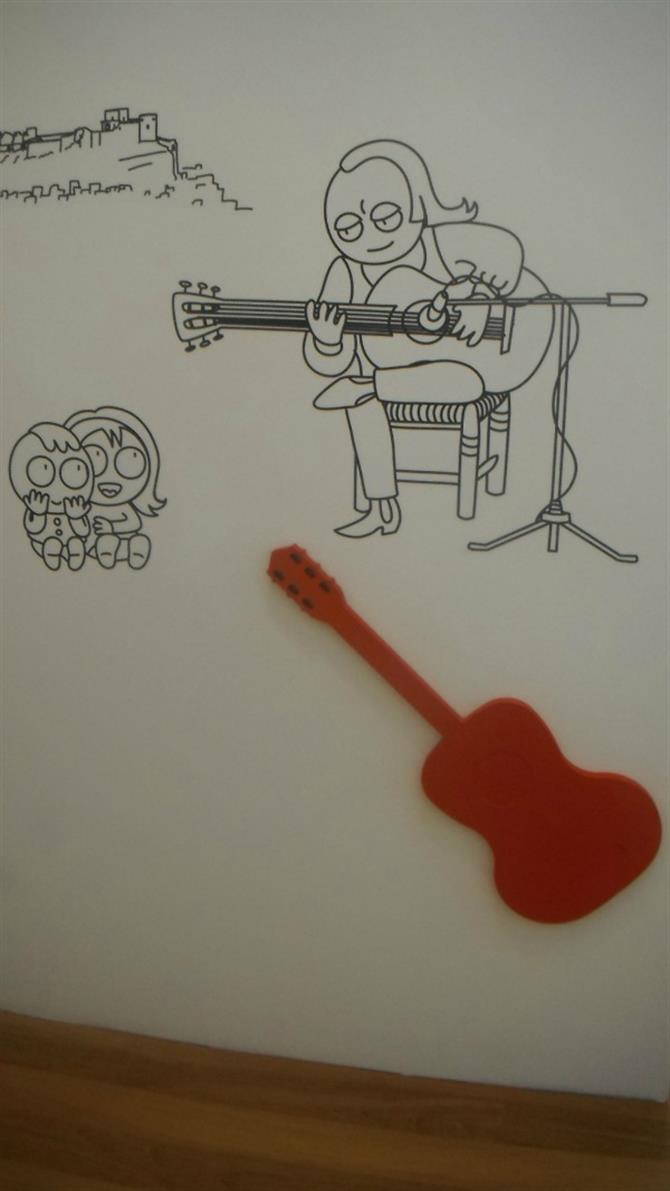 Upstairs
Walk up the stairs admiring the artwork on the walls, and you'll be on the 1st floor mezzanine. Here there are photos and details of world famous guitarist from all generations. Take the path around the upper level and there's a soundproofed room, with an electric and an acoustic guitar for anyone to try out. My daughter did, even if she is a bit camera shy! So a fully interactive experience for the kids who will also enjoy it.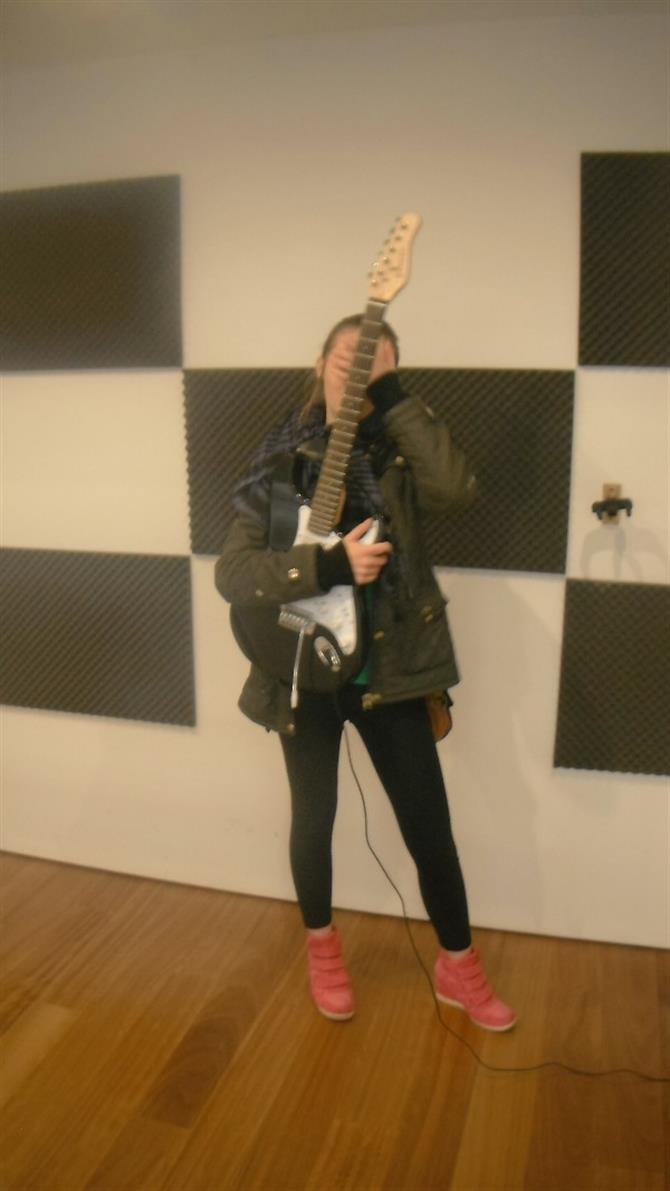 Listening in
Around the corner, there are guitar shaped listening booths with headphones and pre-programmed pieces of music where you can have a sit down and a listen. Five minutes out - take it and enjoy. After all, you may be feeling a little fret-ful!
Wind back down to the entrance and finally into the basement where there's a seated auditorium for occasional concerts. You may be lucky enough to catch one on the day you decide to visit the Guitar Museum of Almería.
Back out into the sunshine of the city. Now, what were we saying about dinner?