Rubbish or riches?
What's the old adage? One man's trash is another man's treasure. Find out what treasure lies buried at the Sunday rastro - or second-hand market - in Almuñécar, on the Costa Tropical. Last weekend, we had come down from the Al Andalus exhibition at the Alhambra, and detoured a little on the way home, intending to stop at the Sunday rastro. It's located in the main car park, beside the arch at the entrance to the seaside town.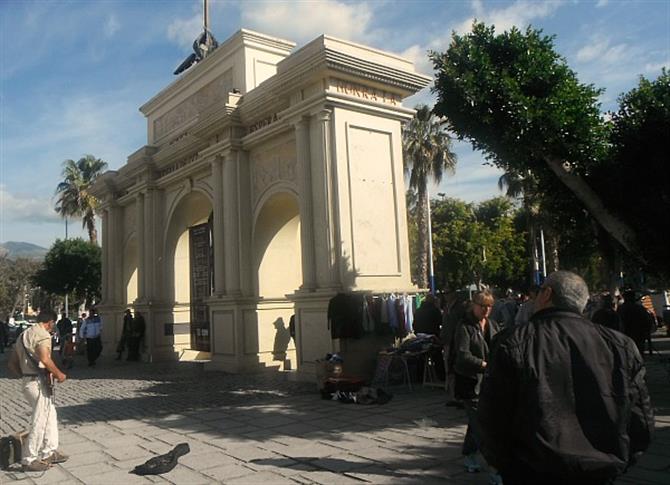 Any old iron
If you get there on Saturday mornings, it's the turn of the regular market, when all the housewives do battle to find the best produce. But Sunday is the day to go if you're like me, a little less Stepford and a bit more Steptoe! I love a bargain, but it's more about the rummage, and this is a good one!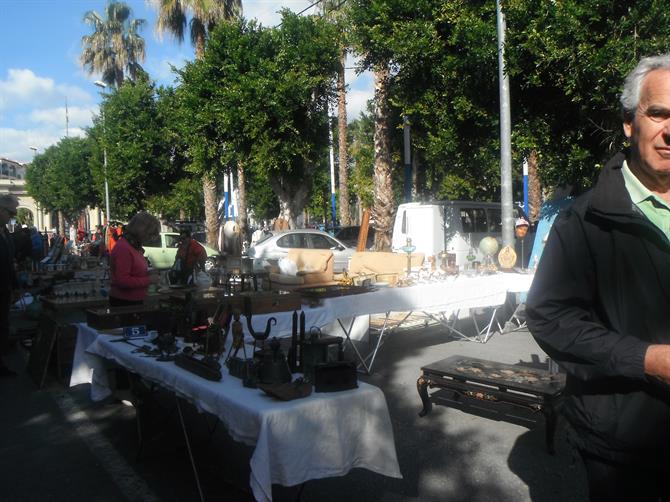 What will you find?
Whatever you can think of, it's here! The punters are often colourful too, on Sunday there was a clown with a pram, a dog dressed head to toe in designer gear, and a chap in a fetching skirt. There are wily antique dealers, swarthy gypsies, and expats and locals alike. There's a mix of treasure and, well, trash... but always a good find. In fact, at the Almuñécar rastro, there's even the kitchen sink, if you want one of those!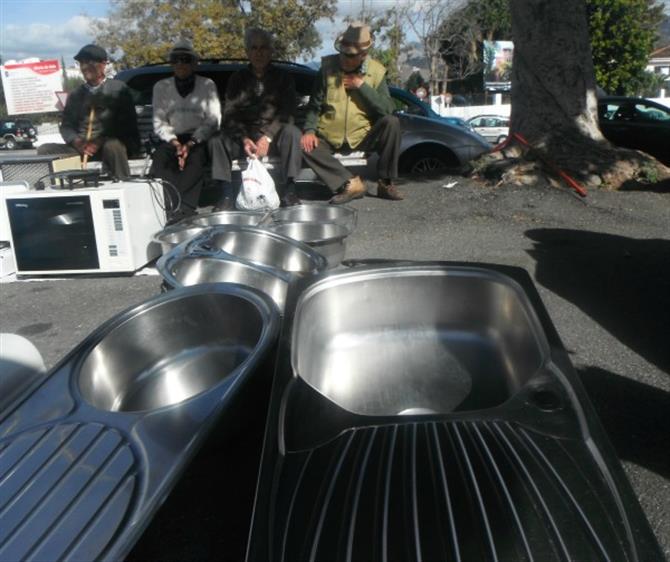 Rock bottom prices
There are stalls selling a good read, I spotted communist magazines and first edition hardbacks, paperbacks in all languages and original music scores. There are film posters from the 1960's (adorned with Spanish Audrey Hepburn look-a-likes, a couple of singing caged Love-birds. There's bric-a-brac and lots and lots of tat! I picked up an antique bowl complete with missing chunk for a fiver - value approx €200+ even in that condition. I also nabbed a leather bound handmade notebook with tooled Arabic inscription for the same price, a girl can never have too many notebooks! Cups and saucers, bowls and plates, fine crystal and glass clink and jostle with toys, clothes, shoes and artisan jewellery. Also, there's the added advantage of a chat with the vendors, always interesting!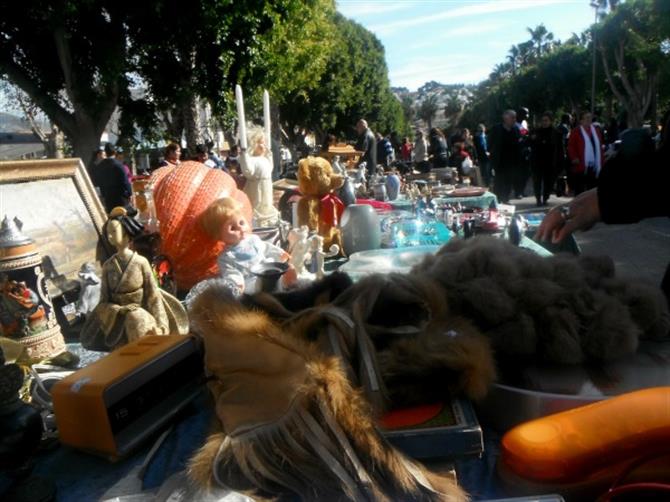 Best time to go
Any Sunday is good if the rain holds off - and it's not really likely to rain on the Costa Tropical, now, is it? A few Euro coins jangling in your pocket can turn your Sunday morning into a bright one, with a rummage at the rastro in Almuñécar, and leave you reflecting on another excellent Spanish holiday!