The beauty of Almuñécar is that it can be used as a base. A base to go skiing down the Sierra Nevada mountain range, swimming on one of the Costa Tropical beaches, or exploring the historic old town. Three holidays for the price of one.
Granada by Sea – Playa de la Caletilla

Bordering Málaga's Costa del Sol you'll find Granada's Costa Tropical. Less built up than its westerly neighbourhood, this stretch of Mediterranean coastline allows you to travel back in time. To an era of quaint Spanish fishing villages.
One of the main resorts on the Costa Tropical is Almuñécar. And one of the town's most central beaches is the narrow Caletilla strip. It's a great place to learn watersports, in particular, sailing.
Home on the range – Pradollano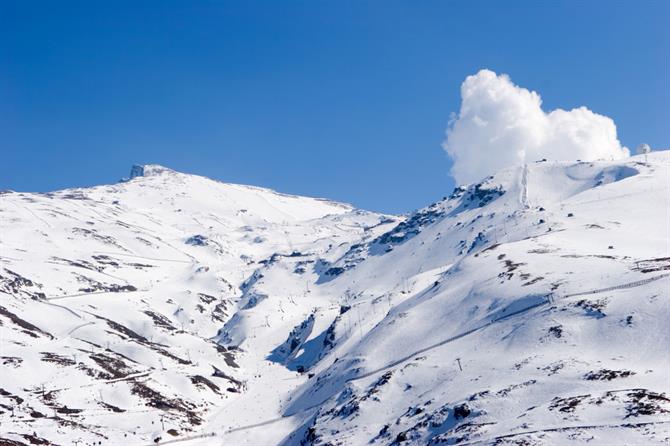 The largest Sierra Nevada ski resort, Pradollano nestles at the foot of the slopes, extending up a hill to the pistes. The bottom of the village is located around 2,100 metres above sea level,while the top is nearly 2,400 metres above sea level. You can buy or rent ski equipment here, whilst absolute beginners and upwards can enrol in a ski school.
The most southerly ski station in Europe and Spain's highest, the Sierra Nevada offers a striking reminder that Andalucia is not all about its popular coastline. If you holiday in Almuñécar, you'll be able to ski in the morning and windsurf, say, in the afternoon. Don ski goggles in the am and swimming goggles in the pm.
Pretty in pink – Palacete de la Najarra
One of Almuñécar's most attractive buildings, José Rubio Osorio masterminded the 19th-century construction of the Palacete de la Najarra. A neo-Arabic mansion, its external tiling is more Marrakech than Ikea. Built over two storeys, the ground floor's now home to the local tourist office.
To the rear, you'll find a courtyard which provides vital shade in the summer months in the form of plants and trees. At the far end is a miniature house. It's a mere two-minute walk from the Playa de San Cristóbal.
Pretty vacant – Castillo de San Miguel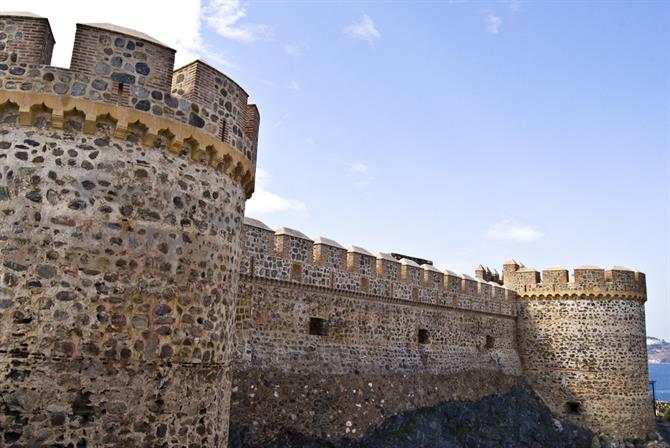 Look up from anywhere in Almuñécar and you're bound to catch sight of the Castillo de San Miguel. Originally a Roman fort built in the 1st century BC, it was later developed into a fortress by the Moors. At the height of its influence, it boasted an impressive 46 towers.
To be found in Almuñécar's old town, its location at the top of hill suits an early or late visit over a midday one. There's a museum to explore. Also, the castle serves as a venue for semi-regular music concerts.