The sunny southern slopes
A holiday in sunny Spain? Why not? Mercury is rising rapidly and more of you are browsing the flight deals and heading our way. Find the best deal, fly into the Costa del Sol, and book a special place in the sun to gather some much needed rays. But, take a little time to explore inland too. Be more intrepid. Pack up that beach towel and head for the hills. What are the top 10 things to do in the Alpujarras? Let's take a look...
Where are we?
The pretty foothills of the Sierra Nevada, the undulating countryside of the Alpujarras await you and your family - and there's lots to do. By all means, just chill out in some of the freshest air in Europe - this is the perfect zone to get back to basics and recharge. Practise yoga under the clear blue skies or walk your troubles away. What are the top 10 ways to see it how it really is?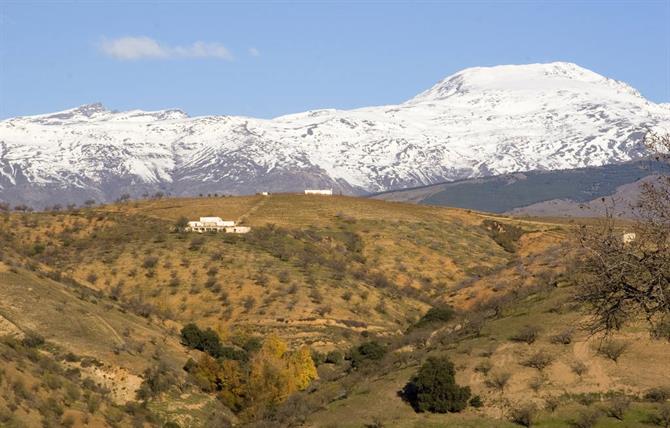 1. See the White Villages
It's a must. When you read how the tourist guides wax lyrical - sugar lump villages clinging to the mountains - you think, okay, so it's picturesque. Nothing, though, prepares you for the reality. Even the best camera cannot capture the true essence of the sheer beauty of the place. Step back in time and prepare to be wowed. From the high villages of the Poqueira Valley, to Trevelez, the highest in Europe, musical Murtas, untouched by tourism. Lanjarón a village with water to spare, see them all!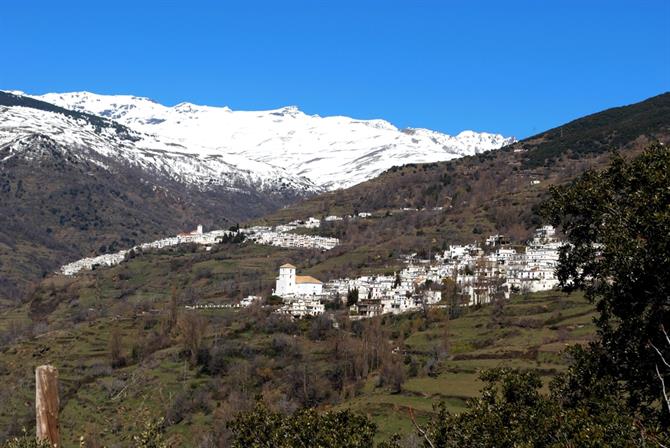 2. Visit a Bodega
The vineyards of the Alpujarras will provide your roadside scenery as you negotiate the hair raising roads. Wind on and up, the canvas of colour will vary according to the season in which you visit. A frame of fields of gold and russet in autumn, green and laden with heavy fruit in late summer, or, like now in springtime, pruned away to resemble cloves studding the freshly tilled earth.
The wine here is naturally sweet, grown high in the fresh and clean air, and tastes of sunshine and promise of a return visit. Visit one of the local bodegas for a chance to see it being made and sample a glass or more.
3. Go to Granada
Take a trip to Granada, with the magical snow capped mountains as a frame. Experience the romance of the Alhambra Palace, glowing pink at sunset. Feel the bohemian beat of the city, wander and get happily lost in a labyrinth of lanes around the Albaicin. Shop, eat, explore. Feel the heartbeat of the city with a night of passionate Flamenco, your first trip to Granada will never be your last.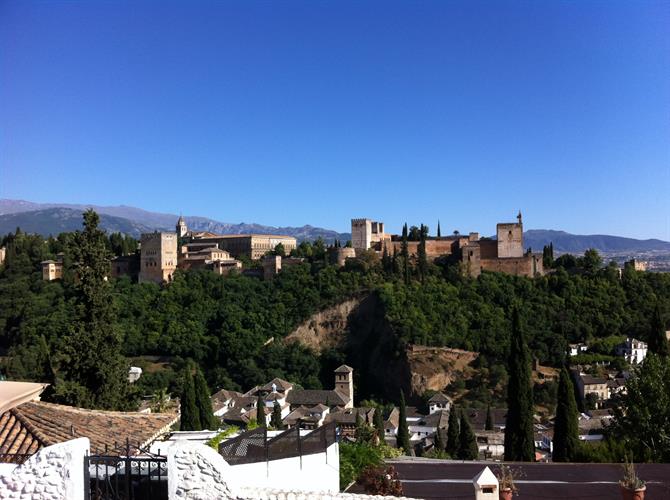 4. Visit the Embalse de Benínar
An embalse is a reservoir, and this one is a little different. A swathe of turquoise cuts through the mountainside, visible from the Alpujarras but actually just over the Almeria border, close to Berja, known as the the Almerían Alpujarras. Over 68 cubic hectometres of water feeds the surrounding area, and when the level is low in high summer, you can see the history of this deep pocket of water. A spire becomes visible, revealing the truth. This was once a village, the inhabitants forced out, but their history, streets and buildings left behind to a watery grave. It's far from spooky though, and makes for a pleasant stop. You can get right to the waters edge, but beware, it's extremely deep. Benínar makes a great spot for a bit of bird watching though, and the surrounding hillsides are covered in wild orchids and fragrant herbs right now.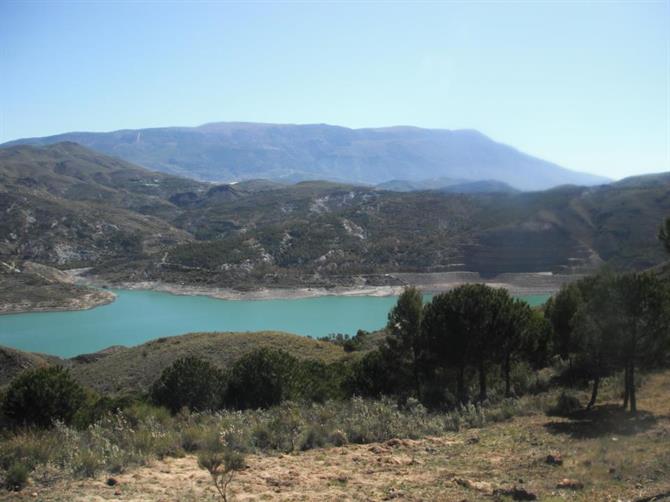 5. Go Arab
Islamic architecture and Moorish influence is around every corner in the Alpujarras. It's not difficult to spot. The flat roofed whitewashed houses, huddled together and south facing, rounded Mudejar church towers. Building materials of Chestnut, Olive, Launa - you could at first glance be in the middle of a north African landscape. Look at the farmlands, terraces neatly cut through seemingly impossible gradients, Fig, Pomegranate, Mulberry, Grape. And water, carefully harnessed from the snow melt on the frame of the Sierra, flowing through the ancient system designed by Moorish ancestors. Channels running through and alongside villages, flat metal plates lifted at given intervals to dole out someone's timed share. Ingenious, fair and ancient plans at work.
6. Go Ski
Okay, just in winter but the mountains of the Sierra Nevada that rise majestically above the Alpujarras are still the place to go when the weather heats up. Walking and serious hiking, a trek to the top of Mulhacen perhaps with some open air exercise on a real high!. Guaranteed no better place to see the sun set and rise! Use a reputable guide though, a local and experienced professional company. The mountains can be dangerous, snow or not.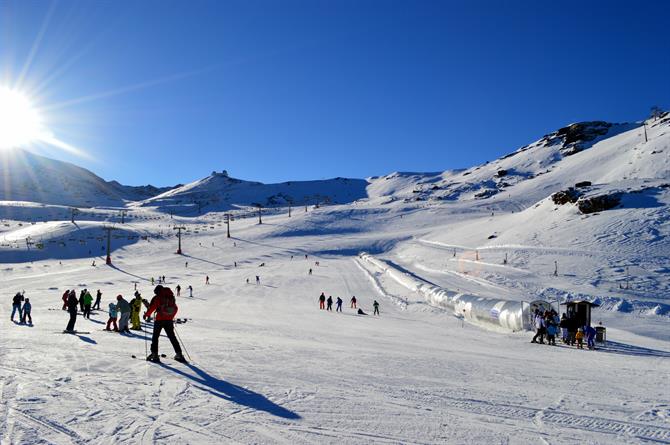 7. Take a Hike
So we've mentioned Mulhacen, but if you, like me, prefer a stroll to a serious climb, then choose your path. They're all here, of all grades and lengths, and this time of year is just the best. The birds and the bees are back, the flowers are popping their heads up everywhere, and the scent is, well, heaven sent! Marked trails, mountainsides, or even just walking through the many villages admiring the geraniums are all good things for your holiday agenda.
8. Read about Brenan
And other stories. The perfect place to pitch yourself and finish that novel, whether you're writing it or reading it. Gerald Brenan was an English writer who was simply entranced by Spain, he made the Alpujarras his home in 1920. Settling in the small village of Yegen, where to the amusement of the locals he imported his books and also his literary set of friends for long stays, otherwise known as The Bloomsbury Group. Visit Yegen and see his house today, it's just off a little plaza which also has a mini replica fountain of the Patio de los Leones from the Alhambra. It's a quiet whitewashed village today, I guess not so different to how Brenan found it back in the '20's, he recounted his time there in the novel, South from Granada - also there's a film of the same name.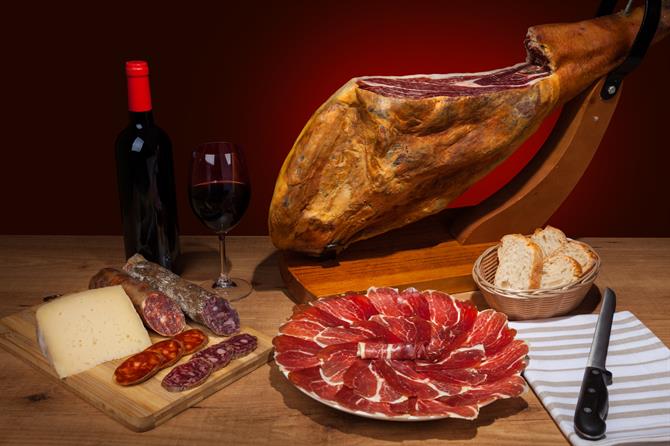 9. Eat!
Local and traditional food on a plate awaits you in the Alpujarras mountains. Simple, in season, fresh and natural are the best tags to describe the cuisine. You'll be hard pressed to find haute cuisine or fancy nouvelle but if you are searching for a flavour of the area then you won't be disappointed. Gastronomy hale and hearty is what you'll be served, from a tapa with a welcome beer, to a full menu. What can you expect? Some traditional dishes are:
Plato Alpujarreno - A Spanish mountain fry up!
Conejo - Rabbit, locally caught and slowly stewed in a tomato sauce
Migas - A little like cous cous, served here with broad beans, sausage and tocino, a cured belly pork.
Game will be on the menu, partridge, boar, depending on the season.
Wild foraged mushrooms, Saffron Milkcaps straight from the grill, a little sliced garlic.
Jamon, possibly the most famous export of the area, dried in the cold mountain air and simply delicious.
Vegetarians might struggle, vegans will positively starve! But there's always the local almonds, figs, honey, cheese, olives... so cook up a storm in your Alpujarras holiday home. Throw the diet out for your stay here, but expect the best of plain nutritious food.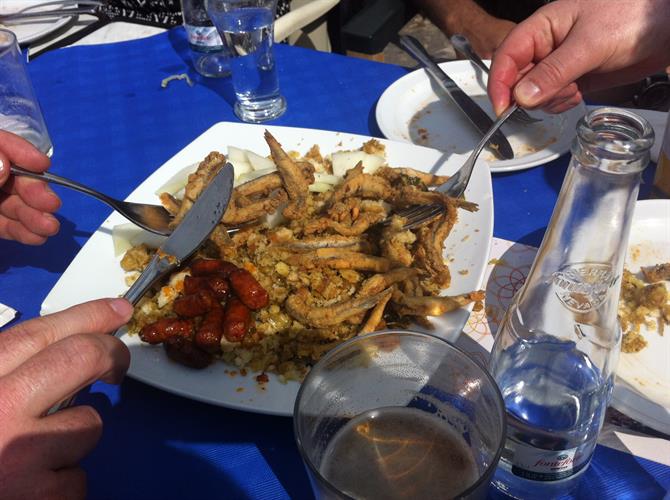 10.Party like a local
Fiesta! There's one thing the Spanish are very good at, and that's a party. Mountain villages are no exception. Walk around one on a normal day and you might feel as though you're alone...but, a fiesta, now that's a different matter! We're gearing up for our next one here in Murtas next month, Santa Cruz - 3 days of partying will descend on our piece of mountain. Berchules throws a New Year party....in August. Fake snow, three kings, the whole shebang. I kid you not. Lanjaron, like many places in Spain celebrates San Jan in June, but you're likely to get hosed down, it's the biggest water fight in Spain and you must join in!
I'm reminded of a dapper gent, slightly worse for wear in the wine department, who asked of me at our fiesta last year a question.
"What day is it", he enquired. "Saturday", I answered. "Ah, thank you," he answered, "so therefore I must be in Murtas".
He was doing a personal tour of all of the fiestas in the Alpujarras, they say there's one somewhere, every day as soon as spring starts. I say, follow his lead!
What? Not packed yet?