Altea is a rather small town on the beautiful Costa Blanca in between the bustling destinations of Benidorm and Calpe. As well as the beaches, it boasts a picturesque and whitewashed historic centre with cobbled streets which is well worth a visit. An artist's and photographer's favourite, Altea is a great place for a day trip from your villa on the Costa Blanca.
Apart from its impressive old town Altea has beaches to suit all tastes. Choose from beautiful pebbled beaches all with crystal clear calm waters, natural surroundings and local amenities making it the perfect beach holiday destination for families. To help you discover the beaches of Altea we have comprised a guide with the best ones this coastline has to offer.
Playa de l'Espigo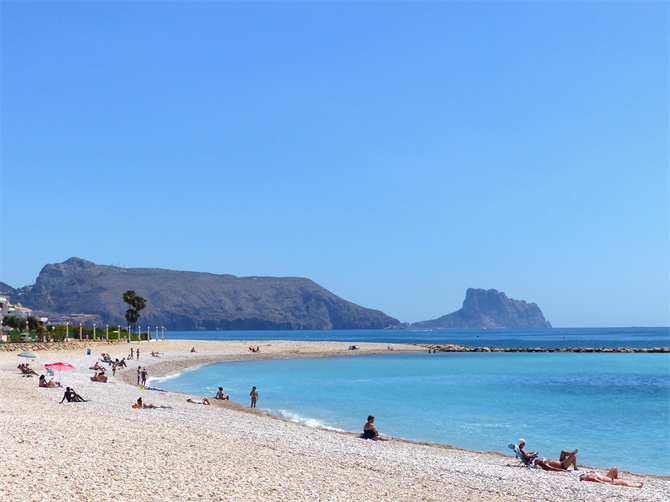 Espigo Beach is the latest addition to the beaches of Altea as it was inaugurated in 2016 with a beach boulevard leading up to the estuary of the Algar river. A pebbled beach of 700 metres long and 30 metres wide, it tends to get quite busy, especially in the summertime but thanks to its dimensions it rarely feels overcrowded. Thanks to the presence of lifeguards during the summer season, and the calm, shallow turquoise waters, it is a great place to relax, unwind and have a great time with your family when staying in an apartment in Altea.
Located close to the city centre, Espigo Beach is easily accessible on foot following the beach boulevard. If you get hungry and fancy something for lunch you will be perfectly catered for by the restaurants along the boulevard, where the menu includes delicious tapas and local seafood specialties amongst others.
Playa de la Roda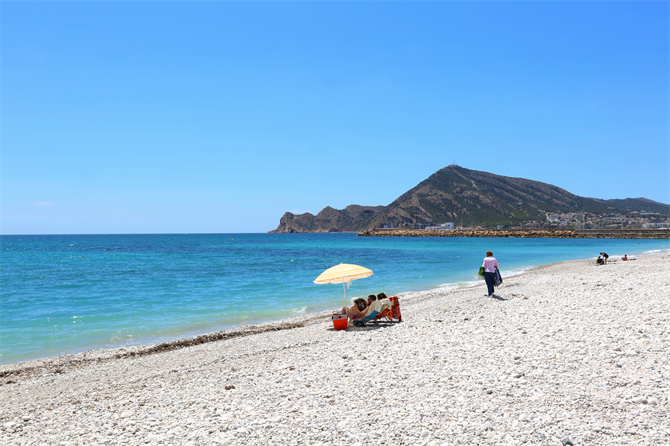 A bit further south you will find the urban Blue Flag La Roda Beach with lifeguards as well as amenities such as toilets and stands to rent umbrellas. With a length of 1400 metres it is one the longest stretches of beach in Altea. Its central location close to the city centre makes it easily accessible. If you decide to go by car, you will find a carpark within 30 metres of the beach. A wide range of restaurants and bars are all within walking distance of La Roda Beach making sure you can recharge your batteries after a good swim.
The beach of La Roda consists of pebbles, gravel and sand. The water gets deep quickly which is not recommended for people who are not experienced swimmers. The water is, however, calm making it a perfectly safe environment for children to paddle on the shoreline. There are also play areas on the beach where children will have hours of fun. A favourite for sports fanatics, it is a good place to practise watersports such as windsurfing, kayaking and diving amongst others as well as playing volleyball thanks to the nets on the beach.
Playa de Cap Blanch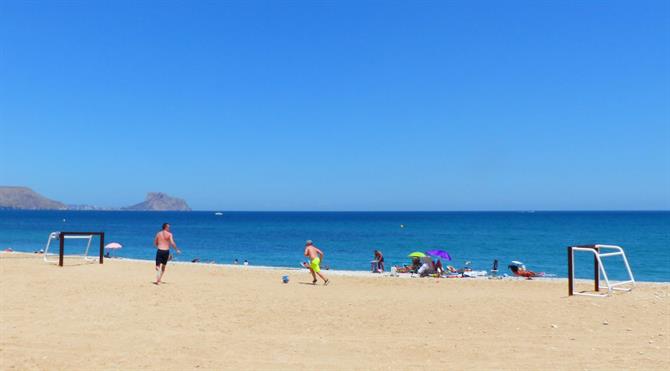 The most southerly beach of Altea, pebbled and sandy, Cap Blanch Beach is an easily accessible semi-urban stretch connecting the beaches of Altea with those of neighbouring L'Albir. Boasting a Blue Flag, Cap Blanch provides stands to rent umbrellas and hammocks, playgrounds for children, volleyball nets and football goals. For the more adventurous types there is also the possibility to rent a kayak or roller skates. If you are hungry after working out you can go and eat in the restaurants nearby serving delicious food synonymous with the region.
The views from this beach are simply magnificent and make it all the more worth a visit. Look to the left and you can admire the hustle and bustle of Altea Port, look to the right and you will see the beautiful Sierra Helada.
Playa del Albir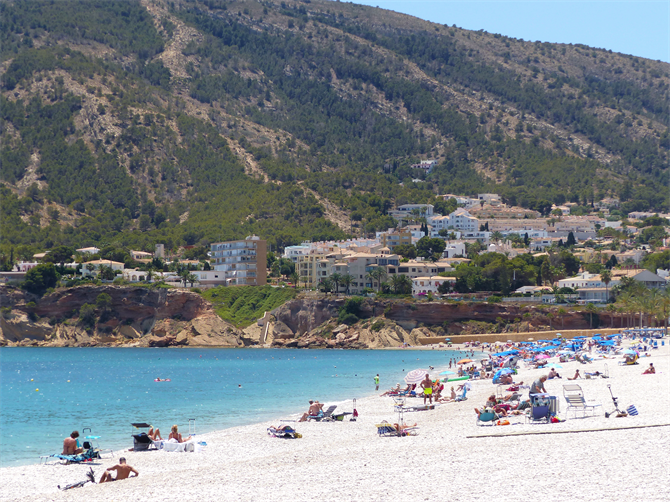 Theoretically, Albir Beach is situated in the neighbouring muncipality of L'Albir, but thanks to its proximity to Altea we decided to incorporate it in this list.
Albir Beach lies next to Playa de Cap Blanch and is very similar to its neighbouring beach boasting similar facilities ensuring a comfortable and relaxing day out. The beach is protected by the Punta Bombarda and the Sierra Heleda to the right making it the perfect place for watersports such as paddle boarding.
Albir beach is easily accessible, has a carpark and lots of restaurants which line the beach boulevard.
Cala de la Barra Grande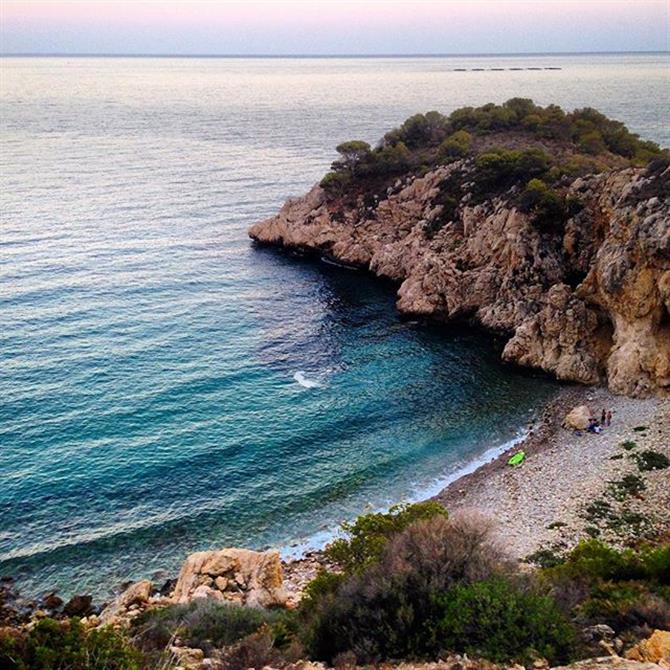 With crystal clear and calm waters, beautiful and pebbled Cala de la Barra Grande is the most northern beach in Altea. It is the perfect spot to disconnect and get away from the busier larger beaches of Altea centre. Work on your tan on this nudist beach, only 50 metres long and 7 metres wide. Don't forget your snorkelling gear as you are in for a spectacular underwater experience of the marine life and rock formations.
Cala del Metge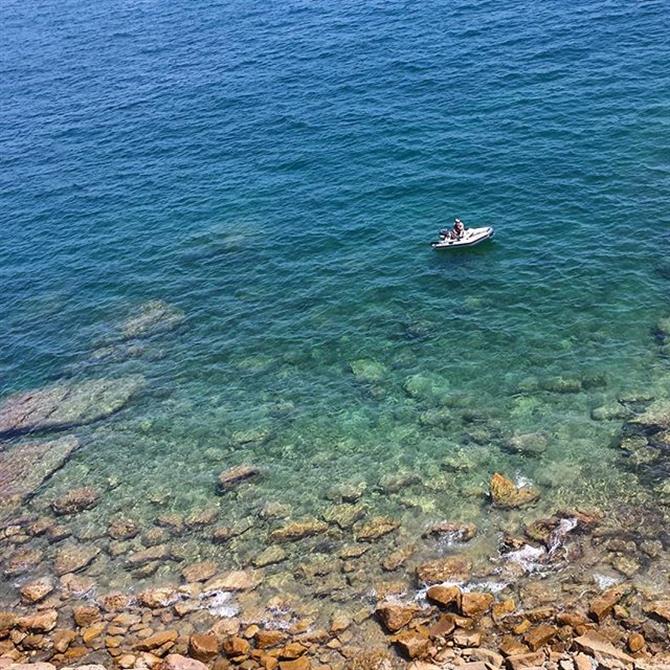 This small but picturesque natural cove is perfect for an intimate and private beach experience which is why it is frequently visited by nudists. Accessing the beach, however, can be challenging. Head towards Camino del Faro, follow the road straight then take the first turn on the left. This gravel road leads up to the cala.
Cala del Metge is a pebbled and rocky beach with crystal clear water perfect for snorkelling, offering you brilliant views of the bays of Albir, Altea and Calpe. Do not forget to pack lunch and bring all necessary items for a perfect beach day as the cala is quite remote and isolated from restaurants and shops.
Cala del Soio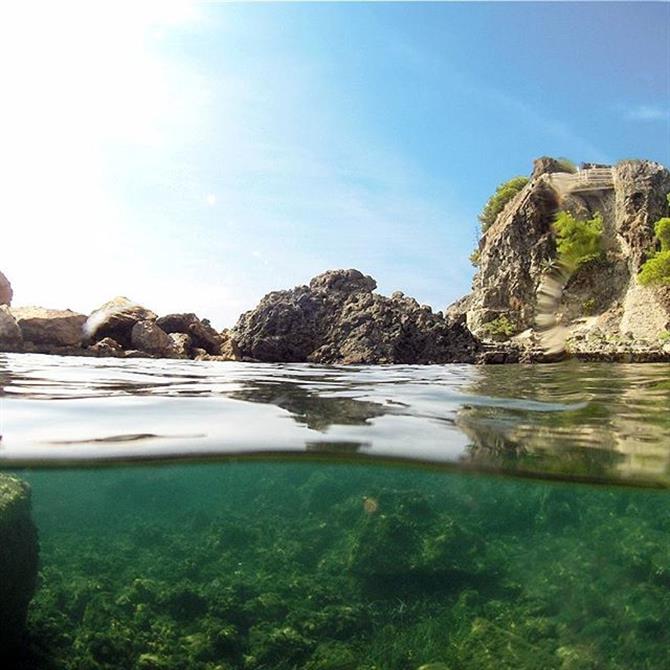 With its beautiful rocks, the unspoilt Cala del Soio is a must-visit when staying in Altea. You will find a small harbour and a chiringuito nearby, which is open all year round and there is also the possibility to rent paddle boards and kayaks.
Make sure to bring your snorkelling gear as Cala del Soio is the perfect place to explore the sea life. The best way to go to Cala del Soio is on foot or by bike, however there is also a carpark at Jardín de Argentina where you can leave your car and go down towards the cala from there.
Playa de Cap Negret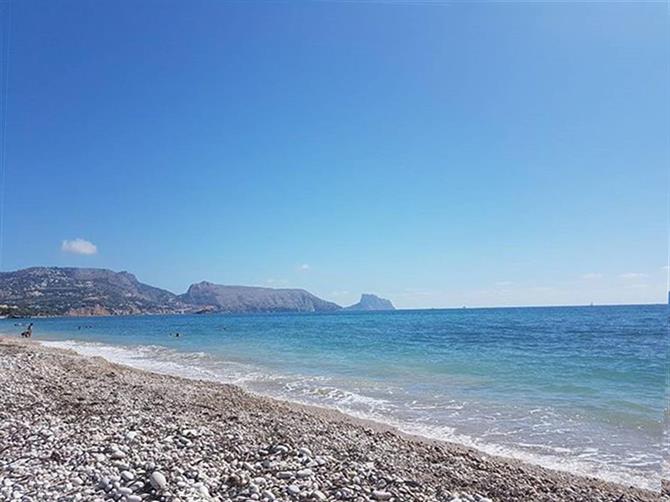 On this semi-urban beach it is generally quieter than the central beaches of Altea. The beach consists of thin gravel and small pebbles which makes Cap Negret a more comfortable option than some of the other rocky beaches in Altea.
If you are looking for adventure at Cap Negret, you can rent water skis. If, however, you would like to take it easy and relax there is the option to rent a hammock and enjoy the sunshine and the sound of the waves.
Altea has many different beaches for the perfect break on the Costa Blanca. Come to Altea, discover its varied coastline and choose your favourite beach!
Map