Have you ever heard of a beach without a sea? Meet Playa de Gulpiyuri near Llanes. A beach that is situated over 100m from the Cantabrian Sea.
Although sometimes referred to as the 'world's smallest beach,' Playa de Gulpiyuri is definitely one of the world's strangest. And picturesque. This tiny golden sand beach, with crystal clear waters and hemmed in by cliffs, is regularly voted as being Asturias' best.
Even its nice, albeit unpronounceable name 'Gulpiyuri,' which means 'water circle,' raises a few eyebrows.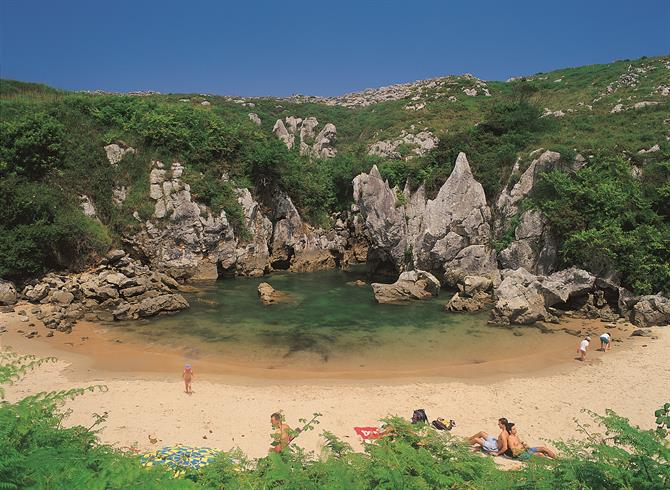 Image credit - TurismoAsturias - Llanes townhall
Playa de Gulpiyuri - A Natural Monument
Playa de Gulpiyuri is a flooded sinkhole with a 40 metre beach. The water levels are entirely dependent on the tide. At high tide Gulpiyuri emerges, at low tide it disappears. Much to the surprise of many visitors!
The sea forces its way between the underground caves and rocks, flowing into a valley that was formed during the Ice Age.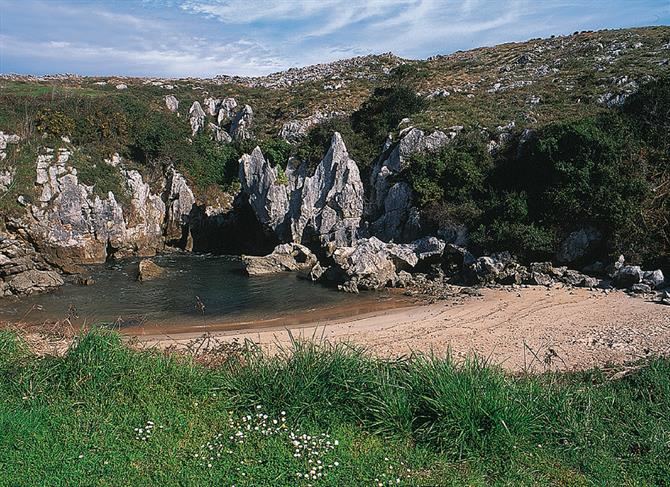 Image credit - TurismoAsturias - Llanes townhall
At high tide you can just about swim, although at most times, the water levels remain at knee height, shallow enough to ensure that the Atlantic chill has been taken off, but still fairly cold.
Playa de Gulpiyuri in Llanes is now listed as a natural monument by the Principality of Asturias.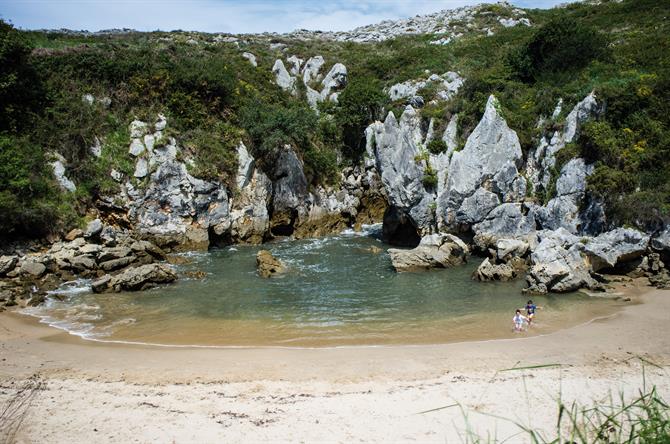 Image credit - TurismoAsturias - Alfonso Suárez
How to get to the beach?
Playa Gulpiyuri can be reached on foot or by kayak.
Most people drive along the A-8 from the village of Naves. The beach is about 1km north of the village.
Everything you'd need should be brought with you. Food, water and sunscreen. There are no amenities whatsoever at the beach itself.
During the peak summer months, it can and does get busy. Hundreds of visitors a day flock here to take pictures. It has the dubious reputation of being one of Spain's most photographed beaches.
For the more adventurous you can also arrive by sea kayak. On a calm day, at high tide and if using a lightweight sea kayak, you can paddle through a 100m cave which connects the beach with the sea.
To avoid disappointment, it's advisable to check tidal conditions before visiting. At low tide, there is no water or 'beach' area. Click here for a tidal calendar for Llanes.
Google map for Gulpiyuri beach