A visit to Asturias can be like travelling back in time to experience a Spain of the past, especially if the mode of transport is a narrow gauge luxury train.
Apart from pulling on the walking boots and heading into the countryside on foot, the most relaxing and enjoyable way to get from A to B as far as I'm concerned is by train. Dump your gear, sit back, relax and let the world outside your window hypnotise you.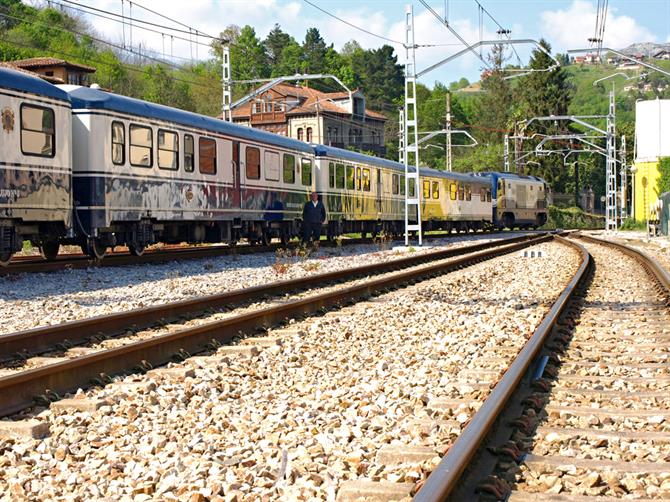 When your carriage is a throwback to the days of grandiose steam-filled stations, brief encounters and moustache-twirling Belgian detectives trying to solve murders, the experience is extra special.
Asturias in northern Spain is relatively ignored by British visitors, with 90% of its tourists being Spanish. It suffers from a reputation of being cooler and wetter than southern parts beyond the Picos de Europa. The weather is relative. It might be cooler and wetter than southern Spain, but compare it to Northern Europe and it's a different matter.
Not that the weather is important when you're inside the cosy confines of El Transcantábrico Gran Lujo which rolls gently along the track linking Galicia, Asturias, Cantabria, the Basque Country and Castilla y León.
El Transcantábrico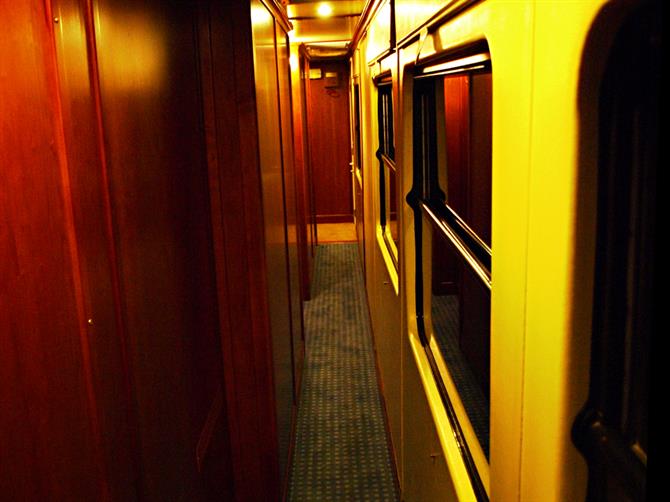 I join the train on its journey through Asturias; the gleaming, navy blue Pullman carriages looking overly dressed for unassuming Candás station.The first thing I notice on boarding the train is the smell of polish and the shiny veneer surfaces everywhere. Little touches, like old umbrellas with curved wooden handles by the entrance, ramp up the 'travelling back in time' sensation. The second thing I notice is how narrow the corridors are. My shoulders nearly touch both sides as I squeeze my way to my 'room'. People must have been far more petite in the 1920s.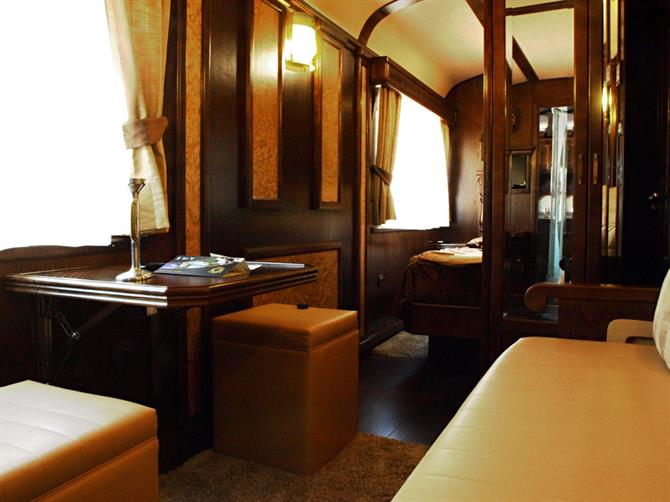 My 'room' is a palatial carriage of leather upholstery, Tiffany lamps and a bed with chocolate brown sheets that looks as comfortable as an oversized marshmallow. The only thing that doesn't have a retro design is the shower which is the most complicated contraption I've ever laid eyes on. Pressing buttons results in water shooting from all directions... except above.
Gastronomy on El Transcantábrico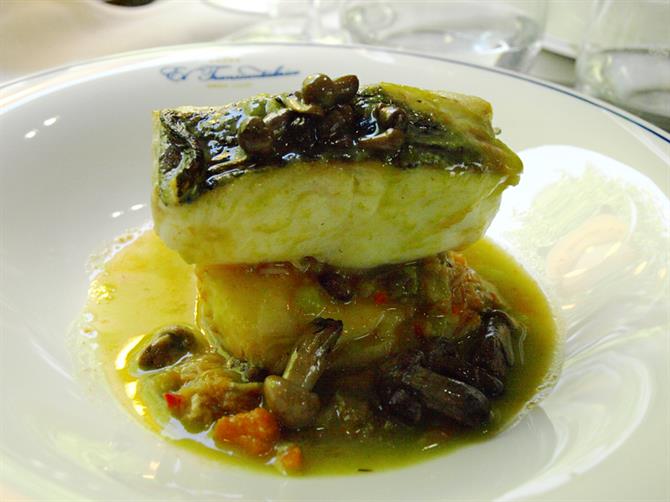 A neat touch is that the train's chefs create dishes that are specific to whatever region of Spain El Transcantábrico is travelling through. So I get a taste of Asturias accompanied by an ever changing panorama of green fields, thick forests, empty beaches and rushing rivers. Lunch in the elegant dining carriage consists of moist and flaky Cudillero hake in a spider crab stew.
The next station is...
The train is so gorgeous and comfortable that there's an urge not to leave its decadent embrace. But there's the little matter of actually exploring Asturias. The train stops at Arriondas before my journey is due to end at Ribadesella.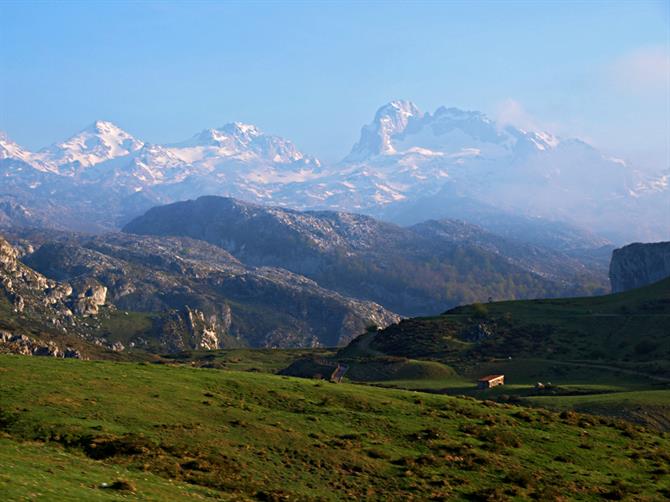 We head deep into the Picos de Europa on a day when the sun makes these dramatically beautiful mountains look friendly and welcoming. A collection of stone cottages with red-tiled roofs are about as far removed from the luxury of the train as you can get. It is the perfect setting to taste blue-veined Gamoneu cheese, matured in a cave, before moving on to enchanted Covadonga.
Covadonga is a tiny place which had a huge impact on Spain's history. The Moors never conquered this part of Spain. This hamlet of imposing churches, ermitas in caves and magical pools is where the reconquest of Spain began.
In a sense, this is the birthplace of modern Spain. The sense of travelling back in time through one of Spain's most beautiful regions is complete.