A city where kids stay out past 9pm and spend most of their time outdoors, Barcelona welcomes kids to eat, live, and play pretty much wherever they want. Its stimulating museums, parks to explore, and curious street art make Barcelona a convenient and fun family destination.
Here are some practical tips for getting around Barcelona and enjoying the city with your little ones.
Interesting Places and Spaces
1. Park Guell
Kids get a visual treat when they come to Gaudí's colourful park located just north of the Gracia neighborhood. Twisting rock formations, patterned tiles, tipping columns, and all kinds of intriguing designs make this park one-of-a-kind. Plus, you can get a refreshing view of the Meditteranean sea's horizon from the upper terrace.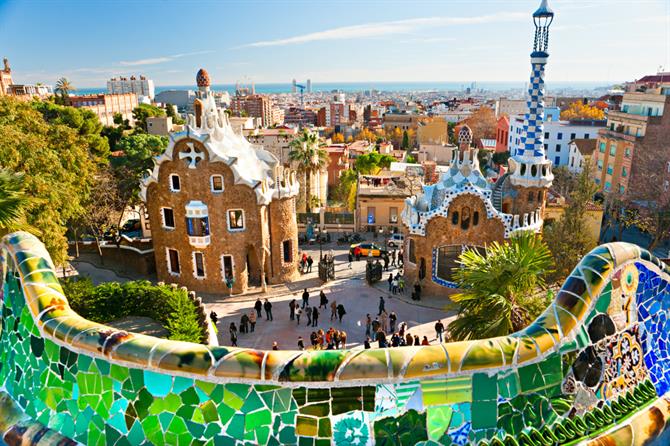 2. Parc de La Ciutadella
A park that's conveniently located in the centre, the Parc de La Ciutadella has it all: two playgrounds, a lake with rowboats, the Barcelona Zoo, and lots of green grass to have a picnic and romp around on. If the timing is right, you might catch one of the many events taking place here like La Mercé in September.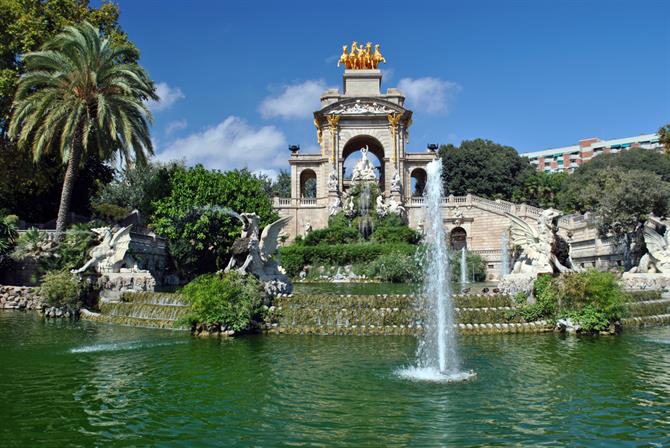 3. Tibidabo Amusement Park
Truly a place designed just for kids, Tibidabo Amusement Park sits atop the Tibidabo mountain. It's got 25 thrilling rides, a mysterious castle, a pirate area and more. Getting there is an uphill climb, but it's worth it when you get another sweeping panorama of the city.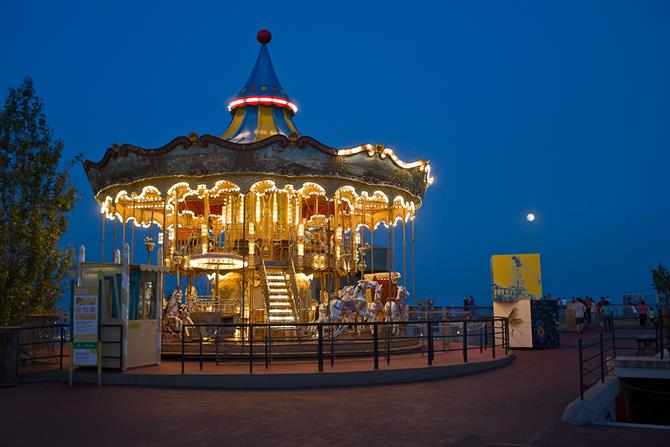 4. Las Ramblas
This famous tree-lined street is about 1.2 km, and it makes for a great afternoon stroll.
The flower stalls, animal vendors, and souvenir kiosks, and pedestrians keep Las Ramblas buzzing. You can also check out Barcelona's most famous market, La Boqueria on the way.
Kids especially gravitate to the street performers, who dress up like Dalí, a spirited flamenco dancer, or a sci-fi creature with scaly arms. If you want to take a photo with them, it's courtesy to give them some spare change. Or you can just stand back and watch like most folks. Tip: be careful with your wallet or purse.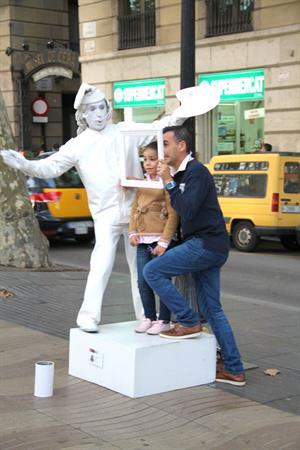 5. CosmoCaixa
Who says kids can't use their brains on the weekends? The CosmoCaixa is an immense interactive science museum that focuses on nature, science, space, and the environment. Kids can press buttons and see how hurricanes are made, or they can gaze at constellations at the Planetarium.
My personal favorite is the bosc inundat, or the flooded forest, where you immerse yourself inside a wet and dry Amazon forest. You also can get up close with the turtles, crocodiles, and flesh-eating piranhas.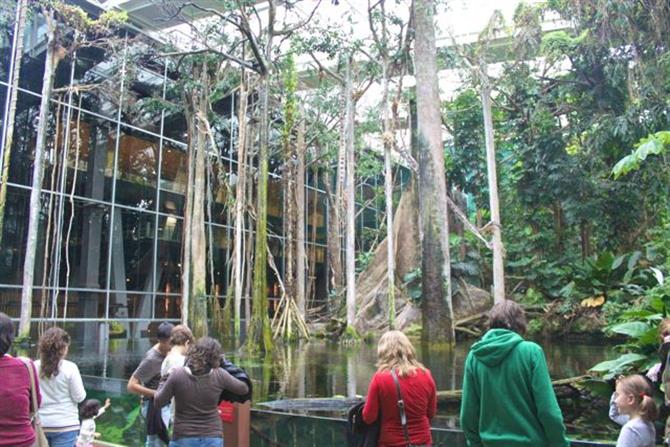 Eating Out with Kids
Unless it's 4-star Michelin restaurant, you can pretty much take your kids to any dining place in Barcelona. But if you're looking for places that do a little catering to kids, try these.
1. Els Pollos de Llull
Known for its delicious homestyle roasted chicken and potatoes, Els Pollos is a popular place for families, especially on Sundays. There's a small activity table in the back, where kids can read books, draw, or color. Tip: If you bring a buggy and it's crowded, you'll have to fold it up and put it to the side. Tables are squeezed in pretty tightly.
2. Papas & the Mamas
An inviting space for parents and kids, this sandwich and coffee shop has lots of light, plenty of tables, and a small play area for when the little ones gets restless. They've also got highchairs and a changing area in the WC, which is rare in Barcelona. If you want to do some shopping, they've got a small ecological food and novelties section you can browse.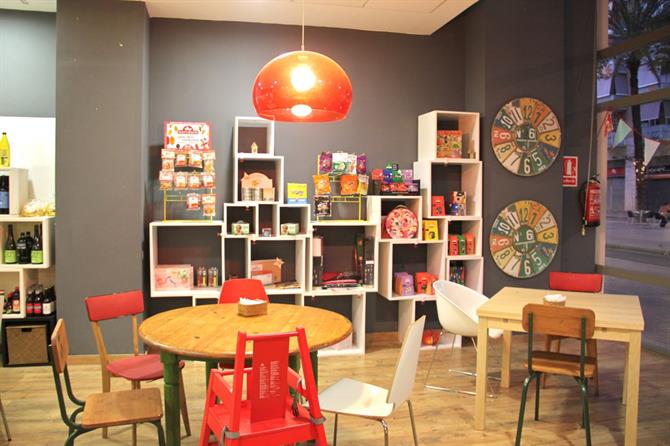 3. Bar del Convent
Located near the cloister area in Born, Bar del Convent is a lovely, spacious cafe with a small space for the tots. They've got some books and toys to share, although it can get a little untidy on busy days. The outdoor dining area is a refreshing space with gorgeous Gothic ceilings. Plus, your kid can wander off in the large patio area where you can keep an eye on him while enjoying a warm café.
4. Chocolatería La Nena
Located in Gracia, this small cafe is a classic among locals. La Nena serves delicious melindros, which are soft pastries that are delicious when dipped in warm chocolate. The place can gets quite crowded, especially on those wintery post-lunch afternoons, so get there early.
2. Getting around
Walking
Walking around Barcelona is safe, where the most serious crimes are usually petty theft. If you're pushing a buggy, you can walk on the sidewalks easily. But if you visit the Gracia neighbourhood, you may have to squeeze through some narrow sidewalks as car traffic can be heavy on weekday mornings.
It's also fun to walk around Barcelona. The postmodern architecture, large plazas, and curious statues make the city truly an open-air museum.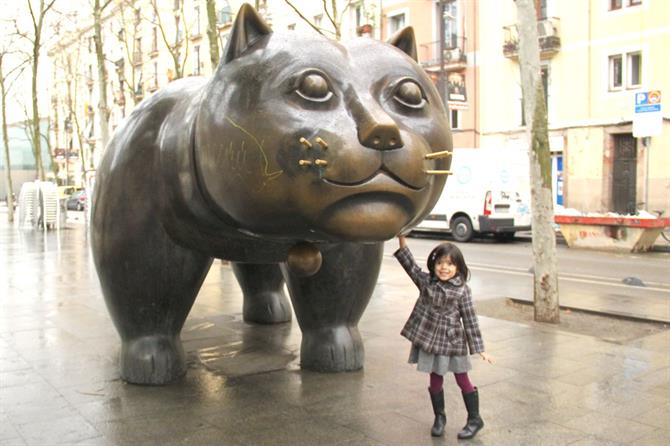 Metro and bus
Some of the stops on older metro lines don't have lifts, which is crucial with anyone who's got wheels. These lines are the L1, L3, L4, and L5. For more information, visit
TMB
. In a worst-case scenario, you can always ask a friendly stranger to help you carry your buggy up or down the stairs.
Buses are also easy to get on and off. Spaces are reserved for pushchairs toward the middle section of the bus.
Kids 4 years of age and under travel free on public transportation.
Taxis
If you ever want to catch a taxi with kids, it's most likely that they won't have any carseats, which are really hard to come by.
However, special cars such as the Seat Alhambra has special child seating, where seats are slightly elevated so that kids can fit snugly under the seat belt. You'll most likely see these cars at the airport or train station. If you can't catch this taxi, bring your own carseat. It might be worth the risk!