Barcelona's Gràcia district is so close to the centre, yet so different.
At only two subway stops from Plaza Cataluña, you can step out and feel like you're far away from Barcelona's vibrant commercial life and busy traffic. As part of the Barcelona city guide, you'll get a glimpse of this neighbourhood and be inspired by a beautiful part of Barcelona.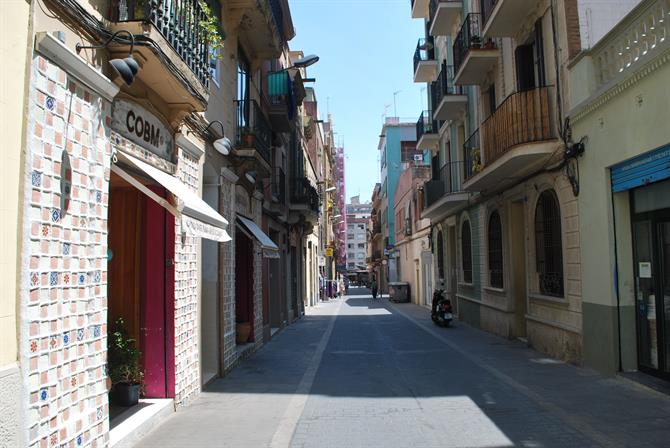 An independent city until the end of the 1800s
Gràcia was an independent town until the late 1800s, and although the district is an integral part of
Barcelona
today, the area is still independent in a some way. Home to people young and old, many have never lived anywhere else and would never want to.
Residents are very proud of their roots
and you won't hear them say that they come from Barcelona - they're always "from Gràcia". This pride is also passed along to newcomers who quickly take on this motto of "Once from Gràcia, always from Gràcia".
You will notice that the buildings, streets, and squares are different than elsewhere in Barcelona. Most streets are one-way or completely closed off to traffic. The buildings have bright facades, beautiful decorations adorning the walls, and small balconies where locals sit enjoying a home-brewed café cortado. The overall atmosphere in the district is relaxed, and there aren't many tourists or cars.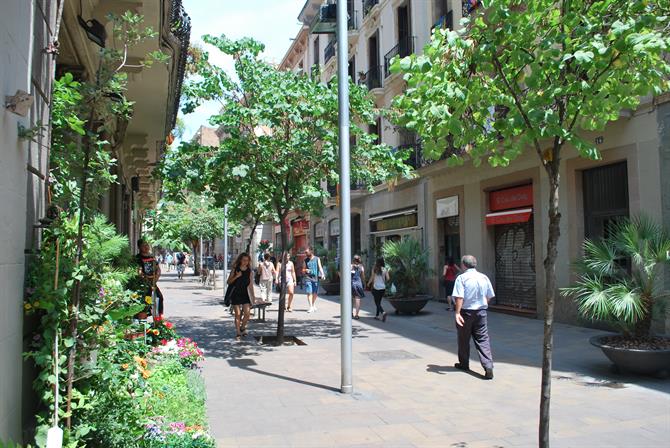 Once a year, a week-long festival takes place in August: The Festa Major de Gràcia. During this time, a competition is held to make the most beautiful street decorations. It is a great time to visit, attend concert after concert, and head off to a street party afterwards.
An independent 'city' within the city
Gràcia is a sort-of city itself within Barcelona, so much so that it's possible to never leave the neighbourhood and still have everything you need. Gràcia is overflowing with bars, cafés, and restaurants, as well as specialty shops where you can buy organic products, fresh milk from the local dairy shop, and bread from one of the many bakeries. With most shops focusing on a certain specialty, you will find higher-quality and unique products.
The same applies to clothing stores and the many small handicraft shops you'll come across as you stroll through the narrow streets. You'll encounter items that can be found nowhere else. Of course, this exclusivity makes the prices slightly higher, but you get something that nobody else has in return.


Best area to shop for clothing: Carrer Gran de Gràcia
Best are to shop for bio and eco products: Carrer d'Astúrias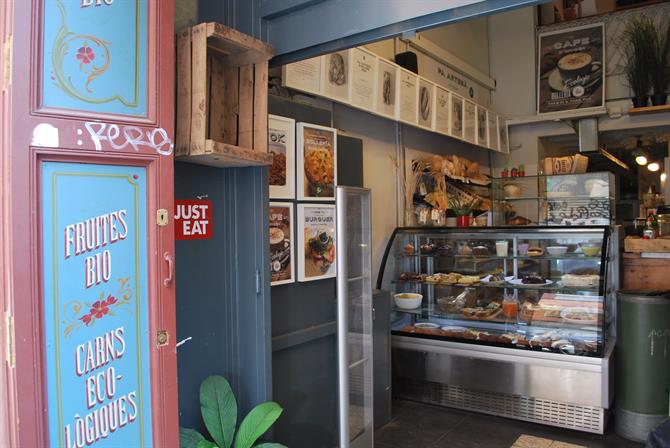 What should you eat in Gràcia? In short, the answer is everything. The district undoubtedly has Barcelona's best and most broad selection of international foods. Ordering tapas in Gràcia is fun too, and they are generally more lavish than elsewhere in Barcelona.
Largest selection of restaurants: Carrer de Verdi and Carrer de Torrijos
The friendliest areas to get a drink: At one of the neighbourhood's many plaças
Life on the terraces
Gràcia's many terraces is one of the area's greatest qualities. Whether it's after work, a late Saturday night, or a relaxing Sunday afternoon, the tables will be full of locals enjoying time with friends or family.

Plaça del Sol is Gràcia's most lively place in the evenings. Tables are filled, skaters, musicians and street performers entertain, and people also sit in the middle of the square having their own food and drinks. A walk a little further through the neighbourhood takes you to Plaça Revolució; try out some homemade gelato here and relax on one of the square's benches. A couple minutes away is Plaça de Virreina, where cozy bars and large trees encircle the church of Sant Joan. The terraces of Plaça de la Vila de Gràcia are filled with a mix of locals, playing children, and tourists. Throughout the year, weddings, concerts and peaceful demonstrations also take place here.
Mercat de l'Abaceria Central
In the heart of Gràcia, in the street Travessera de Gràcia, you will find
the covered

market called
Mercat de l'Abaceria Central
. Here, you can buy everything for a homemade tapas dinner. Even if you don't have anything to buy, the variety of scents and colours and the lively atmosphere make visiting the market a memorable experience in itself. You will pass stalls selling fresh and dried fruits, various meats and fish, as well as booths where you can buy all kinds of flour, beans, and nuts by weight. There are also cheeses from all regions in Spain and spices from around the world.
Please n
ote that the market closes daily at midday, typically between 14:30 and 17:30, but to be certain, check the opening hours.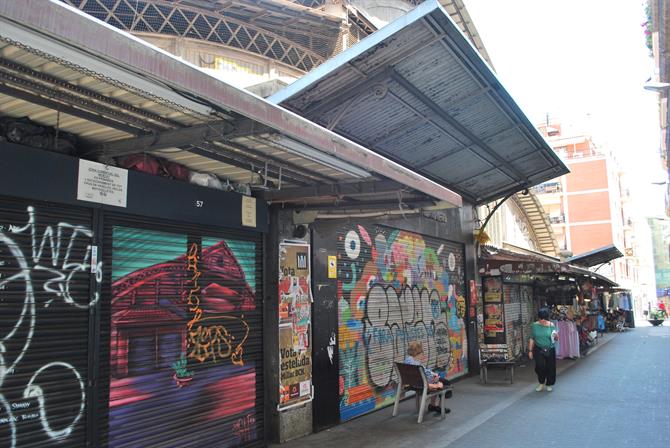 Gaudí's imprint on Gràcia
One of the most famous Gaudí works is
Parc Güell
, which is located in the northern part of Gràcia. The park was created at the request of contractor Eusebi Güell, who wanted a stylish park for Barcelona's upper class. There's a good reason why the park is still a popular destination today; everywhere you look, there are beautiful multi coloured tiles and mosaics of all shapes, showing off Gaudí's love for nature. For example, many of the sculptures are shaped like animals - the largest of them is the dragon at the entrance. In the upper part of Parc Güell, there is a large terrace where you can take in the view over the park and all of Barcelona. Entrance to Parc Güell costs €8 for adults and
tickets can be purchased in advance online to avoid queuing
.
In a small street in the western part of Gràcia, you will find
Casa Vicens, which is another of Gaudí's spectacular works
. The four-floored building (totalling 1150 m²
) was completed in 1889, and it was declared a cultural heritage building in 1984. Although it can only currently be seen from the outside, it is definitely worth visiting. Visiting inside will soon be possible, because
Casa Vicens is currently being converted to a museum
. It is expected to be open to the public in the fall of 2016.
For more Gaudí, make sure to check out
The Ultimate Gaudí Guide
.
Public transportation to Gràcia
As mentioned earlier, Gràcia is very well connected to the rest of the city by public transportation. The fastest way to get to there is by taking the subway. It is also possible to walk to Gràcia, but if you already have sore legs, the trip will probably be tough because it is uphill in relation to Barcelona's centre and the sea.
Metro:
- Green line (L3): Get off at the Fontana stop
- Yellow metro line (L4): Get off at the Joanic and Verdaguer stop
Your must-visit list:
Plaça del Sol and Plaça de Virreina

Carrer de Verdi and Carrer d'Astúrias
Mercat de l'Abaceria Central
Casa Vicens
Parc Güell
La Festa de Gràcia in August