If music is your thing, you can hardly find a better place to indulge your passion than Barcelona. From opera, classical concerts and folklore to flamenco or jazz, you´ll find something for every taste. What´s more, the venues are as spectacular as the music itself.
Palacio de la Musica
The Palau de la Musica Catalana as the concert hall in Barcelona´s La Ribera district is called in Catalan, is a wonderland of architectural fantasy. Not a square inch of the massive building is left unadorned and the word concert hall doesn´t do this fairy tale justice. Even if you don´t care about music, a visit to the Palau is a must.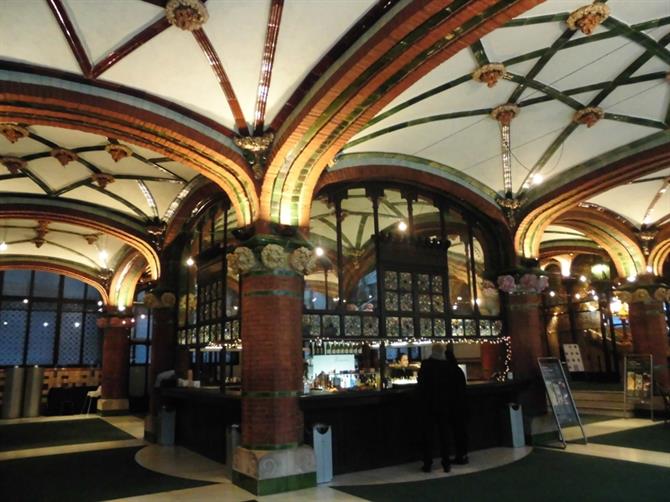 Built between 1905 and 1908 by famous Catalan architect and representative of Catalan modernism, Lluis Domenech I Montanet, the palau is the venue of concerts and recitals of classical and modern music, performed by first class national and international artists. You can listen to Carl Orff´s Carmina Burana, to Anna Netrebko or enjoy a Flamenco show to mention just of few of the most recent program items. The acoustics and organ match the quality of the architecture.
Stained glass, wrought iron, marble floors and staircases, chandeliers and the colorful Catalan ceramics are the main decorative elements. Even the old box office window is a little jewel.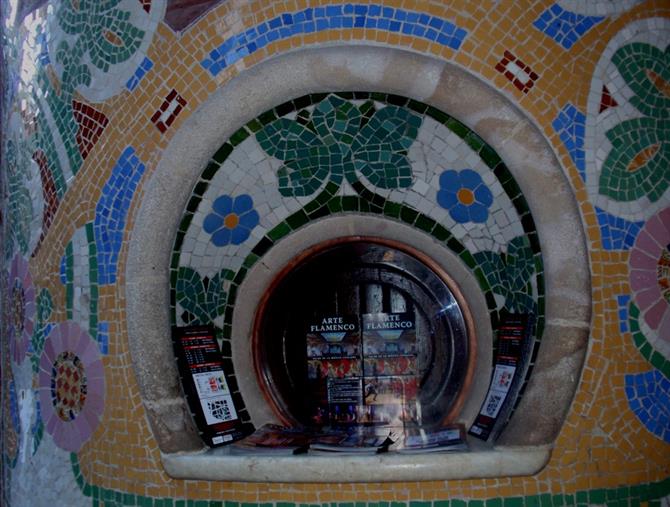 If you can´t or won´t get a ticket to a performance, you can visit the palau but only on a guided tour. The tours are given in several languages, English among them. Or else you can walk around the building which takes up an entire block and admire the richly adorned façade and roof.
Get a first impression by having a coffee or drink in the art deco coffee shop in the foyer, then go up a few steps and have a peek at the main staircase.
Address: Calle Palau de la musica 4-6
Box office opening times: Daily 9.30am to 3.30pm
July and August: 8.30 to 8pm
This is also where you buy the ticket for a guided tour.
Tour fees: €18
Tour schedule: every 30 minutes daily from 10am to 3.30pm
Easter and July: 10am to 6pm
August: 9am to 8pm
How to get there: Metro L1 and L4 stop Urquinaona
For more information and the upcoming events consult: www.palaumusica.cat/en
Guitar concerts in Basilica Santa Maria del Pi
If you find the Palau a bit overwhelming, you might want to opt for a smaller venue, although with a capacity of 300 seats not that small either. Listen to music from the most Spanish instruments of all: guitars in a 14th century Gothic church.
The Basilica Santa Maria del Pi is located in Barcelona´s emblematic Gothic quarter which stretches between the Rambla de Catalunya and Via Laetana. The large rose window over the entrance, the 54m tall bell tower and the high altar made from alabaster alone are worth a visit as is the surrounding area of Plaza Pi and Plaza Oriol.
Masters of the Spanish guitar compete in nearly daily concerts, starting in January. For a schedule and to buy tickets, consult: www.classictic.com/en/barcelona/basilica_santa_maria_del_pi/543/
Address: Plaza del Pi s/n
How to get there: Metro L3 stop Liceo
Ticket price: from €18
The Gran Teatre de
Liceu

For opera fans, there is no better venue than Barcelona´s Opera house, known as Liceu for short. The original building opened in 1847 but has since experienced a somewhat unfortunate history.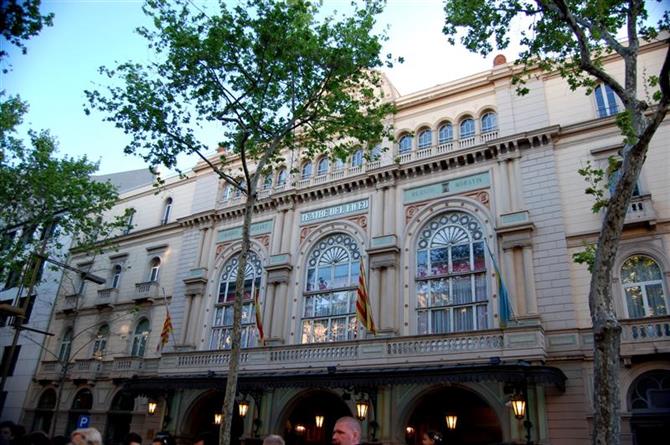 A fire broke out in 1861 which destroyed a good part of the interior. Rebuilt and reopened, the next mishap occurred in 1893 when an anarchist threw two bombs into the auditorium. One exploded and killed 20 people.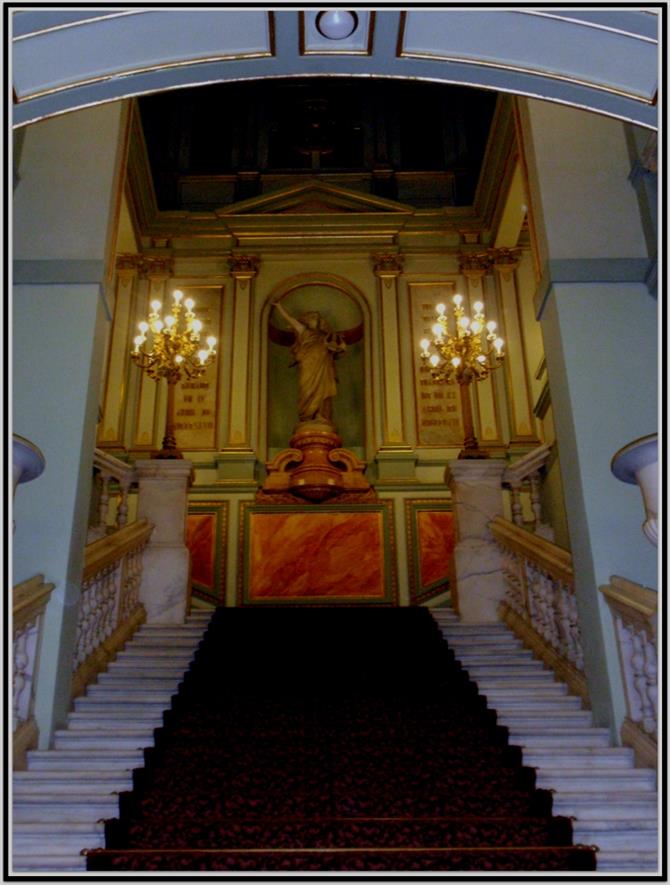 The most devastating fire however broke out in 1994 when a spark from repair works ignited the curtain and nearly the entire building burned down. It took five years and a huge struggle for funding to recreate the Liceu as it stands now, adding modern technology to make the opera experience even better but keeping the original ornate style like the Renaissance vestibule and the hall of mirrors.
With 2.292 seats it´s one of the largest opera houses in Europe and it was here that the Bayreuth Festival was for the first time ever staged away from its original location.
The Liceo opened again in 1999 with a performance of Turandot by Puccini.
Address: La Ramble 51-59
How to get there: Metro L3 stop liceu
Guided tours are available if you only want to see the building.
Monday to Friday 9.30am to 10.30am
Ticket price: €14
For further information, opera schedule and ticket purchase please consult: www.liceubarcelona.cat
Luz de Gas
Too much classical stuff? Then have a night out and enjoy another very Spanish entertainment institution: Sala de Fiesta. They can be found all over Spain and are ball rooms, places to sit, drink and dance in richly decorated halls.
The Luz de Gas was originally one such ´sala´ as the name indicates, but has been renovated and transformed into a venue where you can enjoy blues on Monday, Dixieland jazz on Tuesday, disco on Wednesday, pop-rock on Thursday, soul on Friday and Spanish rock on the weekends. The clientele are somewhat older, but cocktails and music are great. Various shows are on on two levels.
Address: Carrer de Muntaner 246
Opening times: daily from 11.30pm
Admission:€20 incl. One drink
How to get there: Metro L5 stop Gracia or night bus. But it´s not easy to find and given the opening times, a taxi might be a better option.
Whatever your taste in music, you´ll enjoy yourself in Barcelona.