As soon as winter ends in Barcelona, locals and tourists are eager to shed that extra layer and spend more time outdoors. That means more time for biking, strolling, or having a drink outside to imbibe in the Mediterranean sun. It also means more outdoor events!
Here are a few things you can do around Barcelona in the new season.
1. Attend the Holy Week processions and enjoy looking at the chocolate figurines.
Spain is historically a Catholic country, and its religious rituals are still celebrated during Setmana Santa, or Holy Week. Setmana Santa starts on Palm Sunday to Easter Monday (eight days).
In several parts of Barcelona, the Easter processions are a fascinating event to watch, even for non-religious folks. Catholic brotherhoods ceremoniously carry pasos, religious figures on a decorative platform, in a very solemn tone. The pasos tell the Biblical story of Jesus before and during his crucifixion.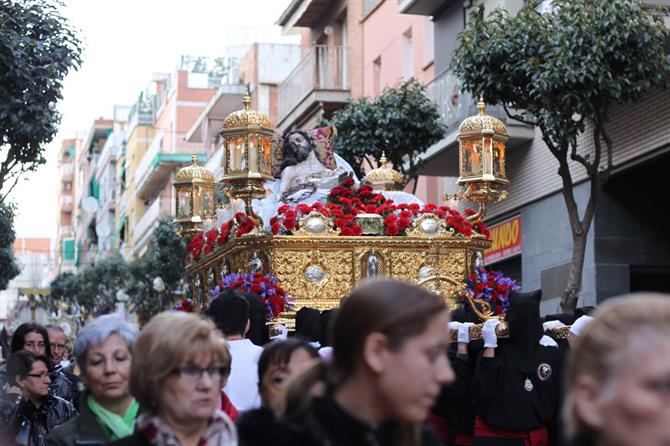 Two processions happen on Palm Sunday and Good Friday. You can also see other processions in Badalona, a city just outside Barcelona.
During this week, you'll also see the chocolate shops carrying mones at their storefront. These are chocolate figurines crafted into beautiful shapes. The most traditional shape is the egg, but you can also see other interesting figures like sneakers, Lionel Messi, Star Wars, Paw Patrol, or whatever the latest trend is.
It's a Catalan tradition for a godparent to give a mone to their godchild on Easter Monday. If you walk around the city, you'll come across some very intricate mones for sale, and they're not cheap to buy! Check out Pasteleria Escriba (Gran Via de les Corts Catalanes 546) or Pastelería Baixas to see some amazing chocolate artwork (Muntaner 331). Check out more ideas for Easter activities.
2. Rent a bike and ride around the city.
Barcelona is a bike-friendly city. It has designated bike lanes, so you can ride around freely without having to worry about chaotic automobile traffic. Bike-riding one of the easiest, most enjoyable ways to see Barcelona.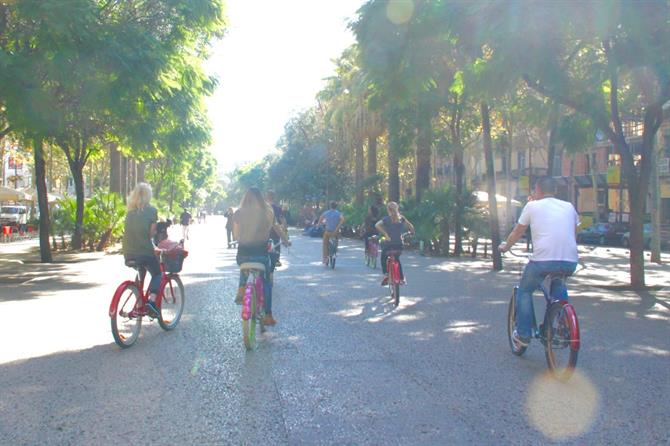 Here are some route ideas:
Weave around the narrower, more crowded streets in the Raval or Born neighbourhood, where it's crowded with pedestrians. But it's also a fun part to see where a lot of the action is — there are local supermarkets, trendy shops, and busy bars. Both neighbourhoods are also the heart of Barcelona city living.
Ride along Barcelona's beaches. You can start at Port Vell, where you get a beautiful panorama of the boats. Then head down to Barceloneta, which has a fantastic atmosphere of restaurants and bars. And then go toward the marina, where you'll see the Olympic Twin towers and the huge golden "Fish" sculpture by Frank Gehry. Then finish off your route in Poblenou, where the old industrial buildings meet the new technological center. It's also a great place to grab something to eat and enjoy a drink!
Ride along the hilly slopes of Montjuic. Start at the Plaça Espanya at the majestic MNAC museum. Then you can head toward the Palau de Sant Jordi, the Olympic Stadium, the Miró Museum, and the Montjuic castle. You can catch glimpses of the panoramic views of the city all around. (And stop to take a selfie here too.) Plus you get a great workout!
3. Attend the concerts at the hugely popular Primavera Sound music festival.
Primavera Sound is one of the largest music festivals in the world, and it's showcased huge names like Pet Shop Boys, The White Stripes, Franz Ferdinand, and Public Enemy. It's a 5-day event that takes place at the seafront space Parc del Forum. Usually there are a few major headliners, but it's also known for its eclectic lineup of independent bands in rock, alt-rock, pop, electronic and dance music genres.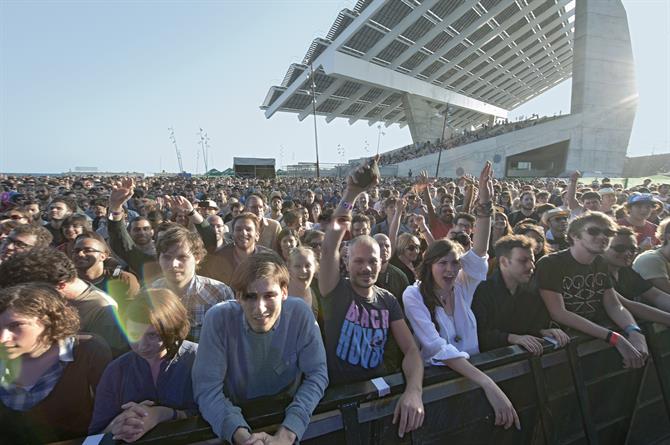 Every year its band list grows, and 2016 brings on 160 acts like PJ Harvey, Suede, Radiohead, Joan Manuel Serrat, The Last Shadow Puppets, and Tame Impala. Tickets start at about 175 euros for the 5-day event. So put on your sunblock, grab a bottle of water, and rock on!
4. Enjoy a meal or drink at a restaurant terrace.
Terrace seating is everywhere around Barcelona. A fantastic place to share a meal is at the beach, where you can get a view of the Mediterranean Sea. You can also get an eyeful of passers-by having a stroll, rollerblading, biking, skateboarding, or even swimming in the sea. (The water isn't quite warm enough yet, but some tourists must have a dip in the water!)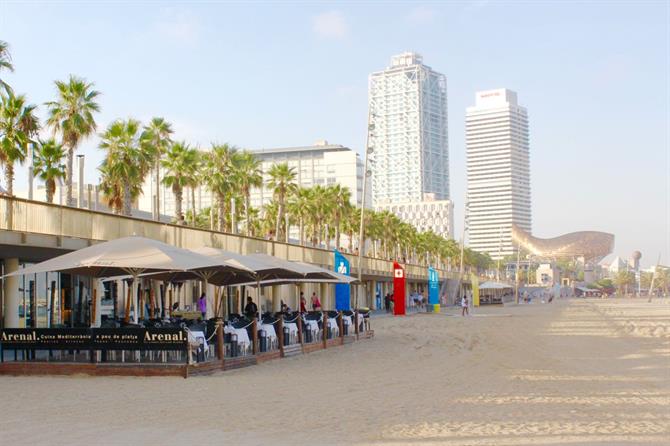 5. Check out the exciting book events on April 23, Day of Sant Jordi.
A beloved Catalan holiday, the Diada de Sant Jordi (St. George's Day) is the local Valentine's Day. It celebrates the region's patron saint, St. George, who saved a princess by slaying a fiery dragon. It's believed that a rose bloomed from the place that the dragon shed its blood. This special day is also the death anniversaries of Spanish writer Miguel de Cervantes and English writer William Shakespeare.
The tradition is that Catalan people exchange books and flowers. Typically, a man gives a rose to a woman, and the woman gives a book to her man. Nowadays, women and children also get books!
In the city centre, you'll see hundreds of books and rose stalls lined with red and yellow colours (for the Catalan flag). Famous authors also come to Plaça Catalunya to sign books. You'll also see many vendors along the Rambla de Catalunya and other spaces scattered around the city.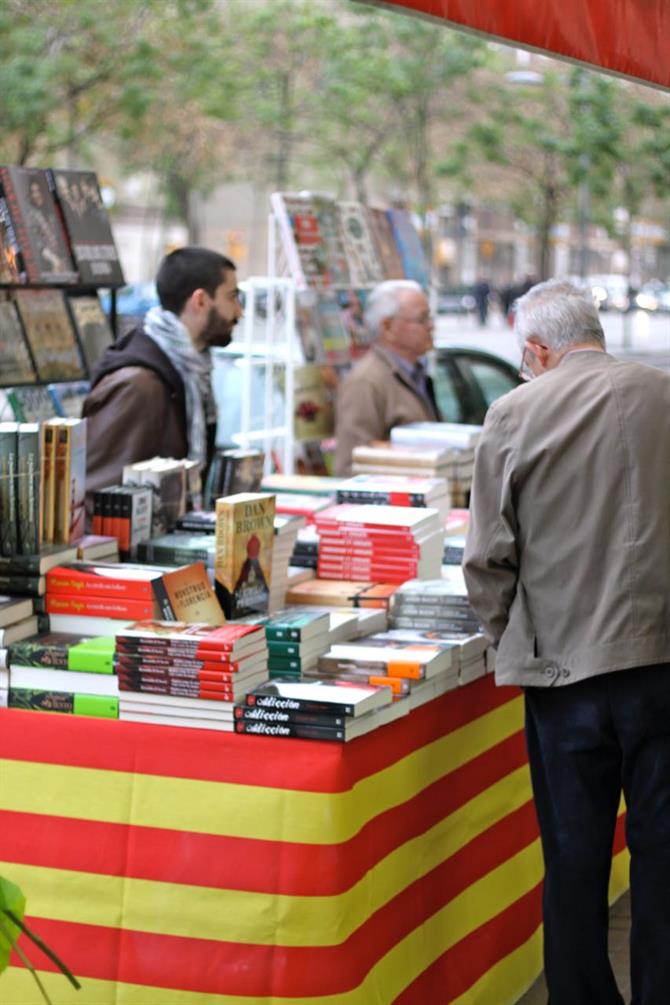 6. Enjoy the festivities at the Feria de Abril in Barcelona.
Just like in Seville, Andalusians in Barcelona also put on their smaller version of the spring fair, and it's a colourful feast for the eyes. You can see women in bright Flamenco dresses dancing Flamenco and Sevillanas, a dance of southern Spain. Go head and enter the green-and-white-striped casetas (pop-up tent-like restaurants) to have a glass of rebujito or each crispy calamares. You can also bring the family because there are rides and games for the kids.
The Feria de Abril takes place on seafront at the Barcelona Forum.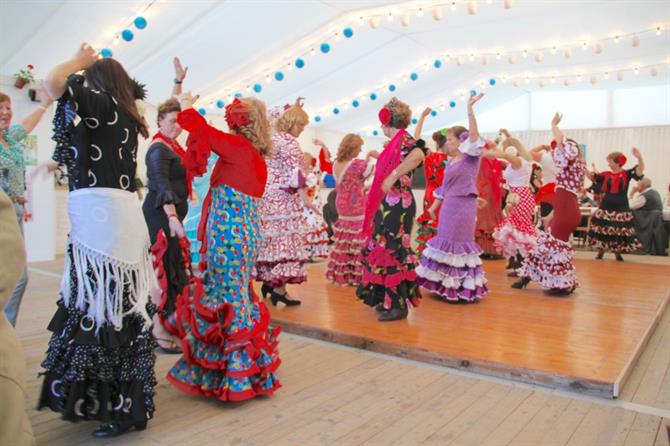 Tips
The temperatures in the spring varies, and sometimes it rains. In March, average temperatures are about 12.0ºC in March, 14ºC in April, 18ºC in May, and 22ºC in June.
If you don't want to stand out as a tourist, don't wear shorts just yet. Locals generally don't wear shorts until it's officially summer.
The temperature also varies from afternoon to evening. If you're going to be out exploring the streets, always bring a sweater or light jacket for when it cools down after sunset. Don't let the sun fool you!
Have you been to Barcelona in the spring? Are you planning to come here? Share in the comments

below.