The Half Marathon. Long enough to be a serious challenge for both amateur and professional runners, but not such a burden that your body will spend months paying for it. Whether you're training for a full marathon, simply trying to increase your fitness, or are just rather competitive; Barcelona is the ideal city to challenge yourself in before rewarding yourself with a well deserved vacation in one of the sightseeing capitals of Europe.
Will you be participating or simply watching? Either way, this guide to the Mitja Marató de Barcelona has got you covered.
The route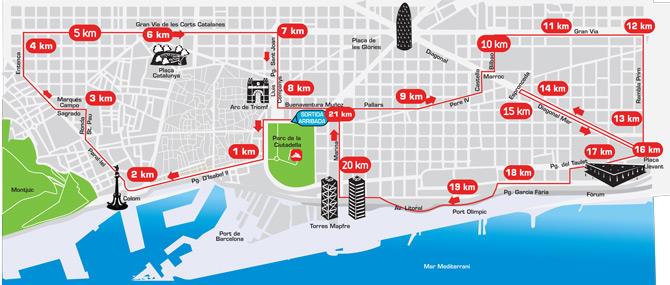 I'm not participating in the race, I'm just in town
Travel advice
Distruption to public transport will not be severe, and any traffic inconvenience will only for the morning of the event. The marathon has a time limit of 2 hours and 45 minutes so there will be no more runners after 11:30am. The Metro will run as usual, but will likely be congested around the start and the end of the event, so if you don't like crowds, avoid the L1 line during the morning and afternoon.
Cheering on the racers
Racers start preparing from 7am, but the race starts at 8:45am and officially ends by 12:00pm. You can stop at any point along the route (see map above) to cheer on the racers, but there are certain spots where entertainment will be taking place. It's hard to say what "entertainment" constitutes, but in past Barcelona Marathons it has varied, from food tasting to live bands. It won't cost you anything to attend and you can certainly make a day of it. Spend the morning watching the runners and entertainment, then afterwards head to Barcelona Zoo or the Gothic Quarter!
I'm participating in the race
Useful information

The event takes place on a Sunday, so many of the shops will be shut. However there is an OpenCor on C/ Aragón, 308 nearby that will be open if you crave something right after the race. It's around a 25 minute walk away.
After the race you'll want to take a 'warm down' walk for about 30 minutes. Ciutadella Park is nearby and makes for the perfect location to give your mind a rest and go for a pleasant stroll with your friends or family.
Race tips
If you're going to warm up, don't overdo it. There is a circular path in the warm up area (Estació del Nord Park), which if you run around 4 - 5 times; equates to 675m - 840m. A good jog to get your muscles warmed up if you feel you need it.
There are drink spots every 5km, but don't wait to reach the first point, keep hydrated from the start and drink little and often. Your body will love you for it.
Find people who run around your pace for the first 5km or so. You don't need to pace with those running ahead as you'll be passing them later. Get into your own rhythm from there and maintain it.
Keep in mind that the first 5 km are slightly sloped upwards peaking at 23m. It's not until you cross the roundabout at Passeig de Gracia that the slope begins going downward continuing like this until you pass Arc de Triomf and turn. From there on out it's relatively flat.
By the time you're on Gran Via de los Cortes Catalanes (the wide road between 10km - 11km) you'll want to completely stop paying attention to everyone elses pace or you may drop behind. You should definitely have your own rhythm by now, think about speeding it up slightly, but focus on yourself. Don't think about anyone else just yet.
Eventually you'll pass The Forum (at the end of Diagonal). Once here you'll be turning to run a long stretch beside the coast. It's the ideal time to think about overtaking runners, push yourself but don't over do it.
Once you pass the Port just after the 19km mark. It's time to go all out. Give it everything you've got and go for your limit. Just 1.5km from here and you'll soon be tasting victory.
Hopefully you're now completely prepared for the Barcelona Half Marathon, whether you're participating or not!