In the 1920s Spain became familiar with the first influences of Bebop,Dixieland and New Orleans Jazz, introduced by American visitors. Fusions between jazz and Flamenco music appeared quickly after that, this development however came to a sudden halt on the brink of Spain's Civil war.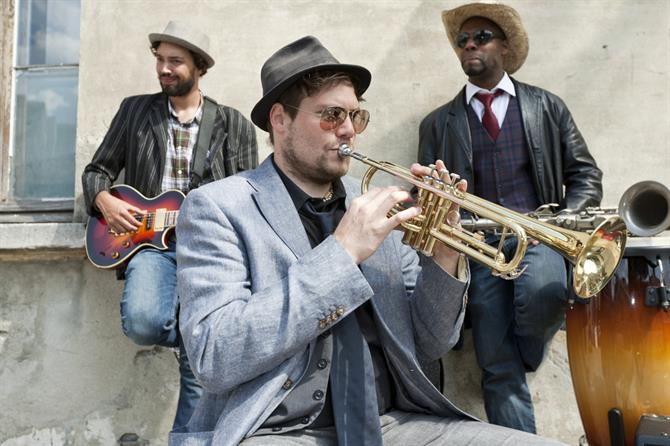 On return of the democracy in 1975 and economic development, the jazz scene in Spain started to show a fast paced and creative progress. It welcomed many national and international jazz and blues artists with open arms at its clubs and outdoor festival venues.Below is an impression of what to expect of Spain's jazz landscape. We will first focus on what is the country's nexus and gateway to this fine art:Barcelona. The first jazz concerts in Spain took place in Barcelona's Teatro Principal on the Rambla in 1920. Despite the before mentioned difficult times for non-Spanish artists and arts in Spain in the 40s and 50s and 60s jazz survived at the hands of small but very enthusiastic group of fans. Barcelona initiatives such as the Hot Jazz Club and Jubilee were true beacons of resistance and their legacy resulted into what is the flourishing Catalan jazz scene we see today.
Legendary jazz club Jamboree
The efforts of its predecessor
Jubilee Jazz Club
lead to the birth of the
Jamboree club
in the '50s. The name is derived from the Zulu word for "gathering of the tribes". In the first eight years of its existence this club was able to attract some impressive talent and big industry names eagerly accepted invitations to appear: Bill Coleman, Kenny Drew, Chet Baker, Art Farmer, Lou Bennett, Kenny Clarke, Ornette Coleman, Dexter Gordon and many others. In honour of its 6th anniversary Jamboree managers organised a festival attended by Ella Fitzgerald and Duke Ellington at the Palau de la Musica on January 25th, 1966.
Two years later however the club was forced to close its doors as it suffered from fierce competition from a neighbouring Flamenco club. Since then the Jamboree club passed several hands before it made a definite comeback in the 90s.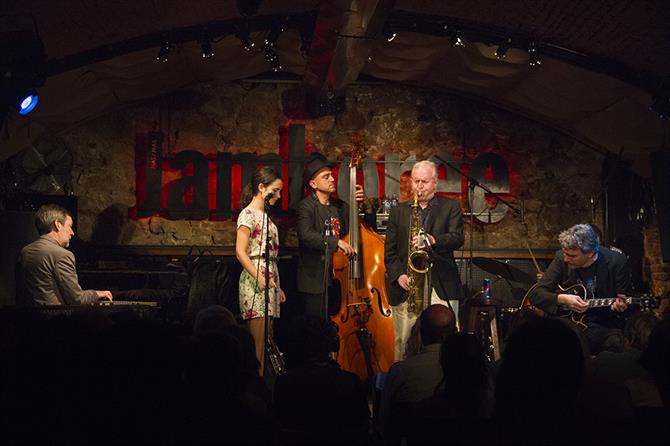 Jamboree is the crown jewel of jazz in this dynamic city and the birthplace of jazz in Spain.
The daily live set at Jamboree varies from Jam Sessions, Blues and Jazz concerts to Bossa Nova fusion & dance nights with a DJ. It is deliberately programming to fit in Spanish national talent with granting them 60% play time, 20% from the rest of Europe and 20% from the United States.
La Pipa Jazz Club
This hidden gem boasts a very original Sherlock Holmes-ish interior with matching Britisch props and icons. At the door you will find a small plaque with the club name, so inconspicious you might miss it! To enter you press a bell and the door will be buzzed open. Climb the stairs to the jazz club, located within a renovated apartment at the top of the stairs. The entire entrée adds to the charming impression that you are entering a private club.
As you are in Catalunia you order ofcourse a glass of signature Cava at the bar and settle down on one of the lounge sofas enjoying the sound of either Jazz Tango,Flamenco Jazz, Bossa Nova and Blues.

Some days of the week the dance floor will be occupied by a slightly younger crowd, especially on Thursdays and in the weekend. The rest of the week La Pipa is a typical venue for pipe smokers, guests quietly listening to jazz or participants at political salons ('tertulias').

For practical information about these two clubs and other entertainment venues in Barcelona, read more in our travel guide Barcelona.
International Jazz Festival
In addition to these clubs, it would be a grave omission not to mention the International Jazz festival taking place every year in October and November, albeit there are many places and occasions year round in Barcelona to enjoy live music. This annual festival takes place from mid-October to early December and is Barcelona's long running festival, for it has been organised for over 40 times.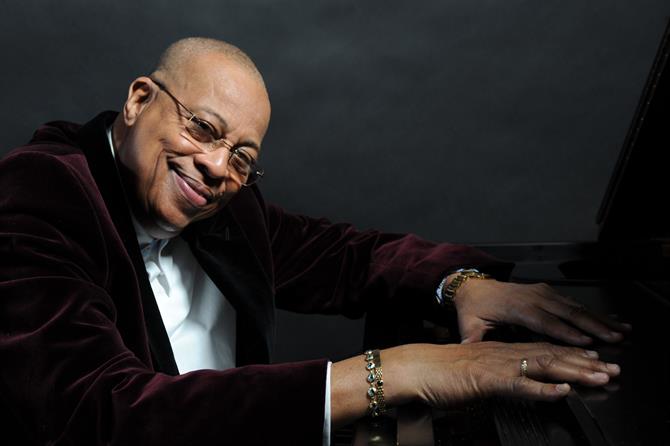 Chucho Valdés playing at the festival in 2013

Jazz-greats such as Herbie Hancock, Llibert Fortuny, Ornette Coleman, Betty Carter, Art Blakey, Nina Simone, Cassandra Wilson and BB King have honoured its stage.
Nexts stop in this series on the Jazz scene: Granada and Almuñécar.