Everybody can buy their bread and milk at a supermarket or appease a rumbling stomach with a quick bite at the corner cafeteria. In Barcelona you can actually make an event of your daily shopping and meals without breaking the bank. Learn where.
Las Arenas: Bullfight out, shopping in!
Since the last bullfight in 1977, Las Arenas, Barcelona´s emblematic bullring, inaugurated in 1900 and with it´s beautiful facade in the so-called Neomudajar style, sat in the middle of Barcelona opposite the Plaza de Espana and fell into disarray. Grass, trees and brush grew in the middle where once much drama took place, the bleachers crumbled and it became the ´home ´to 200 cats and 6 indigenous families.
The city fathers needed to decide what to do with it. There were two choices: demolish and destroy a historic landmark or convert. Conversion won and after 11 years of arduous construction work, a lot of it by hand to preserve the facade, the bullring got a new lease of life as Barcelona´s vanguard shopping mall and centre of leisure and entertainment. The grand opening was on 24th of March 2011 and since then, Las Arenas has become one of the major attractions of Barcelona.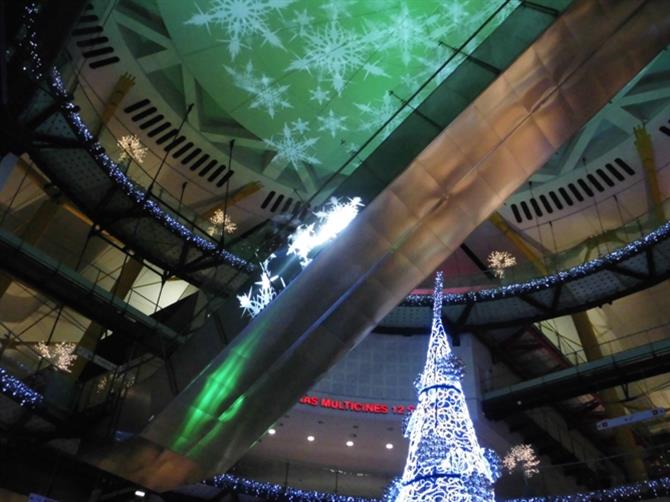 Three stories were excavated which now serve as parking. Above you find six levels, the first three dedicated to shops of all kinds as well as a supermarket. The next levels feature 12 cinemas, a massive gym and exhibition space. The top floor is dedicated to restaurants and an observation platform and the entire structure is crowned by the biggest glass and wood cupola in Europe.
Escalators and elevators guide you from level to level inside whereas a glass elevator glides up to the top on the outside, affording fantastic views over the city below.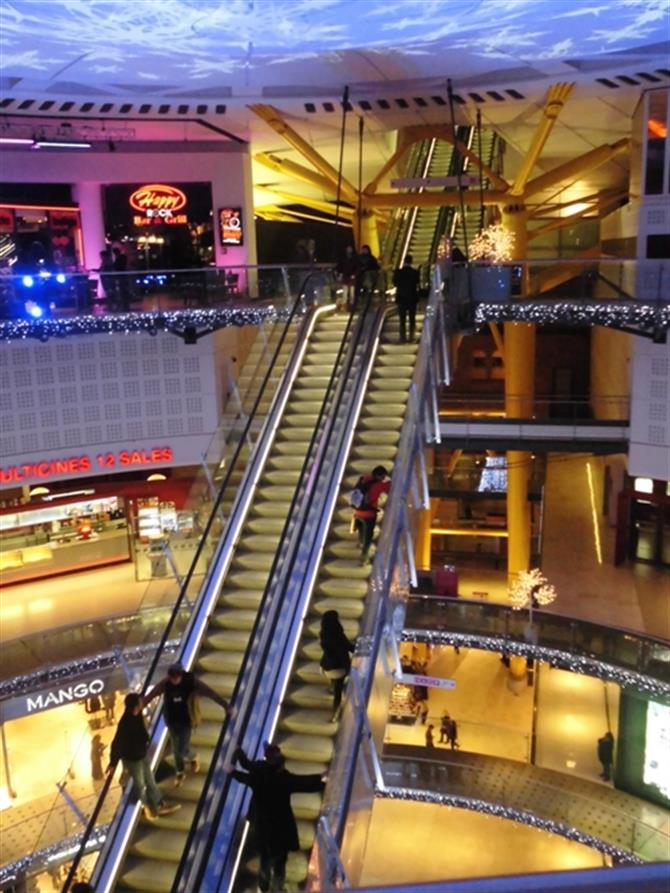 The cinemas belonging to the Cartelesa chain have extremely comfortable seats and an unobstructed view of the screen. Cheap tickets (€5) are available on Wednesdays, otherwise the admission is €8 or 9. To consult movie schedules and book tickets online visit: www.arenasdebarcelona.com/cartelera.aspx
In Las Arenas you can combine eating and shopping whilst admiring a triumph of modern architecture.
Location: Gran Via Corts Catalanes 373, Metro L8 Stop Plaza de Espana
Opening times for the shops: 10am to 10pm
Mercado de la Boqueria
Barcelona has more than one market, but La Boqueria is probably the most popular and colourful. Already in medieval times tables were set up at this site which was then outside the city, where meat was sold.
A permanent market was constructed in 1840 but the most impressive feature, apart from the product of course, which is the metal roof, wasn´t installed until 1914. You really can´t miss the art deco decorations which loom high above when you wander along La Rambla coming from the direction of the Liceo in search of the market.
The freshest and most exquisite fruit and vegetables from all over Spain are offered here, arranged in patterns which resemble paintings.
Upon entering, you come to the most colourful part which also includes sweets, spices, fruit juices, smoothies , salads and cheeses. The vendors, many of them second and third generation traders, praise their wares and will let you sample generously. Further down the aisles you find meat and the section of the fish mongers. What you can´t find here you won´t be able to find anywhere else in Barcelona.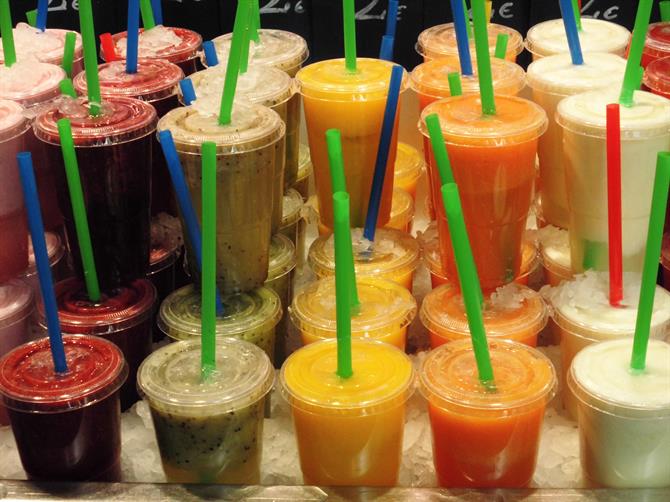 Address: Rambla 91, Metro L3 stop Liceo
Opening times: Monday to Saturday from 8am to 8.30pm, Sundays closed
El Nacional, Barcelona´s newest gourmet temple
This restaurant has only opened 1 ½ months ago and it is already the talk of the town. First to mention is the building which has a very interesting history. From the outside it is not immediately recognisable as a restaurant because it is huge. It looks more like La Boqueria or a converted warehouse. And indeed, in its former life the building served as a fabric and dye factory, a car dealership, a collection point for food after the Civil War and finally a car park.
Today it is the largest culinary establishment of the city and you will appreciate its architectural value upon entering. The main feature is the ceiling which consists of 15 lowered vaults, a typically Catalan design.
El Nacional is actually made up of eight ´islands´, each serving a different kind of food and each with its own design and decor. You have for instance La Taperia where, as the name indicates, delicious tapas from all over Spain are served on small tables. La Brasseria is dedicated to meat, cooked in front of the customers, as is La Llotja which serves only fish. In addition you have a Wine Bar, a Beer Bar, a Cocktail Bar and an Oyster Bar. Whatever kind of food you fancy, you will find here.
The division into sections breaks up the huge space into intimate niches, tables never seat more than 4 and it will not be invaded by tourist groups. You also can´t make reservations, you come and queue which particularly on weekends can take some time.
To give you an idea about prices: tapas start at €4 and go up to €9 for special ham. A T-bone steak for 2 costs €48 and the most expensive item is 50g of Platinum caviar @€150. In between: something for every budget and taste.
Address: Paseo de Gracia 28 between Diputacio and Gran Via de les Corts Catalanes
Opening hours: year around, kitchen open Sundays to Wednesday from 12noon to 2am, Thursday to Saturday from 12noon to 3am
La Bombeta
in Barceloneta

From big to small, the contrast between El Nacional and La Bombeta couldn´t be more striking. Located in Barceloneta this tapas bar is famous for the dish which gave it its name: fried dumplings of mashed potatoes with a centre of minced meat covered in a hot sauce and alioli. Many more conventional tapas are also on the menu in this tiny family run bar/restaurant where no credit cards are accepted, nothing but Spanish is spoken and you have to queue outside until the owner comes out with pen and paper, asks you your name and how many are in your party and then calls you when a seat is available.
He entertains the waiting clientele with some magic tricks, making a coin disappear in his hand and then pulling it out of your ear and so on. Unless it´s pouring with rain it doesn´t really matter if you have to wait half an hour.
2 of the bombetas costs@3.90 and they are very filling.
Address: Carrer de la Maquinista 3, off Ronda Litoral
Opening hours: daily from 10am to 1am, Wednesdays closed.