Whether you're in Barcelona on business or you simply don't want to use expensive roaming data on your mobile; it always helps to know how to get connected in the Catalan capital. Let's face it, if you have an urgent email that can make or break a deal that you need to send, the last thing you want to be scrambling for is a WiFi Hotspot!
In this always connected world, it can sometimes feel desperate, but wait! Before you whip out that mobile and start paying some hefty charges, there is always a free option. WiFi. Most guides you find will tell you a few spots around the city centre, but luckily you landed here, and as you can see by the map you can find WiFi anywhere in Barcelona.
That's right, whether you're downtown or uptown, you'll never be more than a stone's throw from free access to the web. Sound crazy? Not at all!
Barcelona Public WiFi hotspots

The primary way you can get access to wireless internet in Barcelona is through the free public WiFi. It's pretty straight forward - wherever you see the W symbol in the city, it means you're just a few clicks away from web access. There are two kinds of public WiFi points in Barcelona, those that you can access without any additional information and those that require more information. For example,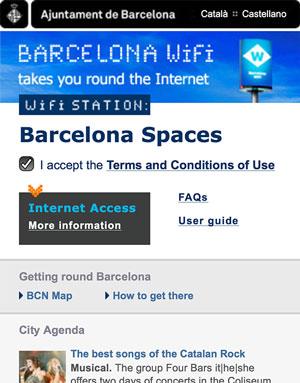 although a public library will have this type of internet access, they usually impose an extra check by requesting your library card number, which is not an option for the average visitor.
Don't worry though, to use WiFi points on the streets of Barcelona simply use your device to connect to the hotspot called "Barcelona WiFi" when you see the W sign, then open your web browser, where the page you see to the right will automatically appear asking you to accept their terms and conditions. Check the box and press "Internet Access". Once you do this, you're totally connected. These public hotspots are open from 8AM to 10PM, but those inside parks and gardens switch off when the gates close.
See all the Public WiFi Hotspots on the map marked as stars.
Tactical WiFi hotspots
Though public WiFi is only a short walk away in most parts of Barcelona, if you're using a laptop and you feel like you're going to need internet access for a while it's probably best to find a place to sit down. Thanks to our god ol' pals over in the US, (almost) all the American franchises come equipped with a wireless gateway to the internet. There are some other non-American companies too. For all intents and purposes, the only names you'll really need to think about when you're looking for WiFi are:
Starbucks (08:00 - 22:00) - You need to ask, you can simply say "Hay WiFi?". Pronounced "I Wee-Fee?".
Burger King (closes around 01:00) - Again you need to ask.
McDonalds (closes around 01:00) - You don't need to ask, but it can be painfully slow.
Il Caffè Di Roma - Cafès with Fast WiFi that you will need to ask for.
Buenas Migas - Restaurants/Cafès with locally sourced foods. Good WiFi speeds but again, you have to ask.
Take a look at the map. These locales with WiFi in Barcelona are marked as squares.
Top 5 cafés with WiFi in Barcelona worth detouring for
It's all well and good visiting one of the tactical WiFi spots if you find yourself in whatever part of the city and need somewhere to turn quickly, but what if you're looking to regularly spend a good span of time working and you want a place that's extra special? Here are 5 of the best cafés in Barcelona where you can sit down and get connected.
On the map, these cafés with WiFi have round white markers.
Babelia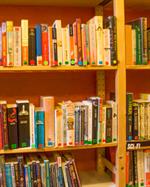 Away from the hustle and bustle of the city centre (but not too far away) is Babelia, a locale that apart from being a café also doubles up as a bookshop. If you work best in an environment that's laid back and relaxed, then this is the place for you. You don't have to worry about busting out your Spanish skills here either because the young lady who runs the place also speaks English, so you can ask for a sandwich, plug to charge your laptop and WiFi access with ease. While you're there you can also buy a book in English, French, German, Spanish, or Catalan.
Visit at: Villarroel, 27, 08011 Barcelona
Getting there: Sant Antoni Metro (L2)

La Fourmi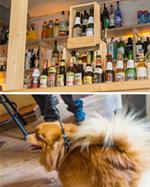 Whether it's lunchtime or the evening, it's always a good time to go to La Fourmi. With a "Menu del Dia" (set lunch menu) for only €7.90 and a lounge area. You can sit down, have a meal, ask for the WiFi, and do what you have to do online. On a saturday afternoon it was certainly very peaceful indeed and had a brilliant soundtrack going with the likes of David Bowie, Queen, and REM... One of the locals even brought their dog. However, at night, the place comes to life as the location to go with mates for a massive range of bottled import beers, gins, rums, and more... While tweeting about what a good time you're having, obviously!
Visit at: Carrer de l'Alba, 58 (corner), 08012 Barcelona
Getting there: Fontana Metro (L3), Joanic Metro (L4), Verdaguer Metro (L4 & L5)

Federal Café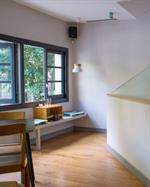 Federal Café is a café-restaurant that can be found just outside Raval. It may not be the cheapest place to go, but the value is there and so are some delightful blends that you simply won't be able to find elsewhere. Highly recommended is the 'Elderberry Pash', though there are other drinks like Cola with a vanilla ice cream float that will get your taste buds tingling. The milk is fresh, the terrace is pleasant, and the WiFi is free, you just have to ask one of the multi-lingual staff nicely.
Visit at: Carrer del Parlament, 39, 08015 Barcelona
Getting there: Sant Antoni Metro (L2), Poble Sec Metro (L3)

Mama's Café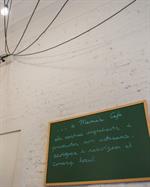 Mama's Café is perfect if you are one of those people who are conscientious about where your food comes from. They promise that their ingredients are artesenal, ecological, and sourced locally. The young team of staff like do like to chat away amongst themselves, but they are always friendly and accessible. There's also a nice terrace inside that is perfect for the summer months.
Visit at: Carrer de Torrijos, 26, 08012 Barcelona
Getting there: Fontana Metro (L3), Joanic Metro (L4)
FabCafé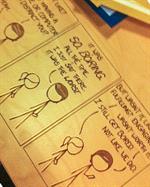 If your line of work is somewhat related to a creative industry (especially design and engineering) then you need to go to FabCafé - Europe's first 3D printing cafe. Though it's not much of a cafe (there's a guy behind a bar who'll make a coffee for you if you ask), the strength of this place is that it's also a large open-office share accessible to the most creative minds in Barcelona... not to mention the 3D Printer you can use (at a cost, of course). Yes, you can go and sit down for a coffee, but you can also have a chat with fellow workers about their projects, get inspired, and maybe even help someone out yourself. For creative individuals, it's the only place you should be going.
Visit at: Carrer Bailen, 11, 08010 Barcelona
Getting there: Arc de Triomf Metro (L1), Tetuan Metro (L2), Urquinaona Metro (L1 & L4)
So wherever you are in Barcelona, there's one thing you'll never be without, and that's WiFi. If you have any suggestions of your own or questions, simply leave a comment or send me a tweet @matthew_debnam on twitter.