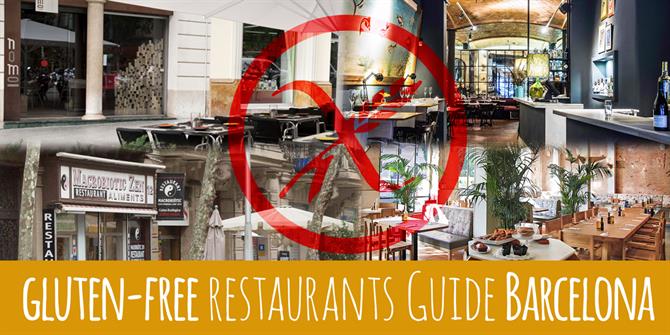 Gluten. For many an aliment, however for the select few of us an ailment. A condition like celiac disease knows no borders, so when you rent one of the holiday apartments in Barcelona the last thing you want to be thinking about is whether you'll be able to dine out or not. Well you know what? As luck would have it, Barcelona is a very celiac-friendly city and you may even find that it caters to gluten-free diets even more than where you're from!
As a celiac myself, I've been taking the time to compile the biggest selection of gluten-free restaurants in Barcelona city that you can find online, resulting in a huge selection of over 170 restaurants where you can go to get something to eat in the Catalan capital. Some come from personal experience, and others from various sources online, but every single one has been painstakingly inquired or cross-checked online for multiple sources confirming that it offers gluten-free options, or there have been online experiences stating so.
Not all restaurants made the final cut - one was even mentioned in other sources as gluten-free yet had on its website; "low-fat options for celiacs" *shudder* - but you can be confident the restaurants that made it through on this list will have something suitable for you as a celiac. Remember though, ultimately, you need to use your own discretion as a customer when ordering food at any place; regardless whether or not it's on this list.
Map of gluten-free restaurants in Barcelona
Take a look at the map below, as you can see - no matter which part of Barcelona you're staying in, you'll always have a place nearby within about 10 minutes that you can go to eat something!



The restaurants are categorized in the following manner:
Light blue - Gluten-free menu especially for Celiacs
Orange - Menu with gluten-free options marked
Light green - Adaptable menu upon request
Yellow - Fast food
Take a look, each restaurant has a brief description of what it has to offer and you should be able to find one to suit you. If however, you're looking for a selection of favourites from this list based off of experience, then read on for some of the best.
Recommendations for great gluten-free friendly restaurants
NOMO – For couples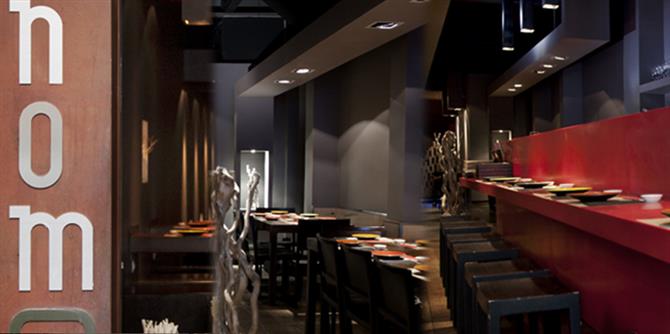 This Japanese restaurant, among the best places to eat in Barcelona, caters to those of us intolerant to gluten by way of clearly marked labels beside the menu items. Having been to a few gluten-free friendly locales while living in Barcelona, the attention from the staff here ranks on the higher side – with the waiters seeming to be sufficiently aware of what being a celiac entails, and providing the appropriate service (e.g. giving a special separate gluten-free sauce and advice on the menu). Apart from the attentive staff, it's a pleasant dimly lit establishment that is contemporary and trendy, yet doesn't reek of pretentiousness - making it ideal for couples. It's principally sushi on the menu here, but there are one or two other dishes that you could go for. It's not exorbitantly overpriced so you could easily visit more than once, but expect to pay between €20 - €30 per person depending on how hungry you are.
Address: Gran de Gràcia 13, 08012, Barcelona
How to get there: Metro station Diagonal (L3) – exit and walk north up Passeig de Gràcia or Fontana (L3) – exit and walk down Gran de Gràcia
Phone for reservation: 934 15 96 22


Macrobiotic Zen – Good quality food on a budget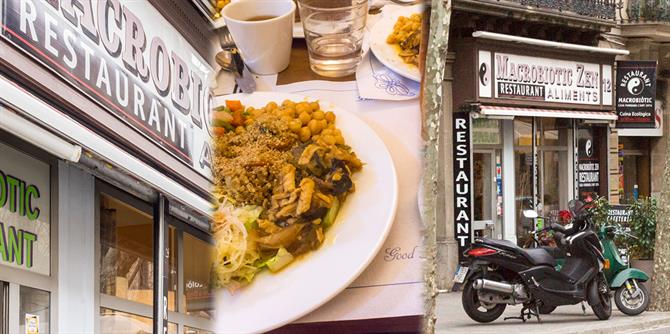 You'll leave this restaurant full. Guaranteed. Sure, Macrobiotic zen is a vegetarian restaurant that provides foods based on the 'Macrobiotic philosophy', which is to say foods that are not unnaturally processed and only found in nature. It's incredibly healthy food and one generally leaves here feeling more energetic because of it. The only downside is that you can only visit during lunch time between 1PM and 4PM, but that's instantly offset by the fact you will only pay just over €10 for 3 courses with huge portions of food and unlimited access to some gorgeous tasting teas. There's a set menu each day and you go up to the kitchen with your tray; it's really simple because you're speaking directly to the chef who knows what it means when you say "Soy celiaco" (pronunciation explained later).
They do have various pastries along one surface, but you see everything that goes on inside the kitchen during the process. You can see for yourself with plenty of time to look out for any potential cross-contamination, which some would say is a lot safer than allowing food to be handled behind closed doors without your knowledge.
Address: Carrer de Muntaner 12, 08011, Barcelona
How to get there: Metro Universitat (L1 and L2)
Phone for reservation: 934 54 32 14 – Reservation not really necessary


En Ville – High-end cuisine at reasonable prices


The atmosphere in this restaurant is very nice indeed. Smooth jazz lazily rides through the airwaves in a classy and modern setting, with food that seems to reflect this sense of chic elegance. They mark their menus and always seem to keep a selection of gluten-free choices on their set menus. It's modern French-style cuisine but it's not self-hyped and pompous, because the prices are affordable. It's off the tourist track within the Raval zone, and it always draws a crowd from the afternoon lunch rushes, so it's certainly well worth your visit. Maybe make a reservation first.
Address: Carrer Doctor Dou 14, 08001, Barcelona
How to get there: Metro station Catalunya (L1 and L3)
Website: http://www.envillebarcelona.es/
Phone for reservation: 933 02 84 67


Flax & Kale – Nourishing food, sort of hipster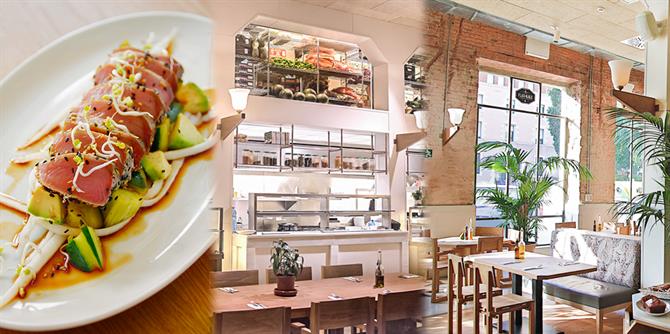 This restaurant could be one of the greatest in Barcelona, it's healthy feel-good food that's principally vegetarian (80%) with the only few non-vegetable dishes being fish (20%) - they dub it flexitarian and it's all ecologically sourced goodness. The menus are clearly marked in English, Spanish, and Catalan. Only two things hinder the perfection. The first is rather subjective, in that the staff are quite hipster; it doesn't mean that they are unfriendly per se, but the waiter didn't seem to want to please the group. Secondly, the fresh cold-pressed juices are priced at €4.95 for 400ml and the only alternative is water. They could consider 250ml glasses for €3.10 alas currently there is no such option.
The prices of the dishes aren't bad though as you can have lunch here for about €13-15 per person if you simply skip over the juices. Despite those two points, the food is very tasty and healthy, the décor is modern, and they have a sunny terrace upstairs open when the weather is nice. The whole experience is worthwhile, not just once, but again and again!
Address: Carrer dels Tallers 74, 08001, Barcelona
How to get there: Metro Universitat (L1 and L2)
Website: http://www.teresacarles.com/fk/
Phone for reservation: 933 17 56 64
How to announce you have celiac disease in a Barcelona restaurant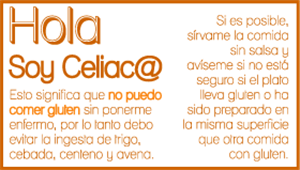 It's very simple to announce that you have celiac disease. You tell the waiter "Soy Celiaco" if you are male and "Soy Celiaca" if you are female. Soy is pronounced as in "Soy sauce" and Celiaco/a like "Cell·ee·ack·oh/ah". If you are rather timid or you feel misunderstood, then you can print the attached image to the size of a business card, cut it out, fit it in your wallet or purse, and give it to your waiter who will understand exactly what you mean to communicate.
If you have been to a restaurant in Barcelona that caters for people with an intolerance to gluten and would like to recommend it, then leave a comment below. I'll be sure to add it to the guide map!