Love is in the air in Barcelona, or at least it certainly will be on the 23rd when the city celebrates St George's day. Rather than divulge in St Valentine's Day on February 14th, the Catalans opt to have their day of romance in April to coincide with the day of their patron saint. Yes, the Patron saint of Catalonia (and Barcelona for that matter) is Saint George, or as he is called here; Sant Jordi.
If you're in Barcelona with your partner for the event, you won't have a hard time to make their day very special. The streets will be lined with stalls selling roses and books, because traditionally on St George's day in Catalonia a man buys his partner a rose, and a woman buys hers a book. These days though, it's not seen as a set rule, so it's books and roses for everyone! But what if you want to make the day extra special?
A Sant Jordi's day route
View
St George's Day Route
in a larger map
It might be tempting to take your lover straight down Las Ramblas to shower them (or get showered) in flowers... But don't, because Sant Jordi's is about taking your time and enjoying the lively streets of the city! Besides, you'll get to that later. You'd be better off starting out in a residential area and walking your way down to the city centre.
Take a step back, relax, and rest assured that by being here, your Sant Jordi's day is sorted. Without further ado, here's your perfect Sant Jordi's day itinerary.
Take the green line of the Metro and exit at either Lesseps or Fontana, you'll be in Gracia, close to or on Gran de Gracia. There will be plenty of rose stalls within sight even after exiting and because they're not at city centre prices, you can most definitely treat your partner to not one, but two... or four ;-)
Head south and take a pleasant stroll down Gran de Gracia. If you want to be extra romantic, try to find a rose in each colour along the way. White, red, and pink. There's also the rather odd dyed blue roses.
You'll come upon Passeig de Gracia. When you head down far enough, you'll reach 'Casa del Libro'. While it will be quite packed, if you're going to buy a book it's ideal because there is a section of English ones inside.
For lunch, you can either head to the end of Passeig de Gracia and look for a restaurant called La Lluna, which is close to Las Ramblas and features a classically romantic decor. Or hop on the Metro at Passeig de Gracia and exit at Paral·lel to the slightly more expensive Miramar restaurant that features beautiful views over the Mediterranean.
If you went to La Lluna, afterwards take a tour of Barcelona's city hall or the Palau de la Generalitat opposite, which will have open doors only on this day each year. It's free, so take advantage and get an insight into these elegant buildings. If you visited Miramar, then afterwards carry on with the theme of books by visiting the 'International art, design, and photography book fair'. There's a €4 entry fee.
This part isn't straightforward, but it will be well worth it. If you can, then pack some food. Alternatively you can always have a late dinner out afterwards like a true local would. Head to Plaça de Catalunya and go into the station entrance accessible via Las Ramblas, where you will catch lots of book stalls and buzzing atmosphere along the way. Catch the S1 (to Terrasa) or S2 (to Sabadell) and exit at the station called 'Peu del Funicular'. Here you can catch the Funicular upwards. There will be a bus stop right outside the station where the 111 will take you right to the top of the mountain.
Once here, look over the city together and take in the breathtaking views. It'll be a moment that you'll never forget! While here, you can explore the quaint and peaceful church; Sagrat Cor, and then... at around 8:00 PM... you'll see the beauty of the sun beginning to set. Most of the time, stunning beams of light shyly peek their way through the clouds. As the last trace of light sleepily tucks itself away behind the mountains in the distance, you and your partner can share one final embrace before hopping on the last 21:30 bus, heading home to your accommodation.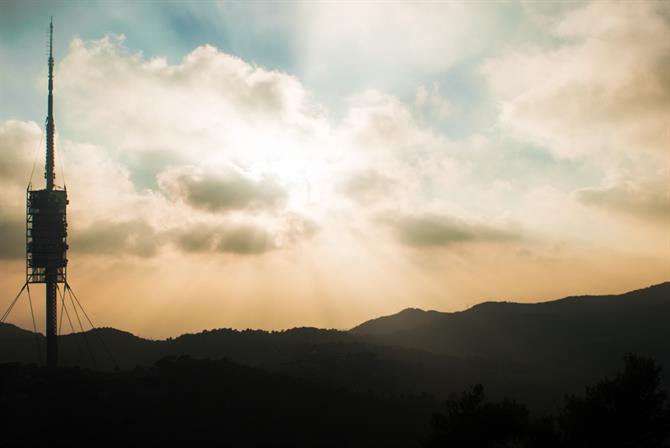 If you have any questions about St George's day in Barcelona, or about the above route, then you can tweet me @matthew_debnam using the hashtag #BCNJordi. Otherwise, have a fantastic Diada de Sant Jordi!