New Year's Eve is a time for celebration as we say goodbye to yet another year, and if you happen to find yourself in a city as cool as Barcelona when 2014 arrives then you'll really need to put in the extra effort. Apart from following the local traditions of wearing red underwear for good luck and eating 12 grapes (one for each chime of the bell at midnight to avoid bad luck) what is there to do during the last day of the year in the capital of Catalonia? That all depends on your budget and tastes. Luckily, we've put together an essential reference guide to get your night sorted.
Enjoy a New Year's Eve menu
Barcelona has a restaurant on practically every corner, so it's no wonder that simply going out for a meal is one of the favourite ways for many locals to celebrate the coming of the new year. It makes for a great night out amongst families and the older crowd. A large number of restaurants in the city will be open and providing their own specially tailored menus specifically for New Year's Eve, so if this sounds like a nice way to spend the evening to you then you need to get reserving as places can get booked up rather quickly.
Below are some suggestions for a night out at a restaurant:
La Cúpula: This restaurant offers a sophisticated New Year's Eve throughout a five course meal; a mini appetizer, shrimp salad with Iberic ham, monkfish with wild rice and asparagus cream, steak with port and creamy apple, and a serving of Massini cake. Items included on the menu are a glass of cava, red and whitemarmellans, water, coffee and tea, bread, and of course theall important twelve grapes, which come accompanied by a party pack.

Price: €75 per person.
Address: Carrer Sicilia, 255
How to reserve: +34 932 082 061

Saboc: The focus of Saboc is on sharing dishes and having dinner as a social event. Guests receive a small glass of cava and a Foie bonbon, followed by an influx of dishes prepared at different temperatures (20ºc, 80ºc, 100ºc, 200ºc). There are 10 dishes to try, including scallop tartares with tomato and roe, lamb medallion with cream of chestnut and beetroot chips, and ox tataki. When midnight approaches, another glass of cava is readily supplied along with the grapes! Other items included are water, coffee/tea, bread, and a bottle of wine per 2 people or beer.

Price: €60 per person.
Address: Fusina, 3
How to reserve: +34 932 683 080

Salamanca: With a dance floor and various liquors included, there's more than just a dinner to be had at this locale. There are 4 courses in each of which you can select your favourite from a choice of dishes, with highlights including quality Iberic ham, bogavante, and a sirloin steak made to taste. A party pack and grapes are also supplied here.

Price: €105 per person.
Address: Almirall Cervera, 34
How to reserve: +34 932 215 033
Dance the night away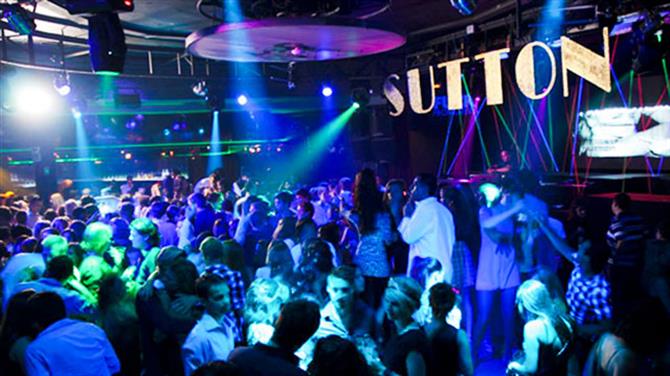 Whether you're in uptown barcelona, in the city centre, or down by the port, there will be a club nearby with a New Year's Eve Party that you can join in. As a general rule of thumb the close to the port you get, the more touristy the clubs become, but wherever you choose to party, you'll be in for a great night. We recommend that you get your ticket in advance, because some venues completely sell out.
Here are some of the clubs that have something going on:
Sutton: A popular club amongst locals in uptown Barcelona, which features commercial mainstream music that's blasted out across the moderately sized venue. The crowd here is generally young, but there are certainly older guests amongst the scene, so all will feel welcome. Theambiance exudes exclusivity and luxury. What more could you ask for in a New Year's Eve party? You'll need a ticket though and remember to bring your ID or you're not getting in.

Price: €50 per person, or you can hire a VIP table for €1000 per five guests.
Drinks Included?: Three Drinks.
Address: Calle de Tuset, 13.
Party hours: 00:30 - 06:00
How to reserve: Available through the Sutton website

Sala Razzmatazz: This nightclub goes without saying. It's easily the most popular venue throughout Barcelona and if you want to party in a place that's almost certainly going to be full to the brim then Razzmatazz is the party for you. It's another popular event that usually sells out, normally by the 29th December. It opens an hour and a half before midnight and they'll even throw in a Razz 2014 T-Shirt, a party pack, and those twelve lucky grapes for the big countdown.Night out; sorted!

Price: €50 per person in advance. €60 on the night
Drinks Included?: One cava and two drinks.
Address: Calle Almogàvers, 122.
Party hours: 22:30 - 06:00
How to reserve: Available through the Sala Razzmatazz website

Opium Mar: Located by Port Olímpic, this club opens its doors just a little before 2014 so that visitors can start partying the moment the clock strikes twelve. Say goodbye to 2013 while staring across the Mediterranean sea on the club's open terrace. As a tip; try to avoid turning up with a jacket because the queue for the coat room can get rather unwieldy.

Price: €50 per person in advance. €70 on the night.
Drinks Included?: One drink.
Address: Passeig Marítim, 34.
Party hours: 23:45 - 06:00
How to reserve: Available through the Opium website or by calling +34 902 267 486
Discover the street parties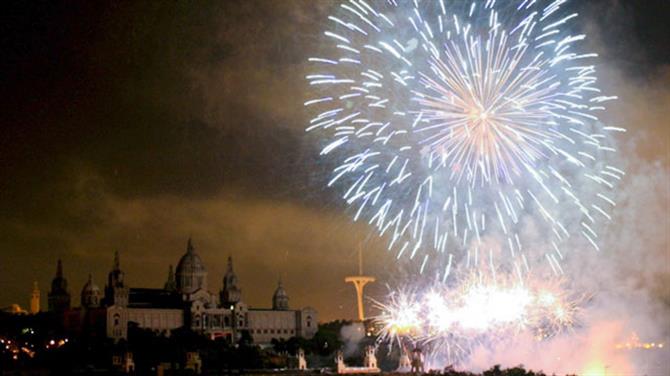 For many visitors it usually comes as a major surprise, but in Barcelona there has never really been a regular 'official' New Year's Eve fireworks display, not least like the iconic and traditional celebration at Madrid's Puerta del Sol. The closest official celebration has been the light show at Torre Agbar, the famous gherkin shaped building... But no fireworks... Of course, all that changes this year. Just a few days ago the mayor of Barcelona confirmed rumours that there will be an official New Year's Eve celebration on the streets of the city for 2014, and it will take place on Avinguda Maria Cristina. Expect extravagant fireworks, goosebump-inducing music, spellbinding lights, and of course the amazing Magic Fountains of Montjuïc, all of which will form part of this €400,000 show.
If you you're not a sell out and want to celebrate like the locals have done for years, then people normally gather on the streets to celebrate, bringing their own bottles of cava and grapes. Of course, for tourists it can be a little hard to mingle with the locals but if you really want, you can try to make friends in places such as Plaza Catalunya, parts of the Gothic Quarter, and Las Ramblas, which are all famous locations for gatherings.
And there you have it; everything you need for a perfect night out in Barcelona. Is there a club that you like which hasn't been mentioned, or have you spent New Year's Eve in Barcelona before? Drop us a comment below, we'd love to hear from you.