Barcelona is a true metropolitan city — with its high-rise buildings, fast cars, and zooming motorcycles. Inside this urban hubbub is the Parc de la Ciutadella, a green haven for relaxation and breathing. It's no wonder locals love to fill this place up on the weekends. Its rolling grass, flower-lined footpaths, and romantic architecture entice visitors to chill out — and stay awhile.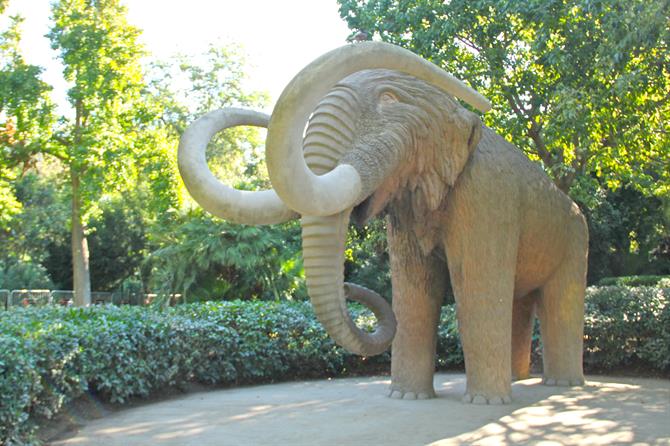 It's the largest, oldest, and most popular park in Barcelona. Often, you'll see friends and families having a chat on the grass, kicking around a ball, or just soaking up the sun in true laid-back Spanish style.
And if you're a new visitor to Barcelona, it's an ideal place for some downtime when you've spent the morning hitting up all the city sights.
Ironically, the 70-acre park used to be a fortress. After 1714, the Catalans were kept under control after they were defeated by the nationals. It was opened to the public for the 1888 Universal Exhibition. Today, it's also a venue for city events and summer concerts.
Let's take a tour, shall we?
Enter on Passeig Pujades
To make a grand entrance, enter on Passeig Pujades at the main gate. Turn around, and you'll see the iconic Arc de Triomf on Passeig de Lluís Companys.
Enter the park, and you'll be on the main pedestrian avenue. On the right, you'll see a fountain and a fence with three dragons on it. Behind it is Domenech's Castle of the Three Dragons, a modernist building built for the 1888 Exhibition. It has an medieval castle-like touches and was used as a cafe-restaurant.
After it, you'll see the Hivarnacle ("winter garden"), a greenhouse full of plants. Its bougainvillea, cacti, olive trees, and other luscious green trees and plants fill the walls from ceiling to floor, making it feel like real urban oasis.
To the left is the Museu Martorell, a neoclassicist building which used to house geology collections since 1924. It was the city's first public museum, built in 1878 and designed by Francesc Martorell i Peña. Currently, the building is closed.
And the last unusually-shaped building is the Umbracle, a palm house. It's an 128-year-old building made of iron beams and cast-iron pillars. Walk inside, and you'll see hydrangeas, wax palms, gardenias, and other tropical plants. It's large enough to walk around the divided areas of plants from different regions: Asia, Africa, Oceania, and America. If you need a rest, you can sit on the benches along the aisles.
When you reach the end of the footpath, you'll reach a traffic circle. There, you'll see the entrance of the Barcelona Zoo, which takes up half of Ciutadella Park and where over 7,000 animals live. It also has dolphin shows, two large playgrounds, a petting zoo, and acres of grass if you fancy bringing your own lunch.
The most famous inhabitant was Floquet de Neu ("Snowflake"), the only known albino gorilla who lived at zoo from 1966 to 2003. His life inspired the film based on his name.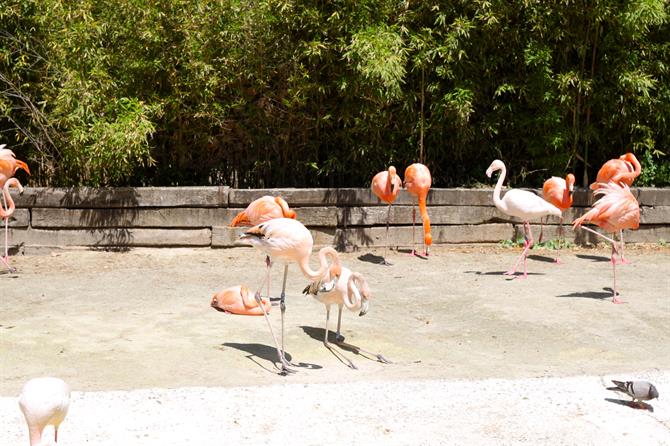 At the end of the traffic circle, go left. On your left hand side, you'll see a fantastic playground. On special days, they have ludotecas, a special hour of super creative play. Organizers bring out homemade toys like pots pans, baskets, nets, and oversized spools.
Just as you pass the ludoteca, on the southeast side of the park, you'll see a square garden called Plaça de Joan Fiveller. It has a lily pond with a romantic statue of a woman called, "Desconsol". Look beyond, and you'll see the headquarters of the Catalan Parliament House. Ironically, it was built as a military arsenal in the 18th century.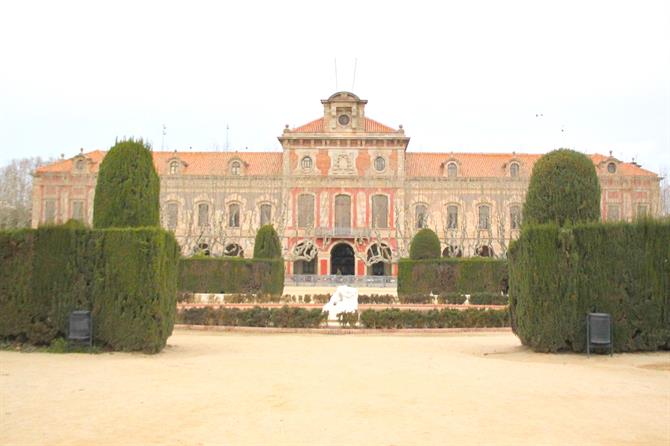 Continue to the footpath to the left of the Catalan Parliament. It's hard to miss the fenced large, green lake. Ducks and geese hang out here, as well as humans trying to feed them.
Fancy a ride? Grab some oars and someone you love. You can rent a boat for a half-hour increment for up to 6 people. Totally worth it if you want some fun photos and a relaxing time.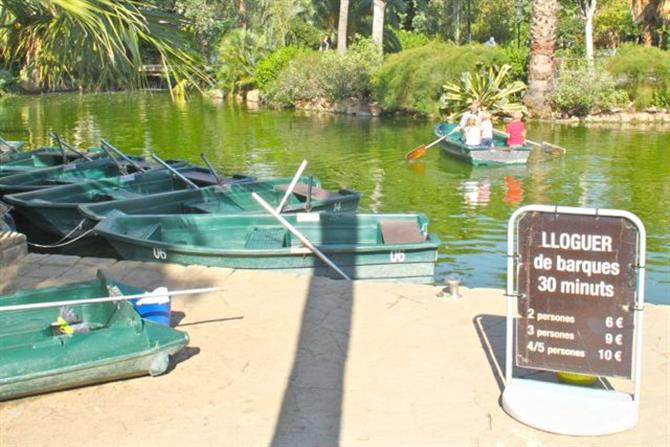 Once your done, keep walking around the lake. On the right hand side, you'll see a giant stone mammoth, where kid are often climbing its trunk and tufts.
Soon you'll see the
Cascada,
the most emblematic monument of the park. I
t was made
between 1875 and 1881 by Josep Fontserè and his student, a young Antoni Gaudí. The center of the fountain is a stuatue of Venus in a
clamshell
. On top, you
'
ll see a
golden
statue of Aurora and her chariots.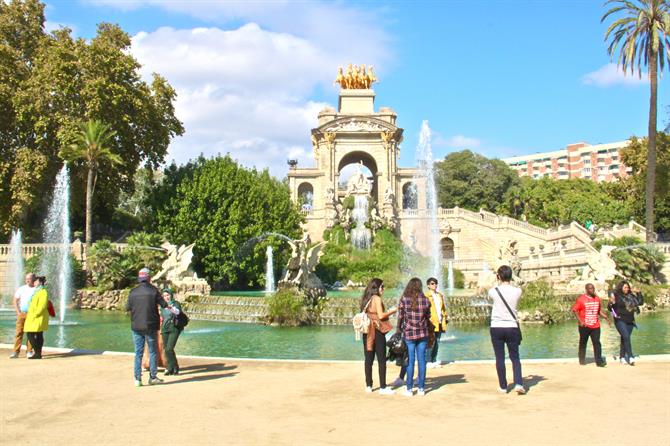 Climb the steps and get a better view of the park.
Once you come back down, go left and walk down any of the footpaths, which will lead you back to the main entrance.
Tips
1. There's a beautiful collection of statues sprinkled around the park. In the zoo, you'll find a sculpture of leaping deers, a homage to the late Walt Disney. Near the zoo entrance, you'll see a statue of General Prim, the militant who called for the destruction of the citadel.
2. Sunbathing. If it's a particularly hot day, you may see male tourists take off their shirts and female tourists in their bikini tops. But locals raise their eyebrows at this. So keep your clothes on if you want to keep it respectful. And keep the undressing at the beach.
3. A fun activity is to rent a bike and take a ride along the paths. You can find a few bike rental companies around the Born district.
Essential Information
Hours: 10am - dusk
Passeig de Picasso, 21, 08003 Barcelona
Public Transportation:
Metro L4 Jaume I, Cuitadella Villa Olímpica, Barceloneta; L1 Arc de Triomf
Renfe Rodalies. Estació de França
Bus Line 14, 17, 39, 45, 51, 59, 64, D20 i H16
Tram: Tram T4, stop Ciutadella - Vila Olympic
Have you been to the Parc de la Ciutadella? Do you love it as much as I do? Share in the comments below!