In a neighbourhood of upscale shopping, ornate street lamps, and decorative building facades, the Eixample Dreta is the one of the most sophisticated areas in Barcelona. It's where you'll find stylishly dressed workers heading to their offices as they trudge their way through the crowds of shoppers heading to high-end boutiques like Chanel and Dolce & Gabbana. Walking through Eixample Dreta makes you feel elegant and classy - even if you don't buy a thing.
A Quick History
At the end of the 19th century, Barcelona tore down the outer walls of the "old city" where streets were darker and narrower. They wanted to expand the city for the elitist crowd in Barcelona. Thus they built the
Eixample, which translate to "extension". It's divided into two sections, Eixample Dreta, which is "right" and Eixample Esquerra, which is "left".
Urban planner Ildefons Cerdà was the genius who planned the Eixample district, which is in a grid formation. The streets run parallel and perpendicular, but also has chamfered corners, which help speed traffic flow. During the city renaissance, forward-thinking architects harnessed the opportunity to design the romantic Modernist buildings grace the streets today, making Modernism the hallmark of Barcelona's city style.
Plaza Catalunya, The Pulse of Barcelona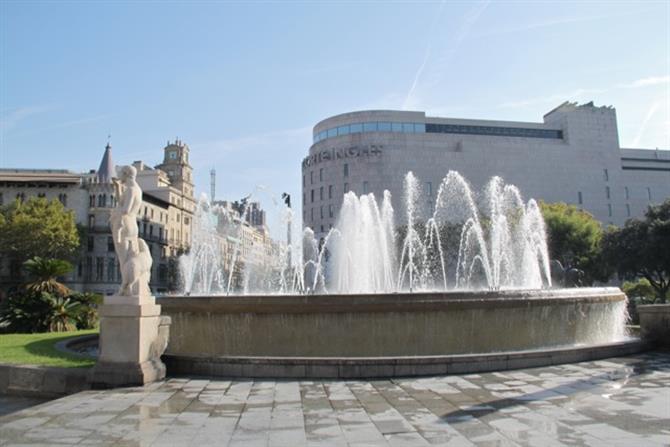 Plaza Catalunya is the most central, thriving space of Barcelona and is a common meeting point among tourists and locals. It's also a centre of city events and activities. This large, open square is where double-decker tourist buses, metros, and city buses meet in a busy yet organized way. The center of the square is open, allowing pedestrians to walk through and stop by to feed the pigeons if they feel.
It's also where all the major avenues meet:
Portal de l'Àngel,
Passeig de Gràcia, Rambla de Catalunya, and Las Ramblas.
The plaza is also surrounded by department stores, boutiques, restaurants and bars. Spain's most famous department store, El Corte Ingles, dominates the square and happens to be the largest one in Barcelona. And you'll find everything here like clothing, furniture, shoe repair, delicatessen food, a travel agency, and almost anything else!
Fancy a drink or a meal? Head to the ninth floor of El Corte Ingles, where you'll find the store's restaurant and café. Try to score a table on the side of the Plaza Catalunya - you can see the huge gorgeous fountains and crowds of people below.
Bring your (fat) wallet
A decadent street which has one of Spain's highest real estate is Passeig de Gracia. It's one of the most relevant shopping and business areas of the city, boasting shops such as Gucci, Cartier, Carolina Herrera, and Hermès. But it's not just fancy shopping here. There's also something for the mid-ranged folks, such as Zara, H&M, Mango, and other moderately priced shoes and clothing.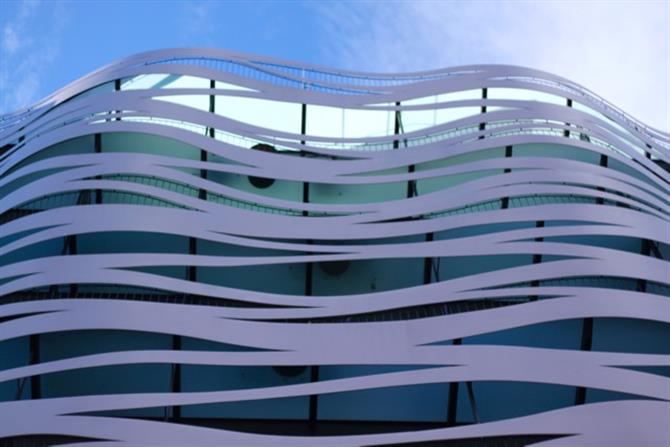 Modernist Styles on Passeig de Gracia
Modernism emerged around 1888 and its elaborate and eccentric style spread throughout the city until about 1930. Modernism is characterized by curves instead of straight lines, intricate details versus simplicity, organic motifs, a romantic aesthetic, and dynamic shapes.
Modernist architecture can be quite subtle. Often, you'll see its beauty weaved into doorways, relieves, and facades through random blocks of flats.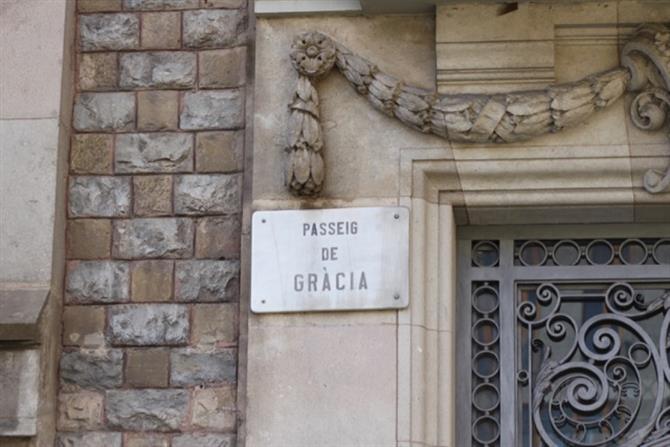 Modernist Buildings: The Big Three
The Illa de la Discordia, or the Block of Discord, is a series of three very different Modernist buildings on Passeig de Gracia. Between Consell de Cent and Aragó, you'll find the
Casa Amatller,
Casa Lleó Morera, and Casa Batlló, the building made famous by architect Antoni Gaudí. These contrasting buildings were important monuments at the end of the 19th century.
Casa Amatller was designed by Josep Puig i Cadalfach, and was originally the home of chocolatier Antoni Amatller. This highly decorative building shows intricate work such as colorful mosaics, relieves such as Saint George and the dragon hidden in the walls, and elaborate Gothic windows. On the ground floor, you can find the famous Amatller chocolate shop and a small, stylish cafe called Faborit Casa Amatller. You can also take a guided visit of the museum. (No stiletto heels or selfie sticks allowed!)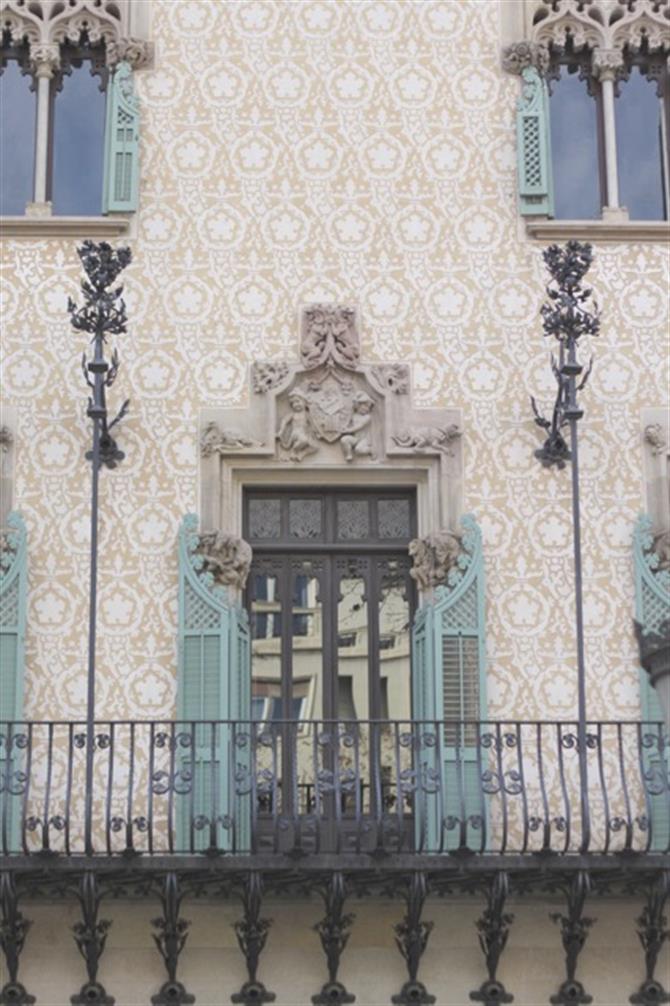 Designed by Lluis Domanech i Montaner, Casa Lleo Morera was the home of the elitist Lleó i Morera family. The name "Morera" means mulberry in English. And it's no coincidence that image of the tree are represented in various facades throughout the building.
The interior is just as intricate as the exterior — its sculptures, stained-glass windows, mosaics, ceramics and more show how the architect didn't shy away from colour. It's a true masterpiece from ceiling to floors, as each centimetre of this home exuberantly displays Modernist decadence. Tours of the home are available.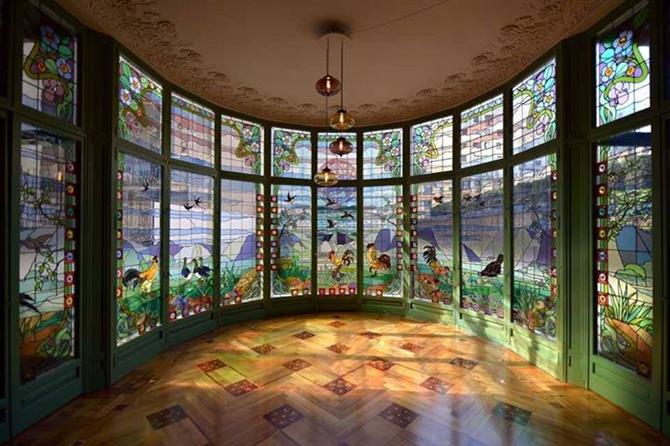 The Casa Batlló was built between 1904 and 1906. In true Gaudí style, ifts undulated forms shows colorful ceramic and glass pieces, giving it that wild eccentric look that he loved. The balcony railings are like masks and are made of twister wrought iron. The top of the facade imitates the spine of an animal's back, some saying a dragon, which is often found throughout the city. Dare to take a tour inside? (It's worth it.) Come early or buy your tickets ahead of time...queues wrap around the block!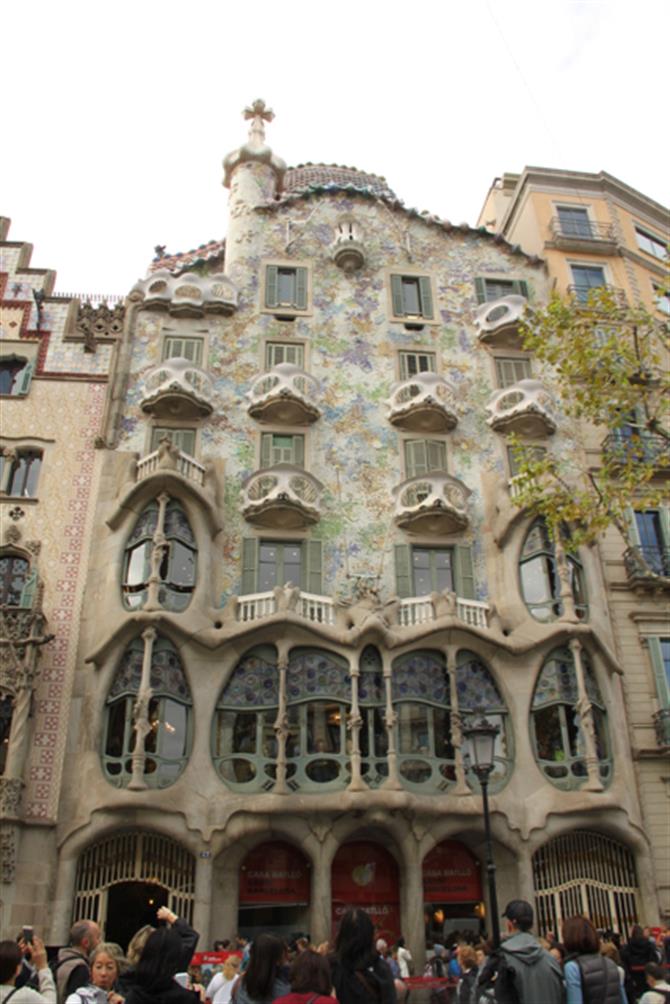 La Pedrera
A massive building taking up a corner on Passeig de Gracia, La Pedrera, also known as Casa Milà, was the last public work by Antoni Gaudí. Its wavy form wasn't welcomed and also deemed as "ugly" when it was first constructed because of its unconventional style. However, in time it made its way up the beauty ranks, making it a UNESCO World Heritage Site in 1984.
Today, it's the headquarters of the Cataluyna-La Pedrera Foundation. You can visit the cultural centre and also climb to the roof where you'll find soldier-like figures and get breathtaking views of the city.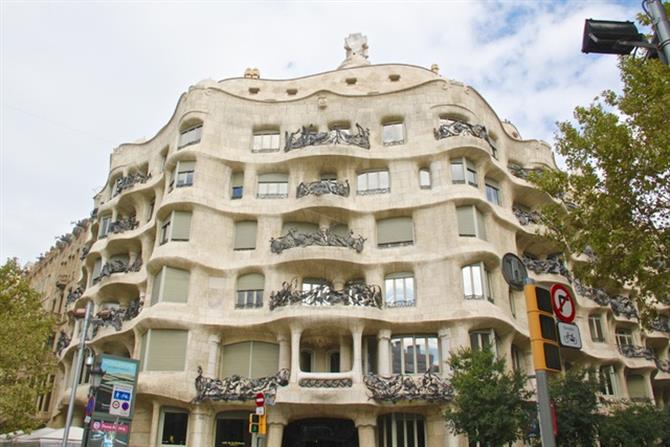 Have you been to Eixample Dreta before? Is it as stunning as I say?