El Raval is a culturally rich area with a seedy history, where delinquency, prostitution, and heroine deals once heavily tainted this now-tourist-friendly part of Barcelona. Luckily, it's cleaned itself up.
Today, it's a centre of diversity, where you'll find halal meat shops, Gothic churches, second-hand shops, fearless skateboarders, and progressive artists.
History of El Raval
El Raval built its reputation as a murky underworld during the Industrial Revolution. Trades such as brick making, slaughtering, and leather tanning lived here and were not allowed to cross the nearby and more refined neighbourhood of Barrí Gotic.
In the 1920s, part of El Raval was inhabited by brothels and a lower-class society. It was nicknamed "El Chino", or "Chinatown" because a journalist likened it to the San Francisco's Chinatown (and has nothing to do with Chinese people).
In the 1990s, the Government cleaned up El Raval and closed down places of prostitution and drug dealing to make new public squares. The government's urban renewal projects around Barcelona made a dramatic change to open up the area and make it safer.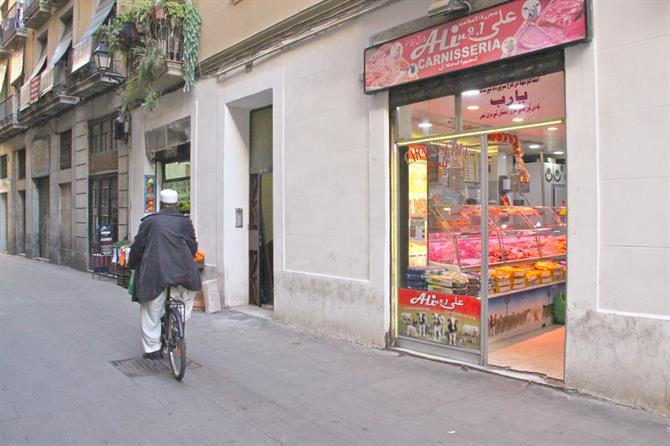 Today, El Raval's streets are filled with diverse cultures including Morrocans, Pakistanis, and Filipinos. The low-cost housing and easy access make it an economical place to live, attracting transients and immigrants.
Although it has its seedy side, El Raval has become increasingly trendy and on the upmarket. While it's a more friendly place to live, shady types still lurk the streets. It's not for everyone, but its streets are safe enough to wander during the day.
At night, it can still have a true downside. Theft and prostitution are still existent, so it's best to practice extra caution like walking in lit areas and with a partner.
Points of Interest
1. Rambla del Raval — In 2000, the Rambla de Raval was created by destroying smaller streets to open up the Raval a little bit more.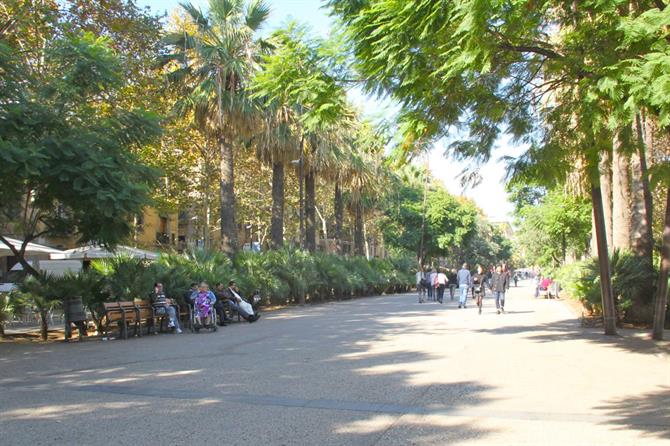 What you'll find here is a wide tree-lined pedestrian avenue in the middle where you may see locals, vagabonds, and tourists sitting on the benches watching the passersby. You'll also see the Barceló Raval Hotel, a contemporary hotel with a rooftop terrace. Go up for 360º views of Barcelona and grab a drink while you're at it.
It's also a popular spot where you'll find El Raval's favorite feline, a sculpture of a lovable, wide-eyed cat by artist Fernando Botero. The monument had several homes around Barcelona, including Parc Ciutadella, outside the Olympic Stadium in Montjuic, until it finally landed here in 2003. If you're lucky, you'll catch him alone so you can take a photo. Visitors can resist riding on his back or standing next to him.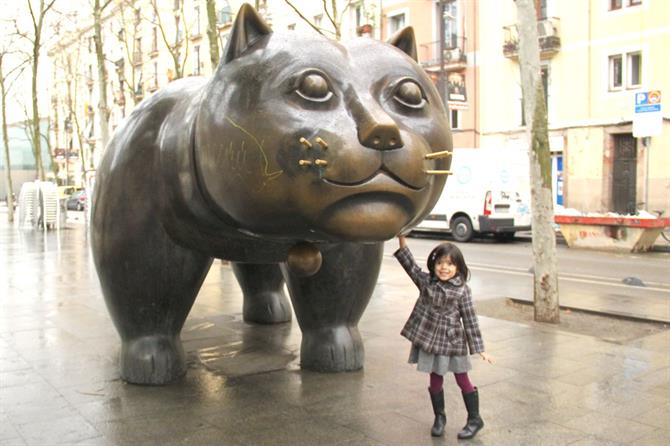 2. MACBA (Museu d'Art Contemporani de Barcelona)
On the upper side of El Raval in the Plaça dels Angels, MACBA glows as a massive, whitewashed museum amidst this dusty barri. Inside, you'll find about 5,000 art pieces from 1940s and beyond. The minimalist interior and its museum shop of quirky gifts are also worth a look.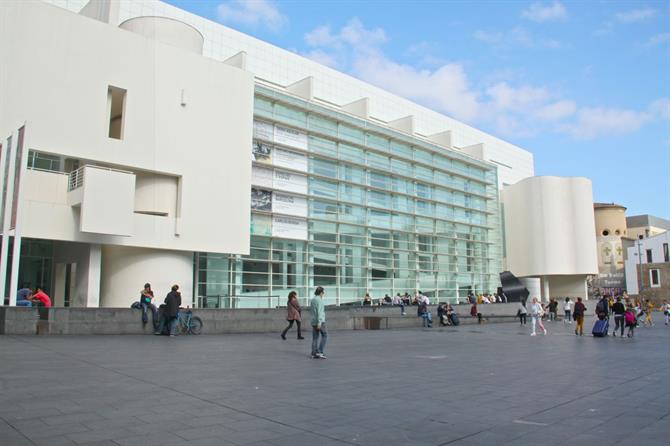 Just outside its doors in the Plaça els Angles, you'll see teenagers practicing their skateboarding tricks while fangirls watch and giggle. Other locals and tourists hang out here to chatter and whilst the afternoon away. Barcelona's been a skateboarding mecca for a few years now, and you're you've found a meeting point among many.
3. Centre de Cultura Contemporània de Barcelona (CCCB)
A multi-use space for celebrating urban art and culture, the CCCB holds debates, festivals, exhibitions, concerts, workshops, and any other interesting events reflecting urban contemporary culture. The site was built on a medieval monastery, has a beautiful courtyard with a mirador, or lookout point, that you can visit for free on the first Sunday of every month. From here, you can see the surrounding neighborhoods, the Mediterranean Sea, and up to Montjuic and Tibidabo.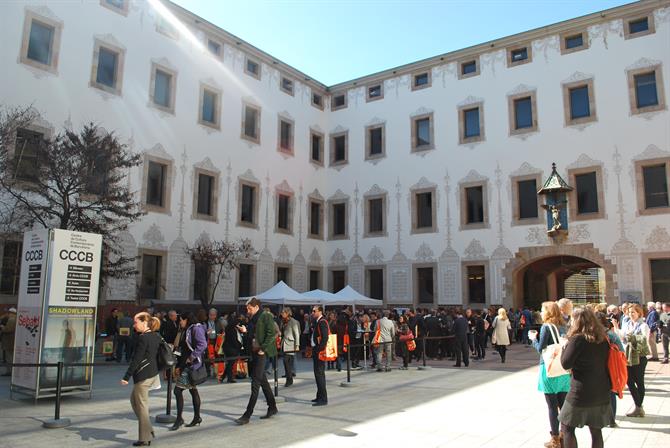 4. Antic Hospital of Santa Creu
For some more beautiful architecture, visit this old hospital which was founded here in 1024 and is also the where famous architect Antoni Gaudí died. Now used as a cultural centre, its 15-century Gothic courtyard is a great place to have some lunch in its shaded areas.
5. Palau Guell
Designed by Antoni Gaudí, this stunning mansion was built for Eusebi Guell between 1866 and 1888 before he and his family moved to Parc Guell. Its beautiful and intricate facade had doorways that were large enough to fit horse-drawn carriages to enter the home. Inside, you'll see stunning wooden ceilings, ornate walls, and creative furniture a la Gaudí. Come early if you want to a guided tour.
Streets Worth Visiting
1. Nou de La Rambla — The main road of the lower Raval, Nou de la Rambla, today has only a fraction of its earlier life, but retains a surreal selection of shops — theatrical costumiers where strippers can buy their sequin, alongside fashion shops that specialise in bridal wear.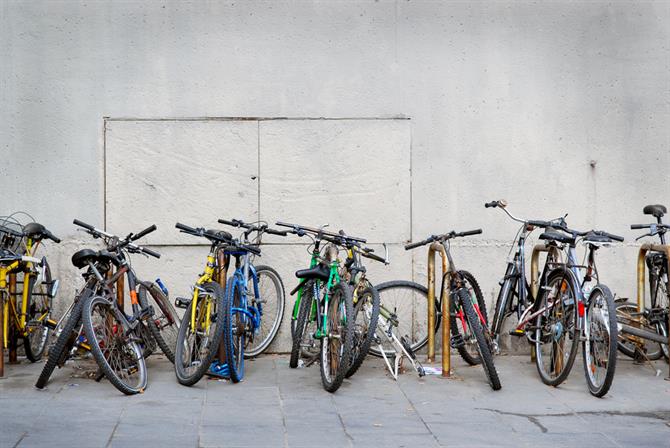 2. Carrer Doctor Dou — Near the MACBA Museum, this street has many art galleries and designer shops. Don't miss Barcelona-Reykjavik, a beautiful bakery selling sprouted grains and homemade bread.
3. Carrer del Hospital — is a street, some shops directed at tourists but still has elements of local flavor. You'll come across the beautiful Plaça de Sant Agustí and its church of the same name. You'll also see Bar Mendizábal, an emblematic open-air bar serving tapas and sandwiches to both locals and tourists.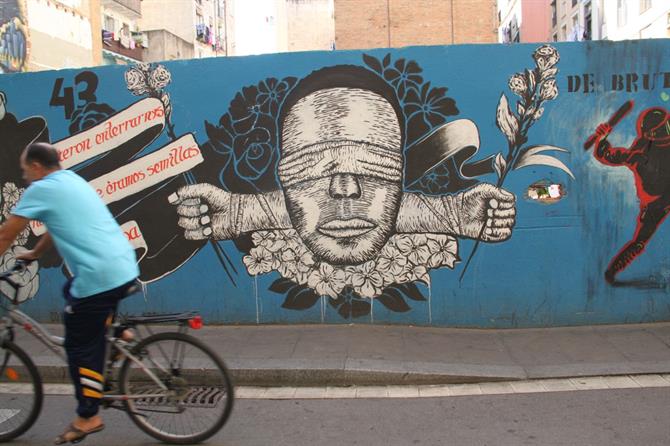 4. Carrer Tallers — If you're a long-time music fan, this street is for you. Lined with classic music shops with old-school records, posters, and memorabilia, bringing you way back. You'll also see a handful of second-hand and vintage clothing shops where you can shop for retro goods instead of big-name shops.
To love El Raval is to accept its not-so-clean, rebellious personality. It's part of what makes Barcelona a unique and exciting city, after all.