It's a tree-lined pedestrian street that starts at Gran Via, and extends one kilometre to Bogatell Beach. On a sunny day, the trees cast shadows on the Rambla de Poblenou, making it a cool and relaxing place to stroll.
Unlike the ever-so-popular and frenetic Las Ramblas in the centre, you're less likely to see pickpockets, swindlers, and the hordes of tourists.
Rambla de Poblenou is different. You'll see many elderly neighbours pushing their trolleys after buying meat and fruit at the local market. You'll see families having a walk with their small children as they whip by on their scooters.
Although it's increasingly attracted more tourists in the last decades, Poblenou still preserves an intimate vibe as a neighbourhood for locals.

History of Poblenou, the neighborhood
Before there were any buildings, Poblenou was a wet marshland. Because of the overflow of water, Poblenou became an ideal place for textile factories to run their operations. The invention of steam as a manufacturing process catalysed textile production during the Industrial Revolution. Other industries began to appear, including food, machinery, and wine. Poblenou became known as the "Catalan Manchester".
The housing built around the factories was unattractive, slum-like, and unhygienic. The 20th century brought on tumultuous times of political and union revolutionary outbreaks and a decline of textile industry. In the 1970s, businesses in the area closed and unemployment rose. Up until 1990, over 1300 businesses disappeared.
However, with the advent of the 1992 Olympics, the Barcelona City Council overhauled and renovated Barcelona, including the dilapidated area of Poblenou. While much of the area was improved, decrepit 19th-century factories remained.
In 2001, the government approved a regeneration project, called 22@, the innovation district. The city would refurbish Poblenou's run-down buildings and use them for new businesses, housing, and live-work spaces. Its goal was to attract international attention as a technological and entrepreneurial centre with "smart" urban planning.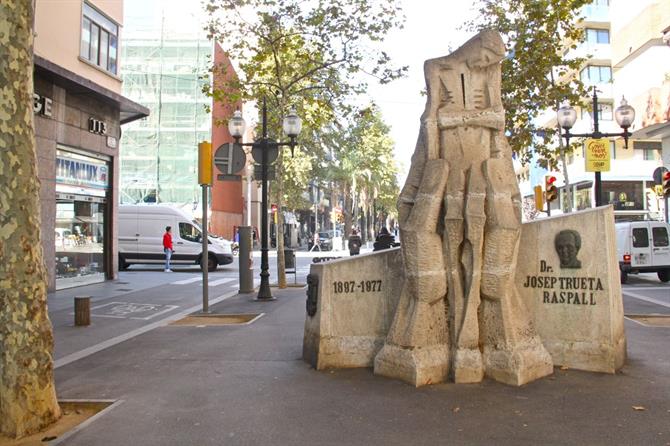 Before the 1992 Olympics, locals remember the neighborhood as intimate space. While there are many new and trendy shops and restaurants, you still see many old businesses like mom-and-pop clothing, hardware and sundry shops. You'll also see supermarkets and banks. There are also many Modernista buildings, statues, and sculptures.
The street is straight and flat, interrupted by large roundabouts. Here there are benches where neighbors sit and watch the passers-by. The middle section of the Rambla is for pedestrians, and has bicycle lanes on either side.
A lot of the newer shops appeal to tourists and affluent people. You won't see many local grandmothers heading into this ecological food shop, but instead will find younger shoppers of a new generation.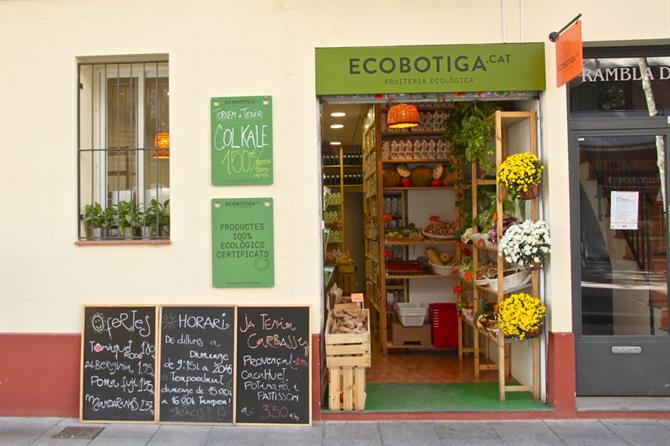 As Poblenou becomes more of a commercial centre, many street artists want to preserve the recent memory of Poblenou — one of a blue-collar neighbourhood. On the door of this "churreria", the face of a local reminds us of the identity of its people.
It's hard to deny. You can see the richness in the community by the way the locals socialise on this street. It's the centre of a strong Poblenou.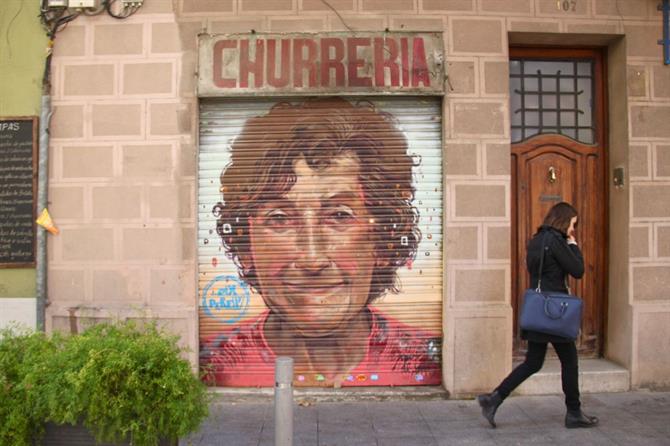 In the end, the charm of Poblenou is its relaxed atmosphere and its people. The best thing to dohereis take a stroll and enjoy the seaside airandambiance. Better yet,enjoymeal or a drink on many of the outdoor terraces, day or night.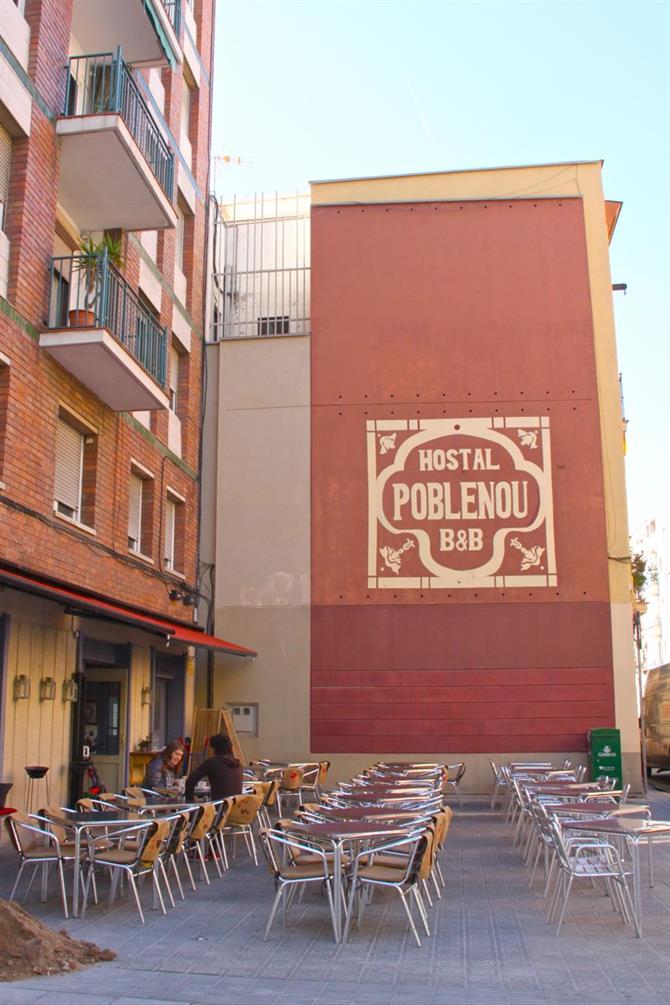 Restaurants
Can Recasens — Set in a modernist building this cosy restaurant with rustic decor serves delicatessen meats, fondues, cheeses, and jamones. The deli is truly their specialty, as they have their own deli shop too. On Wednesdays, they have live jazz to spruce up this already-intimate scene. And be sure to have the tiramisu for dessert. Rambla de Poblenou, 102.
El 58 — With a lovely indoor courtyard, El 58 (pronounced sing-quanta-weet) has a fabulous collection of traditional and innovative tapas, all made with fresh, seasonal ingredients. Try an amazing berenjenas con miel (aubergine with honey) or the chicken with wasabi sauce. It's a fantastic place to have lunch with the family or have some gin and tonics at night. Rambla de Poblenou, 58.

Els Tres Porquets — On the corner of Gran Via and the Rambla, this tavern-style restaurant offers Mediterranean cuisine. It has a fantastic wine list and exquisite tapas. Try the white truffle risotto or the arroz negro (black rice). If you have a large group, you can make reservations. And for larger parties, private dining rooms are available too. Rambla de Poblenou, 165.

Tio Che - More than a hundred years old, the Tio Che is famous for its ice creams, horchatas (tiger nut drinks), and turrones — and it's all homemade. It's an especially popular spot in the afternoons. And during the summer, expect really lonq queues. However, seating is ample on the Rambla, where friends and families gather as part of an afternoon treat. Rambla de Poblenou, 44-46.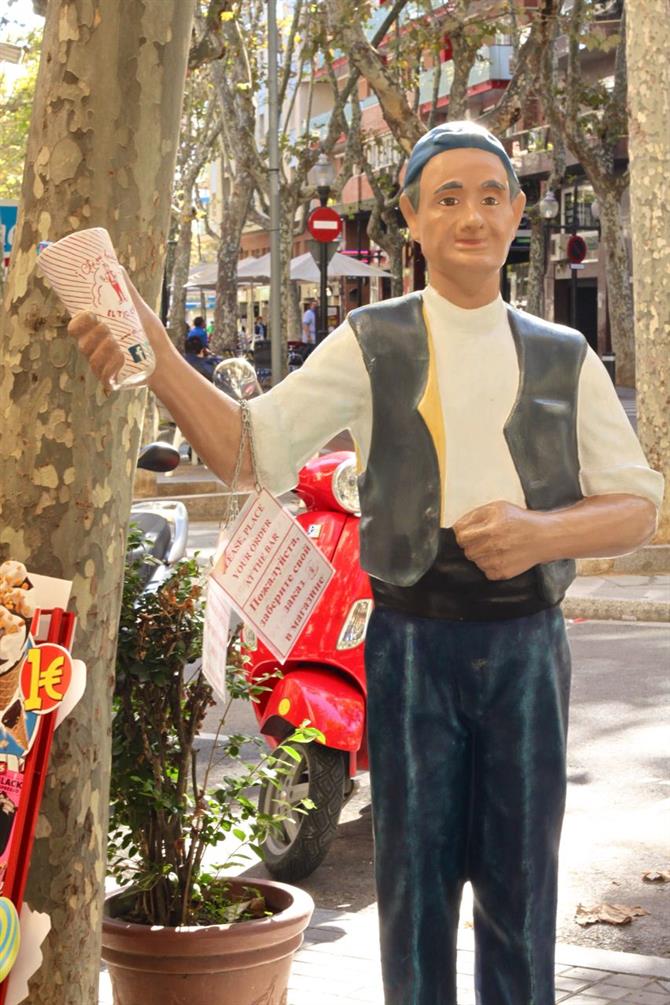 Nearby
Beach — After you've done you've walked down the Rambla toward the seaside, you'll hit Bogatell Beach, a popular 600-metre beach to relax and enjoy the sunshine.
Shopping — There aren't many shops on the Rambla itself. Try these instead:
1. Carrer Marià Aguilò — Parallel to the Rambla, this narrow, pedestrian street has small boutique shops, bookshops, (and bars and restaurants) geared towards a younger crowd.
2. Les Glories Shopping Centre — At the corner of the Rambla de Poblenou and Gran Via, turn left toward the quite visible Torre Agbar. You'll find the outdoor shopping centre Les Glories, which has traditional shops, including Carrefour, Zara, H&M, Massimo Dutti, and more.
How to get here
Metro
— L4 Llacuna, L4 Poblenou
Buses
— 6, 7, 26, 36, 40, 42, B20, B25, H14, V27
Tram
— T4 Pere IV, T5/T6 Can Jaumandreu