For every bright side of a beautiful city like Barcelona, there's a mystical and sometimes dark side that makes it the remarkable, modern-day European city it's become. That's what gives it the depth and beauty — a city of triumphs and pains, tragedies and symbolism, all covered with beautiful architecture.
Let's look inside Barcelona's hidden spaces of legendary creatures and dark corners of its shadowy history, shall we?
Greek Mythology at Laberint d'Horta
Laberint d'Horta is one of Barcelona's oldest garden filled with statues of mythological creatures. The central and most enchanting feature of the park is the labyrinth, a human-sized maze of lush, two-metre high hedges. But hidden in this 18-acre park is a story of Greek Mythology.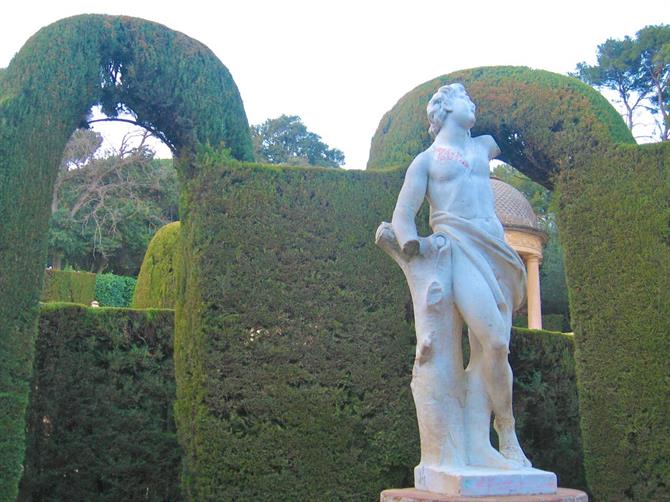 If you check out the maze purely for the adventure, it's easy to miss the poetic symbolism behind the hedges. Start at the entrance of the maze, and you'll find a relief of King Minos welcoming Theseus on Crete. According to Greek legend, Minos had a maze built. Theseus was going to kill the Minotaur, the strange half-bull, half-man creature who was waiting in the middle of the maze. Another Greek figure, Ariadne, hands him a sword to help him.
Unfortunately, there's no Minotaur here. But as you find your way toward the middle, you'll feel like you've landed in the right place. There's a statue of Eros, the god of hot, steamy love. However, if you take a wrong turn, it's possible you'll find Echo, the nymph who fell in love with Narcissus. But he was too, you know, narcissistic to love anyone else. Sadly, Echo lived a life of unfulfilled love.
Death in Placa Sant Felip Neri
The looming shadow of death hides in this tiny Gothic Quarter square. Today, it's not uncommon to see kids laughing, running around, and playing near the fountain.
It's also hard to imagine that in 1938 during the Civil War, 42 innocent civilians lost their lives here. The convent in the square housed children who were seeking refuge from the explosions. Franco unexpectedly dropped a bomb here, killing 20 children. The evidence is clear in the scars on the walls of the Church of San Felipe Neri.
Consequently, Barcelona's most famous architect, 74-year-old Antoni Gaudí was fatefully run over by a tram in the Gran Vía whilst making his way to this very church. It crushed his vision to see the Sagrada Familia to completion.
Refugi 307, a Tunnel for Terror-Stricken Civil War Citizens
Civil War, 1938. Terrified citizens built a 400-metre tunnel to protect themselves from the deadly aerial bombings. With more than 1200 air-raid shelters built, El Refugi is the only shelter still standing.
The people managed to organise themselves so they had enough food, medicine and water to sustain themselves during these looming times, being forced to hide underground with less than a three-minute warning. These dark, winding tunnels are over two metres high and 1.5-2 metres wide and just large enough to fit 2000 people. The memory of the tunnel still lives on - you can take a half an hour tour in Catalan, Spanish, or English.
Sala Gimbernat, The Most Beautiful Place to Study Cadavers
Forget the cold, white laboratory — it's all about examining fresh dead bodies with open chests in a golden-clad amphitheatre. In gorgeous neoclassic style, this theatre looks like it's ready to put on an evening show of Barber of Seville. Quite the contrary.
Built in 1762, Royal Academy of Medicine of Barcelona used this theatre for medical students to study the human anatomy. Its rotating marble table sits dead-centre of the room, allowing for everyone to get a clear view. Seating is tiered and is in a semi-circular formation. There's even an elevated walkway above so the public can take a look-see at the beautifully macabre scene. If you're donating your body to science, what more beautiful place to be dissected, right? They're not taking victims anymore — today it's a place to visit, wonder, and get the chills. You can visit it every Wednesday from 10am-12pm.
A City Dominated by Dragons
If you've ever walked around Barcelona, you'll see an underlying reference to dragons.
This liking for this mythic creature comes from the legend of St. George, who slayed a dragon to win the heart of a beautiful princess. El Dia de Sant Jordi, or St. George's Day, is a beloved holiday in Catalonia when the Catalan people exchange books and roses to their loves. Dragons are such an occurring theme that there was even a American football team called the Barcelona Dragons (which was later moved to Amsterdam). Where can we find these mythical creatures?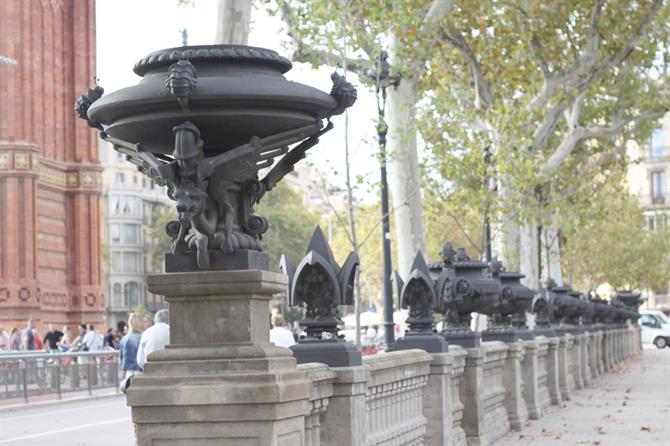 Parc de l'Espanya Industrial
The biggest dragon sits proudly at Parc de l'Espanya Industrial. It weighs 150 tons and is 37 metres high and it doubles as a slide for kids (and adults). It's a sculpture and a playful element of the park, and opened on St. George's Day in 1987. Vandals destroyed parts of it, but it was restored in 2001 and has become a symbol of the Sants neighbourhood.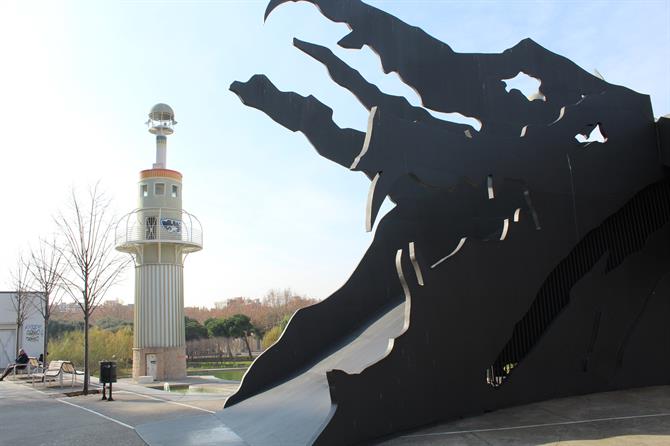 Chinese dragon at Casa dels Paraigues
The most decorative and beautiful dragon is on Casa Bruno Cuadros, a former umbrella shop. The architect, Josep Vilaseca had a taste for Oriental decor, and he added this element during the modernist period before the 1888 Universal Exhibition. Unique buildings were popping up throughout the city. In Oriental culture, the dragon represents good luck. If you notice, the umbrella still sits underneath the dragon, although the building now houses a bank.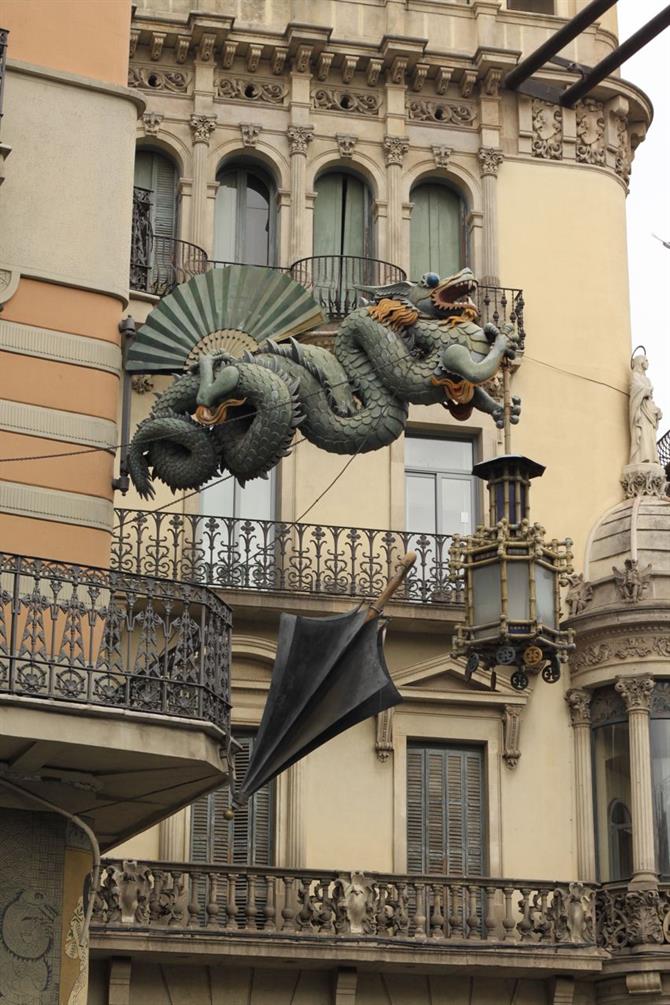 Spouting dragons at the Ciutadella Park
Loosely based on the Roman Trevi Fountain, architect Josep Fontsère added three dragons to spout out water in the Cascada. Gaudí, who was also fond of dragons, was just young man when he helped build this monument. Can you find all three of them?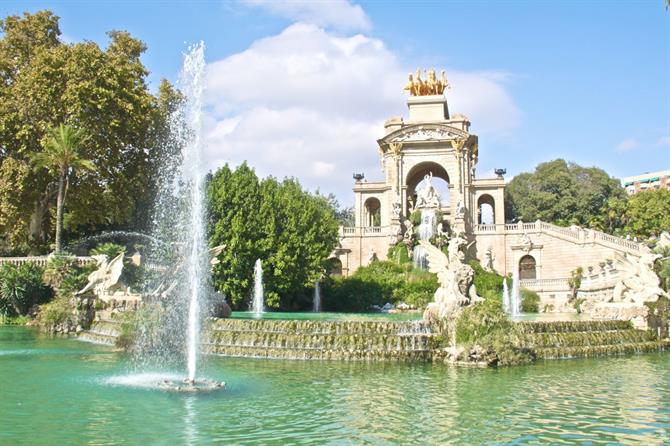 Castell de Tres Dragons
Now a defunct building, the Castell de Tres Dragons was a booming cafe restaurant during the 1888 Universal Exhibition of Barcelona. Also at the entrance of the Ciutadella Park, there is an ornamental building - one of the best examples of pre-modernism architecture.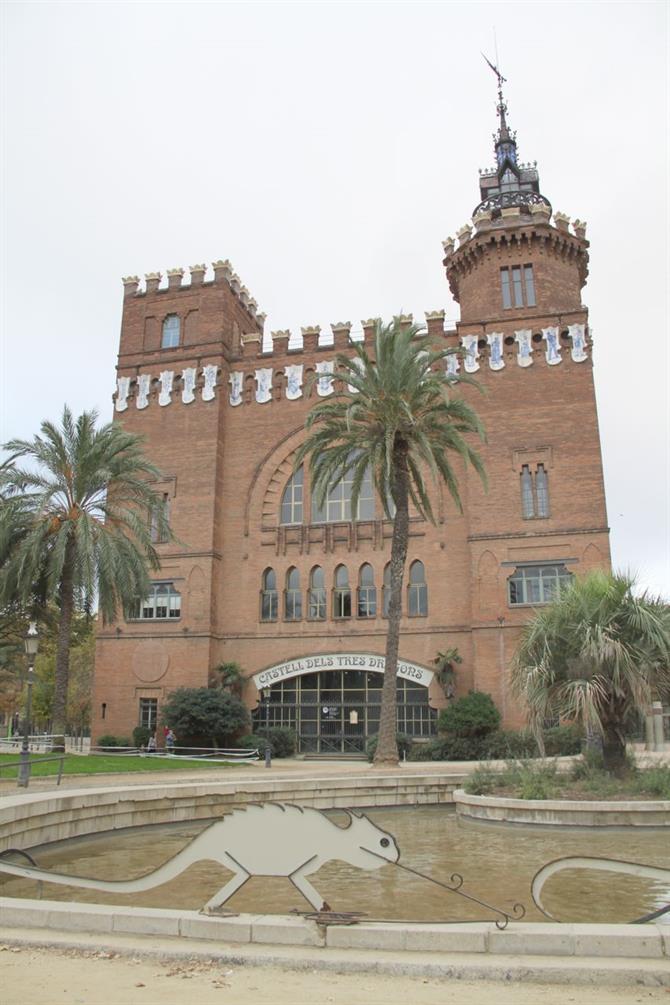 Park Guell: The Brightest, Happiest Dragon of Barcelona
The colourfully tiled dragon is the most iconic caricature of Gaudi, but he's got a more fun-loving character. His name is "El Drac", and he's a mosaic salamander that gets most of the attention in Park Guell. The poor thing was vandalised in 2007, but was restored again, primed and ready to bring in millions of tourists to the park each year (and he's probably taking as many selfies). He now has his own guards to protect him, to make sure he's not vandalised again.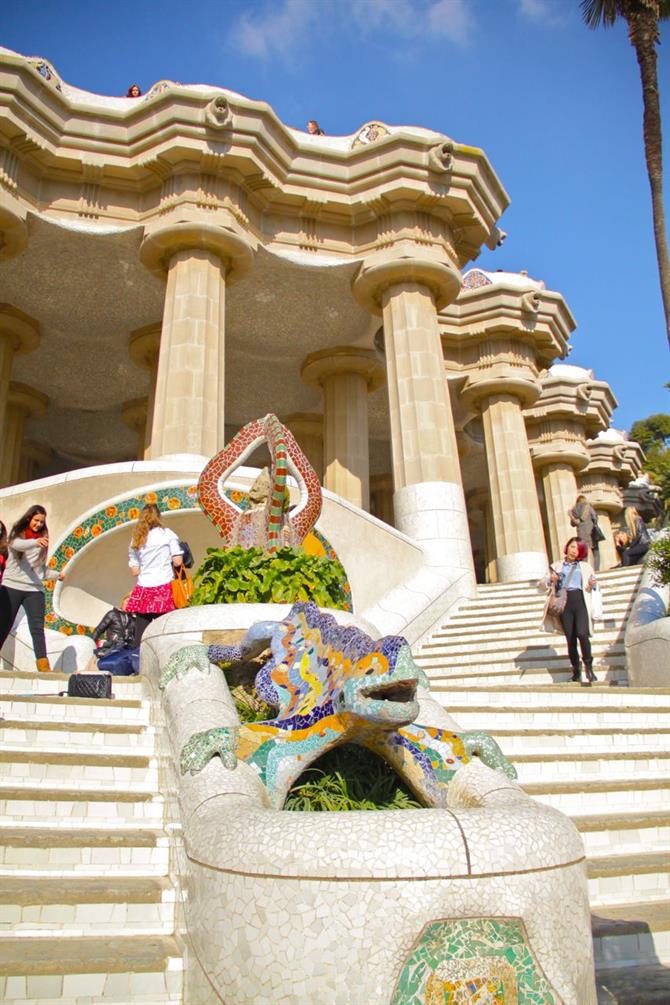 Other places to see dragons:
The roof terrace of Casa Battló. The blue roof of one of Gaudi's most famous works resembles the texture of dragon's skin.
Pati del Tarongers. At the Palau de la Generalitat, there's a small statue of St. George on his horse stomping on a feisty dragon.
Finca Guell - Perhaps the most menacing of all, the estate of Eusebi Guell (of Gaudí's Park Guell) has a fork-tongued dragon protecting outsiders on its decorative gate.
Passeig de Lluis Companys. The beautiful promenade, Passeig de Lluis Companys, hides dragons along its side railings. A few dragons adorn select banisters.
Do you want find more dragons and mysterious places? Check them out here:
We have more secrets in Barcelona. Shhhh…check out the spine-chilling occult, ghost stories, and urban legends in Gràcia!
Have you noticed any dragons around Barcelona? Do you know of any hidden stories in the city?