Residents of Benalmadena and Fuengirola very often argue about to which municipality these beaches belong, as they are situated in the middle between Benalmadena and Fuengirola. They are definitely among our favourite beaches, with a lot of nice restaurants nearby and some of the best beach clubs in the area. Be sure to take a look at our guide of the best beaches on the Costa del Sol.
Playa Tajo de la Soga / Playa Carvajal
Playa Tajo de la Soga is one of the wildest beaches in Benalmadena and is directly connected with Playa Carvajal. Although the two beaches are adjacent, they are very different. The first beach does not offer any services at all. It's a rather unspoilt beach making it a perfect spot for those who want to spend a day in an intimate atmosphere. The second beach is completely different as it's full of life, noise and beachgoers.
Both beaches have characteristic dark sand. Tajo de la Soga has cleaner water and some bigger rocks. Both beaches are approximately 750 metres long. It's also worth mentioning that the waves are average, which is why a lot of families very often choose this place for sunbathing.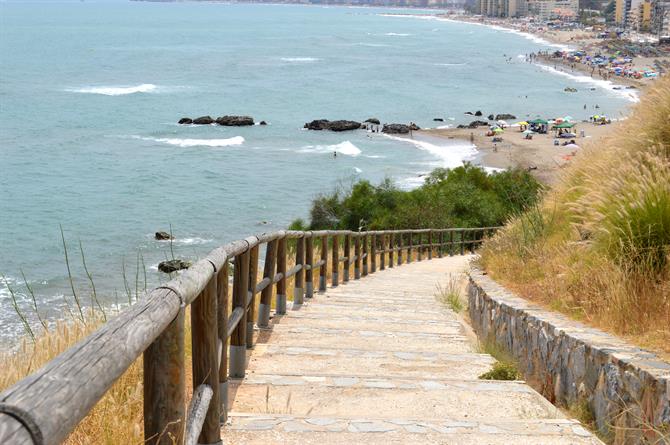 Accessing the two beaches is rather difficult. Playa Tajo de la Soga can only be reached by going down some stairs, which makes it difficult to access for people with a limited mobility. Playa Carvajal is also not connected to the beach promenade.
Amenities
Playa Tajo de la Soga only has showers, but luckily Playa Carvajal is only a few steps away. Playa Carvajal has everything you would expect from a well-equipped urban beach such as jet ski rental, hydrobikes, banana boat rides and other water sports equipment for rent. The beach is dotted with sun loungers and umbrellas which you can rent and beachgoers can make use of showers and toilets. Safety is ensured as lifeguards are constantly monitoring the beach, which is cleaned regularly.
You can even enjoy a relaxing massage at Playa Carvajal for around 20-30€. You can also choose to spend the day at El Rincón de María where you can find board games, plastic toys for children and even sun screen or a towel if you left yours at home.
The Best Beach Bar on the Costa del Sol - La Cubana
If you think about Playa Carvajal, you think about La Cubana, an unusual beach bar which you should visit for many reasons. This chiringuito attracts huge crowds of people, so that during the weekend at lunchtime there is even a special waiting list. Three basic things make this restaurant a must visit: delicious food, an excellent staff and a great atmosphere.
The menu card of La Cubana is quite small. The dishes are prepared with fresh products and there is something for all tastes. Vegetarians won't have trouble choosing a dish, while vegans can order hummus or a quinoa salad. All the dishes are supposed to be shared so that everyone can try a bit of everything. You can order a salad for 9-10€, a wok dish with pasta tagliatelle and shrimp, beef or chicken for 11-12€ or chicken curry or a fish dish (served with basmati rice). In addition, you can have fresh vegetable wraps for around 9-10€ (Purito-wrap with stewed meat, rocket, Manchego cheese, crunchy onion and fig jam).
As far as service goes, it doesn't get any better in the area. The staff of La Cubana are young, entertaining and very sympathetic. Even when it's about 35 degrees they are running from table to table in the hot sand and manage to provide a nice, helpful and quick service (I wonder how they do it). They make customers want to come back which shows in the internet reviews about the establishment. The chiringuito also provides colourful umbrellas for 9€. As you go closer to the chiringuito you'll notice the striking colour of the walls and umbrellas combined with retro furniture with no identical tables or chairs. Enjoy the relaxing atmosphere in hippie style where everyone feels welcome.
How to get there?
You can reach the beach by bus (M120 - Benalmadena - Fuengirola), by car or on a suburban train (Carvajal stop). If you plan to come by car from Malaga, you'll have to take the coastal road MA-21 which becomes Av. Antonio Machado and later Carretera de Cadiz. Driving towards Fuengirola, you'll pass several roundabouts. Keep going straight ahead until you reach the last roundabout before the sign that says ''Fuengirola''. At this point, you should turn right and try to find a parking spot at Carvajal Beach. Please note that finding a parking spot in the weekend might be quite difficult.
You'll find Playa Tajo de la Soga at the same roundabout. You'll find a parking lot at your right hand side.

>