One of the few completely nudist beaches on the Malaga coastline, Benalnatura, is located in a small cove and surrounded by lush vegetation. This beach is not mixed and clothing optional, Benalnatura is completely naturist.
Benalnatura Nudist Beach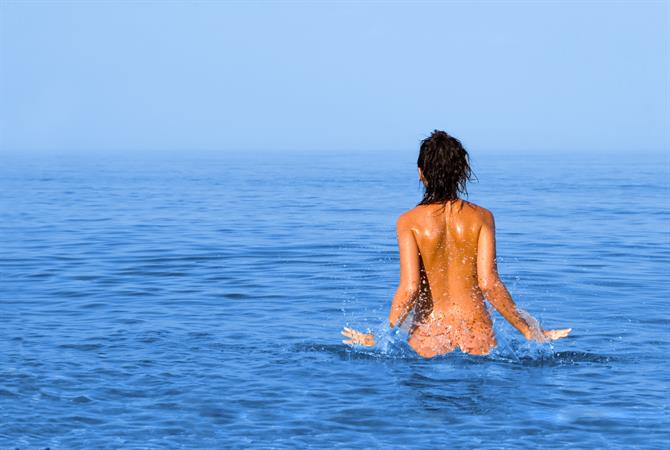 Although the beach is fairly central, it's cove-like location and limited accessibility ensure privacy.
The only way to get to the beach is via a staircase that leads directly to the beach bar on Benalnatura. This bar acts as the gateway to the beach area.
During the peak summer months, people have their identification checked (over 18s only) and all clothing has to be removed. You will not be allowed past the bar area if clothed.
The beach is large and comprised mainly of coarse, dark sand and shingle. It's approximately 100m in length and about 40m in width. Although, the neighbouring beach of La Viborilla is less than 200m away, there's no direct access between the two. The only way onto Benalnatura is through the bar mentioned above.
Benalnatura's location, hemmed in by three cliffs, ensures that the sea is usually calm. The water is clean and suitable for snorkeling.
There is a strict no camera rule observed on the beach.
Services and amenities
Outside of showers and toilets, there's very little available in the way of services.
Bring sun parasols and chairs with you. The beach bar serves good and reasonably priced food. Salads range from 4-8€, hamburgers from 5€ upwards and fish dishes from 6€.
How to get there
The beach is accessible by bus (M120 - Benalmadena - Fuengirola route), or by car. Parking is never usually an issue, as the beach has a large dedicated car park.
If coming from the Torremolinos/Malaga direction, take the old coastal road, the MA - 21, which becomes Av. Antonio Machado, just as you enter Benalmadena. Keep following signs for Fuengirola and you'll pass through several roundabouts. Just after the Torrequebrada casino (on the left), you'll see a sign for "Nueva Torrequebrada" and a roundabout, take a left here and park. The beach is just beneath you.
Google map for Playa Benalnatura, Benalmadena