If your budget is a bit tight this year, bag a cheap flight from thousands on offer and browse some villas in Benidorm. Once you land under the Spanish sun, there are still lots of ways to save cash – a quick guide to print out and keep –10 free things to do in Benidorm.
Broaden Your Horizons
The first thing to do when looking for a bargain break is to choose somewhere where there really is lots on offer, competition means lower prices. The same rule applies to flights and accommodation. Exclusivity can be more expensive, but the best option is to place your drawing pin somewhere populated, and popular!
Benidorm makes for a smart choice, especially if you want to treat the whole family, as it's aimed at activities and family fun – you can't go too far wrong.
If there's no pool in your accommodation, then panic not, water-sports and water-parks are synonymous with entertainment for the whole family in Costa Blanca. Pack up your flippers and scuba mask – we're off to Benidorm – and looking for 10 free things to do
1. A Picnic:
Pack up a couple of crusty barras de pan, some thinly cut jamón, and a selection of cold drinks and head for the Algar Waterfalls – just up the road from bustling Benidorm. Where you will find an oasis of peace. A tumbling waterfall, with designated picnic areas, and a river to splash and swim in. Just right for cooling off on a hot day. There are plenty of marked walks and trails here too – a perfect family day out.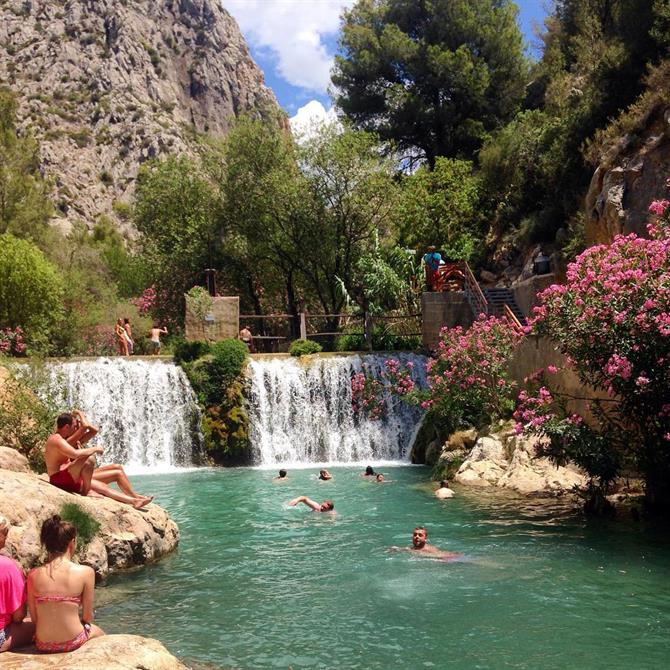 2. The Benidorm Old Town
Okay, so you might want to spend some money when you get there. The Old Town of Benidorm makes for a great stroll after dinner. Allow the kids to let off some steam as you explore the winding streets and cobbles of the Old Town, stop for a cold drink and a bit of window shopping in the artisan outlets. Enjoy the ambience of the Old Town and admire the buildings and architecture – and remember to bring the camera.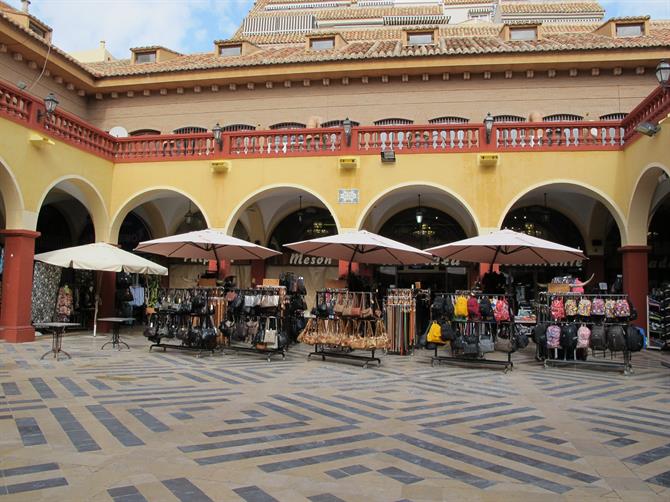 3. The Day Trip:
A day out called for? Guadalest is your day out destination. Near the rock formations that surround the area – there is a Moorish castle to explore, and and the ancient bell tower Penon de la Alcala. Just 25 kilometers inland from your holiday rental home in Benidorm, and situated on the mountains, it is very picturesque with stunning views. Guadalest will be a day trip to remember.
Just 200 residents inhabit this lovely place, but worth remembering is that Guadalest is the most visited place in Spain – after the Prado museum in Madrid – so an early Spring visit might be preferable to one on a hot Saturday in August!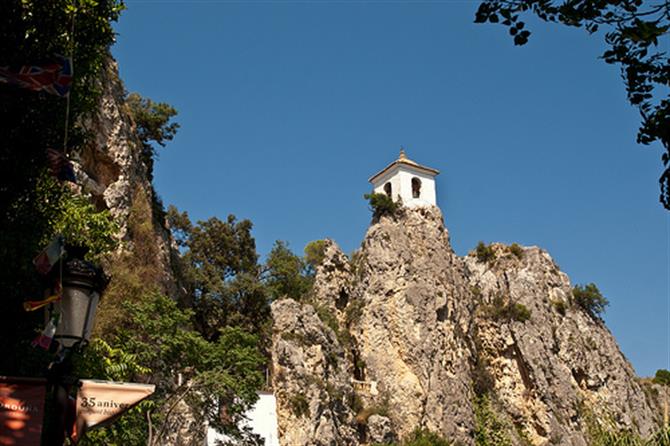 5. The Beaches:
Probably one of the top reasons to visit the Costa Blanca is for the beautiful beaches, after all, it's all in the name – the White Coast.
Miles and miles of white sand, shelving waters – warm as a bath in Summer – and family friendly Blue Flag beaches to explore. There really is no better way to amuse kids than a few hours playing on the beach. Poniente is perfect, the requisite Blue flag, and a family orientated atmosphere await.
Levante is another good option, but more suited to a younger, singles crowd – teens and singles, enjoying a day out and socialising on the beach mucking about near the water.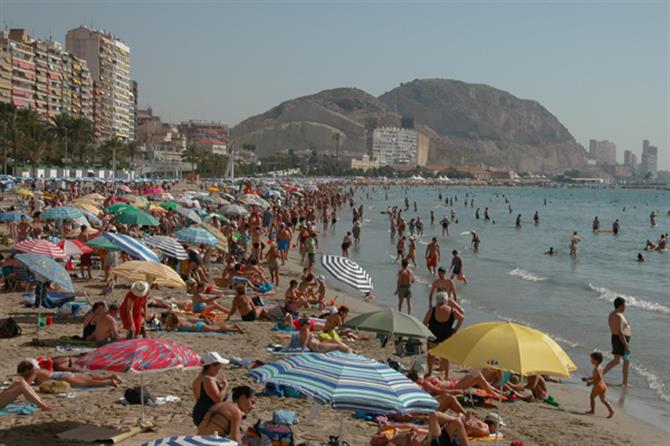 6. The Rock:
The Rock? Yes, not Gibraltar but the Peñon de Ifach is an impressive large rock surrounded by the beaches of Calpe and makes for a great day out. Resembling the other, more famous Gibraltar rock, it juts up from the sea standing at 332m tall. Find holiday lettings in Calpe so you can really get back to nature – as the surrounding area has been designated a wildlife reserve. Calpe town itself is not bad either.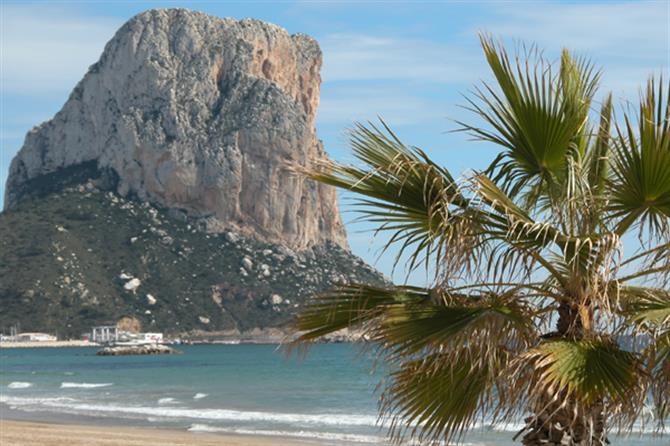 7. The Castle:
A 13th-century military castle – Castillo de Biar - is also a national monument. it overlooks the town of the same name. A pretty dramatic day out, the castle stands in a lofty position, the views are amazing. A stomach lurching tall tower, the Tower of Homage, fortified walls and an enviable position, a trip to Castillo de Biar will make a great day of make-believe for any child in your family!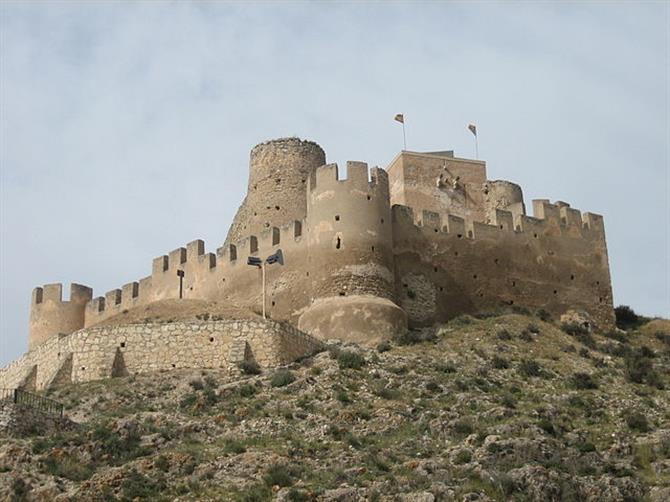 8. The Traditional Village:
The bustle of Benidorm is fabulous, but you might find that after a week you also want to experience somewhere more local, traditional, and quieter. No problem. Right outside Benidorm lies Altea, the antidote to Benidorm, an oasis of calm and a perfect spot for a day of unwinding and seeing the other side of Costa Blanca life.
A super destination for couples, it's quiet, flower-filled and as pretty as the picture it paints. You may find that you don't want to leave if so, stay another few days in a romantic holiday villa in Altea.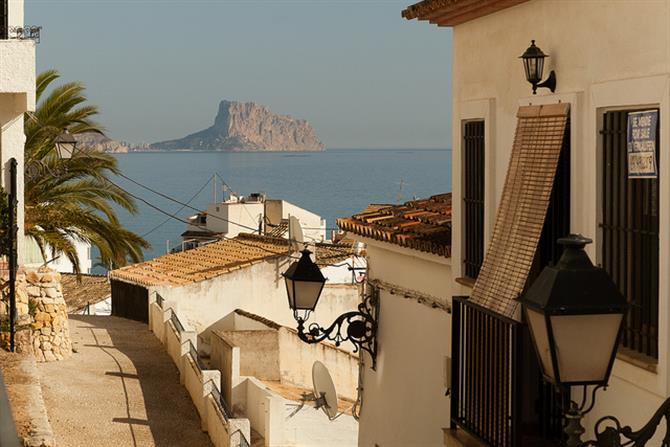 9. The Party:
Of course, the best way to experience a free party – come to Benidorm when one of the fiestas is taking place.
You'll find various fiesta days, festivals and Saint's days all year round – but November is when you'll find Benidorm in full party mode. This is traditionally when fiesta week takes place, from the Friday of the second week. If you want to experience Spanish party overload, then pack the paracetamol for that week.
Processions, paella, and the biggest and loudest firework display to top it all off with a discernible bang.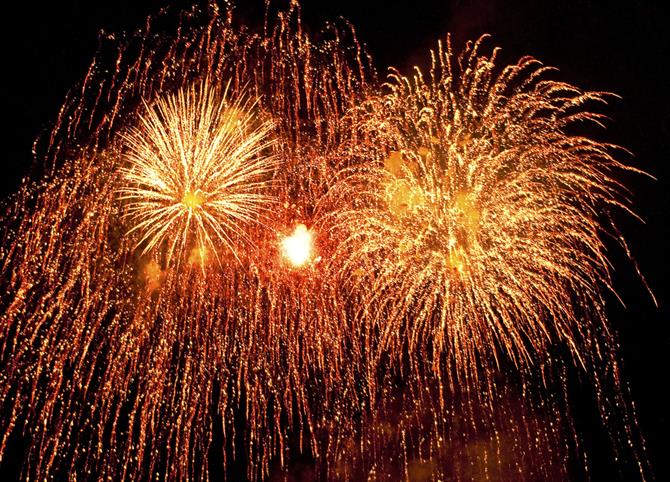 10. The Water:
Not just the fabulous Mediterranean Sea – but some curative waters, and another great day out without flashing the cash.
The Fonts at Lion Mountain to be precise. Head for the base of Puig Camapana mountain – it resembles a sleeping lion, thus the nickname. You'll find the wonderfully named village of Polop waiting for you, it's all just half an hour from Benidorm. There 200 natural springs and folk come from far and wide to drink the sulphuric curative waters, known to heal all ails – well, worth a try anyway! Back in the village square, you can visit the former house of the artist Miro too – so one for the arty types with a health kick thrown in.
10 ways to enjoy beautiful Benidorm on a budget – what more could you possibly want? Just think, you'll have saved so much money there'll be enough left over for your next Spanish holiday in the sun!