Valencia's annual tomato throwing festival, La Tomatina, sees 20,000 people throw 100 tons of overripe tomatoes (that's 150,000 tomatoes!). It is said to be the world's biggest food fight.
You're going to want to grab some swimming goggles and your most-worn shoes for this one.

La Tomatina
The festivities take place in the small village of Buñol, which is 38 km from the city of Valencia. Normally, Buñol is home to 9000 inhabitants, but during La Tomatina the population grows incredibly.
After the number of festival visitors reached around 50,000 in 2012, the town decided to restrict the number of participants by introducing a ticketing system; 20,000 tickets starting at €10 each are now sold in advance of the festival.
The great battle takes place once a year on the last Wednesday in August. The fight kicks off at
11 am as the start signal sounds. Exactly one hour later, the battle ends with the streets covered in crushed tomatoes and big hoses are turned on to clean up.
While shopkeepers cover up their storefronts with plastic to protect them, Buñol's streets actually end up cleaner than before, once everything is washed away, because of the acidity of the tomatoes.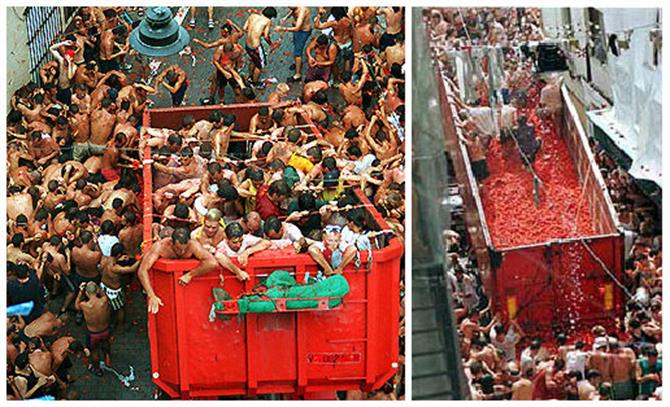 The story of La Tomatina
There are several stories about why the Tomatina festival started in the first place, and a couple more about the festival's two-time prohibition. The most telling story is that in 1945 a group of boys started throwing tomatoes because they were mad at each other. The following year, others started a tomato battle and made ​​it a tradition.
La Tomatina was prohibited in the early 1950s, but it began again in 1957 when the residents of Buñol protested against the ban and held a ceremonial funeral for a giant tomato. Later on, the fact that the festival is celebrated in honour of patron saints Louis Bertrand and Mare de Déu dels Desemparats (Mother of God of the Defenceless) had it banned once more during the Franco regime. La Tomatina was reintroduced again in 1970, but people brought their own tomatoes to the battle because there was no official organization until 1975.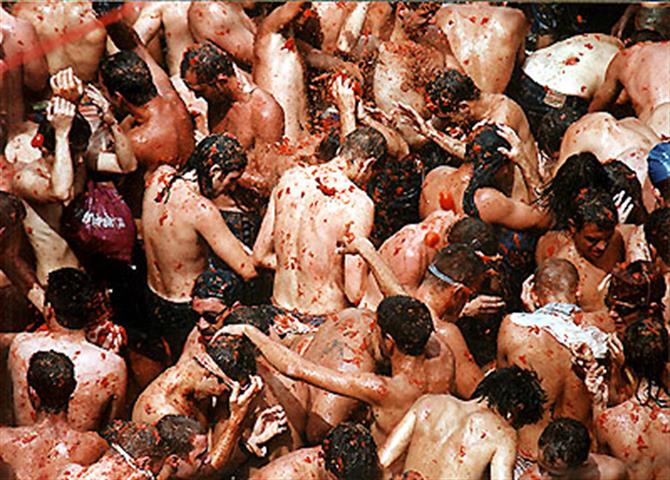 La Tomatina facts
The overripe tomatoes come from Extremadura, where they are cheaper than in Valencia.
The tomatoes are brought to Buñol in trucks from which they poured or thrown down to participants.
Before the great battle begins, a competition called El Palo Jabón is held to see who can climb up a pole greased with soap to grab a leg of ham that hangs at the top. Whoever gets up to the ham gets to keep it.
Once the ham is taken down, the festival officially starts. Since it can take quite some time to get to the top of the slippery pole, not everyone watches the competition.
3 tips for La Tomatina
Remember that you have to squeeze the tomatoes before throwing them.
Wear closed shoes, so that you don't hurt your feet or lose your shoes along the way.
Wearing swimming goggles can be great, but another option is to tuck your t-shirt into your pants or shorts so that the bottom bit stays clean and dry, and you can use it to wipe your eyes at the end.
Holidays in Buñol
You might initially be thinking of going to Buñol just for La Tomatina, but holidays in the region can be great. It is a beautiful mountainous area, so there are tons of opportunities to go hiking, climbing, and biking.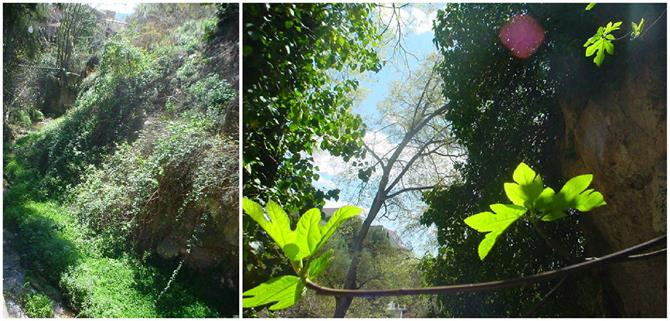 Food in Buñol is also quite unique itself. Snails and mushrooms are among some of the most essential ingredients in the local cuisine, along with many different types of meat. Even their gazpacho is different than in other regions of Spain - it often has rabbit or partridge in it.
If you're like me, you probably love to try new foods while travelling; this makes Buñol's Feria Gastronomica y Cultural de La Tomatina food festival another reason to visit the area. The food festival is held exactly one month before La Tomatina and features competitions between the area's best restaurants, as well as jazz concerts, movie showings, and gastronomic talks.
If you are looking to travel to Buñol for La Tomatina or other holidays, you'll need somewhere to stay. Check out accommodation either in the city itself, in Valencia city, or within the Valencia province.