Cadaques is a little paradise on the Costa Brava. This fishing town has gone down in history as the home and source of inspiration for Dali
. In particular, t
he beaches and the natural beauty inspired the works of the
eccentric Catalan artist.
If you're wondering what there is to discover in
Cadaques the answer is simple: beaches. The area has a wide range of picturesque urban beaches and intimate,
unspoiled
bays around the north of the Cap de Creus.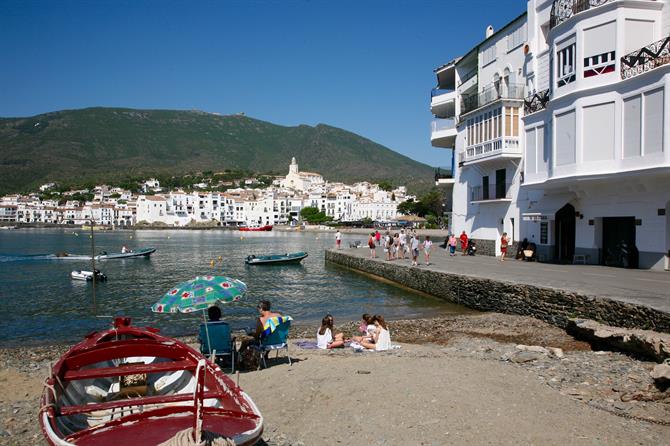 There's such a wide variety of beaches in
Cadaques that it wasn't easy to select the best ones. You're probably going to fall in love with your own favourite beach during your holiday, but let this guide be a helping hand:
Playa Grande
Playa Grande is the most centrally situated beach in
Cadaques. You can get there via the beach promenade and it has a lot of facilities such as beach bars and restaurants. It's 200 metres long and 20 metres wide. It's a rather busy beach since it's a family favourite.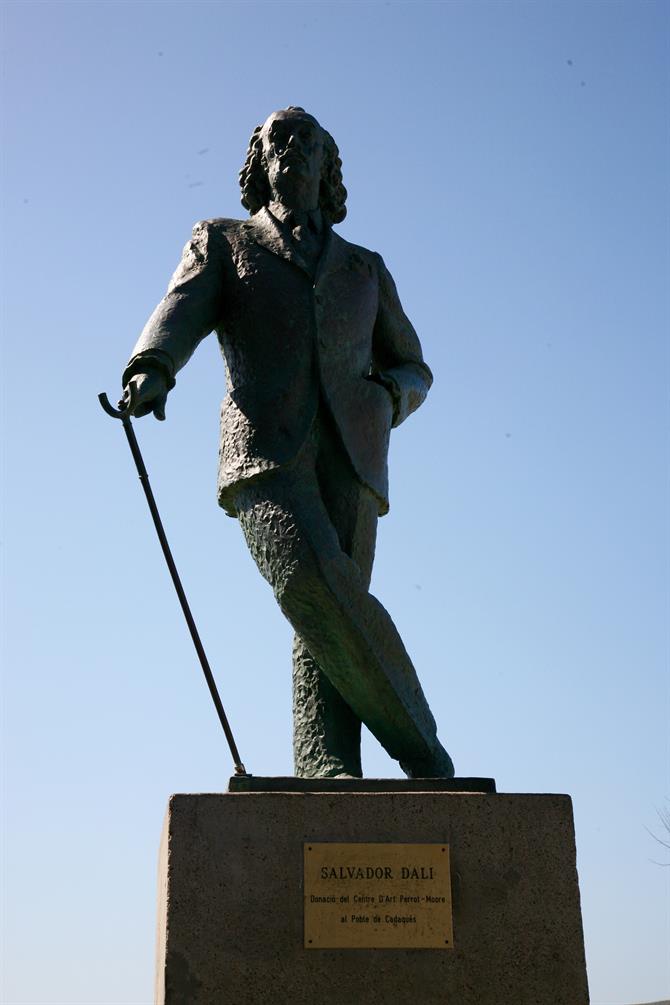 You are welcomed to Playa Grande by the main figure of Cadaques: a statue of Dali in one of his characteristic poses. Here you can enjoy the delicious local food in one of the two beach bars, choose to relax under the sun or wander about the beach boulevard.
Es Llané y Llané Petit
Let's continue with these two nearby, but very different beaches. The first one is accessible via the beach boulevard and is approximately 130 metres long and 12 metres wide. It's characterised by flat rocks which lead into the sea. It's a popular family beach as the water's depth increases gradually.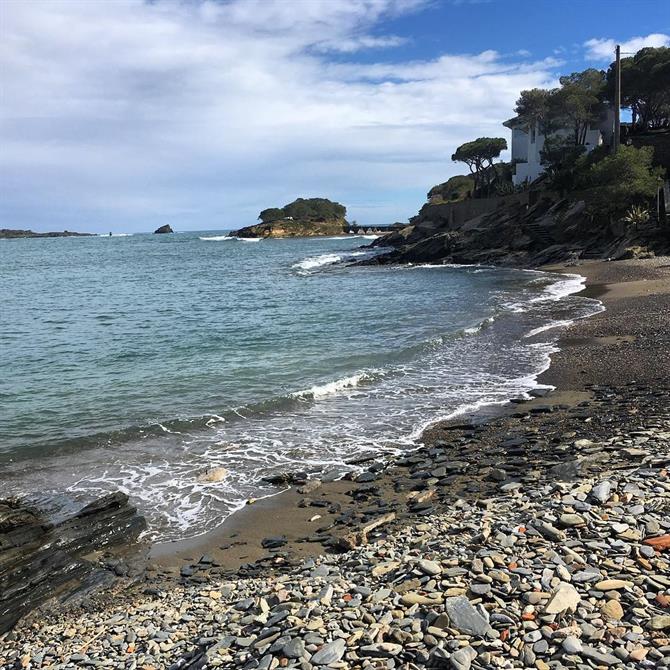 Via Playa de Es Llané you can reach Playa de Llané Petit, which is a lot smaller and calmer and also one of the preferred spots of the local seamen. To enjoy all the beaches and its surroundings, you can rent a holiday home in Cadaqués.
Playa Es Sortell
Just 300 metres from the centre of Cadaques, you'll find one of our favourite beaches. Just like the majority of the local beaches it boasts calm, crystal clear water. The beach itself is made up of small pebbles and grit and the best part about this beach are the views. You can marvel at the beautiful white houses of Cadaques, the modernist buildings along the beach boulevard and the mountains Puig de Paní and Puig de Bufadors.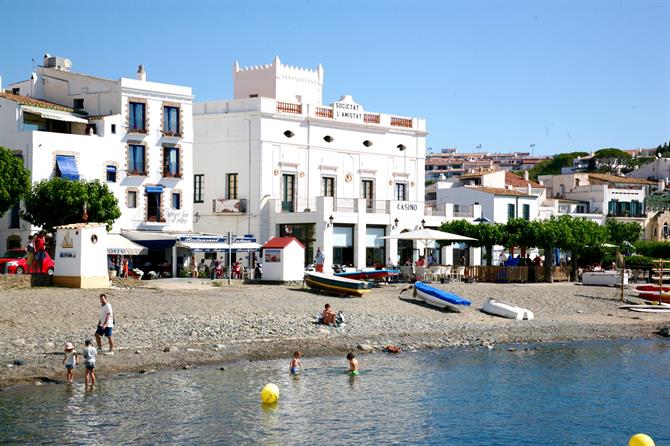 On top of this, on one side of the beach you'll find
a small bridge via which you can reach the small island of Es Sortell
, a great place to go for a walk and enjoy the sea breeze.
Playa Sa Conca
If you follow the coastline in a southward direction to Faro de Cala Nans, you'll reach this precious bay where there is a nudist area. There are only a couple of houses close-by making it a nice natural environment. The water is crystal clear, calm and quite deep making it possible for boats to moor in the bay.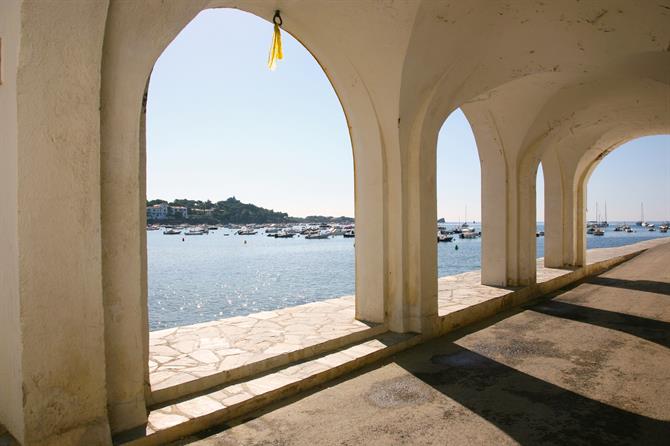 Playa Sa Conca is situated a little bit further from
Cadaqués, but it's not a part of the
Cap de Creus. This beach is perfect for those who wish to visit a nudist beach without having to go too far from the city centre. On top of this, its views of the cliffs on the horizon are simply marvelous.
Playa es Pianc
If you return to the city centre of Cadaques you can shift your attention to the beaches in the north of the bay. Following the beach boulevard for some 500 metres you'll encounter the small beach Es Pianc, here you can enjoy beautiful views at dusk.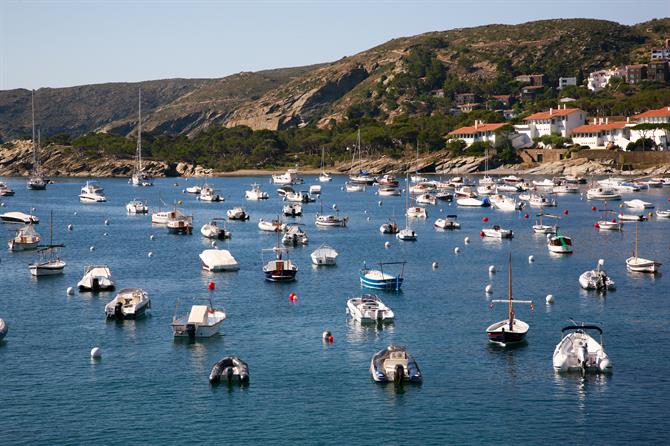 This beach is very frequently visited thanks
to its small dimensions, its location close to the city centre and the facilities it offers such as bars and restaurants. Be sure to visit
Es Pianc, as you'll see one of the most beautiful sunsets there on the Costa Brava.
Playa de Ses Oliveres and Playa de El Ros
Less than 500 metres from playa Es Pianc, you'll find two opposing beaches: Ses Oliveres and El Ros. This part of the coastline is filled with small, wooden boats. Both beaches offer several facilities such as kayak rental companies to explore the area. You can kayak towards the small island of Cucurucuc , a rock formation in the middle of the bay which was a great inspiration for Dali.
Bays at Punta de S'Oliguera
Northern of
Cadaqués you'll find
Punta de S'Oliguera, a cape with several beaches. Many of these are rather small, but really worth exploring by car. If we have to recommend you one beach, it would be Playa S
'Arenella, which is located in front of a small island with the same name.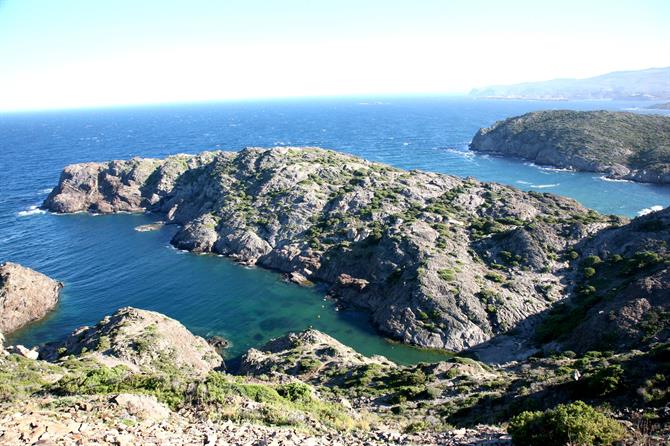 Another beach we highly recommend is P
laya des Caials, especially for diving lovers. On the seabed in this area you'll find
impressive flora and fauna and a lost treasure: the ruin
s
of the English boat
Llanishen
, which sank in 1917 at the hands of a German submarine. It all looks rather spooky.
Playa de Portlligat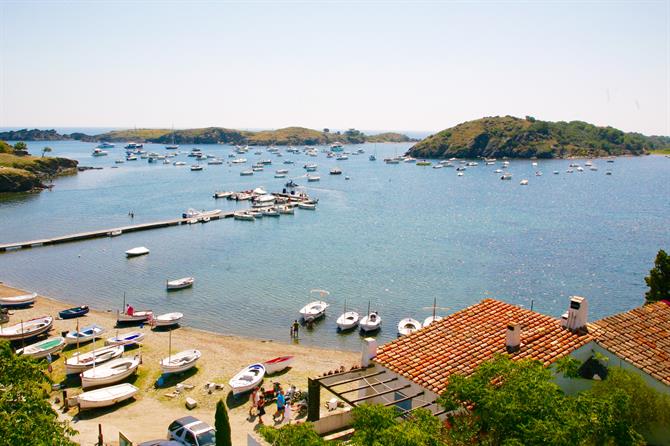 Playa de Portlligat is the main beach of Cala de Portlligat, especially since the Salvador Da
li house is very close-by.
Da
li chose this place to create his works. The beach is located in front of a small island with a lovely sandy beach. There are no showers or lifeguards around. Close-by you'll find some restaurants and bars and a stand where you can rent a kayak.
Cala S'Alqueria Gran, S'Alqueria Petita and Cala Sant Lluis
After reaching Racó des Moro you'll discover two precious little bays: Cala S'Alqueria Gran and S'Alqueria Petita. You'll notice a discreet and calm vibe on these beaches, which makes it a favourite for nudists.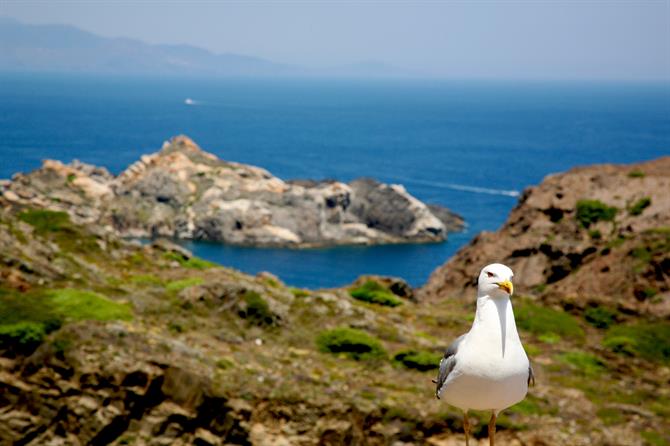 A bit further down you'll find the nudist beach Sant Lluis. It's a true oasis of peace where you can enjoy the sun and the sea without any noise. You'll find yourself surrounded by nature in a remote area, even in summer.
Cala Portaló
Cala Portaló is one of our favourites. It's closely situated to Faro del Cap de Creus and getting there is not easy which means that not a lot of people choose to go there. The surface of this beach consists of sand rather than pebbles, which makes it nice and easy to enjoy the sun. All around you'll find rocks and cliffs which create an intimate atmosphere.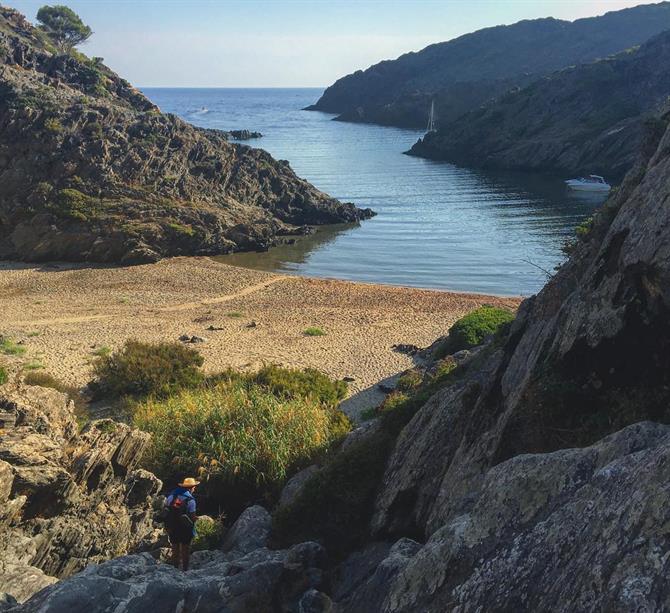 Cala Culleró
Cala Culleró is a very interesting beach as the stones and rocky cliffs which surround it were shaped by the wind and sea erosion. Thanks to this you'll find differently shaped rocks which add to the beauty of this part of the Cap de Creus.
Cala Culleró doesn't only boast
relaxing quietness and crystal clear waters, it also has a fascinating seabed, since there are ruins of boats to be found from ancient Greek and Roman times. The boats supposedly sank after crashing against the rocks pushed forward by the strong
Tramontana wind.
Cala Jugadora
Cala Jugadora is one of the crown jewels of the Cap de Creus. Its transparent and calm waters make it a snorkeling paradise. On top of this, it's somewhat disconnected from the world and it doesn't have any facilities. Consequently, not too many people usually go there which means you'll have no problems finding a parking spot. You'll only have to drive until Faro del Cap de Creus as it is situated just ahead of it. The bays of the Cap de Creus are unique, but Spain is full of hidden coastal gems. Here are the 10 best beaches in Spain.
Before you head home, remember to look out for
Cova de l´Infern
, a sea cave which looks like the entrance to hell when the sun rays reflect off the water during sunset. Summer is coming, so go to
Cadaques and its dreamy beaches for endless days of sunshine, new adventures and great experiences.
Map