Andalucia is blessed with some beautiful villages. One of the most striking is Setenil de las Bodegas in the Province of Cadiz. Situated just across the border from Malaga it makes a fantastic day-trip.
This unique village is the only one in this part of Andalucia with troglodyte dwellings built into the rock. Unlike in Guadix, no chimneys are visible here, just rows of houses that seem to support the rock from which they have been dug.
An Architectural Nightmare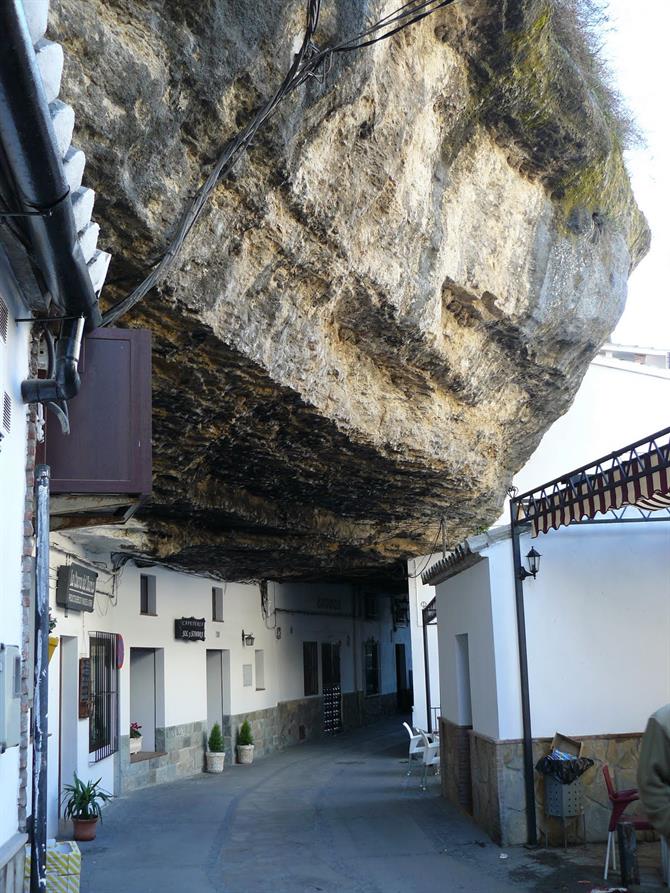 The renowned Cadiz poet and writer, José Manuel Caballero Bonald, is quoted as describing Setenil as –
'One of the most astonishing villages in Andalucía, something like an architectural nightmare, a geological fright, where you come across habitable spaces excavated out of the rock itself, where, like troglodytes or birds, they live beneath immense granite ledges or what seems as an urban labyrinth'.
The central theme of the village is the Rio Trejo that runs its breadth.
Over thousands of years the river has formed gorges and caves, from which numerous dwellings have been built.
In some places it appears as if the rocks are literally falling into the buildings themselves.
Things to see and do...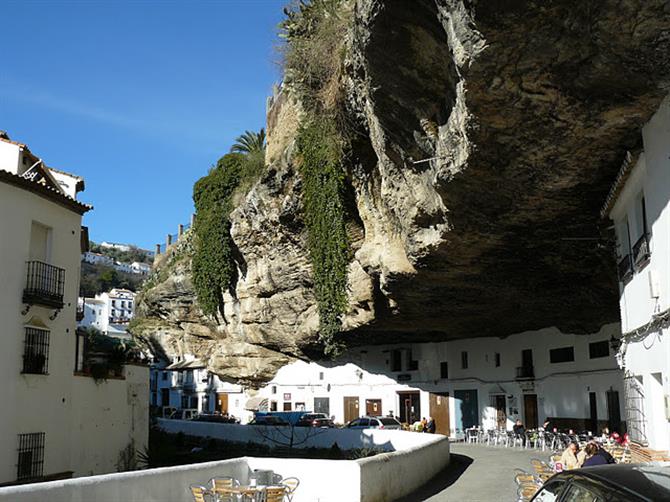 There are some beautiful walks in and around the village.
The most famous of which, is walking the length of the river past the troglodyte dwellings and the various bars and restaurants that line it.
Walking out of the centre of the village there are several smaller paths that criss-cross the river. There are some great spots for a picnic and for the braver, a swim in one of the rock pools (the water is freezing!!)
The Iglesia de la Encarnacion built on the top of the hill that overlooks the village is also worth visiting.
The village of 3000 people can be steep in places, but the higher you get, the better the views of Setenil, the neighbouring village of Olvera and the surrounding countryside.
The olive oil from this area is considered to be one of the best in Spain. Buying some is highly recommended. Bright green in colour, it has a very distinct and a very strong flavour to it. Avoid buying it in shops, instead visit one of the many olive presses surrounding the village. The prices were very reasonable (we paid 11€ for five litres) and the flavour is out of this world!
Getting There

There are several ways to get to Setenil from Malaga. The quickest is taking the A-357 past the University, Sierra de las Nieves and the Ardales. Keep following signs for Ronda/Cuevas del Becerro. Upon reaching the village of Cuevas del Becerro, take a sharp right – its signposted.
The road, although in good condition, is a mountain road and is very narrow with lots of bends and curves – if unsure or not used to these driving conditions, there are alternative routes via Ronda and Teba – Google map