Enjoying sherry isn't all about bodega visits – you might even argue that the staid and rather formal ambience of a group tour doesn't quite hit the right note when it comes to truly appreciating these fortified wines that are so unique to southern Spain. More specifically, to an area in Cádiz province that forms a triangle between the coastal towns of Sanlucar de Barrameda, El Puerto de Santa Maria and the inland sherry capital,Jerez de la Frontera. Around here the sherry stereotype of little-old-lady's tipple is nowhere in sight – the wine is savoured by everyone from high-end aficionados to blue-collar, salt-of-the-earth types in design bars and dusty barrel rooms alike and these, the latter especially, are the perfect places to inhale the intoxicating perfume of the palomino and Pedro Jiménez grapes. In addition to wine, the area boasts some of the best fish and tapas bars in Spain. We begin in Jerez.
El Pasaje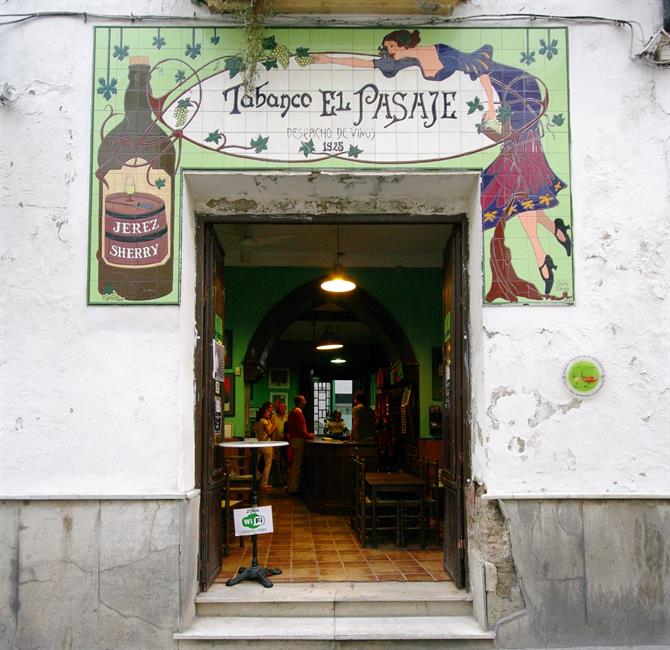 You haven't been to a sherry bar until you've been to a tabanco – the word is a confusion of 'estanco' (meaning state controlled shop)and 'tabaco', a product that became popular alongside the establishments themselves in the 17th century. There are only a handful of them left although, encouragingly, a couple of new ones have opened in recent years.El Pasaje is probably top dog – a Jerez institution, its mint green walls are covered with caricatures of various flamenco glitterati, including the town's own JoséMerce. There are basic tapas to soak up the wine and regular live flamenco performances.
Calle Santa María, 8.
El Tapial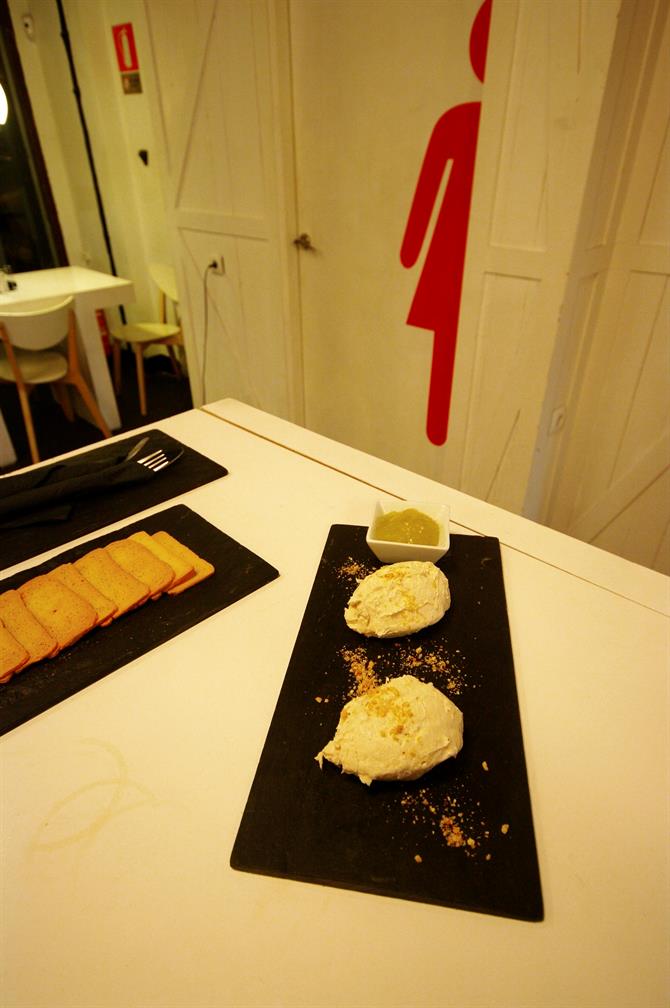 A relatively new bar tucked away off the Plaza Arenal, Jerez's main square, El Tapial will be missed by many and that's a great shame. Billing itself as a 'tapa workshop', this is the kind of bar that blows tapa stereotypes out of the water. Genuinely innovative food emerges from a slick, open kitchen to be served in a bright, minimal space and a tiny terrace outside. Highlights have been langoustine skewers and pate de jamón but the menu is renewed regularly. Do yourself a favour and eat with locals-in-the-know.
Calle San Agustin, 24.
El Gallo Azul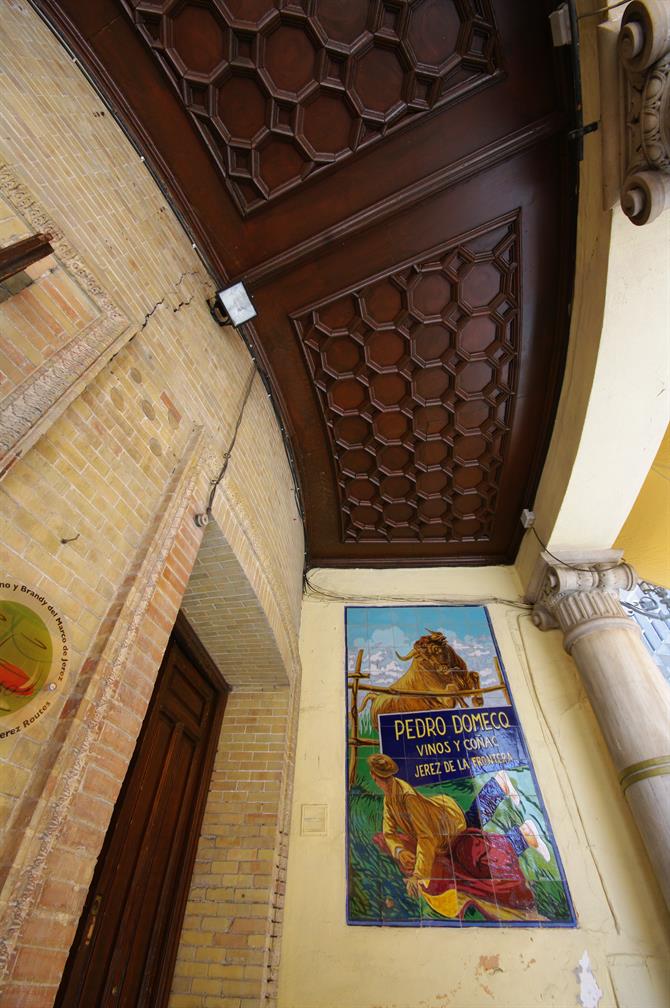 Location, location, location – this elegant bar occupies the ground floor of Jerez's emblematic, semi-circular Gallo Azul building. There's a restaurant upstairs and almost no room at all in the bar but the terrace outside is large and shaded. Probably the best spot in town for people-watching, Gallo Azul serves a variety of local wines and a stylish, upmarket take on tapas.
Calle Larga, 2.
Tabanco San Pablo
San Pablo distinguishes itself from other tabancos with its kitchen. They claim to serve Andalucia's best tortilla de patatas and the landlady has used the same fork to make them for over twenty years, apparently. The chicharrones (mouthfuls of pork belly) are famous too. Calle San Pablo itself is lined with bars and there is usually something of a party atmosphere, especially at weekends. Being a tabanco, the interior is cavernous and decked out with huge sherry barrels.
Calle San Pablo, 12.
Taberna Der Guerrita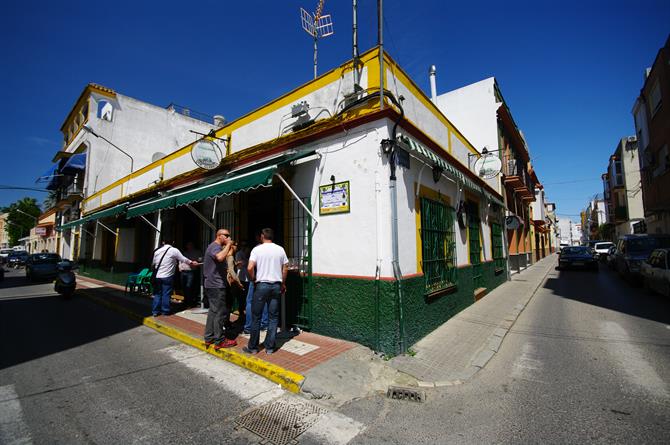 On an unassuming corner in a shabby part of Sanlucar de Barrameda, the smallest of the three sherry triangle towns, Armando Guerra has a little sherry empire going that would rival anything in Jerez. In addition to a restaurant and regular events and wine tastings, he runs Der Guerrita – a fantastic sherry bar that specialises in the manzanilla wines that the town gave birth to, but also offering an incredible range of amontillados, palo cortados and so on, many more than would usually be available by the glass, even in the sherry capital. Go.
Corner of Calle San Salvador and Calle Rubiños.
Casa Balbino
On the Plaza del Cabildo, one of the prettiest squares in Andalucia, Balbino's terrace fills up with local families and tourists alike.There are waiters hanging around but they aren't bringing anyone any food. They're only there to clean up, the bar being that rarest of things in this part of the world: self-service. Lord only knows how they keep track of everything as your dishes arrive at the bar one by one and you get up and down yourself to fetch them. At least you get an inkling of just how busy a Spanish waiter can be in this heaving bar and all that work is most definitely worth it. The sea is just a stroll away and the fish skewers are incredible.
Plaza del Cabildo, 14.
Bodegas Obregón
Obregón is the oldest bar in El Puerto de Santa Maria and is in fact a barrel room – a despacho de vinos – where customers can enjoy a range of proprietary wines by the glass or take away a bottle. Some even arrive with old plastic coke bottles to have them filled up. No tables or chairs, just a couple of ledges to lean your elbow on as you sip away and look around, taking in the quintessentially Andalusian scene; barrels, bullfighting memorabilia and beer-bellied men of a certain age. Wonderful.
Calle Zarza, 51.
La Dorada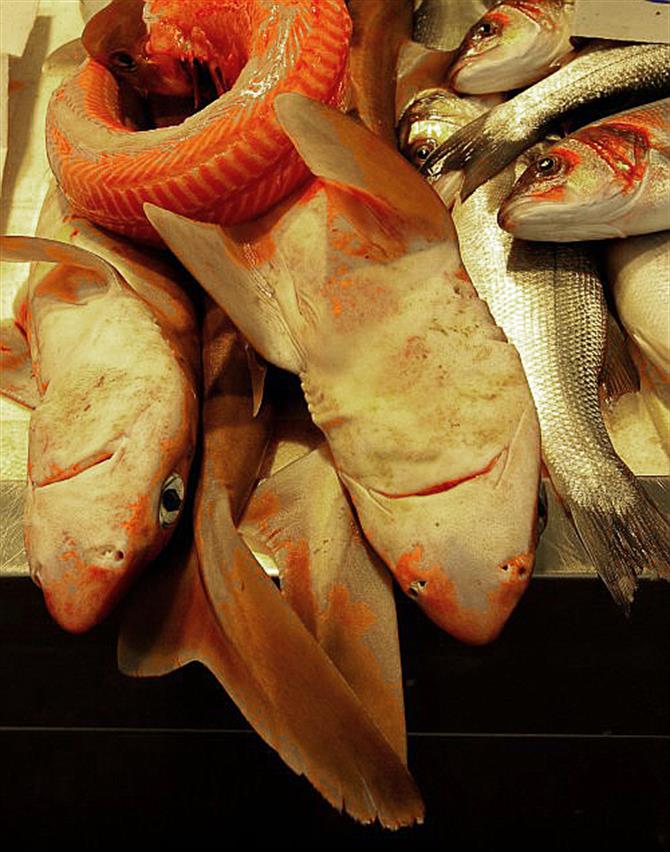 Down by the water where the ferry leaves for Cádiz, La Dorada is the original of what is now a three-branch operation. From the outside you might wonder why anyone would have recommended it – there's very little kerbside appeal, just a clutter of tables beneath an awning. However, all of them are occupied most of the time; this is where the locals come to eat fish and they come here because it's good and it's cheap - a great combination. The marrajo, or short fin shark, is divine.
Avenida de la Bajamar, 26.
El Romerijo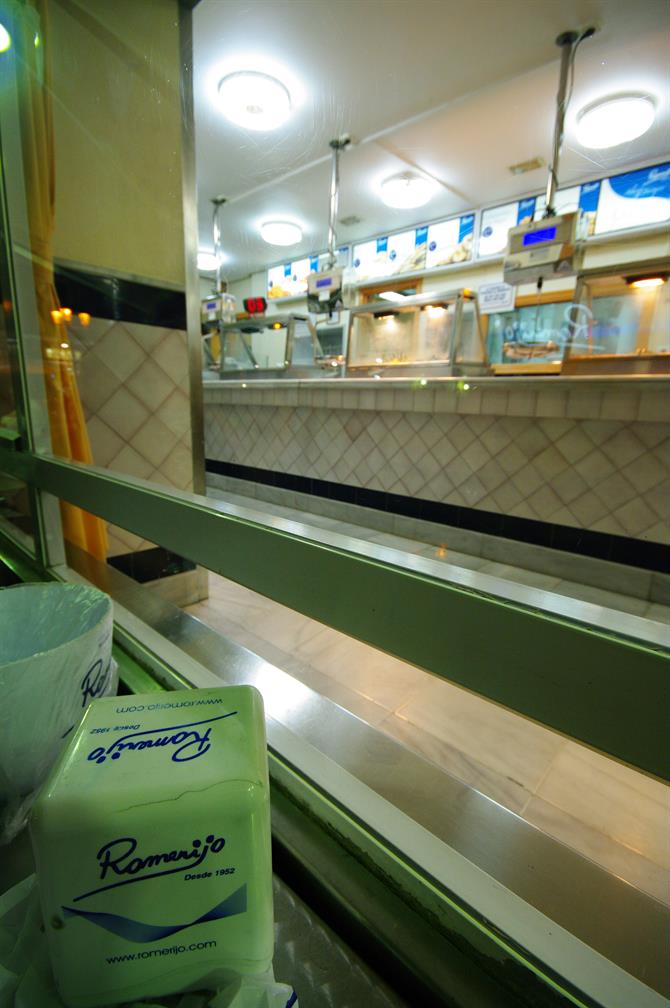 An El Puerto de Santa Maria legend, El Romerijo has to be seen to be believed. With two outlets on either side of the street – one is a freiduria where fried fish is served and the other a cocedero where seafood is boiled and steamed - you're free to take a table and order from the waiters but it can be pricey. The best way to experience the place is to line up at the counter and get a paper cone filled with your choice, then take a table and order a drink, casting your shells into the plastic bins provided.
Plaza de la Herrería, 1.
Casa Manteca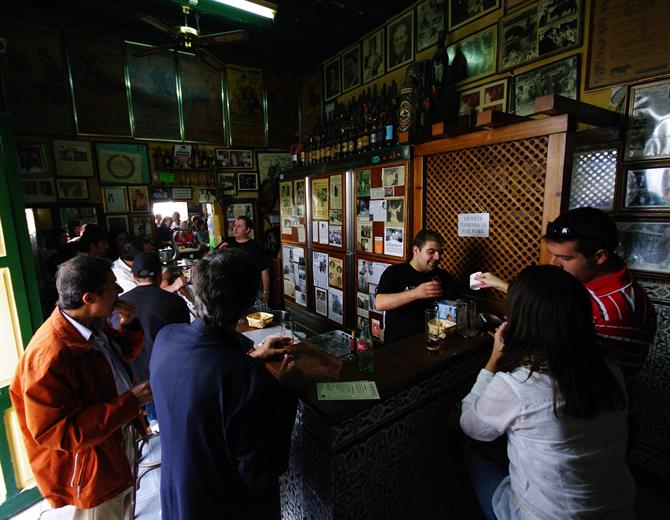 This Cádiz bar makes it onto the list because, although not technically within the sherry triangle, this wonderful city is just a short ferry ride from El Puerto de Santa Maria and if there's one bar you shouldn't miss in this part of the world, it's Casa Manteca in the city's La Viña neighbourhood.A corner bar with two rooms, both uproariously crowded most of the time,serving pork in all its glory. The speciality is chicharrones – pressed pork dressed in lemon – and the place spills out on to the street where, in the early spring you can get some sea urchins hacked open for you and tuck into their exquisite roe.
Calle Corralon de los Carros, 66.
Images Copyright Robin Graham 2013