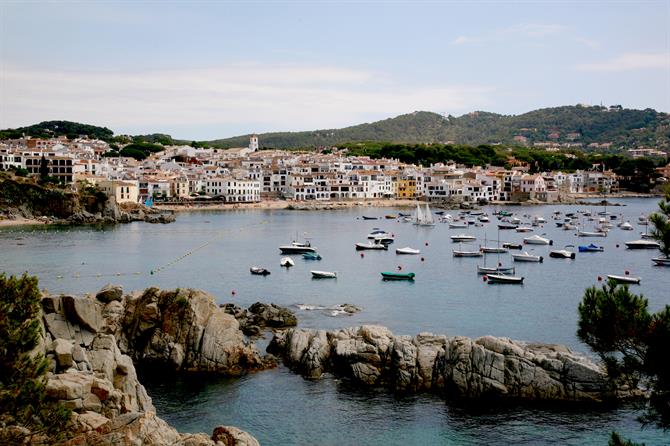 Many of the town's beaches are connected by a promenade, which offers fantastic views of the coast and continues down the Camino de Ronda hiking route. Following this route will uncover some of the most remote and hidden beaches in the area.
Continue reading our guide, for all the information you need on the best beaches in Calella de Palafrugell:
El Golfet Beach
We'll start this guide with the beach furthest away from the town of Calella, which has so much natural beauty we couldn't leave it to the end. La Cala del Golfet is one of the best beaches you'll find along the whole of the Costa Brava. It's protected by red rock walls and boasts clear waters and a smooth pebble seabed which make it truly the wildest jewel on the coast of Calella de Palafrugell. It's located just around the corner from the beautiful Cap Roig Botanical Garden.
It's 75 metres long by 20 metres wide and is the perfect place to enjoy nature, sun and sea. The first thing that will attract visitor's attention on arrival is the enormous rock to one side of the beach, followed by the incredible colour palette of the surrounding nature. The red of the rocks, the golden stones on the beach, the green of the trees in the nearby Cap Roig Botanical Garden and the bright turquoise blue of the sea come together to create a picturesque and unforgettable landscape.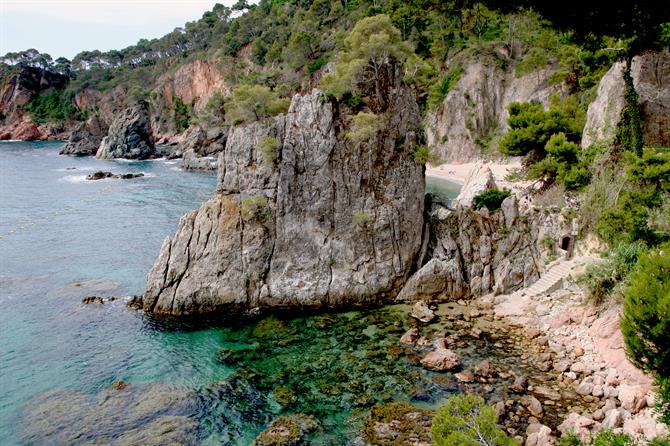 El Golfet is situated in a small bay between Punta d'Els Forgats and Cap Roig. Thanks to its location, it's protected from the strong Tramuntana wind and has an incredible view of the Formigues Islands which are popular for diving and snorkelling.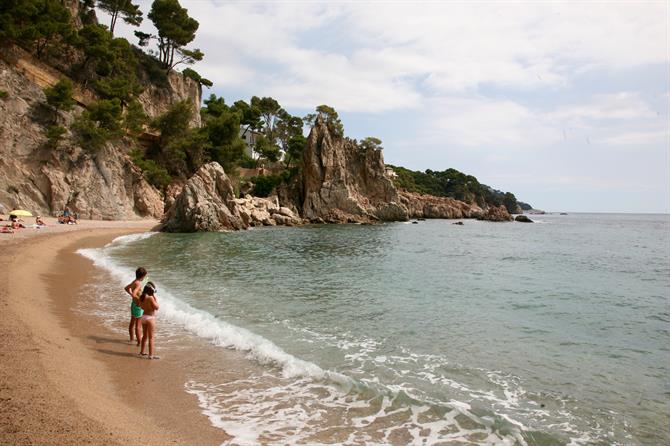 To get to El Golfet from Calella, we can walk down the beautiful Camino de Ronda hiking trail which borders the coast, a journey which takes approximately 35 minutes. Keep in mind that El Golfet doesn't have any facilities, come well prepared to enjoy a day immersed in nature and be aware that this beach is not so suitable for children or anyone with reduced mobility. Due to its location and incredible beauty, El Golfet could definitely contend for one of
the best beaches in Spain
.
Port Bo or Les Barques Beach
Apart from its beautiful white houses and narrow streets, Calella de Palafrugell's most well-known architectural feature is Les Voltes - a fortified building with white arches which run along Port Bo beach.
This urban beach has all kinds of services including showers, parking, sun lounger rental, umbrellas and a lifeguard, making it the perfect place to spend a beach day without sacrificing the little comforts. The rocky seabed and calm, clean waters attract scuba divers and snorkelers.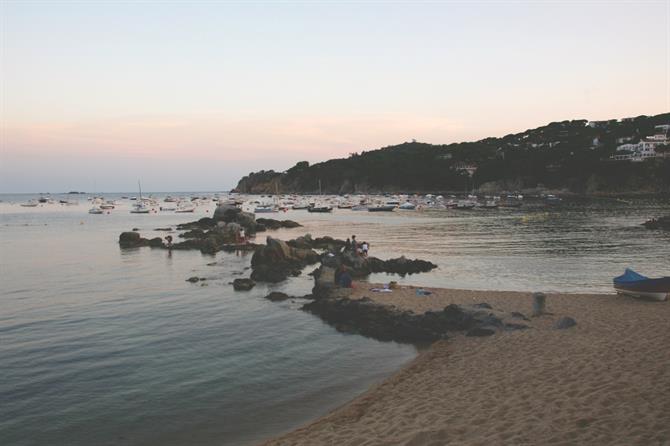 This beach is also known as Les Barques which translates to "the boats". It earned its name from the many small colourful fishing boats which have sat in the sand here for years, sparkling in the sun like jewels. Every July, the beach of Port Bo hosts the
"Cantada de Habaneras"
festival, a 50-year-old tradition which celebrates the relationship between Catalonia and Cuba in the 20th century.
En Calau Beach
Next to Port Bo is another urban beach known as En Calau. This beach has all kinds of facilities including showers, first aid, restrooms and disabled access.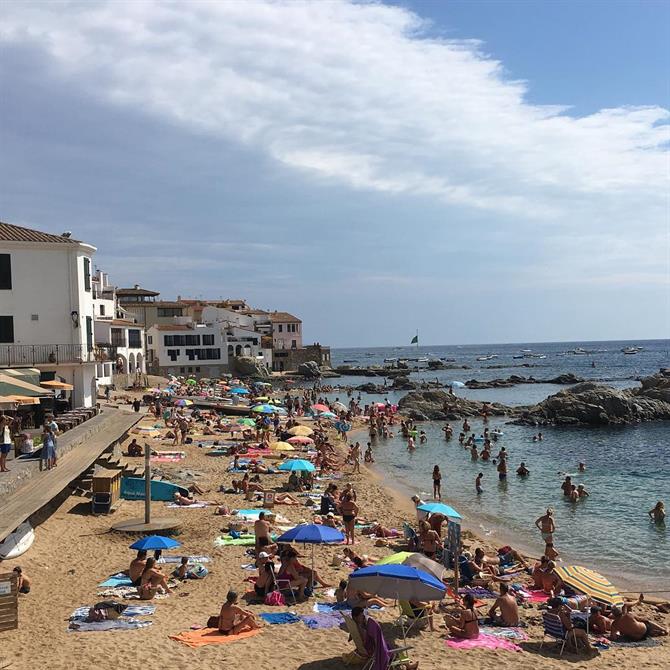 To get to know the area, you can stroll along the wooden walkway which runs the length of the beach. Despite being 75 metres long, this beach is usually quite crowded due to the high quantity of shops, bars and restaurants which sit along the promenade.
Port de Malaspina Beach
If we follow the promenade we'll reach the Port of Malaspina Beach which is 50 metres long and 10 metres wide. It's especially suitable for children as it has crystal clear waters which are quiet and shallow, as well as clean, golden sand which guarantees days of relaxation and family fun. It has plenty of facilities making for comfortable beach days and in summer it can get quite busy.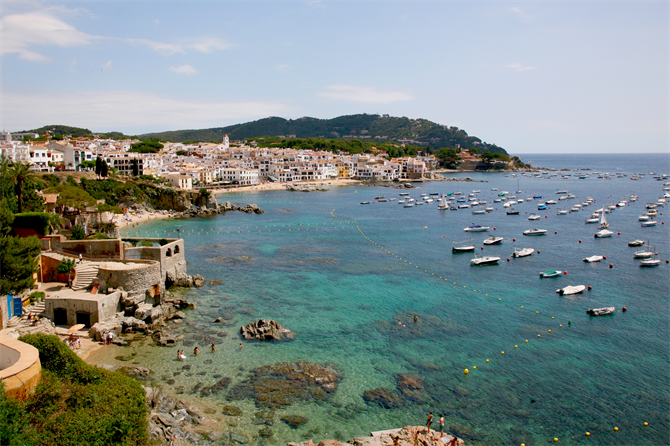 Like all the urban beaches in Calella, Port de Malaspina Beach is surrounded by the white houses of the town, which glow brightly under the intense sunlight - a typical scene on the coast of Girona. If we decide to
book some accommodation on the Costa Brava
, we can explore and enjoy some of the best beaches in Spain.
Port Pelegri Beach
If we continue our walk along the Camino de Ronda trail, we'll come across Port Pelegri Beach. It's situated south of Calella and is protected by two large rock formations. One of the rock formations is the Burricaires viewpoint, which offers visitors a wonderful panoramic view of the coast.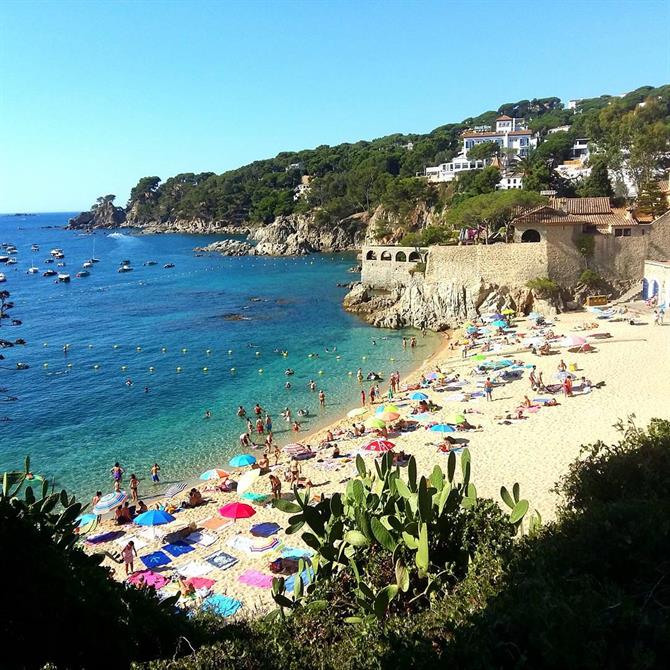 Port Pelegri is quite possibly one of the best beaches in this area purely due to it's size, it's 75 metres long and 30 metres wide so there's always plenty of room for fun and games with the family. The underwater world at this part of the beach is a diving paradise and as a result, there are a number of water sport companies in the area where we can rent equipment or even take a class. For those who prefer to sit out and relax, there's plenty of bars along the promenade where we can have a drink and enjoy the sea view.
El Canadell and Els Canyissos Beach
Without having to go too far from the centre of Calella, there's the beach of El Canadell and Els Canyissos which is 200 metres long and 30 metres wide. It has all the necessary facilities, so it's perfect if we're travelling with the family. Something to keep in mind is that getting to this beach is a bit tricky as we have to climb down a set of stairs making it unsuitable for people in wheelchairs or with reduced mobility.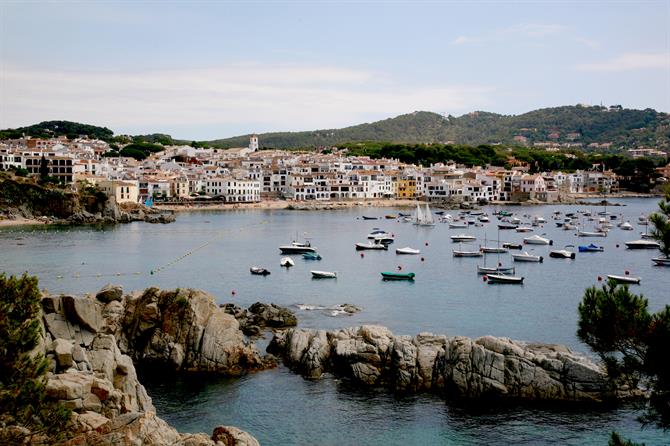 The promenade runs along this beach and past the fisherman's houses whose multi-coloured doors bring a unique beauty to this part of the town of Calella.
Sant Roc or Els Canyers Beach
Another small urban beach in Calella de Palafrugell is Sant Roc Beach, also known as Els Canyers. It's only 40 metres long and is dotted with rocks which makes it difficult to find a space to lay your towel. Of course, its calm, clean waters and great location make it worthwhile and to get to this beach, we have to descend a circular flight of stairs.
Some of the beautiful and unique things about this beach are the old fisherman's porticos, the small white arches which once acted as storage areas, where the fishermen would store their boats during stormy weather.
If we are travelling with children, one thing to keep in mind about this beach is that it's made up of small stones instead of sand.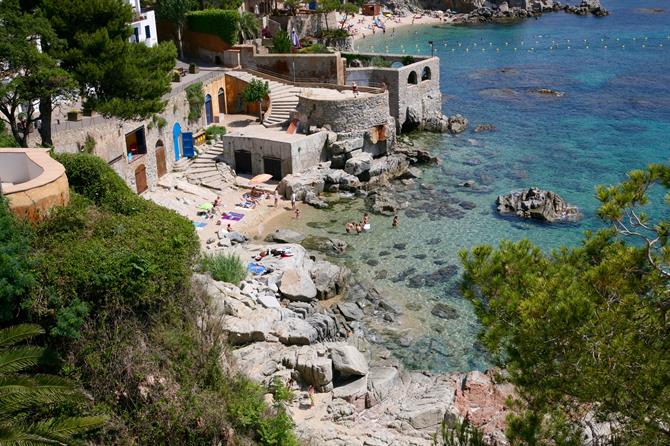 There's nothing better than plunging into the cool sea during a hot summer's day on a well-deserved beach holiday. The beautiful white houses of Calella de Palafrugell and its idyllic beaches are a haven of relaxation on the shores of the Mediterranean.
If we are well prepared and book accommodation in advance, we can find a
holiday home in Calella de Palafrugell
for a good price, whether it's in a couple, with a group of friends or with the family.
Map