Cambrils is one of the best holiday destinations for the whole family on the Costa Dorada. With a wide variety of culture, gastronomy, sports and beaches; Cambrils definitely deserves the title of perfect family destination. It guarantees great quality services and child friendly options when it comes to entertainment.
You don´t have to travel for a long time, as this village is just 20 minutes away from the international airport of Reus. As a family destination, Cambrils offers all the facilities without being too large-scale. The atmosphere is relaxed and tranquil, a big difference compared to nearby Salou. If you would like to know more about the best holiday activity ideas to do with the little ones, keep on reading.
An abundance of safe and comfortable beaches
Without a doubt, the best thing about Cambrils is its beautiful 9km coastline. The Costa Dorada offers us metres and metres of clear blue water and golden sand. A large amount of the Cambrils beaches have the Blue Flag certification, what that means is that the beach is safe and child friendly. The sea is calm and shallow so the whole family can enjoy a wonderful day at the beach.
A popular option amongst families that visit Cambrils, is El Requeral Beach. The beach is centrally located and has all facilities; from toilets to showers. From this beach you can also access the promenade, which will lead you to more beaches such as La Llosa Beach, Vilafortuny Beach and Cap de Sant Pere Beach. You can surprise the children by taking them to Esquirol Beach which is located right next to a theme park which is another great option for a day out. Book a holiday home on the Costa Dorada to enjoy an unforgettable holiday with the whole family.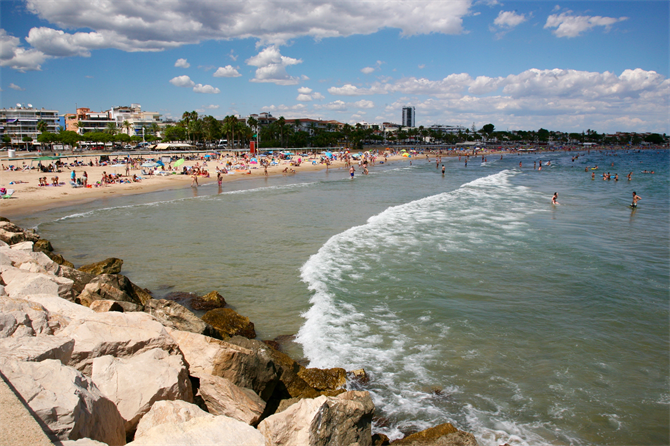 Explore the promenade
Apart from sunbathing on the beaches there is a lot more to do in Cambrils. It is known for its pleasant promenade and is full of interesting things. It goes all the way to Salou and gives a great view of the Costa Dorada. Along the promenade there are many statues and monuments such as the Pino Redondo, an enormous tree that is centuries old. The Faro Rojo (the red lighthouse) is also well known in Cambrils and is located on the pier of the fishing port.
During your stay in Cambrils, this promenade will definitely become one of your favourite spots. There is nothing better than feeling the sea breeze on your face, while you watch the sun set beyond the horizon. One recommendation for traveling with kids is to discover the promenade by bike, roller skates or Segway. There is a bike path which makes it easy and safe to move through the area. There are many restaurants, little shops and ice cream parlours parallel to the promenade.
The promenade is also a popular location for events and festivals. For example, each year during summer the Cambrils Street Art festival takes place. There are musical and comedy performances as well as circuses. It feels like a real theatre, the only difference is that you are sat outside!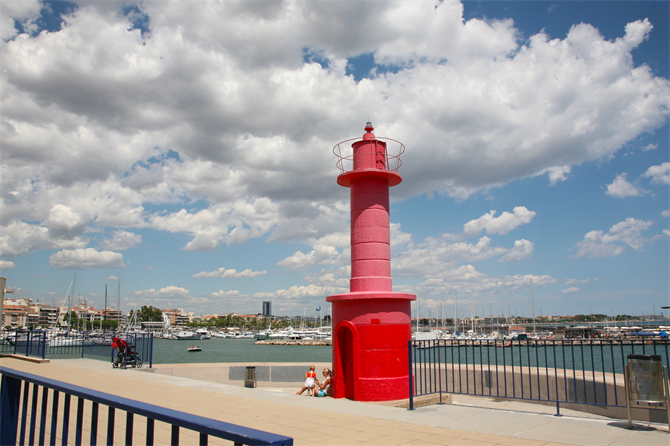 Theme parks
Only 15 kilometres away from Cambrils, you will find one of the best theme parks in Spain. It is called Port Aventura and is known for its amazing rollercoasters, wonderful spectacles and six themed zones. In Port Aventura you will find Polynesia, China and the Wild West all within reach. Meanwhile, you can enjoy the adrenaline rushing through your veins in one of the spectacular attractions.
For the youngest family members, Port Aventura has created a special, Sesame Street themed zone where children can enjoy smaller rides and games. For car lovers, Ferrari Land is a new themed zone based on the world of Formula 1 and Ferrari. It doesn´t matter what you have planned for the rest of the holiday, a family holiday in Cambrils is not complete without visiting Port Aventura.
An alternative way to spend a refreshing day with the family is at the
Aquópolis
water park. It is just 20 minutes away from Cambrils on the Costa Dorada. There are various pools, water slides and picnic zones where you can enjoy sun and shade. The paradise Aloha Beach simulates a tropical beach on Hawaii, fully decorated with palm trees, sun beds and parasols.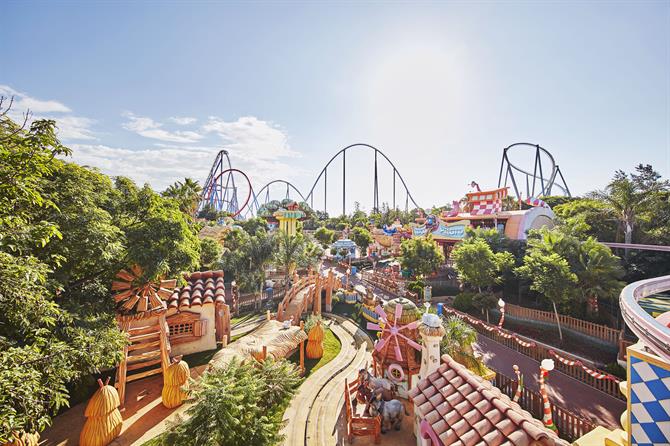 Sports and new activities with the family
Apart from relaxing under the sun, there is a lot more to do at the beach such as paddle surfing, kayaking, water skiing and even windsurfing. You can also go on a trip, on a banana boat or a regular boat. If you want to enjoy the clear water and the beautiful seabed, we can definitely recommend snorkelling in this area.
The promenade lends itself for a bike tour on a sunny day. Discover almost 20 kilometres of beautiful views and monuments! In case you are less active, then a trip on the El Trenet mini train might be perfect for you. It is a local touristic train that offers various sightseeing routes around the area. One of the routes runs next to the promenade, another one through the old centre and another one runs past a market space, where a weekly market is held every Wednesday. On board the train you can enjoy the cool sea breeze and breathtaking views of the monument of the Sanctuary of Mare de Déu del Camí, that dates from the 18th century, as well as the medieval tower of Ermita which is also very special as it is home to the historical museum of Cambrils.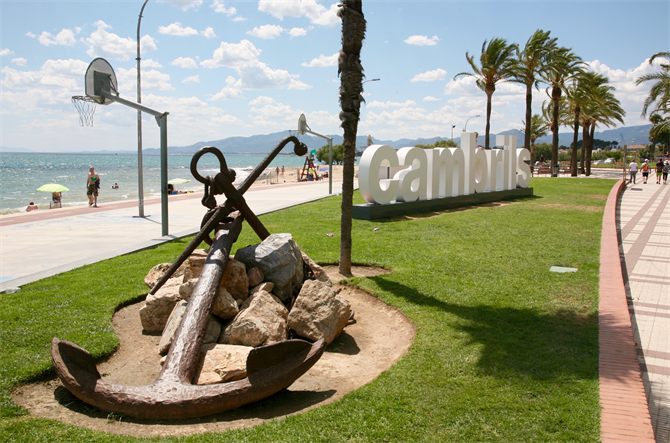 Jumpland Aventura Ecológica
Another theme park worth mentioning is Jumpland Aventura Ecológica. It´s a one of a kind theme park on the Costa Dorada and has one of the longest ziplines in Europe. Make sure you are in a comfortable position and enjoy the ride as the zipline offers you an amazing view on the sea and finishes underground inside a cave - it´s definitely an experience that you won´t forget anytime soon.
The different circuits are adapted to different ages, heights and levels of difficulty. It has everything you need to enjoy a unique day trip while you are on a holiday with your family. The park is also open at night and there are lights which illuminate the forest and create a really magical effect. Don´t forget to explore the bridges, rafts and the climbing wall in this park!
Samú Park: Explore a world of colours, fountains and fantastic views
About 10 kilometres from the centre of Cambrils, lies a true, hidden paradise. Exotic vegetation, artificial caves, rivers and streams create a tropical environment in Samú park!
Samú park appeals to the imagination of the whole family, with an explosion of colours, waterfalls, creeks and trees it´s a great place to explore and discover the beautiful natural environment. Due to its unique beauty, this park is known as one of the most romantic mediterranean parks in Spain. Sounds good, right?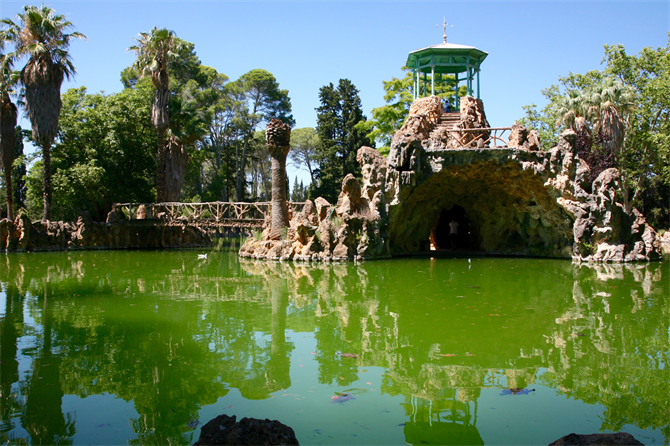 There aren´t many destinations that can compete with Cambrils when it comes to family activities. There are theme parks, hiking routes, fully equipped beaches and so much more. Cambrils guarantees a
relaxed holiday
that we can enjoy with the entire family.
Book your holiday home in Cambrils
now and be enchanted by the beauty that this destination has to offer.