The town of Cambrils on the Costa Dorada has a coastline of nine kilometres filled with fabulous beaches attracting thousands of tourists every year. It's the perfect spot to immerse yourself in the Mediterranean atmosphere as it offers a lot of facilities for a comfortable holiday. What's more, the majority of the beaches have been awarded prizes for their high quality, making the coastline of Cambrils its main attraction.
The beaches of Cambrils boast calm, crystal-clear and shallow waters which are very safe for children. The local beautiful boulevard extends down to the town of Salou. It's truly one of the best parts of the town where people go to enjoy the nice view and have fun whether on foot, a bike or roller skates. If you're looking for sun and beaches, you can reserve your
holiday home on the Costa Dorada
.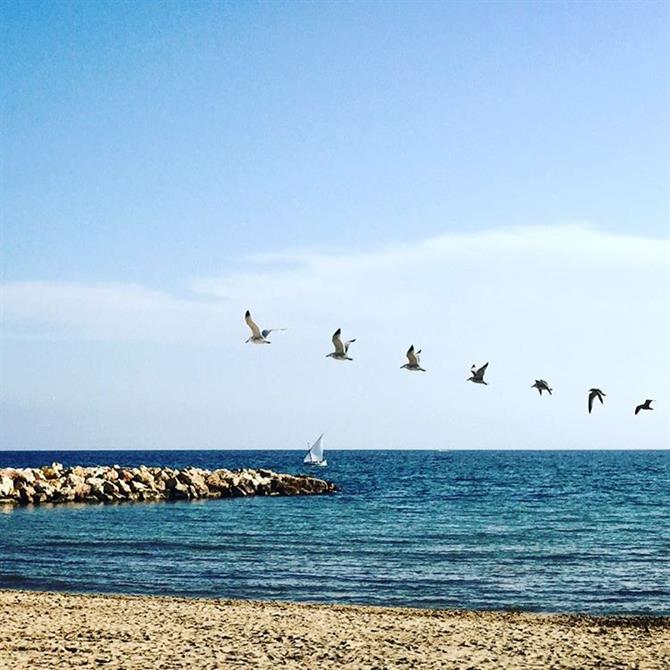 1. Playa del Regueral
The main beach of Cambrils is Playa del Regueral, situated very closely to the centre and surrounded by the boulevard. The beach is easily accessible, making it the preferred beach of families and tourists. Alongside its 1.2 kilometres you'll find facilities such as beach restaurants, showers and beach chair rental stands. It's a typical Mediterranean
beach
with golden sand, crystal clear waters and palm trees. If you're looking for quietness it's better to look for a different beach.
Playa
del Regueral is a very popular beach due to its range of entertainment facilities, such as
volleyball courts, banana boat rides and water-skiing. On top of this, you'll find floating platforms set up on the water close to the coastline where children can play freely. There are so many options that
Playa del Regueral could
perfectly
feature among the best beaches on the Costa Dorada.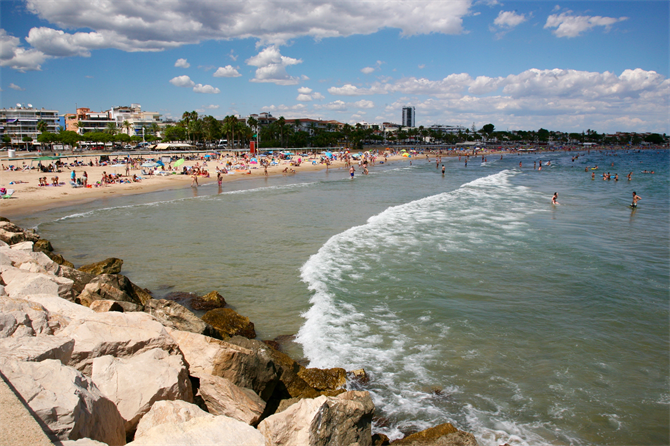 2. Playa del Cavet
At 600 metres long, Playa del Cavet is a much smaller and calmer beach. It's the best option, however, for relaxing under the sun and practising some calmer water sports, such as paddle surf and snorkeling. What's more, at the same beach you'll find a paddle surf school where you can rent a surfboard and a paddleboard to explore the coast. It's a truly unique experience, especially when the sun is going down and the sun rays reflect off the water and create an intimate atmosphere.
Furthermore, you can enjoy a picnic in the shadow of the close-by park of pine trees, take a rest or admire the amazing sunset. A bit more to the north, you'll find rocks which divide P
laya del Cavet from
Playa del Esquirol. This is a marvelous spot to get out your
snorkeling
gear, since the seabed and its crystal clear water are just perfect for taking a dive.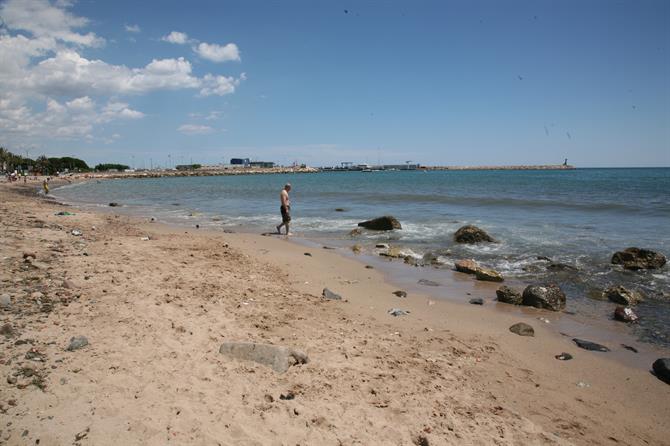 3. Playa del Esquirol
Just 1 kilometre from the centre of Cambrils, you'll find this precious beach which is about 1.5 kilometres long. It's one Cambril's best beaches as it combines the facilities and the entertainment options of
Playa del Regueral with the relaxed atmosphere of
Playa del Cavet. On top of this, it's not as crowded as those two central beaches.
On the other hand, there is also the possibility to practise water sports, like windsurfing, banana boat rides and water-skiing at this beach. Very close by, you'll also find a small attraction park which is a great way to conclude a perfect sunny beach day with the kids.
At the local beach bar you'll be able to enjoy concerts during the long summer nights. Can you imagine yourself enjoying the Mediterranean sunlight while listening to the best live music?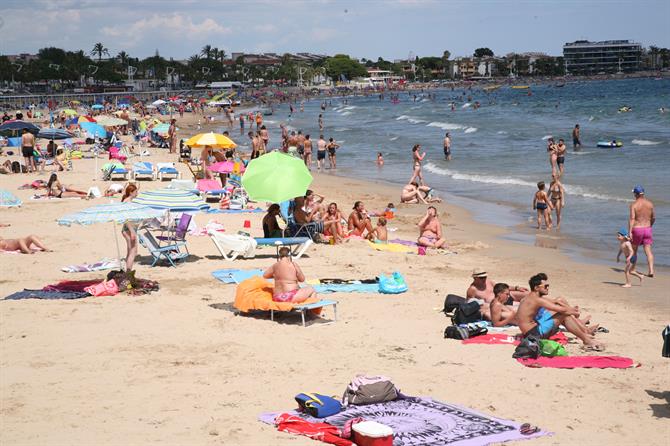 4. Playa de Vilafortuny
If you continue northwards you'll reach
Playa de Vilafortuny, a large sandy beach which is 1,451 metres long and 70 metres wide. It has a lot of facilities, such as showers, playgrounds, stands for renting beach chairs and sun screens. As you can see, this beach deservedly earned a prize for its quality.
Very close to the beach you'll find
Castillo de Vilafortuny which dates from the 11th century. Despite not being accessible to the public, it's really worth taking a look at from the outside, since it has been very well preserved.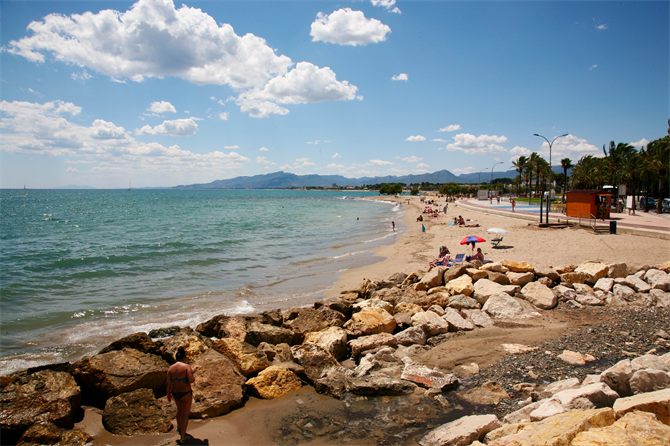 5. Playa Cap de Sant Pere
Playa Cap de Sant Pere is the most northerly beach of Cambrils and sits on the border with Salou. It's 764 metres long and is frequently visited, thanks to its proximity to Salou.
The beach promenade runs along the coastline until it reaches Salou. Consequently, it's very easy to go to Salou from Cambrils. Salou has everything you would want on your holiday: a coastline of 14 kilometres with a plethora of possibilities to have fun and events that will make your summer an unforgettable one. Take a look at our
guide of the beaches in Salou
and select your favourite one.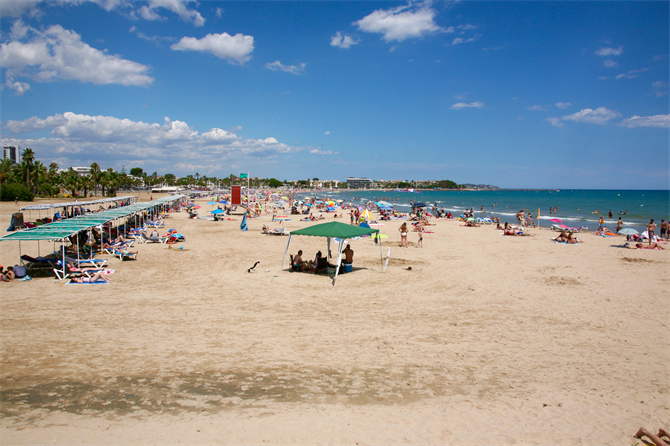 6. Playa de la Riera
Now that we've already taken a look at the northern beaches of Cambrils, it's time to head southward via
Playa del Esquirol and discover the best beaches in the south of Cambrils. Passing the fishing port, you'll run into
Playa de la Riera, which is the smallest beach of Cambrils.
At Playa de la Riera
you'll find golden sand, pebbles and beautiful, glistening blue water. Next to the beach you can play basketball while enjoying a beautiful view of the sea. To replenish your energy levels you can get a hamburger, potatoes with alioli sauce or another tasty snack at the food truck which is placed next to the beach entrance during the summer months.
On top of this, you'll be able to enjoy numerous concerts and sports activities here.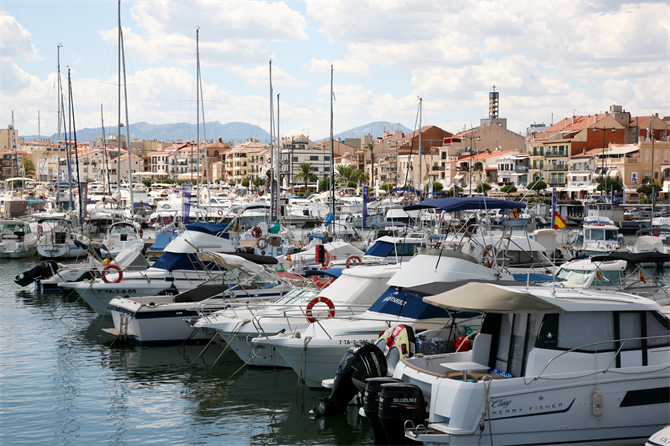 7. Playa de Horta de Santa María
If you continue your way to the south you'll come across
Playa de Horta de Santa María, which is a beach of 360 metres long and 15 metres wide. This beach is a good option if you're looking for some peace, as it's not frequently visited.
The local restaurant of
Playa de Horta de Santa María
"Chiringuito El Marino" specializes in local gastronomy, with dishes such as rice with lobster, Cambril
crayfish
or Tarragona
prawns
. They also have a wide offer of seafood tapas. You can enjoy these delicious dishes while enjoying spectacular views of the sea and the coastline especially during sunset or at night when they organize chill out sessions and live music. The restaurant has a beautiful outdoor terrace with straw umbrellas and beautiful
lighting and bright Caribbean-
style decoration.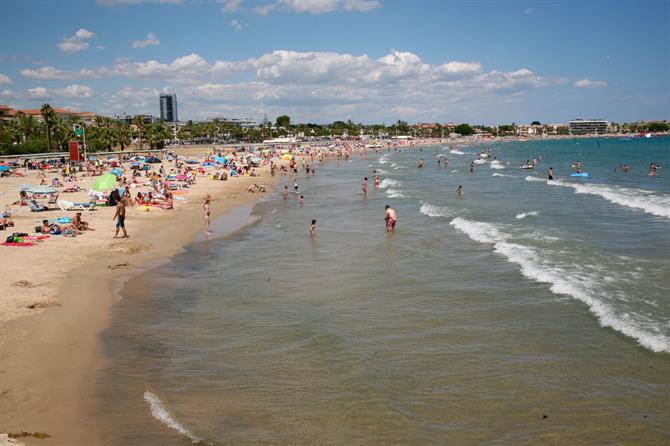 8. Playa de la Llosa
Playa de la Llosa is a very peaceful beach. At 1,100 metres long, you'll always find a free spot to enjoy a beach day filled with sunshine without too many people around. The coastline is the shape of an
"M" and has several breakwaters and quays protecting it. Thanks to this, the water is very calm and shallow, making it ideal for a family visit.
The beach has an average width of 30 metres and sometimes the sea almost touches the beach promenade, making it very nice to walk there. The name originates from
"villa romana de la Llosa", a collection of roman ruins just 50 metres away which we recommend visiting when the sun goes down. On this beach you'll also find a beach bar with a nicely decorated terrace that creates a very idyllic atmosphere for having a cold drink after a day in the sun.
If you are into snorkeling then you will surely like
Playa de la Llosa as it has several artificial islands which are perfect for taking a plunge with your snorkeling goggles and discovering the seabed.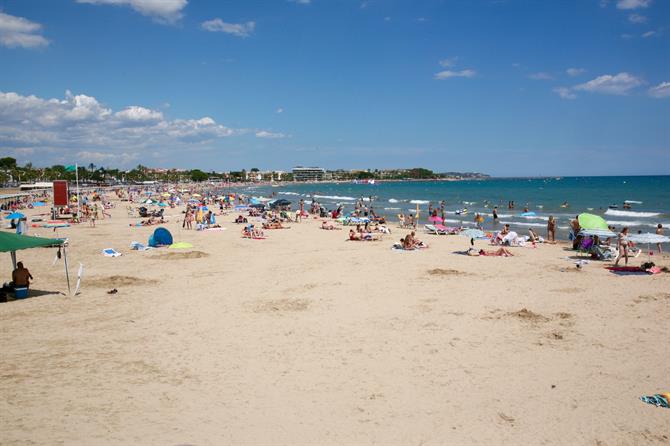 9. Playa de l'Ardiaca
The exceptional
Playa de l'Ardiaca is the most southerly beach of Cambrils with a length of 1,400 metres. Like its neighbouring beaches, it's also shaped like an
M and is protected by stone breakwaters which ensures that the shallows are calm and still. It's the perfect beach for a family trip.
The beach is frequently visited by tourists and you can find several camping sites in the area. Nonetheless, it's a very comfortable beach made of fine, golden sand and gravel. It boasts several facilities such as showers, disabled access and parking areas in nearby streets. On the southwestern side of the beach you'll find a beach bar where you can relax under the palm trees and enjoy spectacular views of the Costa Dorada.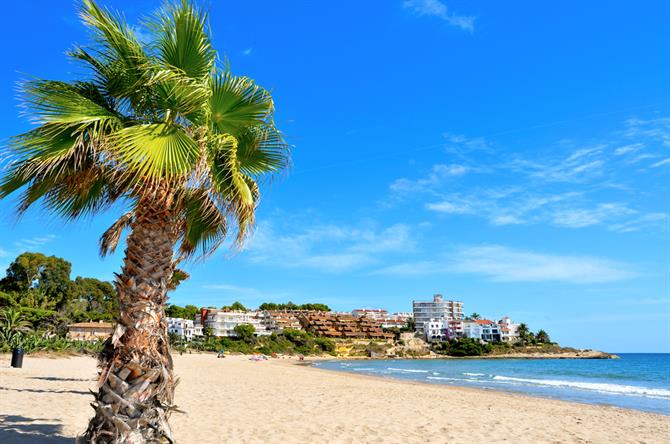 Thanks to the quality of its water and the facilities on the beaches, Cambrils has become one of the main beach destinations on the Costa Dorada. By
reserving your holiday home in Cambrils
, you'll be able to discover its promenade, practise water sports or just relax on the beach and enjoy the Mediterranean Sea. What else do you need for an unforgettable summer?
Map