Santa Pola is a coastal town on the impressive Costa Blanca only a 30-minute drive away from the bustling city of Alicante. It is a great spot for a family holiday or a beach break during which you can relax and enjoy the local seafood, the atmosphere and the stunning natural surroundings which include salt flats with flamingo's and dunes.
The best locations in this small town to relax and enjoy your holiday in peace are the local beaches. You will find beaches in Santa Pola to suit all tastes from long, sandy stretches to more intimate, picturesque coves where tranquillity reigns. We have composed a guide to the best beaches in no particular order for you to discover during your stay in an apartment in Santa Pola.
Playa Levante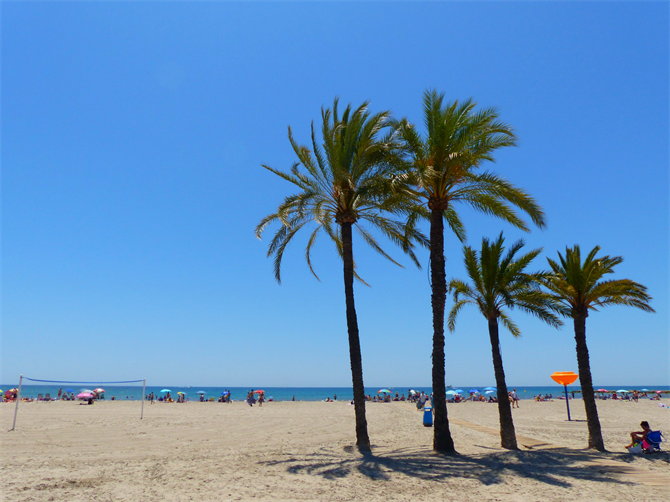 This Blue Flag beach with calm waters and dark sand is very popular, especially during the summer months. Playa Levante boasts a lot of facilities to make your day on the beach as comfortable as possible. There are toilets, lifeguards, restaurants and plenty of places to park your car. The beach is also accessible for disabled people. Relax on the soft sand of Playa Levante or enjoy the view in the shade of one of the beautiful palm trees on the beach.
Playa de la Ermita
A more natural beach, with rocks and dark sand, Playa de la Ermita (also called Playa de Mare de Deu) is the place for you if you are looking for a little peace and quiet during your holiday on the Costa Blanca. The beach is 240 metres long and is surrounded by dunes and pine trees, enjoy a view of the crystal clear sea or go for a refreshing swim. After a relaxing time on the beach go and feast on local specialities in the chiringuito close to the beach.
Playa Varadero
This beach is situated in the more urbanised eastern part of Santa Pola and a favourite amongst younger people. Approximately 500 metres long, and awarded with a Blue Flag status, Playa Varadero boasts all kinds of amenities such as lifeguards, toilets, volleyball fields, umbrellas and hammocks. Lined with beautiful palm trees, Playa Varadero is a must visit during your beach break to Santa Pola. Also worth a visit are a collection of beaches called Calas de Santa Pola del Este located just east of Playa Varadero.
Gran Playa
This beach of just over 1 kilometre long is a great spot to just relax and enjoy the sun in Santa Pola. Have a drink in the chiringuito closeby and enjoy a view of the calm sea. The beach often experiences ideal conditions for practising water sports such as windsurfing. If you would like to give windsurfing a try then check out the local windsurf club in Santa Pola, located close to Gran Playa.
Playa Lisa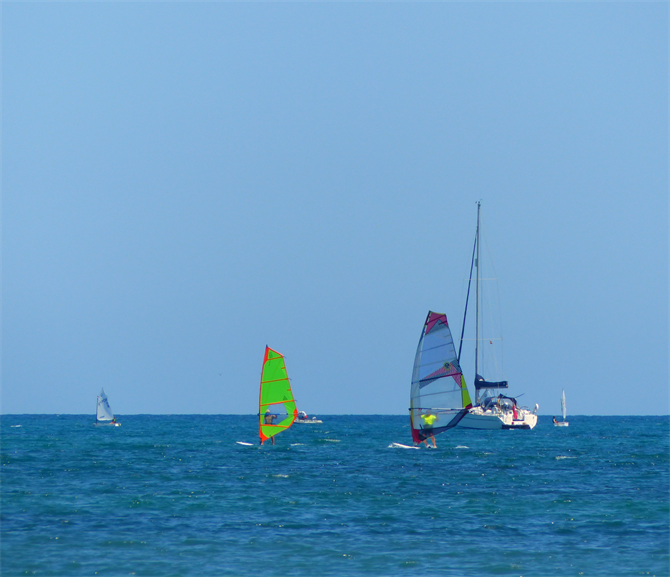 Playa Lisa stretches over 600 metres of fine sand, very close to the salt flats of Santa Pola. Perfect for relaxing or swimming in the calm water, it is also a great spot to have a drink in one of the many bars close by. But that's not all as when the weather conditions permit, it is a great spot for water sports such as sailing or windsurfing.
Playa Tamarit
Another stretch of sand over 830 metres that has calm and clean waters, Playa Tamarit is a great beach for families with children where they can roam around freely. The name originates from Torre Tamarit, a former watchtower in the natural park of the salt flats of Santa Pola. With the similar occasional windy conditions as on Playa Lisa, you can often spot wind and kitesurfers displaying their tricks at Playa Tamarit.
Playa de la Gola
Situated almost next to Playa Tamarit, Playa de la Gola is a beach that is only accessible on foot and does not have the facilities you will find on the other beaches in Santa Pola. This makes it a very calm beach, popular among watersports fanatics who are attracted by the weather conditions. Relax here away from the hustle and bustle of the more built up beaches.
Calas del Cuartel
These are two rather calm and unspoilt coves in the northeast of Santa Pola with crystal clear waters and rocks making them ideal locations for snorkelling. If you would like to learn more about the local sea life you can visit the Marine Biology Research Centre which is linked to the University of Alicante. Every Wednesday you can enjoy a free tour in Spanish or English.
Calas de L'Aljub
These coves are situated within a protected area close the impressive Cabo de Santa Pola (Cape of Santa Pola) which is 144 metres high. The Calas de L'Aljub are perfect to disconnect and get away from it all. There are almost no facilities but this makes them tranquil bays perfect to have a relaxing swim or exploring what lays on the seabed by snorkelling.
Playa del Pinet
Playa del Pinet is a massive 3324 metres long and sits next to the salt flats of Santa Pola. Only accessible on foot, it is a very calm and unspoilt part of Santa Pola's coastline making it the perfect place to unwind on the soft sand and in the calm sea. You will find no facilities at Playa del Pinet so if you get hungry will have to head back towards the more central beaches of Santa Pola.
Calas Santiago Bernabeu
The name Santiago Bernabeu will ring a bell with football fans as Real Madrid's football stadium is named after this ex-player and ex-president of the club. They named these set of beaches after Bernabeu as he used to spend summer in a house close to these beaches.
The Calas Santiago Bernabeu consist of three coves: Cala I, Cala II and Cala III, all located close to Playa Levante and Santa Pola harbour. On these Blue Flag beaches, you will find all the necessary facilities such as restaurants to make your visit to the local beaches as comfortable as possible.
The Coastline of Santa Pola offers something to suit all tastes, from long sandy beaches, intimate coves to beaches where water sports fanatics can have a good session in the water. Come to Santa Pola and discover its diverse coastline!