Admit it. You are trying to plan this years holiday and you don't know where to book yes? You have looked at all the Spanish resorts, well some of them anyway, and you still can't decide which Costa Blanca resort is going to be your holiday destination?
Well, you can sit back and relax because we have five super suggestions as to where you should go on holiday this year, and what to expect when you get there.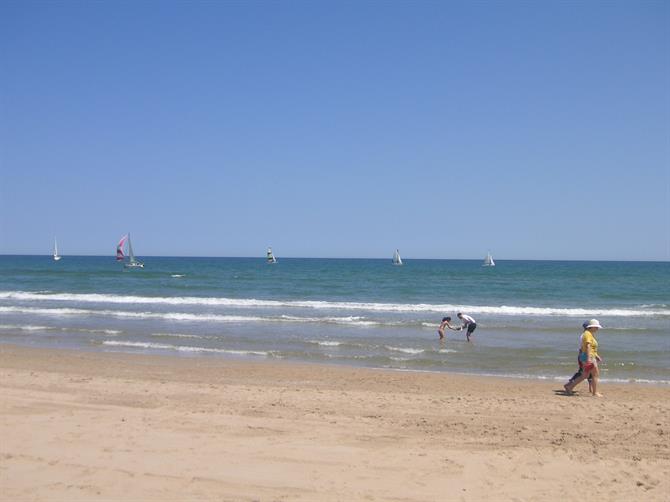 Spain has lured us Brits to it's sunny shores since the end of the 1950's and there is certainly no signs of that once a year exodus abating at any time soon, even in a recession. The country is famed for it's (almost) guaranteed good weather, friendly locals, fine dining, wonderful sandy beaches and warm, crystal clear waters.
So here's five places I have personally checked out for you, and why I think they are such a good starting point for your Spanish Vacation this year.
1. Benidorm. Party central on the Costa Blanca
More or less everyone in the UK has heard of Benidorm, even if it is only via the popular ITV1 show, however one thing is for sure, it's very much what I would call a "Marmite" sort of place. You either love it or you hate it!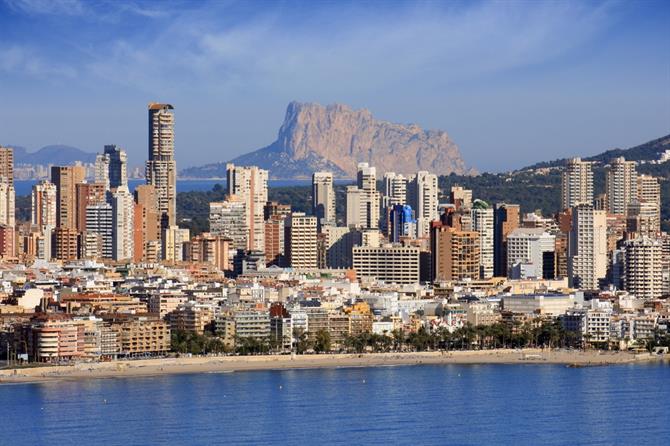 The city of Benidorm is the destination for hundreds of thousands of eager sun seekers every single year and they flock here from the UK, Ireland, Germany, Spain, Holland and from Spain itself too!
It is split into 2 main areas, Levante and Poniente, although there are other beach areas such as Finnestrat that adjoin the city too, making for a sprawling metropolis by the sea, in fact the city has the largest amount of skyscrapers in the whole of Europe.
There is accommodation in Benidorm to suit all budgets and it's only a short 45 minute drive from Alicante airport, so you won't be frustrated at the start of your holiday with a 3 hour long transfer!
There is loads to do here and it's somewhere that the whole family can enjoy, with various attractions in and around the city, plus of course the great beaches too!
2. Have a great holiday in Javea!
Only a few miles up the coast we find the resort of Javea, a long favoured destination for the British, the Dutch and the Germans, and with miles of lovely sandy beaches, great places to eat, and some good shopping in the town too, you can't go wrong with a break in Javea.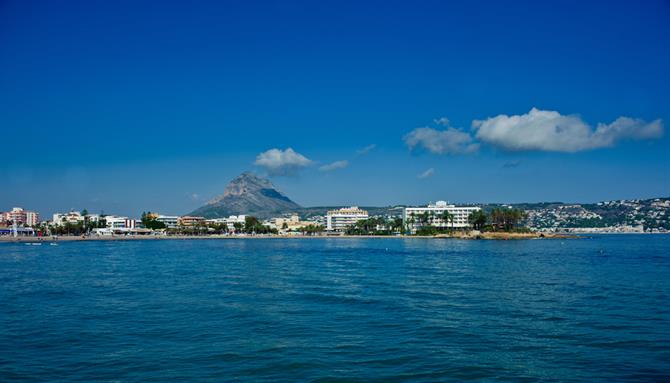 Quite apart form the main town, there is the delightful port and marina area, with shady bars and terraces offering the best the resort has to offer in fresh, locally caught seafood and shellfish, plus all the main traditional meals you would expect to find on a break in Spain, in fact due to the dearth of different nationalities, you can try food from all over Europe if you so desire.
It's more relaxed than Benidorm, a bit more traditional too, and somewhere that you can be in amongst the thick of it all, but it's easy to find somewhere quiet too, and there are various small coves and inlets around where you can just turn up with your towel, some drinks and good book and simply put your feet up!
3. Go posh this year and head for Moraira
Not too far up the coast again, we find the resort of Moraira which boasts 8 beaches of varying size, although all of them are a wonderful place to spend time away from it all, just soaking up that lovely Spanish sunshine!
The town is large enough but not too big and maintains the traditional fishing village feel, something that many other resorts in Spain have lost over time which is always a shame.
Moraira has plenty of nice shops for basic needs and of course there are the usual bars, cafes, banks, estate agents and so on, although for big shopping trips, Moraira just isn't that sort of place so you would need to come very prepared, or venture out in a hire car to one of the nearby towns.
If you forget to pack the Marmite then don't worry as the town of Benissa, via the CV-743 (Telueda) there is a British supermarket, namely Iceland, just outside the town.
4. Don't discount Denia this year
The town of Denia is a great place to stay if you are looking for a fab and relaxing break in the sun this year, and Spain-holiday.com make it so easy to book holiday accommodation in Denia, and of course there are loads to choose from and at great prices too!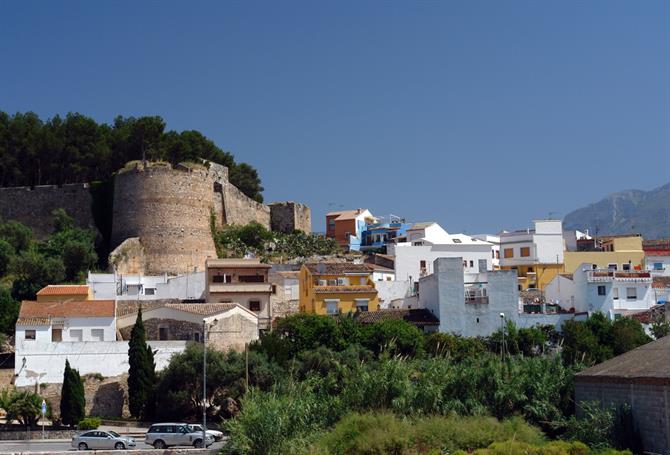 When you are here, you must visit the ancient castle that dominates the town and contains many interesting treasures and facts about the history of the place, plus you'll enjoy a great view from the top! The best time to visit is either in the morning or later on in the day after about 6 pm when the sun is not so strong.
There are plenty of shopping opportunities in the town and as Denia has a small English presence, there are a couple of bars and restaurants to cater for the British too, but in the main, it's quite a traditional place and somewhere refreshingly authentic to visit.
For the more adventurous, there is a car ferry that goes to Ibiza from Denia, although of course you can board as a foot passenger too, so why not combine this years holiday with a spell in Ibiza too?
5. Albir. Go on, if you must....
My final recommendation today is the small town of Albir, squashed in between Benidorm and Altea, and easily accessible by road or by the local tram service. It's not just the British who love Albir. The French, the Italians, the Germans and those from Scandinavia, have been coming to Albir for years now and that mix of faces really gives it a sophisticated and cosmopolitan edge, not found in other resorts along the way.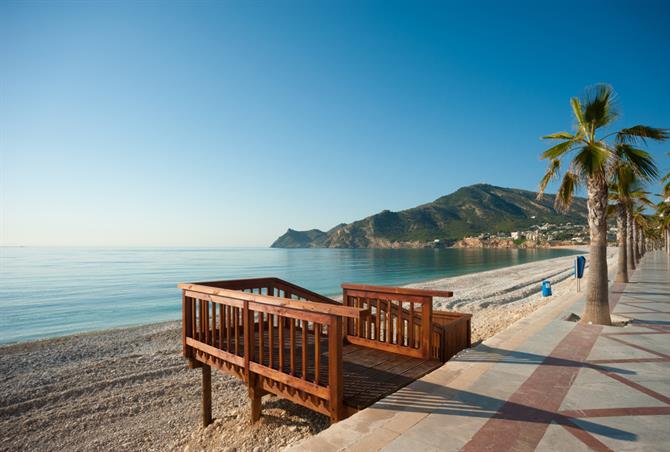 Albir's only beach (above) is about 600 metres long and is known locally as the Playa de Racó de l'Albir. A lovely promenade (also pictured) runs along it's length, peppered with the occasional bar or restaurant, affording fantastic views out onto the warm and inviting sea beyond.
The beach has a play area (Unsupervised) and has the usual facilities of toilets etc, located in the centre of the beach strip. The town behind the beach is very well laid out, open plan and airy, with wide pavements leading to all major points of the town. It's small enough to feel "at home" when staying here, and there is plenty of free parking too if you have driven over here or have rented a car for the week.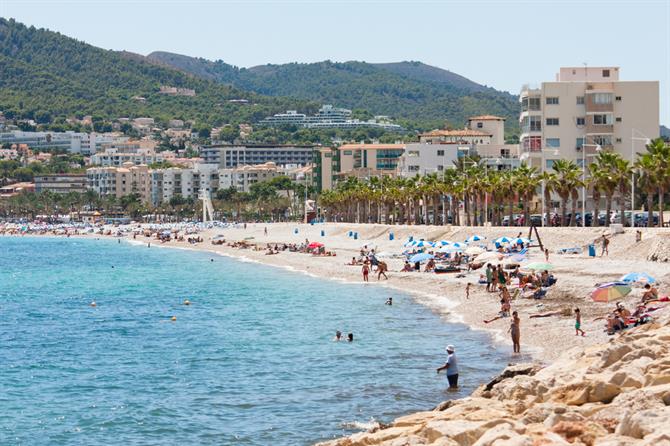 Albir is a lovely place to stay on your Spanish holiday and unlike many other resorts, if you fancy having a look around the area by car, nothing is too far away, including all the adjacent resorts with their own facilities, shopping, night-life and attractions.
So where are you going to choose for this years holiday?
If you want to choose which of the five YOU would prefer this year, just leave a comment below (you must be logged into facebook to comment). Thanks!