This wonderful and peaceful small seaside town nestles in a sheltered spot on Spain's eastern coast known as the Costa Blanca, named after it's multitude of beaches with fine, clean and warm sand. It is well known amongst discerning holidaymakers and expats from places such as the UK, Germany and the Netherlands, for being family friendly, noticeably upmarket and a great place to spend countless summer holidays!
The town is about 80 km north of Alicante and approximately 100 km south of Valencia and therefore is very easy to reach from both international airports, being as it is only about 50 minutes drive from each one.
We took a trip down to this idyllic seaside spot to bring you five great things to do and see if you decide to have a holiday in Moraira this year.
1. The beaches of Moraira
Let's face it, many people come on holiday to Spain for the climate and to relax on golden, sandy beaches, and the visitors who flock to this town each year certainly know that it boasts a very impressive eight beaches in total, of various sizes, and we compiled this handy list to help you choose which beaches to visit.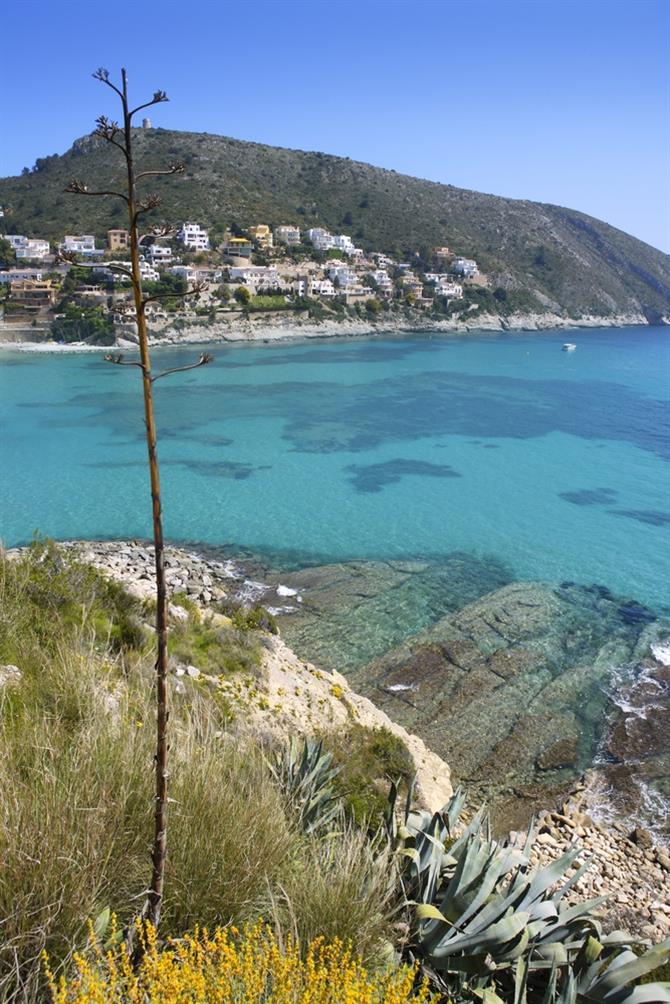 Playa del Portet. It is a small inlet in the shape of a seashell so some people say and although facilities such as bars are minimal, it's safe and secluded and ideal for a quick dip.
Club Nautica beach, which is accessed via an exclusive yacht haven with many facilities, including a restaurant although this is often only open to boat users but it's worth asking anyway.
Torre Cap d'Dor is another small beach which can be reached on foot by walking from the El Portet beach.
La Cala is another small beach with lovely clear waters but is rocky and difficult to access so you can only get to this beach by boat.
Platgetes beach has very easy access and a car parking area, a few restaurants, facilities such as showers etc.
Cap Blanc is a lovely bathing beach situated at the bottom of some cliffs. Park your car at the top and walk down.
L'Andragó is a rocky beach and it has a restaurant which is right on the sea. A very nice place to sit and enjoy the view.
L'Ampolla Beach is near the castle on the main promenade. A golden sandy beach, it is the largest and most popular beach in the area and there is a children's play area right on the beach. A 1 minute walk to the edge of the town where you find the shops and bars.
2. Shopping in and around Moraira
Like many Spanish holiday resorts, there are a range of shops open in the town to whet anyone's appetite for spending their holiday money, although for bigger shopping trips, head to Valencia city up the AP7 motorway.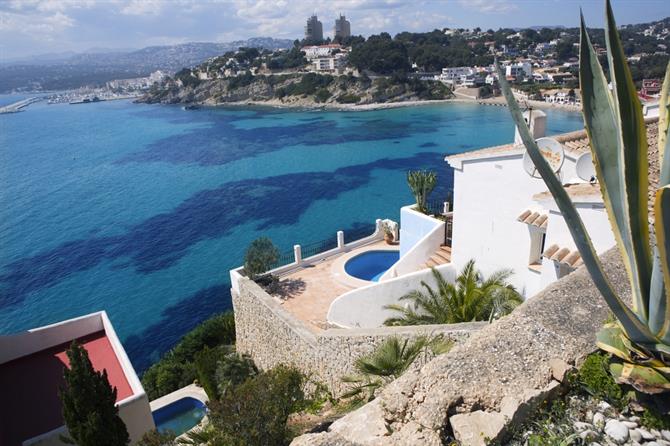 The town has enough shops to service your basic needs on holiday, plus various bars, cafes, banks, estate agents and so on, although for big shopping trips, Moraira just isn't that sort of place so you would need to come very prepared, or venture out in a hire car to one of the nearby towns.
Everything you could need whilst on a week's holiday is here though and unless you really MUST go shopping than head for nearby Benissa, via the CV-743 (Telueda) where a British supermarket, namely Iceland, can be found on the old N-322 road just outside the town.
3. Water sports in Moraira
Various water based sports and activities have been a feature of Moraira for quite some time now and even if you are not some diving professional or adept at piloting a speedboat, there are plenty of ways to get started in this enjoyable pastime, plus enjoy the warm, crystal clear Mediterranean waters around the area too.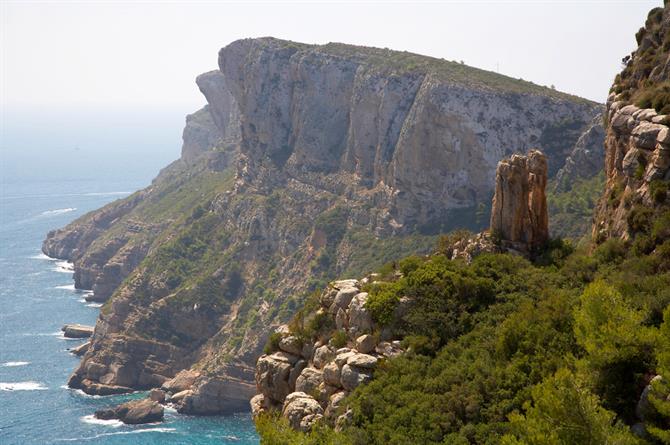 There are several places to go to enjoy watersports but unless you are a seasoned pro, it is best to contact one of the local groups, who will also be able to hire you equipment and give you some local knowledge about weather conditions etc.
Much of the aquatic sports and activities also take place in the nearby towns of Calpe and Denia and include jet skiing, diving, paragliding, para sailing and also you can hire small sailing boats at Les Besetes, which is about 1km outside of Calpe. (head for the huge rock that you sill see dominating the skyline, known as the Penon de Ifach.
4. Eating out in Moraira
If you are on holiday then you will need to eat something! The town has a variety of places to eat, from small tapas bars, to large international restaurants and, based on the fact that a lot of German and Dutch people come on holiday here, you could maybe try some of their traditional food too!
In Moraira you can get tapas at Meson el Refugio (c/ Almacenes) or Bar Costa Blanca (c/ Dr Calatalud) and most bars in nearby Teulada. There is however the "European shopping centre" in the town with many big name shops, and places to eat too, although it's not a huge place in itself, but if you miss the taste of the UK, it's possible to get some nice British Fish N chips, and it is also possible to get an Indian meal, and a Chinese meal too, so you won't go hungry!
5. Out on the town at night.
There's nothing like letting your hair down whilst on holiday and maybe doing things and going places you would never dream of at home, like going to a nightclub or a disco. If you are in the area, and unfamiliar with Spanish pubs and clubs, remember to look for a "discoteca" and not a "Club" which is actually the Spanish phrase to describe a brothel!
As Moraira is upmarket (but not snobby) those seeking wild all-night hedonism would be better off heading down the coast to Benidorm, but there are plenty of places to keep you entertained during your stay here.
Things can change quite quickly in Spain, considering the current economic crisis the country finds itself in, and many bars come and go over time, so we've resisted naming a few places to enjoy a night out, but you can be sure to find what you are looking for by asking of the locals, or in the first bar that you come across.
Moraira is a great holiday destination, not crowded, very traditional, but with the home comforts nearby if you need them, so all that remains is for you to
book your holiday accommodation in Moraira!