You won't go hungry on your Costa Brava holiday. Especially if you visit one of the area's Michelin-starred restaurants. In Spain, Catalonia's second only to the Basque Country in terms of its gastronomic reputation. Here are three places where it's worth joining the waiting list to eat at.
Bo.TiC
So, what's the schtick at Bo. TiC? Here the chef Albert Sastregener plays about with traditional Catalan, nay Ampurdanese, ingredients. With the result that inventive, have-to-be-seen-to-be-believed dishes such as King Prawn Cappuccino turn up on the menu.
Earning its first Michelin star in 2010, eat inside in the minimalist heavy-on-the-white dining room where beamed ceilings look down on a chequered floor. The terrace is rather more green. With shrubs and trees providing an elegant backdrop to your alfresco eating experience.
You'll find Bo. Tíc in Corçá halfway between the coastal resort of Palamós and Girona. It's not difficult to miss as it's on the main road. If flying into Girona airport, it's just over a half-an-hour drive away.
Casamar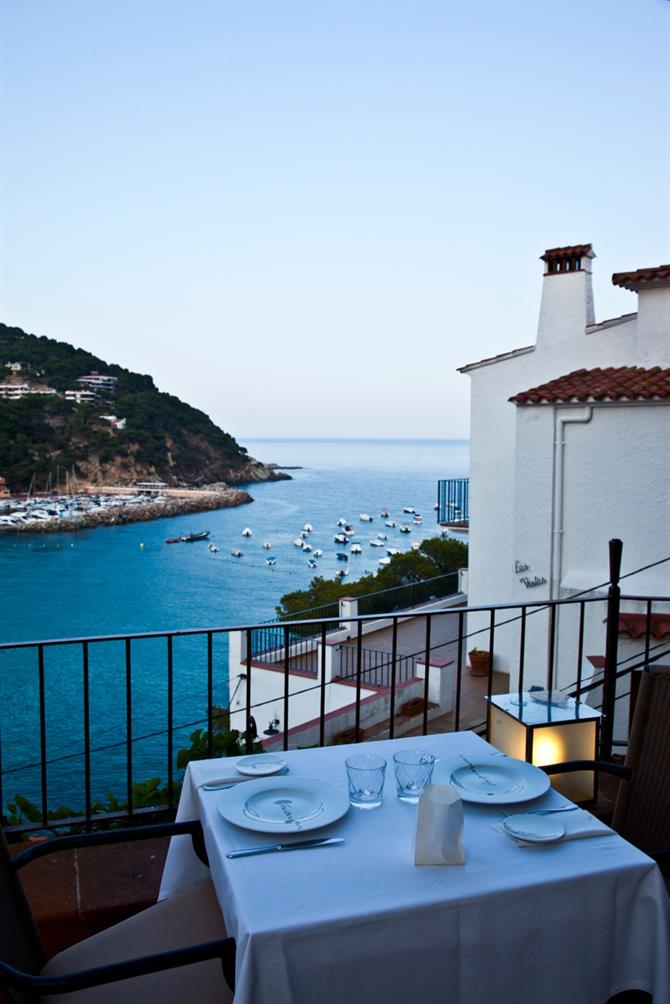 Appropriately named, Sea House, the in-house restaurant of the hotel of the same name affords excellent views of the Mediterranean. Especially if dining on its terrace. Which overlooks the Costa Brava coastline.
Located in the exclusive resort of Llafranc, the 20-room hotel is a short walk from Calella de Palafrugell, a quiet fishing village. Palafrugell, a medieval town, is 4km away. Whilst Girona airport is a 35-km journey.
The chef at the restaurant is Quim Caselllas, the son of the hotel owners. An aficionado of fresh, seasonal produce, his dishes are brought lovingly to your table to by sister María. Take your pick from the á-la-carte selection, although if you're feeling more adventurous there's always the more avant-garde tasting menu.
El Cellar de Can Roca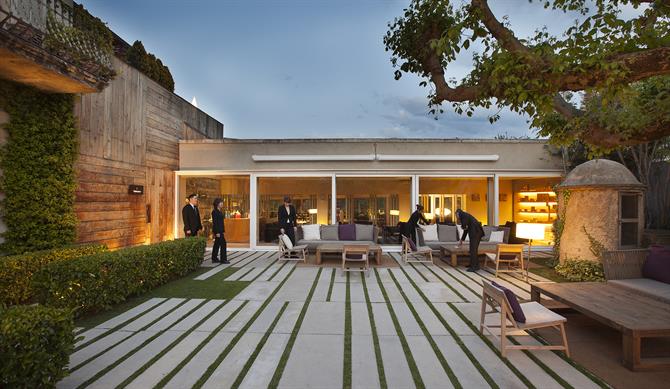 Visit El Cellar de Can Roca and you can say you've been to one of the world's best restaurants. The proud owners of three Michelin stars, it's run by the three Roca brothers: Joan, Josep, and Jordi. Who jazz up locally-sourced ingredients with experiments in molecular gastronomy.
The dining room is the very epitome of contemporary chic with finishes smoother than a baby's bottom. For those who prefer an outside table, meditate whilst you chew in the Zen garden. Wherever you choose to sit, you'll be attended by suited-and-booted waiting staff.
Reach this Girona restaurant in under 20 minutes from the city's airport. Alternatively, it's well worth travelling the hour plus from Barcelona. Especially as El Cellar de Can Roca has replaced the closed El Bulli as Catalan's number one eatery.